Kim Kardashian is the ideal model for her SKIMS Swim collection.
On Friday, the entrepreneur revealed her thoughts on three new products in a series of Instagram stories.
The first is a cotton candy pink bandeau-style bikini top, 'Alright I'm going to try on some of our SKIMS Swim,' the 42-year-old mom of four said.

'I really love this pink bandeau, it is so cute. I love the little bandeau,' she added.
In the following video, Kim Kardashian's wearing a light blue triangle top with sequins around the cups.
'This really cute top I love,' Kim Kardashian said. 'I love the triangle top with the sequins, so cute.'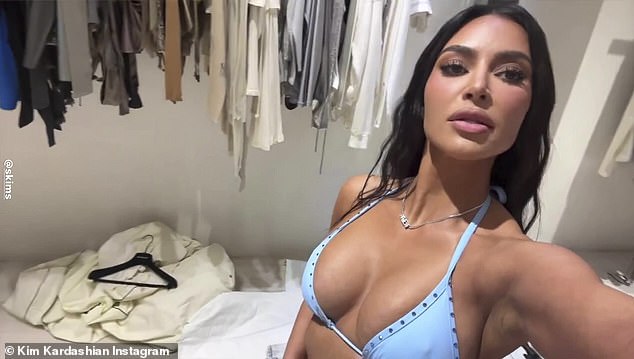 Kim Kardashian

In the third IG Story, she continued to wear the blue triangle top but added a pair of sheer light blue trousers to her look.
'I love a good coverup so, I love these pants, 'cause they're really cute just to cover up and wear over if you're going to lunch by the beach or anything like that,' The Keeping Up With the Kardashians alum said.

'I always love something that you can cover up with too,' she added.
Her makeup was immaculate, thanks to her SKKN cosmetics line's 'dewy glam' aesthetic.
The Kardashians star is certainly a renaissance lady, easily transitioning from pushing her swim and beauty brands to campaigning for justice for wrongfully imprisoned individuals.
Kim Kardashian and her younger sister Khloe, 38, paid a visit to Los Angeles County's California State Prison in Lancaster, which is about an hour north of Beverly Hills.
Kim Kardashian revealed that she wants to use her famous platform to 'transform the lives' of those behind bars during their tour as part of REFORM Alliance's Future Shapers Advisory Council.
'It's always an honor to be able to see the men and women living behind our prison walls,' she remarked after the visit.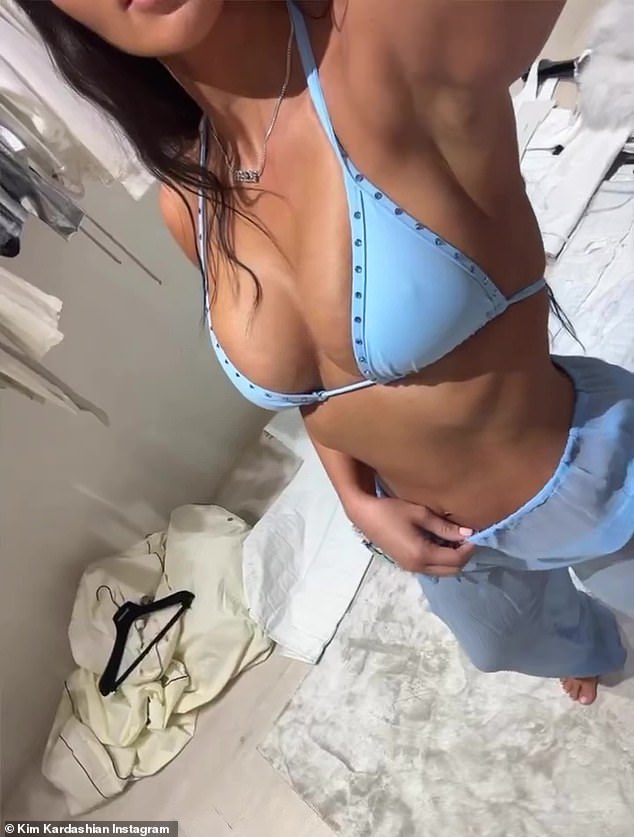 'Hearing the stories of people trapped in the prison system is what drives my commitment to advocate for reform and find ways to leverage my platform to help change lives and laws.'
The Kardashians star went on to say that she was 'thrilled' to bring the council into the prison, founded in 2018 by rapper Meek Mill, along with Michael Rubin and Jay-Z.
She pledged to develop the next generation of leaders.
She said: 'Today I was especially thrilled to bring REFORM's Future Shapers Advisory Council inside the prison as well.

'We are building up the next generation of leaders and influencers who will join us in this fight.'
The designer, who kids North, 10, Saint, 7, Chicago, 6, and Psalm, 3, with ex-husband Kanye West, is studying to be a lawyer.
In January of this year, she allegedly met with convicts in solitary confinement at the Pelican Bay State Prison in Crescent, California, and discussed their mental health with them.
At the time, a source told TMZ: 'Kim Kardashian spent a day at Pelican Bay State Prison in Crescent, CA earlier this week.

'Her focus was to meet with inmates in solitary confinement, speaking with them in depth about the toll the lockup can have on their mental stability.'