Someone has truly said that children are god's gift to humans. After all, kids teach us so many things that we usually forget in our day-to-day life. Be it loving each other or showing incredible kindness, kids know it all. 
Since we are talking about kindness, we would like to show you pictures of some kids who have demonstrated pure kindness in their own way. Scroll down to have a look. 
Real Heroes

My Six-Year-Old Nephew Bridger Saved His Little Sister's Life By Standing Between Her And A Charging Dog

After getting bit several times on the face and head, he grabbed his sister's hand and ran with her to keep her safe. He later said, "If someone had to die, I thought it should be me." After receiving 90 stitches (give or take) from a skilled plastic surgeon, he's finally resting at home. We love our brave boy and want all the other superheroes to know about this latest hero who joined their ranks.
Kate Yelled Out In The Store "Daddy I Have A Twin!" The World Could Learn From Kids
I'm So Proud Of My Son, He Seen A Kid Balled Up Into A Corner Crying, So He Went To Console Him, Grabbed His Hand And Walked Him Inside Of The School

It is an honor to raise such a loving, compassionate child! He's a kid with a big heart, the first day of school started off right.
Just Wanted To Shed Some Light In This Dark World We Live In

My beautiful nana passed away on August 9th, peacefully in her home. Please never forget this beautiful story. It was meant to spread love and kindness, and unfortunately many have turned it into something so negative.
12-Year-Old Kid Makes Shelter Cats And Dogs Stylish Bow Ties To Help Them Find A Home

Despite his young age, a 12-year-old from New Jersey with a heart of gold, Darius Brown has taken an initiative to help our furry friends get adopted much faster. He creates handmade stylish bow ties for four-legged companions (cats and dogs) and donates them to animal shelters to attract the attention of future owners.
No Shame In Loving Your Mom

Late Last Night, Myles Went On And On About How He Had To Be Twins With A Boy In His Class For Twin Day Because They Look Exactly The Same — Same Eyes, Same Hair. He Was Adamant That They Were Identical

So, after the kids went to bed, I headed to Walmart at 9 p.m. to get matching outfits. Their teacher sent me this picture today. My heart melted.
Obviously, they are two very different children, but Myles didn't see that. Wouldn't the world be such a better place if we could all view it through the eyes of a couple of 5-year-olds?
A 7-Year-Old Promise

A lot of grade-school-aged kids may have stayed away from my sister Mary or thought she was weird because she has Downs Syndrome. But not Ben. He always looked out for her, always made sure to pick her on his team at recess, and even made a promise to her in 4th grade to take her to the prom someday. 7 years later, he made good on that promise and in the process put a smile on Mary's face & restored my faith in humanity. Have a great time at the prom you two!
Hadn't Seen Each Other Since Daycare Closed, Parents Arranged A Playdate. When It Was Time To Leave:

Boy Prevents Kidnapping Of A Young Girl

This is Tiernan McCready. This is what a hero looks like.
Last week in the Bogside he saw three males grab an 18-year-old girl and try to get her in their van.
Most ADULTS would be paralyzed in shock, confusion, or fear and fail to act till it was too late. Tiernan reacted instantly and shouted at the males and led the girl away to safety. He then told his mum who rang Police.
Let that sink in
This could have been the start of a potentially serious and harrowing crime. That girl could have been my child, my sister, your child, your family member.
The Bogside, Brandywell, and The Fountain Neighbourhood Team presented Tiernan with a PSNI Badge of Honour (and some Malteasers). But this doesn't go anywhere near to paying off the debt our community owes this boy. Our youngsters often get a bad rep but remember the vast majority are brave and big-hearted just like Tiernan.
I Can't Believe It, 6 Months Ago I Saved Your Life, And Today You Are Enjoying It, I Love You With All My Being

In 2019, This 15-Year-Old Kid Started To Take Care Of His Elderly Neighbors Every Single Day After They Had Medical Setbacks. God Bless You Romemylion

A 5-Year-Old Girl Gently Supporting Her 4-Year-Old Brother As The Side Effects Of Chemotherapy Disrupt Their Playtime

"If I Had A Super Power, It Would Be To Fly. I Would Tell Other Children From Around The World To Come And Play With Me And My Sisters, And To Drink Tea Together!" – Mohamad, A Syrian Refugee In Lebanon

Our Kindergarten Classes Learned How To Sign Happy Birthday For Mr. James' Birthday Today. He Was So Surprised

Every Voice Helps

This Little Boy Gave Up His Seat To A Lady Who Entered The Train With A Stroller & Baby. Then As He Is Standing, His Mom Falls Asleep With Her Head On The Bare Railing

He takes her bags & carries them. Then, puts his hand in between her head & railing so she can use it as a pillow.
My Son Was Looking Out Of The Window. Then I Heard Him Fly Down The Steps. I Was Gonna Fuss At Him… Until I Saw Why He Did

He saw my elderly neighbor walking in the rainstorm without an umbrella on Friday. And walked him all the way home. Wearing my slippers and my jacket. I love this boy yall.
Just A Kid
Crying In An Uber

This Kid Is Going To Places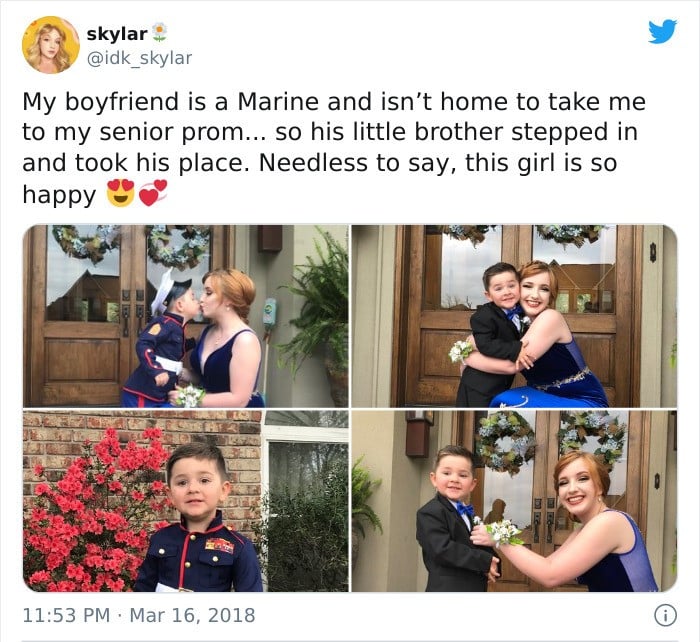 14-Year-Old Ridan Al-Mashouly From Sana'a, Yemen Regularly Feeds And Provides Food For A Homeless Special Needs Elderly Man From His Paycheck

Ridan works in a restaurant and hopes that he can make enough money to go back to school after temporarily dropping out.
My Daughter Said 'I Love You' For The First Time Yesterday, Of Course, It Was To The Cat

I Am A Teacher. I Am Also Jewish. I Received This Message Today From A Student After My Introductory Lesson On The Holocaust.

Kid Taught Himself To Crochet And Was Able To Master The Craft

These Belgian Kids Are Doing A Restoration On The Graves Of WW1 Soldiers

Kids Have The Most Wholesome Hearts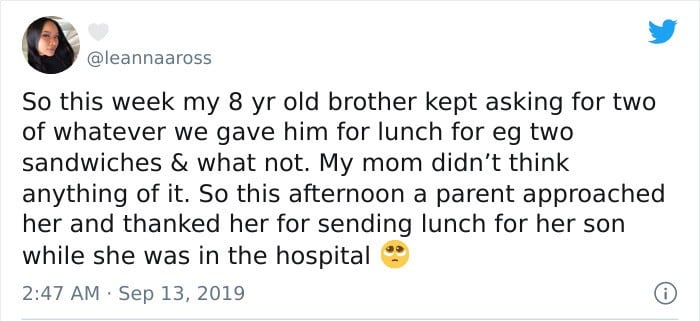 11-Year-Old Chelsea Makes Art Kits For Kids That May Not Have Access To Art Supplies To Teach Them That Art Is A Start To Healing, Expressing Themselves And Communicating

I Got This Two Years Ago From A Neighborhood Kid, We Still Have A Long Way To Go For LGBTQIA+ Rights

Awesome Kids

I teach 8th grade. This week, my homeroom took an angel off the "giving tree" – a little girl. All she asked for was a bike & clothes. My kids all agreed to bring in $2 each & we'd buy her clothes because we couldn't afford to get the bike. Then today, very quietly one of them came to my room with this.
Whenever My 7-Year-Old Daughter Who Has Down Syndrome Draws A Person, She Signs That It's "Dad." I've Saved Them And Put Them On A Canvas For Father's Day. Even Though She Can't Speak The Words, She's Still Able To Tell Her Dad How Much She Loves Him

 

My Sons (Age 4, Adopted From Foster Care) Insist They Are Twins

My 8-Year-Old Is Painting Pet Portraits To Raise Money For The Animal Shelter

These Kids From Daycare Saying Their Last Goodbyes Before Going To Separate Elementary Schools