Super Bowl LVII was electrifying and is literally the most talked-about sports event at the moment. We saw two great teams – Kansas City Chiefs and Philadelphia Eagles – play against each other and battle for greatness. What could be counted as the closest Super Bowl match ever, the Chiefs ended up bagging the victory. They took home the Vince Lombardi Trophy, marking their prowess in NFL history.
The Chiefs and the Eagles were in impeccable form all season. Neither team missed the opportunity of reaching the finals. However, destiny was sealed. Patrick Mahomes was named the MVP. The Chiefs defeated the Philadelphia Eagles 38-35 on Sunday, February 12, to win Super Bowl LVII. Moreover, Harrison sealed the Chiefs' third Super Bowl in franchise history with his 27-yard field goal with eight seconds to play.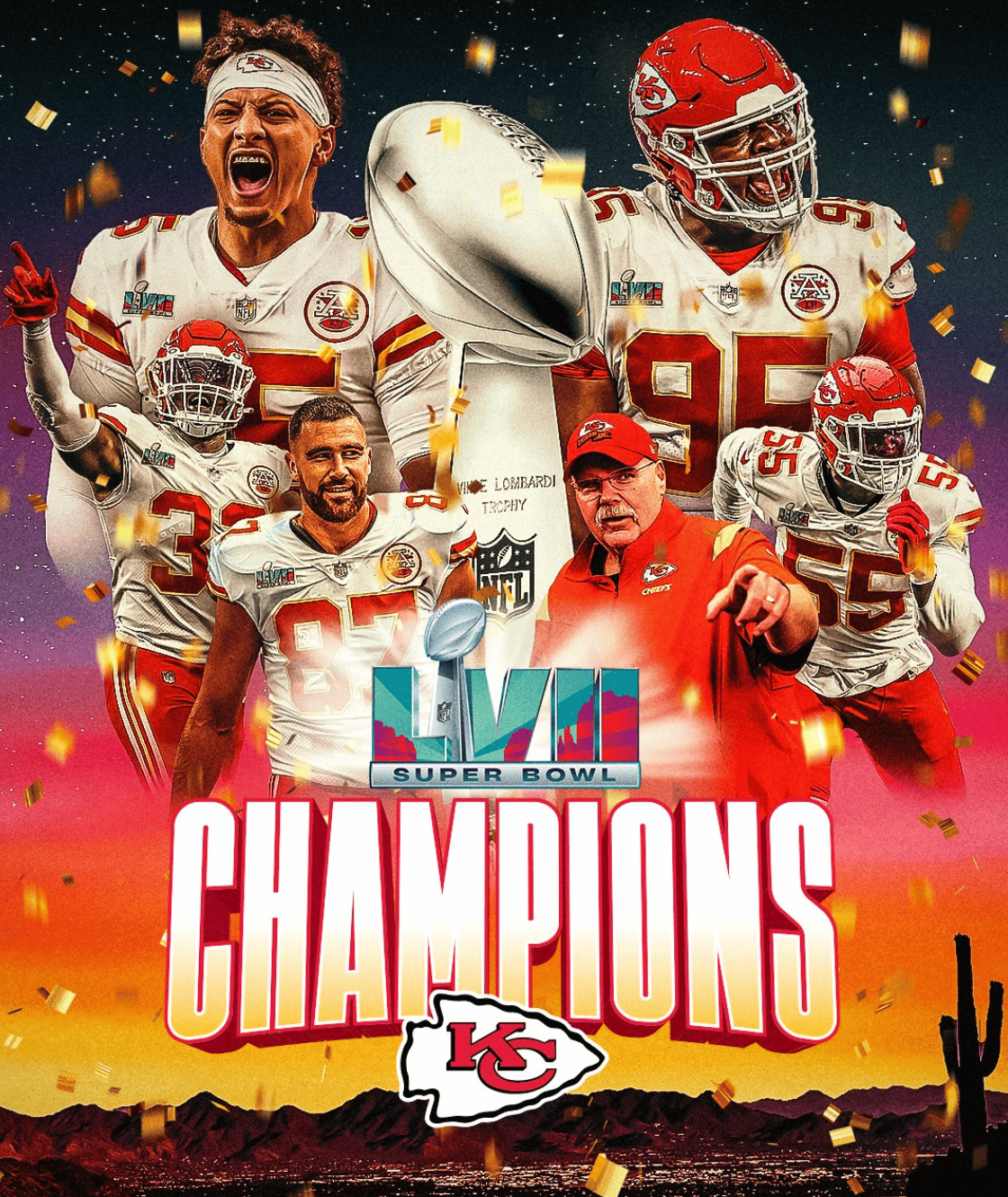 Kansas City Chiefs win Super Bowl LVII
Mahomes shouted out loud while on the stage, "It took everybody to win the games. We're Super Bowl champs, baby." Moreover, Chiefs coach Andy Reid beat his former team in the finals. He then said, "He's the MVP. That's all that needs to be said: MVP." Initially, the Chiefs were down 24-14 in the Super Bowl LVII. But they turned the game around and their fans cannot be more proud of what their team has done for them.
One fan wrote:
#ChiefsKingdom way to go Hell of a game KC boys for the win!!! Congratulations you guys deserve it! Super Bowl champs baby LETS GO!!!!!!
Another person wrote:
Congrats to Andy, Patrick and the entire KC Chiefs for winning Superbowl VII. 🙂 What a thrilling way to end the season. 🙂 Celebrate hard, you deserve it! 🙂

#SBLVII
One user said:
Congratulations Chiefs, to the entire franchise, an excellent example of total team effort, Great performance, Andy Reid, coaches, players, coordinators and all the individuals who support the team day to day operations, beautiful.
Another person said:
Congratulations to all thel players, coaches and staff at Kansas City Chiefs. You all worked very hard to get where you are and once again, your world champions. Proud of you all. Congratulations to Patrick Mahomes. U worked very hard to get it done and u did it.
One fan wrote:
KANSAS CITY CHIEFS ARE SUPER BOWL CHAMPIONS FOR A THIRD TIME

Even at half, I knew Mahomes & the squad were gonna pull off a 2nd half comeback. Proved all the doubters wrong this entire szn. Love the team & Chiefs Kingdom. Players of the game were Pat, Kelce, Bolton & Tone
Another fan said:
My dad played for the @Chiefs

guys for two seasons when no one wanted to play for KC ! and I know he would be so proud of how far the organization has come ! Your city , team, and organization is top shelf !!!! You deserve this !