Famous actor Johnny Depp(a.k.a Captain Jack Sparrow)  released a photo of his severed finger after Amber Heard allegedly threw a vodka bottle at him in a rampant to back up his claims of the actress attacking him throughout their marriage.
The Hollywood legend, 57, is also suing The Sun for labeling him a 'wife-beater' and today branded those accusations 'sick and completely untrue' at a long-awaited blockbuster declaration trial at the London High Court.
Johnny Depp's lawyers show photos of him with a severed finger after he was allegedly attacked by Amber Heard.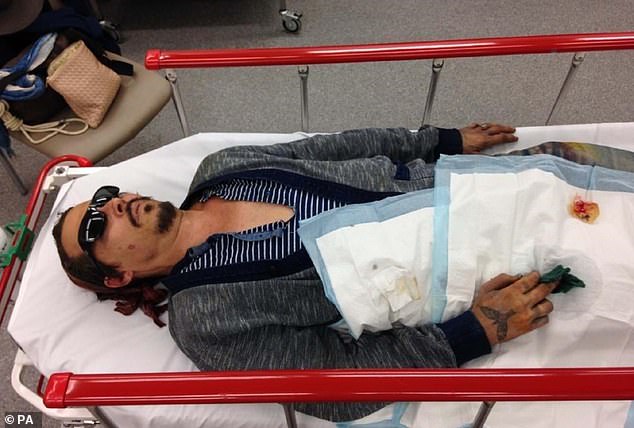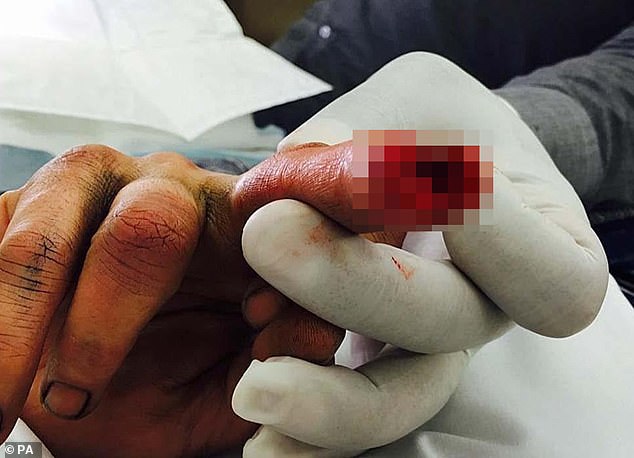 Depp's defence blew off a series of incidents in which she had allegedly attacked him including claims she threw a vodka bottle at him, severing his finger, in Australia in 2015.
His lawyers have also released a picture of Depp lying on a hospital bed after the alleged incident.
They also shared a disturbing photo of the severed finger itself, which Heard says came about after he smashed a telephone into a wall.
Depp today took to the stand and told the court: 'Amber severed my finger with the second of two thrown vodka bottles at me in the early afternoon of Sunday, March 8.
'Amber claims this was on the second day of a 'three-day hostage situation.'
Depp added: 'Amber claims that during these three days, I subjected her to a variety of what sounds like torture and other abuse. These sick claims are completely untrue.'
Depp totally denied of her sustaining any injuries at all that weekend, while on the other hand he himself sustained 'grievous' injuries including the severed finger 'and a cigarette stubbed out on my cheek'.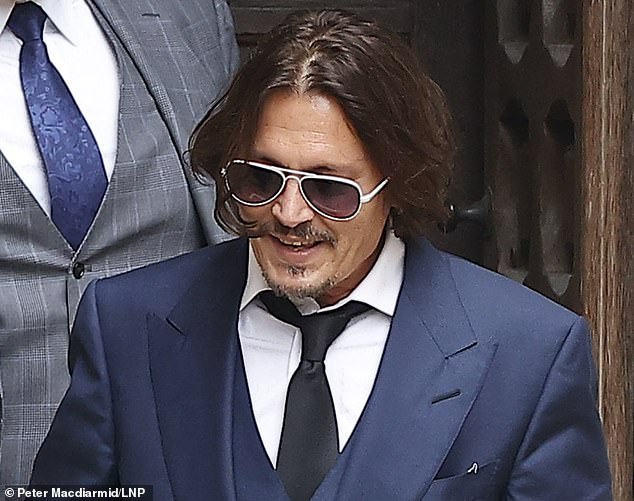 It only gets Worse
He also said that at some point after she threw the bottle that cut off his fingertip, she lit a cigarette out on his cheek.
'The severity of these injuries brought about the personal realization of the severity of the abuse that Ms. Heard had inflicted upon me for so long. I couldn't believe that we had come to this. I wondered what more she could do to me.'
Depp denied ever hitting Heard and said it was 'inconceivable' that he would ever hit a woman, depicting his Southern American upbringing and adding that he considers chivalry 'very important'.
He said: 'It is a strong and central part of my moral code that I would never strike a woman, under any circumstances, at any time. I find it simply inconceivable and it would never happen.'
While denying physically harming Heard he also launched a blistering attack on her, accusing her of being a 'calculating, narcissistic sociopath' who married him to further her career.
According to Depp's statement, Heard 'continuously belittled' him and called him a 'fat old man'.
He said he found it 'devastating and heartbreaking' to hear Heard call him a 'horrible father'.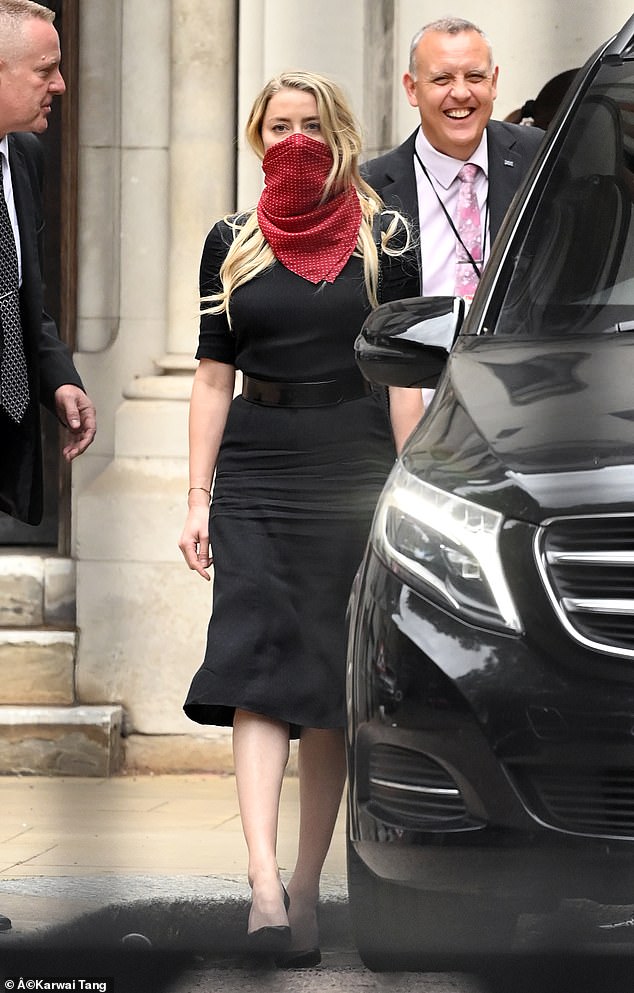 In one of his witness statements filed as part of his case against The Sun's publisher, News Group Newspapers (NGN), the actor said 'rage-filled violent incidents on planes were common with Amber'.
Johnny Depp said the pair were on a private chartered flight in late 2014 or early 2015 when Heard became 'verbally aggressive'. He said she called him a 'pussy' and 'spineless' for 'running away' from fights with her.
'Then she became physically violent and repeatedly punched me in the face. As I moved towards the back of the plane to get away from her, she followed me into the plane's bedroom and punched me again in the face and the head.
'I pushed her away from me, onto the bed. I then grabbed a pillow and locked myself in the bathroom, where I slept for the duration of the flight,' he wrote in his statement.
Heard's lawyers submitted this photo to Los Angeles Superior County Court in 2016 and claimed Johnny Depp had caused the injuries.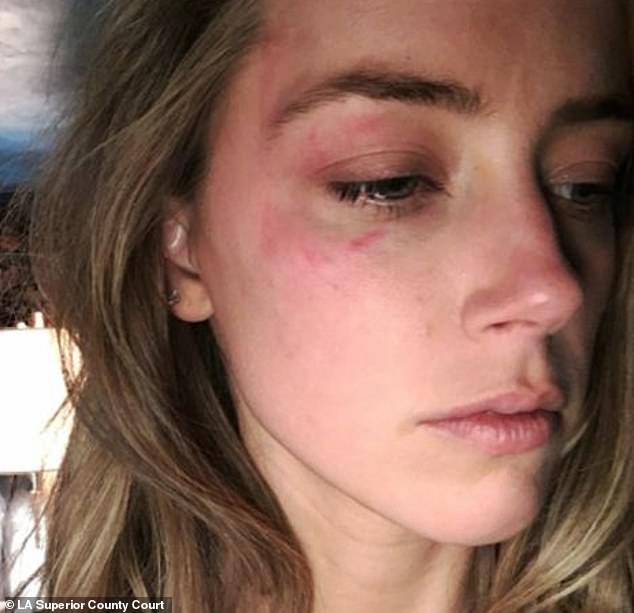 A recording of Heard shouting at Depp in 2015, was also presented at the court.
Depp's barrister David Sherborne read an extract from a tape in which Heard said to her husband: 'You got hit… but I did not punch you. I did not f****** deck you. I f****** was hitting you'.
Heard then went on to say 'you are a f****** baby', to which 57-year-old Depp said: 'Because you start physical fights.' Heard replied: 'You are such a baby. Grow the f*** up.'
Johnny Depp explained that both he and Heard recorded conversations during their relationship.
In her witness statement, Heard had mentioned that she recorded their conversations 'to remind Johnny of what he would do when using drugs and alcohol because he wouldn't remember, or deny what he had said'.
Lawyers for The Sun allege that Depp's violent outbursts were driven by alcohol and drugs, which left Heard with injuries and in fear for her life. They maintain that this justifies their article.