Finally we got the answer for the question that whether being in a best team makes him to be more worthy for the Cy young award than a guy who is not and the answer for this is it officially doesn't.
While deciding to crown the best in the league from the NL Cy young finalists, award voters had to go through tough situations, but in the end it had to be Jacob DeGrom, pitcher of the year in National League.
The race that seemed to be close was not actually that close. Once again Mets ace was the dominant pitcher on a bad team and he was rewarded finally. Ace had just 10-9 record with MLB leading 1.70 ERA, thus it must be weird for him to get support.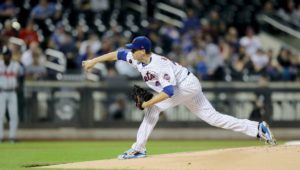 Ace got more support than what he thought as he was only a vote lagging for the first place nod.
For the sake of Met's fans, Brodie Van Wagenen should convince to make DeGrom stay at New York.
The metropolitan can faithfully enjoy knowing that they supported the best pitcher of the league in this season till the decision day comes.
Source 1: www.12up.com
Source 2: www.espn.in
I am an amateur content writer, who is currently pursuing a Masters in Finance from ICFAI Business School. In this highly volatile Business Market, I find no better way to keep myself updated than to write about it and reflect my own thoughts as words.