Intel has reportedly unveiled the most anticipated 9th-gen Core desktop processor on 8th of October. The K variant made with the aim of optimum gaming and overclocking, and this time Intel has revealed the best gaming processor in the world, Core i9-9900k processor. The all-new i9-9900K is a true octa-core processor with 16 threads. The processor has a clock speed of 3.6 GHz which can be boosted to 5.0 GHz.
The interim CEO and CFO Bob Swan has allegedly issued an open letter to the partners and customers where he mentioned that if people want to get their hands on the 9th-gen processors, then they should do it soon as there is an eminent CPU shortage of the Coffee Lake Processors. Swan also said that there is a chance that the 9th-gen processors might disappear for a predictable future.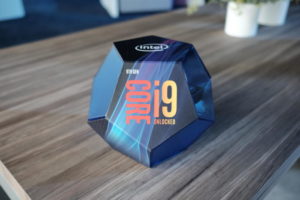 In addition to the new Core i9 processor, Intel has also announced the Core i5 and Core i7 variants of the 9th Gen: I7-9700K is an eight-core processor with eight thread, the i7-9700K is clocked at 3.6 GHz which can be overclocked to 4.9 GHz. The six core i5-9600k processor is equipped with six threads, clocked at 3.7 GHz speed which can be overclocked to 4.6 GHz.
The 9th-gen Intel chips are based off on its 14nm process, and again, there is no significant change in here. The 9th Gen core chip utilises the 14nm++ process which is similar the 8th Gen Coffee Lake Chips which were introduced in 2017.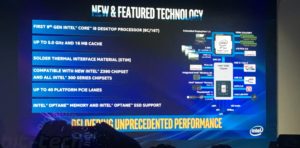 Intel has updated its Core X-series line up with the new Core i9 Extreme, Core i9 X-Series and the Core i7 X-series. These processors are built on the same 14nm++ process, but they are still based on the design of Skylake X. The Core X chips will release sometime in November.
Intel has also unveiled a new 28 Core with 56 thread unlocked Intel Xeon W-3175X processor for professionals with a clock speed of 3.1 GHz and a boost clock of 4.3 GHz.