Born from the distinctive worlds of theoretical physics, J. Robert Oppenheimer and Albert Einstein formed a relationship that was as riveting as it was multifaceted. Standing tall in their respective domains, these two luminaries hailed from seemingly different philosophies and perspectives, yet their paths intertwine in unexpected and profoundly impactful ways.
Their shared journey has continued to captivate generations long after their earthly sojourn ended. This is partly due to their transformative work in physics, especially in the explosive context of nuclear weapons development.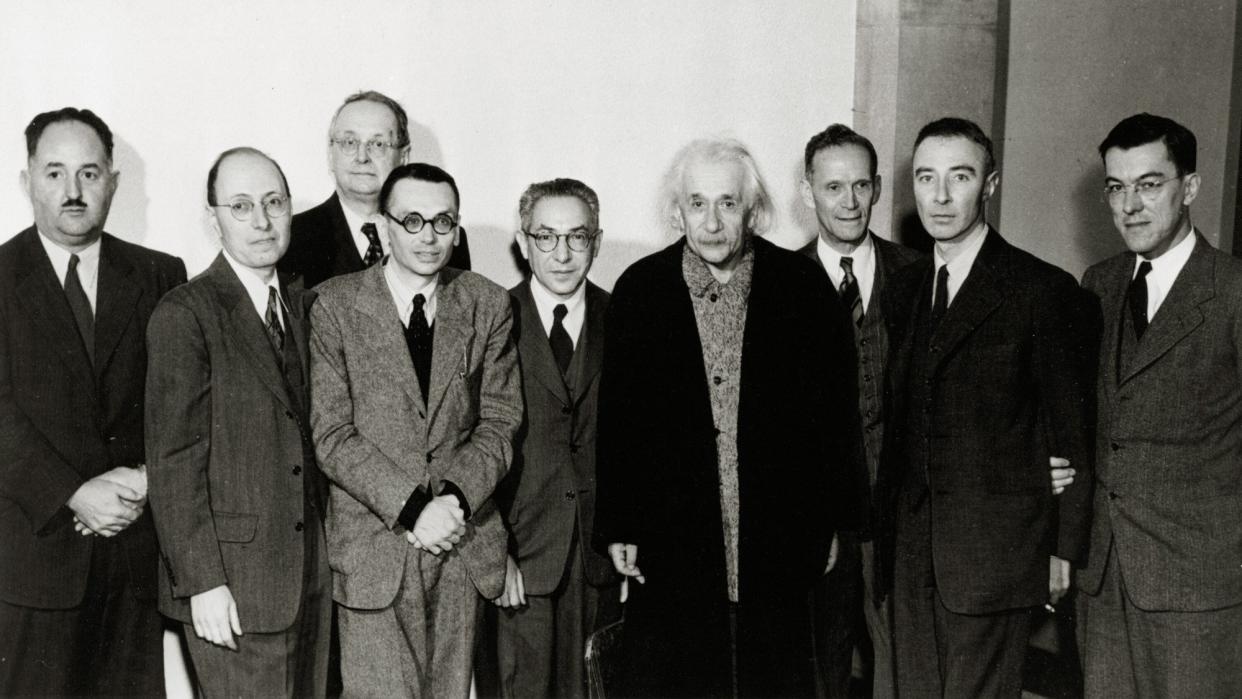 Oppenheimer, often dubbed as the 'father of the atomic bomb,' and Einstein, a name synonymous with scientific brilliance and innovation, were not just peers. They were iconic figures who transcended their roles as scientists, leaving indelible marks on the fabric of history and shaping the 20th century and beyond.
Their contributions stretched across numerous disciplines, fostering discussions and debates that resonate within the scientific community and society.
Their relationship, marked by its eccentric dynamics, layered complexities, and pivotal moments, has been a recurring subject of fascination for historians, scholars, and the general public alike. It presented a fascinating dichotomy of personalities: Oppenheimer, a complex figure marked by his brilliance and controversial role in weapon development, and Einstein, the larger-than-life genius whose very name represents a paradigm shift in our understanding of the universe.
Yet, their captivating narrative has been given a fresh lease of life. The renowned storyteller, Christopher Nolan, known for his compelling narratives and intricate plot designs, has brought their complex relationship into the limelight again with his biographical thriller Oppenheimer.
This cinematic piece celebrates the lives of these two phenomenal scientists and explores the multifaceted relationship they shared. It intricately unravels their profound impact on each other's lives and works, painting a compelling picture of their shared history that resonates deeply in our contemporary world.
Through its narrative prowess, the film effectively reignites the intrigue surrounding these iconic figures and their complex relationship, giving audiences a new lens to appreciate their intertwined narratives anew.
The Unusual Friendship of Oppenheimer and Einstein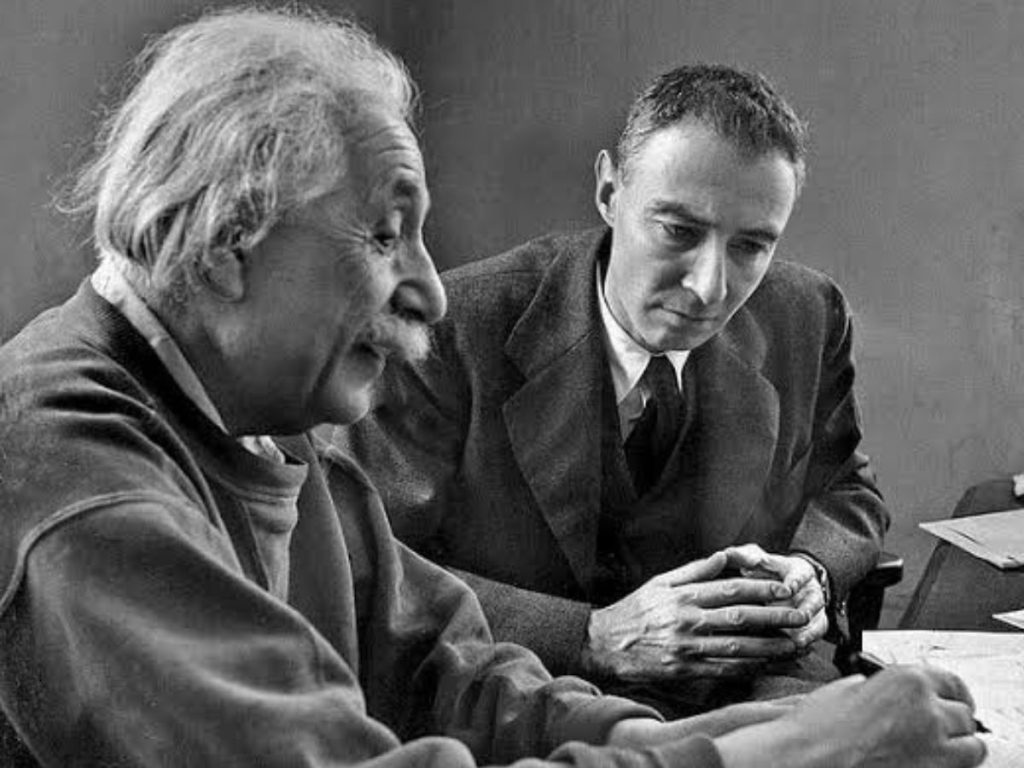 J. Robert Oppenheimer, a name etched into history as the 'father of the atomic bomb,' and Albert Einstein, the paradigm-shifting genius who revolutionized the world with his groundbreaking theories, were two extraordinary men whose lives were deeply entwined with their relentless passion for physics.
Despite their achievements, their combined legacy extends far beyond their remarkable scientific contributions. Their shared zeal for physics brought them into an enthralling dance of intellect, filled with moments of harmony, tension, agreement, and dispute.
Each carves their niche within the expansive physics universe; Oppenheimer and Einstein found their paths crossing intriguingly. Although they shared a common field of interest, their viewpoints and interpretations often diverged, creating a dynamic intellectual battleground.
This fascinating interplay was particularly evident when they confronted topics like quantum mechanics and the development of nuclear weapons—subjects that would define much of the world's scientific and political trajectory during the 20th century and beyond.
Silvan S Schweber, in his insightful book, "Einstein and Oppenheimer: The Meaning of Genius," offers an illuminating exploration of the unique 'greatness' that each of these men possessed. Schweber argues that Einstein's 'greatness' is indubitably linked to his awe-inspiring scientific achievements, which fundamentally shifted humanity's understanding of the universe.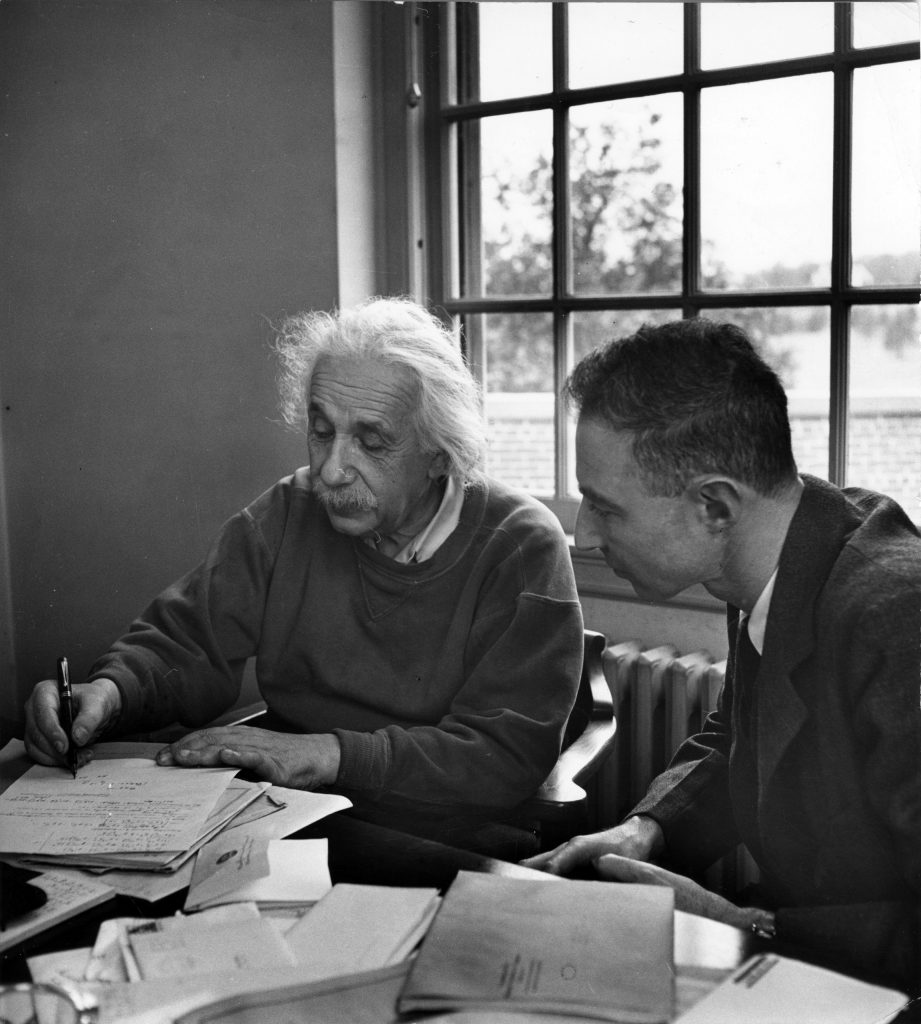 His theories of relativity, his work on the photoelectric effect, and his critical contributions to quantum theory have made Einstein a titan of modern science, a genius whose influence continues to echo through the halls of academia and beyond.
On the other hand, Oppenheimer's claim to 'greatness' is anchored not just in his seminal role in weapon development but also in his substantial influence as an educator and mentor. During the 1930s, he earned wide acclaim for his efforts as a teacher at Berkeley, where he guided the next generation of physicists, instilling a profound appreciation for the subject.
His tenure as the Los Alamos weapons laboratory director during the Second World War further amplified his reputation. His leadership in what can be considered one of the most significant scientific undertakings in human history — the creation of the atomic bomb — sealed his place as one of the most influential figures of the 20th century.
Hence, Oppenheimer and Einstein, operating within the realm of physics but through distinctive trajectories, stand as monumental figures, each embodying 'greatness' uniquely.
Their contributions and the fascinating dynamics of their relationship continue to captivate audiences, inspiring new generations to delve into the riveting world of theoretical physics.
At the Heart of Disagreement
The initial brush between J. Robert Oppenheimer and Albert Einstein, two giants who shaped the landscape of theoretical physics, took place under intriguing circumstances. As Einstein embarked on a global tour in 1932, he stopped at Caltech, a leading science and engineering institution in Pasadena, California.
Here, he first crossed paths with Oppenheimer, who was then building a reputation for himself as a rising star in the world of physics.
This meeting marked the genesis of a relationship that would later see them engage in numerous interactions and intellectual dialogues, painting a rich tapestry of scientific discourse that continues to captivate historians and physicists alike.
Their respective roles in theoretical physics created multiple opportunities for these two iconic figures to intersect and interact. Before the colossal project known as the Manhattan Project cast its shadow over Oppenheimer's career, he and Einstein had several exchanges, their conversations weaving a complex web of ideas and philosophies, disagreements and consensus.
These interactions set the stage for their future relationship, which would endure and evolve amidst the turbulent waters of world events, particularly the race to develop the world's first atomic bombs.
However, their relationship, like their personalities, was far from simple. It reached a critical juncture when Oppenheimer found himself in the harsh glare of public scrutiny due to his previous associations with communist groups. As suspicion and distrust swirled around him, many chose to distance themselves from the beleaguered physicist.
Yet, in this precarious scenario, Einstein emerged as a stalwart supporter, standing shoulder to shoulder with his fellow physicist, affirming their shared bond in the face of adversity.
According to a source, Einstein was disheartened and visibly agitated by Oppenheimer's decision to submit to the investigation. He equated this process to a 'witch hunt,' an institutional persecution that threatened to tarnish the reputation of an esteemed scientist.
Einstein reportedly chided Oppenheimer as a 'fool' for succumbing to the pressure and not following his advice of refusing to engage in the investigation. This instance underscores Einstein's deep concern for Oppenheimer, his criticism stemming from a place of empathy and shared experience, not personal malice.
Einstein's staunch support of Oppenheimer during this trying period became a significant chapter in their intertwined narrative, shedding light on their mutual respect and concern for each other amidst their disagreements and debates. Their relationship, marked by its share of complexities and layers, continued to evolve, mirroring the turbulent era they were a part of. It stands as a testament to their enduring influence on physics and beyond.
An Unwavering Bond Despite Divergence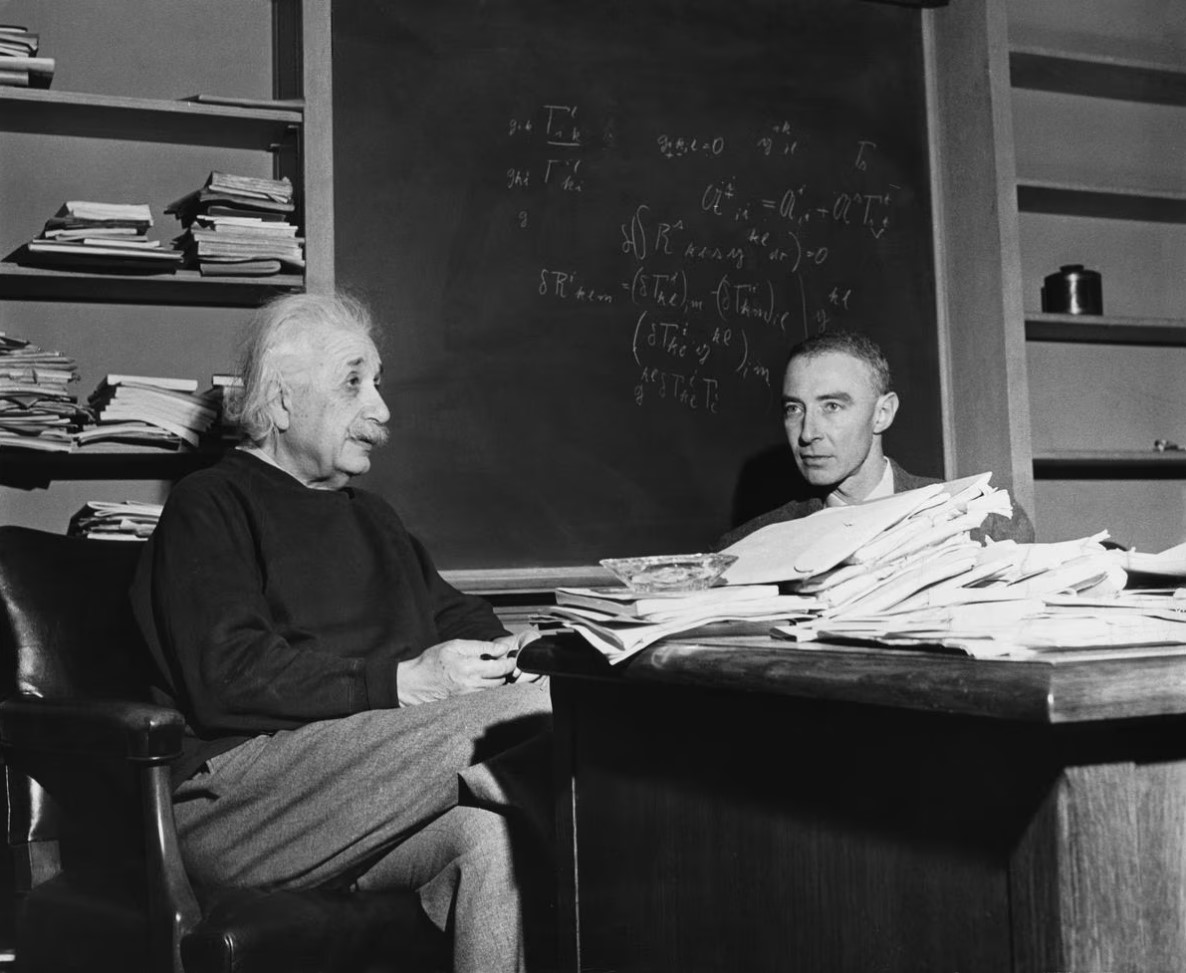 The relationship between Albert Einstein and J. Robert Oppenheimer stretched beyond the realm of theoretical physics, extending into a deeply personal connection. This bond was far from linear or simplistic. Instead, it was an intricate web of shared respect and understanding, punctuated by occasional disagreements and ideological divergences.
Their dynamic, while at times fraught with intellectual conflict, was fundamentally built upon a mutual acknowledgment of each other's profound impact on the scientific world and the advancement of humanity as a whole.
Einstein, recognized worldwide as a towering figure in science, didn't hesitate to express his admiration for Oppenheimer despite their starkly different personalities and the clashing viewpoints that colored their relationship. Publicly, he voiced his respect, praising Oppenheimer for his brilliance as a scientist and his qualities as a human being.
This sentiment demonstrated the depth of his regard for Oppenheimer, founded not just on their shared passion for science but also on a deep recognition of Oppenheimer's strength of character, perseverance, and unwavering dedication to his work in the face of adversity.
But to understand their bond's depth and significance, one must look beyond the mutual admiration and delve into the diverse interactions that shaped their relationship. Their connection was not just a static tableau of respect and acknowledgment, but rather, it was a living, breathing entity that evolved and adapted over time.
It reflected scientific progression's multifaceted and often paradoxical nature — an arena where collaboration and competition often coexist and where heated debates and rigorous confrontations are just as crucial as shared victories and collective breakthroughs.
Their unique relationship, filled with moments of unity and discord, is a poignant illustration of the complex interplay between personal dynamics and professional collaborations in science.
Despite their divergent ideologies and contrasting personalities, Einstein and Oppenheimer were bound together by their shared commitment to exploring truth and pursuing scientific knowledge. This indelible connection is a testament to the rich tapestry of interactions that define the world of science, painting a vivid portrait of a friendship that was as complicated as it was compelling.
Legacy Captured in the Silver Screen
In the cyclical world of pop culture, stories often return to the limelight, illuminating long-forgotten tales or breathing new life into classic narratives.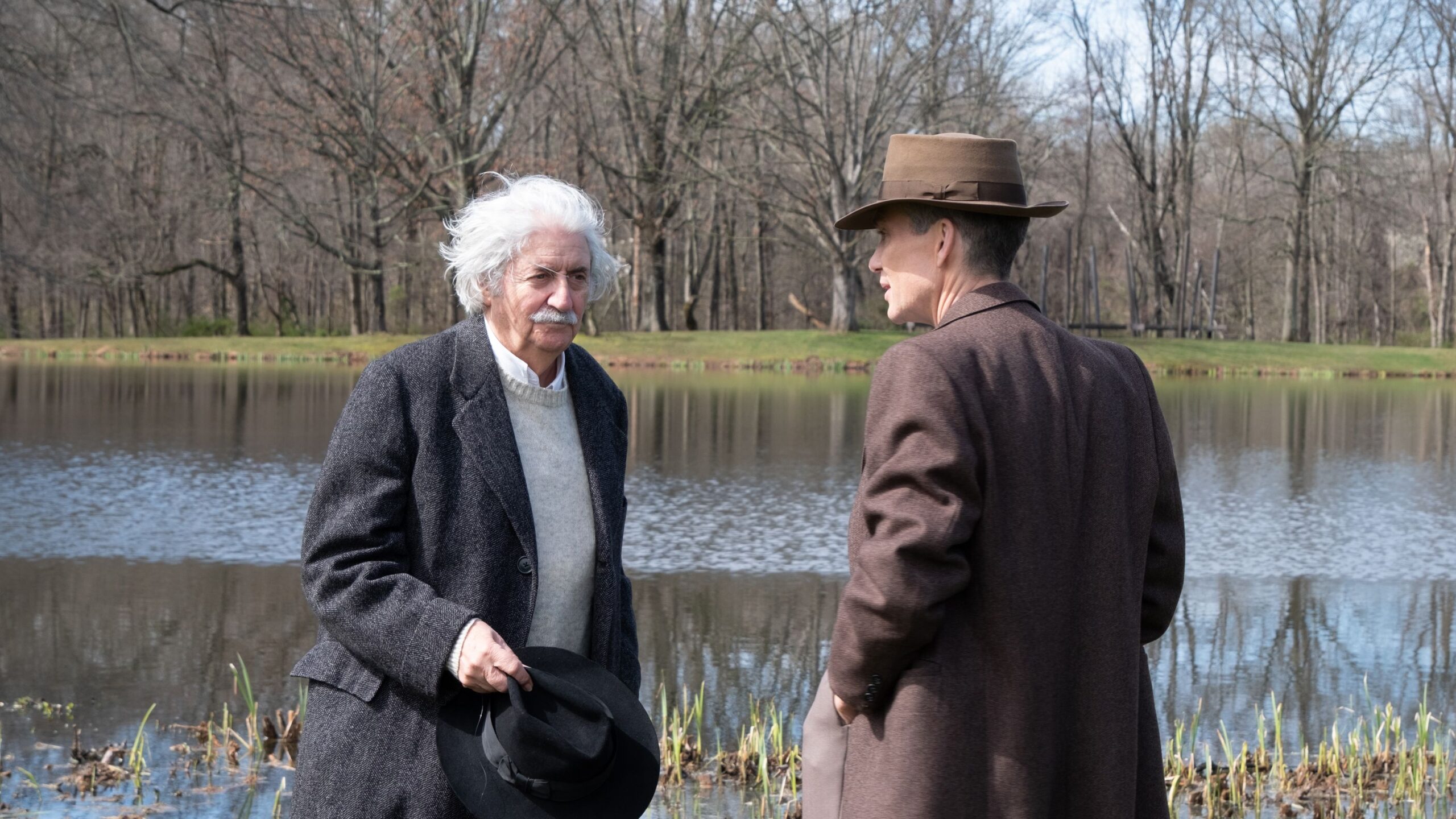 This is precisely what's happening now. The enigmatic relationship between J. Robert Oppenheimer and Albert Einstein is again at the center of public attention, thanks to Christopher Nolan's much-anticipated biographical thriller, Oppenheimer.
Almost half a century after they departed, the intriguing dynamic between these two extraordinary men has been catapulted back to the forefront of popular discourse. This resurgence serves not merely as a retrospective glance at their fascinating bond but rather a deeper exploration into the complexity and multidimensionality of their relationship.
Encapsulated by the artful performances of Tom Conti and Cillian Murphy, who step into the shoes of Einstein and Oppenheimer, respectively, the biographical film illuminates their interactions, presenting a vivid tableau of their extraordinary story.
Oppenheimer serves as a canvas onto which the world can again appreciate the intricacies of the bond between these two significant figures of the 20th century. On the silver screen, the audience gets to witness not just the brilliant scientific minds of these two men but also their human sides — their camaraderie, their disagreements, and the respect they hold for each other.
In essence, the film illuminates the nuanced reality of two individuals who, bound by their shared passion for science, were also distinct in their personalities and beliefs.
The tale of Einstein and Oppenheimer goes beyond the individual achievements of these two brilliant minds; it's a saga that unfolds the riveting dance that occurs when exceptional intellects cross paths in the pursuit of knowledge. This dynamic interaction, filled with meaningful breakthroughs, spirited debates, and occasional conflicts, paints a compelling picture of scientific discovery and progress.
Moreover, it serves as a powerful testament to the resulting sparks that can emanate from such a relationship, sparks potent enough to alter the trajectory of human history forever.
As we immerse ourselves in the compelling narrative brought to life by Nolan's film, we are reminded of the timeless value of intellectual curiosity, the relentless pursuit of knowledge, and the transformative power of collaborative brilliance, all of which stand as enduring legacies of Einstein and Oppenheimer's remarkable relationship.