A TikTok influencer known for acting as a mother figure to her fans has revealed that she purchased a designer wedding gown for $50 at a thrift store and planned to give it to a follower who is getting married.
Ophelia Nichols, a 41-year-old creator from Alabama known on TikTok as Mama Tot, has amassed an 11.2 million-follower following by acting as a mother figure to her younger fans, reacting to other creators discussing difficult life experiences, and responding to requests for advice about specific issue a follower is facing with comforting words.
On Sunday, Nichols shared a video of herself holding up a white designer wedding gown from the premium bridal brand Romona Keveža.
According to Nichols, the initial price tag on the dress was $4,819. Romona Kevea wedding dresses in the current line start around $3,500, according to Brides magazine.
The TikToker stated that she "felt so bad" about purchasing the dress for such a low price that she attempted to tell a store employee how valuable it was, but the employee was happy to let her have it for $50.
Nichols stated that she wanted the dress cleaned so that she could give it to one of her fans, whom she refers to as "tater tots," who is planning a wedding but cannot afford a designer wedding gown. She then remembered planning her own wedding and perusing designer magazines, wishing she could afford it.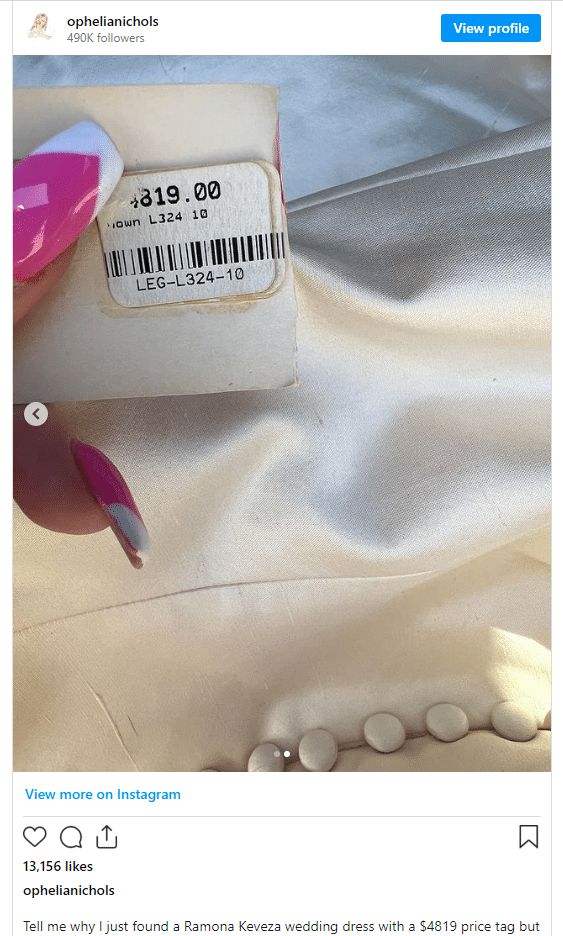 "I cried when I put this dress in my truck because I would have given anything to have this years ago when I got married, and I know that it would mean something to one of you," she said. "Sure, I could get it cleaned and sell it on eBay for whatever, but no, I want somebody else to have this experience that I didn't get a chance to have."
The TikToker recorded herself trying on the dress and stated that she would prefer to give it to a local Alabama fan so that they could try it on first to see if it fit well.
"This is breathtaking. This is the outfit I would have worn to my wedding. "I'm speechless," she said as she twirled in the costume in front of the camera.
Dream designer wedding gown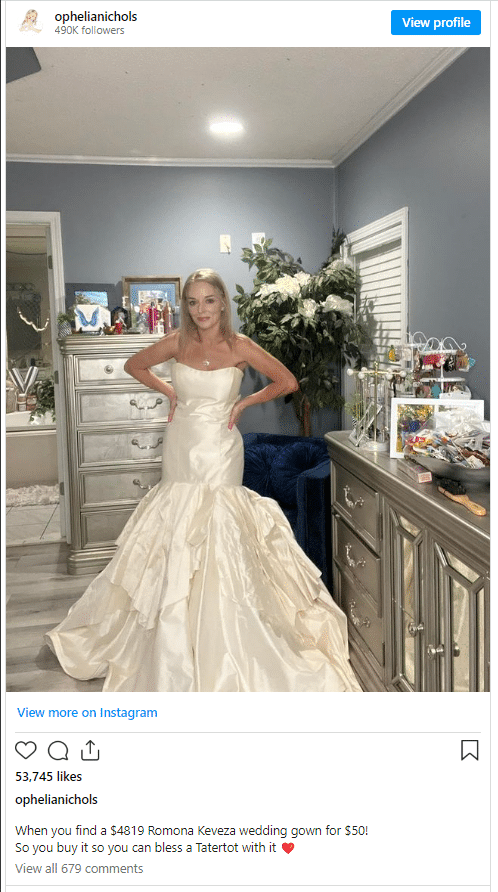 Instead of rushing to join the dress giveaway, the vast majority of Nichols' commenters said they thought the creator should keep the dress because it looked good on her, and they felt sympathy after she talked about how much she adored it. Many people recommended she wear the gown to renew her vows with her husband, Derick, whom Nichols refers to online as Papa Tot.
"No, no, I want someone else to enjoy this beautiful designer wedding gown that may be wouldn't have the opportunity to," Nichols wrote in response to one commenter who suggested this.
Nichols has yet to make an announcement about when she intends to give away the designer wedding gown. She did not reply immediately to a request for comment.
She has previously sought assistance from her admirers.
She requested details last year about her 18-year-old son, Randon Lee, who was shot and killed in June. Nichols asked her TikTok fans if they had any information that could help identify Lee's killer. She also shared a link to a GoFundMe page at the time, which raised $280,980 to pay his funeral expenses. According to numerous accounts, police arrested a man in August on suspicion of murder.