Halloween is in few weeks, however, we still don't know why our favorite candies got that name
But don't worry, we are here for you. We have listed 14 of the most preferred Halloween sweet treats with stories that tell why they got that name.
Milk Duds Earned The Name Because Of Their Shape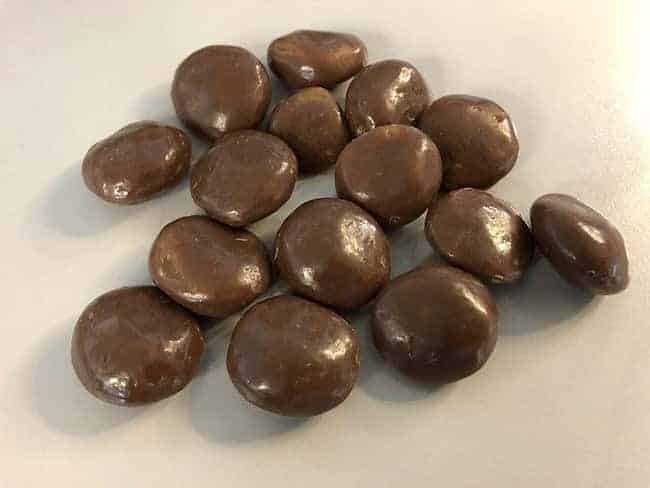 Initially intended to be round balls of caramel covered in chocolate, Milk Duds proved difficult to manufacture. When Hoffman and Company of Chicago first tried in 1928, they struggled to create perfectly shaped spheres.
They eventually stopped trying, naming their product Milk Duds for the milk in the chocolate and the caramel – and for the "dud" of their appearance.
3 Musketeers Used To Be Three Mini Candy Bars

Created in 1932, the 3 Musketeers candy bar was originally three smaller pieces. With individual chocolate, vanilla, and strawberry mini-bars, the tripartite goodie adopted the name of the Alexandre Dumas novel, The Three Musketeers.
Sugar rations and the high price of strawberries during the WWII resulted in changes to 3 Musketeers. In 1945, the Mars product became a single, chocolate nougat candy bar.
Snickers Was The Name Of A Horse, But The Name Isn't Used In The United Kingdom
When the Snickers bar was introduced around 1930, it was named for one of Frank Mars' family horses. The confection blended consumer favorites – chocolate, peanuts, nougat, and caramel – and grew in popularity quickly across the United States.
When the Mars Corporation looked to export the Snickers bar to the United Kingdom, they had to adjust the name. Because the word "snickers" rhymed too easily with "knickers" – slang for underwear – the candy was marketed as the Marathon bar. It wasn't until 1990, when Mars undertook a company-wide rebranding – that Snickers bars were sold in the UK.
Reese's Peanut Butter Cups Once Cost One Cent And Were Called Penny Cups

Reese's Peanut Butter Cups were developed after Harry Burnett Reese set up a candy-making shop in his basement.
As a farmer and an employee of Milton S. Hershey, Reese began selling his own chocolate and peanut butter treats in 1928.  He even used Hershey chocolate in his recipes.
Reese called his candies Penny Cups, and sold them in bulk. Later they could be purchased individually for one cent. As a result of the peanut butter cup's success, Reese abandoned all of his other products. The name changed, presumably, when the price did.
Tootsie Rolls Bear The Nickname Of The Creator's Daughter

Candymaker Leo Hirshfield named his pseudo-chocolate candies after his daughter, Clara. Nicknamed "Tootsie," Clara's Austrian-born father had a candy shop in Brooklyn, New York. He first made his hand-rolled chewy candies in 1896 – intent on producing a form of chocolate that didn't melt.
Selling his candies for only one penny and limited in his ability to expand his customer base, Hirshfield joined with fellow confectioners Stern and Staalbert in 1897. Hirshfield opened larger factory in 1905 and delivered Tootsie Rolls via horse and buggy.
The 'M' In M&Ms Are For The Candy's Founders

M&Ms are based on British Smarties – small, coated nibs of chocolate Forrest E. Mars, Sr., witnessed troops eating during the Spanish Civil War of the 1930s. Mars came up with his own version of the candies when he got back to the United States.
Mars joined forces with Bruce Murrie, the son of Hershey Corporations's executive, Bill Murrie. Together, Mars and Murrie to introduce a new product in 1941– with the letter "M" written on the little candies for each of their names.
Because the chocolate pieces were coated in sugar, they didn't melt and, with the onset of WWII, were used as rations for troops. Mostly Mars's idea, Murrie had a 20% stake in M&Ms until Mars bought him out in 1949.
Kit Kat Was Initially The Name Of A Literary Club In London

Kit Kat is derived from the name Christopher Catling, the owner of the shop where the Kit Kat literary club met during the late 1600s. The club named itself after Catling, but it wasn't until the early 20th century that English confectioner Rowntree first sold a four-section wafer candy.
During the 1930s, Rowntree changed the name of their candy to Kit Kat Chocolate Crisp. Milk shortages resulted in a recipe change during WW2, but afterward, Kit Kat was once again made with milk chocolate and donned a red wrapper.
Baby Ruth Is (Probably) Named For Grover Cleveland's Daughter

Often thought to be named in honor of baseball great George Herman "Babe" Ruth, the Baby Ruth candy bar is officially named for Ruth Cleveland.
Called "Baby Ruth" by an adoring nation, Ruth Cleveland was the eldest daughter of President Grover Cleveland. Even after Cleveland left office in 1897, Ruth was still in the public eye. In 1904, Ruth contracted diptheria and passed days later, only 12 years old at the time.
Because the Baby Ruth candy bar wasn't introduced until 1921, observers challenge the notion that it was named for the President's daughter, but the original makers of the candy, the Curtiss Candy Company, insist:
Baby Ruth Cleveland…visited the Curtiss Candy Company plant years ago when the company was just getting started and this largely influenced the company's founder to name the candy bar "Baby Ruth."
The Curtiss Candy Company was founded by Otto Schnering in 1916 and is now part of Nestle.
Butterfinger Got Its Name Thanks To A Public Contest

The Butterfinger candy bar, created by the Curtis Candy Company in 1926, was named by the winner of a contest to do just that. The bar, with its peanut butter innards and chocolate coating, is said to bear the nickname of Nikola "Butterfingers" Jovanovic, a self-identified klutz.
The phrase "butterfingers" was used as early as the 17th century to describe someone who was clumsy. By the late 19th and early 20th centuries, it was among the favorite words sports observers applied to baseball and cricket players with seemingly slippery fingers.
The Hershey Bar Has Had The Same Name For More Than 100 Years

Milton S. Hershey owned the Lancaster Caramel Company before starting a chocolate company in Pennsylvania. In 1900, Hershey introduced the Hershey Bar, an affordable treat he named for himself.
As he shifted his focus from caramel to chocolate confections, Hershey's initial milk chocolate bar was soon accompanied by variations with almonds, peanuts (Mr. Goodbar, 1925), and rice (Krackel, 1938). For a smaller treat, Hershey put forward his Hershey's Kisses to the masses in 1907.
Junior Mints Were Given A Name Comparable To The Creator's Favorite Play

Junior Mints, created by the James O. Welch Company, were first available in 1949. Named to honor the Welch's favorite Broadway production, Junior Miss, the candies were small in size and quiet to eat, making them popular among movie goers.
Junior Mints grew in popularity as the work gained continued attention as series in New Yorker magazine and a radio show staring Shirley Temple.
Smarties Reflect The Creator's Passion For Education
In the United Kingdom, Smarties are small, coated, chocolate treats. In the United States, however, Smarties are fruity sugar tablets, first made using pellet machines once used during WW2.
Edward Dee was from a family of candy-makers in England. When Dee began his own candy company, based in New Jersey, he called it Ce De Candy, Inc. It was later changed, according to his grandaughter, Liz, "because he wanted to encourage people to be smart…. Education has always been very important to him."
Starburst Were Initially Called Opal Fruits

Known as Opal Fruits in the United Kingdom, Starburst candies were first made in 1960. Their initial name was given to them by Peter Phillips, who one a contest for the honor.
Introduced into the United States in 1967, they were renamed "Starburst" to reflect their juiciness and burst-like flavor. Opal Fruits became Starburst in the UK during the 1990s, but transitioned back to their original name briefly in 2020.
Jolly Ranchers Were Named To Evoke A Sense Of Western Hospitality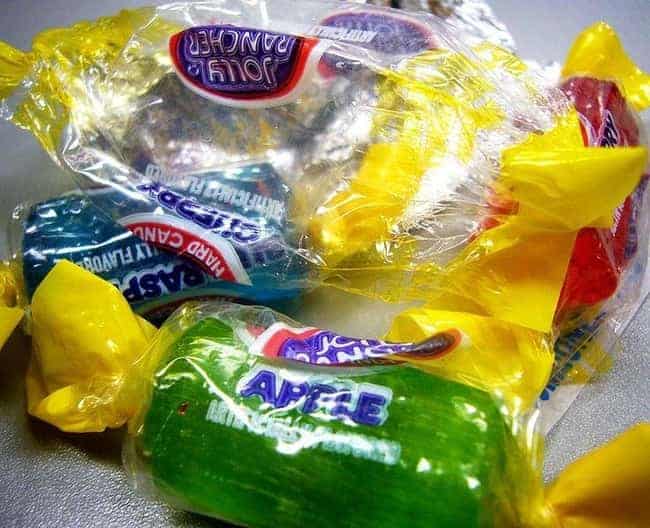 Jolly Ranchers were created by Bill and Dorothy Harmsen in 1949. They were first sold by the Jolly Rancher Company near Denver, Colorado, a business that also made ice cream and chocolate confections.
The name Jolly Rancher brought together friendliness and the spirit of the American West. As their best sellers (and something that could be sold all year), Jolly Rancher hard candies became the focus of the company's manufacturing efforts by the early 1950s.