"Happy Halloween" is being reinstated in the Happy Meal by McDonald's. The Halloween Happy Meal pumpkin pails are supposedly returning for Halloween 2022 at the fast food restaurant. According to NightmareNostalgia, the buckets, which were first made available as the iconic McPunk'n, McBoo, and McGoblin jack-o-lanterns countrywide in 1986, are making a comeback. According to information from people familiar with the McDonald's calendar, the McDonald's Halloween Pails Happy Meal starts on October 18 and is only offered for a brief period through October 31.
ComicBook requested confirmation from McDonald's Corporation.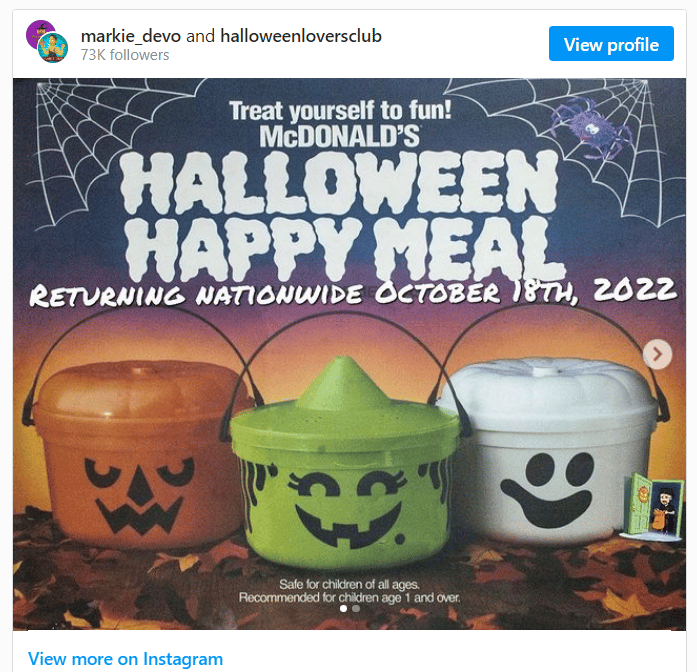 The plastic Pumpkin Pails were first made available to the public in 1986 as the Halloween Pumpkin Happy Meal. They were then reintroduced in 1987 before getting a facelift in 1989 that included the inclusion of a white ghost and a green witch. According to Nightmare Nostalgia, the buckets were replaced in 1991 by glow-in-the-dark vinyl treat bags known as "McBoo Bags," and in 1992, McPunk'n, McBoo, and McWitch made a comeback with brand-new cookie-cutter lids.
The Halloween Happy Meal was reinstated by McDonald's in 1996 with redesigned buckets that included characters from McDonaldland such Ronald McDonald, Grimace, and the Hamburglar. Up until 2016, when the It's the Great Pumpkin, Charlie Brown-themed McDonald's Halloween Happy Meal went on hiatus, additional themed designs, such as Potato Head, Scooby-Doo, and Minions, covered the buckets on occasion.
Recently, McDonald's unveiled items from its "hacks" menu, tested the Chicken Big Mac from the original menu, and added a seasonal pastry to its McCafé Bakery selection. The Cheese Danish, which has been available since September 14, is the most recent item to return to McDonald's restaurants from earlier in time. The popular Szechuan Sauce was brought back by the fast-food juggernaut earlier this year as an app-only option for a brief period of time, joining the return of the McRib in 2021.
The McDonald's Halloween Pails Happy Meal is anticipated to be available at participating McDonald's restaurants from October 18–October 31.