Nearly 15000 homeless people, affected by the deadly California Wildfire, which made a devastating impact, were served Thanksgiving meals. Chefs Tyler Florence, Jenn Louis and Guy Fieri helped Jose Andres in Chico, California in preparing the meals.
Jose Andres, in a video on twitter, said that the least they all could do on thanksgiving was to come together to show what the victims really deserve, that is one plate of food at a time, love and support. He had an army of helpers to get his work going.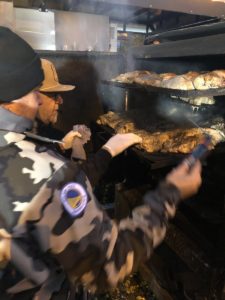 He also said that there was barbecue in a nearby parking lot and three kitchens serving food to those in need, in Chico. About 800-1000 volunteers helped Jose in cooking. He was not only joined by Florence, Fieri and Louis, but some of the best chefs of California were also there.
Andres said that, on Thursday alone, 15000 meals would be served.
In two weeks both the ends of California were left to flames by the two fires. One in the Woolsey fire outside Los Angeles in the south and one in the Camp fire, Northern paradise.
The Camp fire which made the costliest impact, burned continuously, but the Woolsey fire was put down. Nearly 13000 homes have been destroyed and 80 people have been killed.
Supermodel Cindy Crawford and her husband, went directly to the spot and delivered the cooked meals by hand, to those affected by the Woolsey fire in Malibu.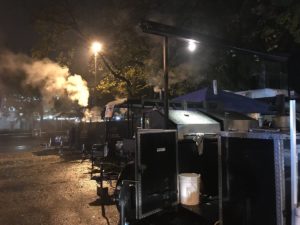 Jose Andres and Guy Fieri provide relief in the form of cooked meals, wherever and whenever they can. When Hurricane Maria hit Puerto Rico, his World Central Kitchen, fed both the victims and responders. Andres said on Wednesday that nearly 200,000 meals had been made by his organization since its start.
Source 1: www.people.com
Source 2: www.nbcbayarea.com
I am an amateur content writer, who is currently pursuing a Masters in Finance from ICFAI Business School. In this highly volatile Business Market, I find no better way to keep myself updated than to write about it and reflect my own thoughts as words.