Domestic dogs have been mostly been excepted to protect their humans from any danger that can approach them. For centuries, this has been considered to be a major role and responsibility of a dog. But it has been observed that many dogs do not react to threat these days as they're expected to behave. Watchdogs are supposed to bark or attack a threat they come across. For Worawut Lomwanawong, the owner of a jewelry store in Thailand, the situation was diverse. We won't say much and let you scroll down to find out more about the situation.
Here's the CCTV footage that captured the funny incident in full swing
It all started when Lucky's owner decided to perform a security test at his jewelry store in Chang Ma, Thailand, and for that, the man staged an armed robbery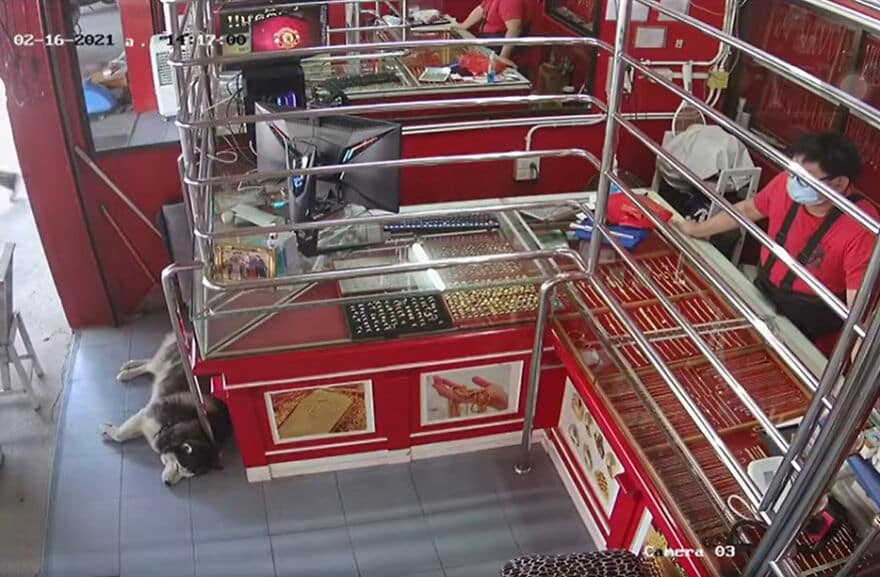 The store owner's CCTV footage showed another man approaching the shop's counter during the training exercise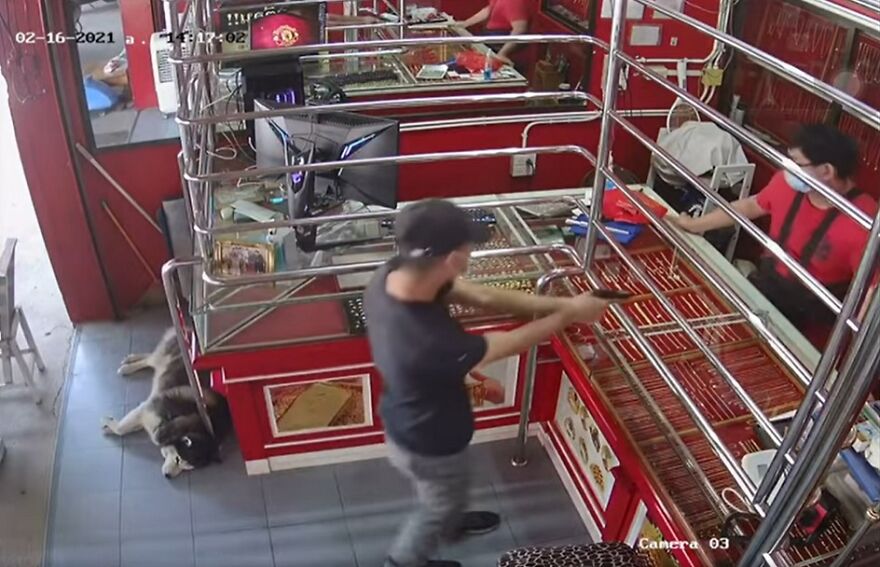 The "robber" carried a fake gun trying to threaten Lucky's owner Worawut for money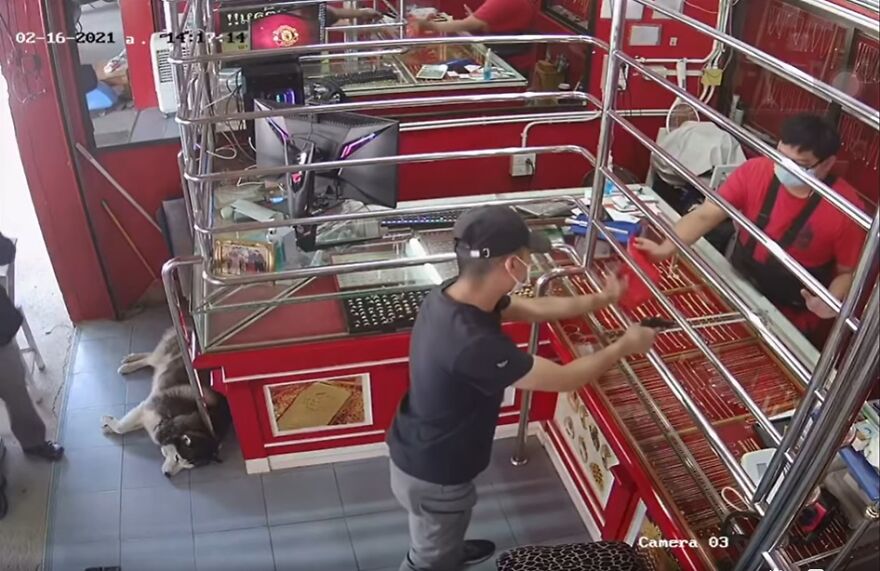 Lucky didn't move an inch, and in the end, the "armed robber" got away from the store with a fake bag full of "cash"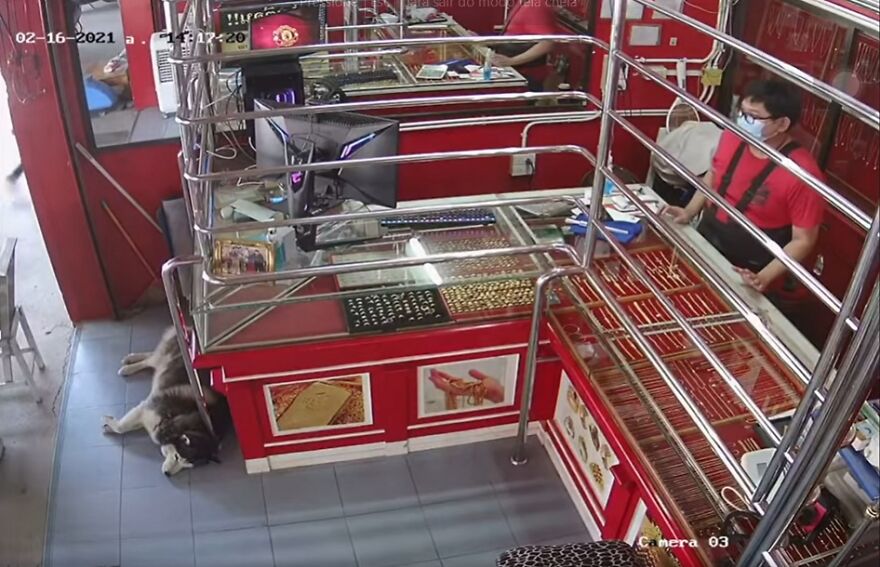 As you can see in there clips taken from the CCTV footage, the dog is shown sleeping at the entrance of the store. When the thief entered the store and tried to threaten Lucky's owners, the dog continued with the peaceful nap. The owner tried to look up for the dog, but instead, the dog chooses to give priority to its nap time.  The whole activity was a big failure but we can not blame the canine for prioritizing her sleep.
Here are some more pictures of Lucky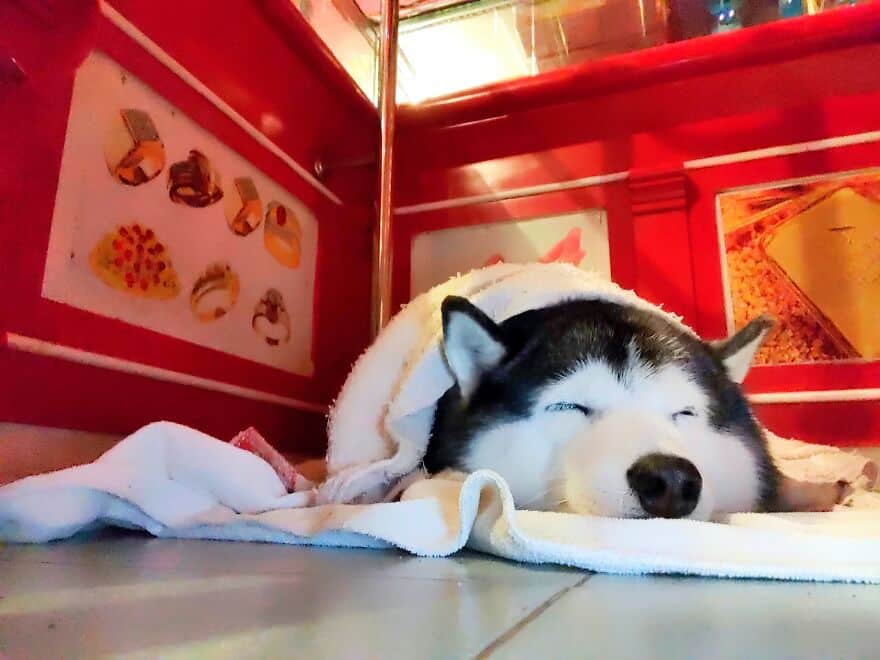 The video made us curious to find out more about the situation, therefore Hiptoro reached out to Lucky's owner Worawut.
"This was a Thai police training of what it would be like if a thief came into my store and stole all the jewelry. The armed robbery in this video is of a policeman that my dog Lucky already knew; maybe that's why she did nothing. I found it very funny to see that she didn't even try doing anything and continued to sleep. When I posted the video on Lucky's page, I didn't imagine it would go viral. It's amazing to see that in just 3 days, the video has gained over 1 million views."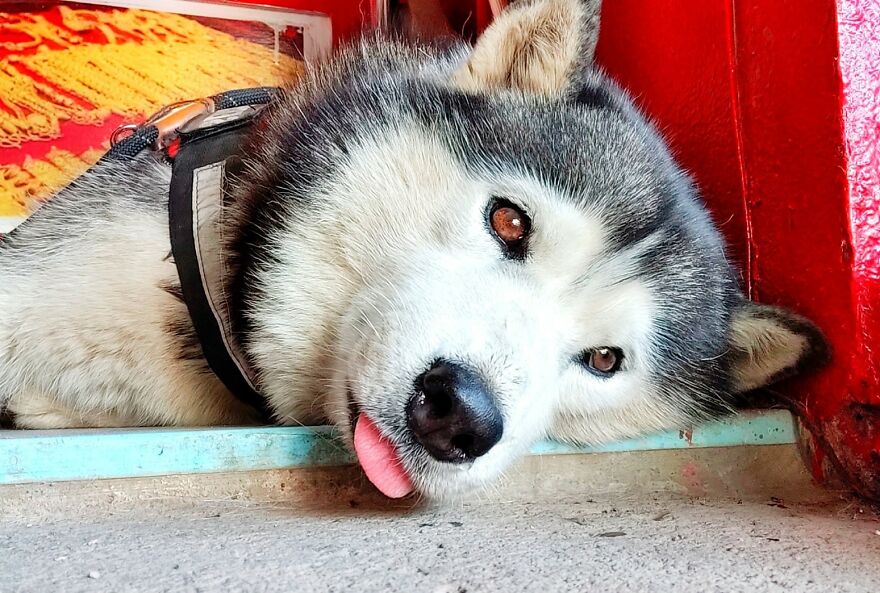 This is what he had to share more about the story, "The main thing was that the police in my city wanted to do some security tests for the jewelry stores in the area and they picked mine for the case study. It was the first serious security test for my store."
"To be honest, yes, in my opinion, I think she understands the human language. She is mostly active and very compliant if I make some noise or ask her to do something. In the CCTV camera, you could clearly see I couldn't make any noise to signal my dog because it wasn't a real situation and I had to keep my calm. The policeman that was in the video took the role of 'robber,' but I think Lucky recognized him because he comes in and checks my store every day as the police patrols the area."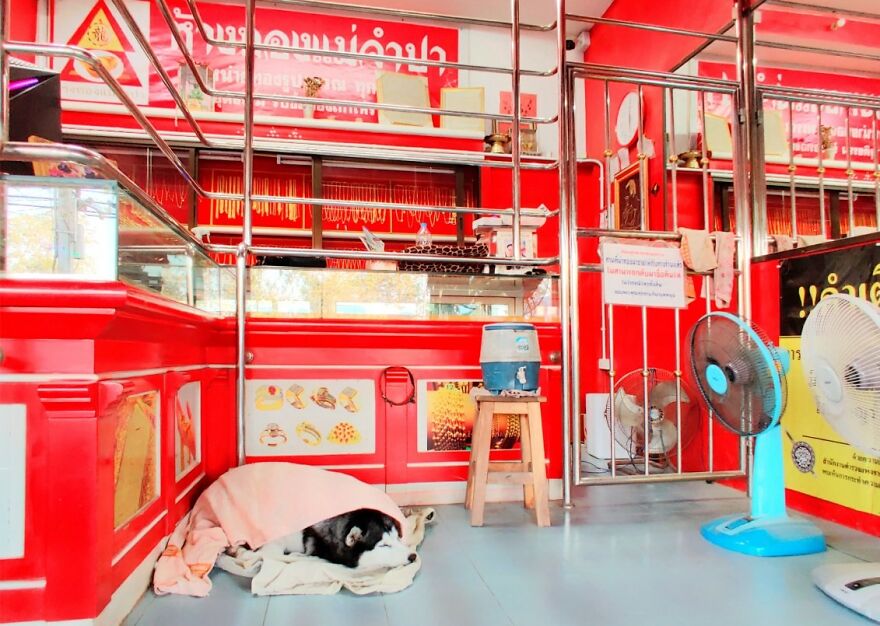 He further added "I am not sure about Lucky's age because before I took her in, she was a stray dog, but as of now, she has been living with me for the last 7 years. When I moved from another city to open my own business, I saw her sleeping near the convenience store, then I asked my neighbors about this specific dog and they didn't know anything about her.
Lucky is a very smart dog, when she was still a stray and used to be hungry at times she would walk around my store, sitting and waiting to receive some food from a kind person. I really pitied her, so that was the main reason why I took her in, and ever since then, she has been part of my family. When I first took her in, she was in bad health. The main problems she had were tick-borne disease and venereal granuloma.
Though at the time, I was told that if she were to be in good health she'd be cured of the diseases. We couldn't really do that as she was pregnant, and the veterinarian couldn't use the right medicine to cure her. I had to wait till she gave birth to the puppies and after that, I was finally able to treat her properly."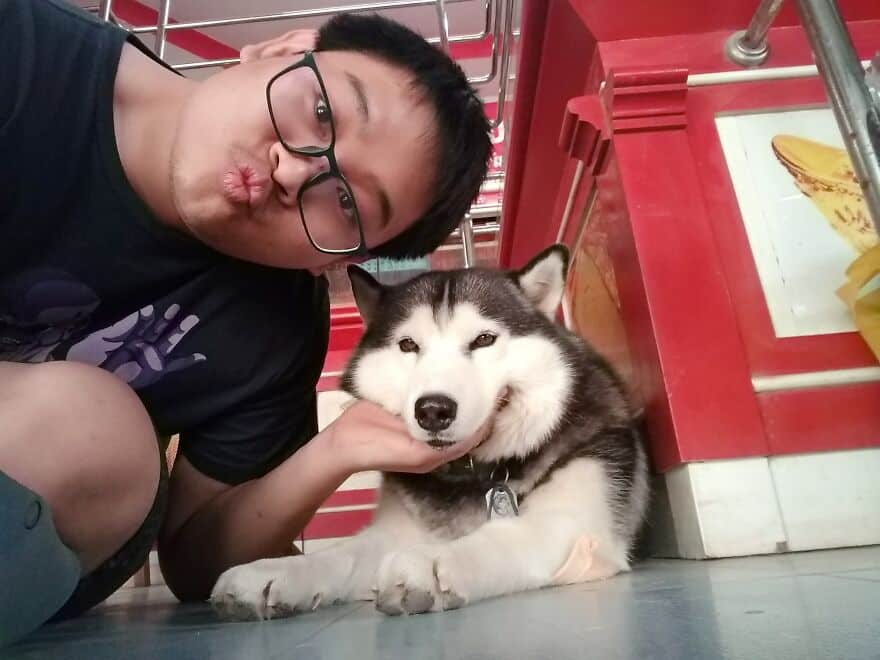 We wanted to know more about how he named Lucky, so we asked the background story.
"I believe she had a very rough life before we met and I wanted her to start a new life full of luck; that's why I named her Lucky."
We also asked him, whether Lucky is around the store all the time even when Worawut is not there, to which he replied,
"Yes, you could say she basically lives with me at the store, and she also loves to take a nap or two in front of the convenience store that's directly near my shop. Fun fact, It is also the same convenience store where I had found her first, she used to sleep there all the time. To me, at times it feels like she considers the place her second home."
He also shared his feeling about the story going viral on the Internet, "It is so funny. In my opinion, I never thought that this video clip could be viral because I just uploaded it on my Facebook fan page without expecting anything. Though I do have to admit that it felt like a dream when it went viral a day later and many people across the internet started sharing the video clip. My video has been shared on Thairath (a very famous news agency in Thailand) and even Daily Mail. I would just like to thank everyone for all the likes and comments!"