Game of Thrones Season 8 Episode 5 has been one of the most polarizing episodes the show has ever produced. While people were upset that Dany did nothing with the Dragons last Episode, these Episode people are mad that how overpowered Drogon was shown.
[fvplayer id="950″]
No matter what happens in Game of Thrones Final Episode, one thing that is always consistent are the Memes that are generated once the Episode is aired. While King's Landing is reduced to ashes, there are memes which have risen from it. Here are the best Game of Thrones Season 8 Episode 5 Memes from the Internet.
Dany turns into The Mad Queen
The entire Game of Thrones Season 8 has focused on Dany losing his friends and family, all while people hating her everywhere she goes. The last Episode clearly foreshadowed that Dany is finally going to lose and this episode did exactly that. Dany has become the Mad Queen finally and people have got hilarious reactions for that.
Oh gods oh fuck Dany has Airpods in, she can't hear the bells from freefolk
#GameofThrones 
Bell rings : Kings Landing surrendered
Daenerys : dracarys
Me : pic.twitter.com/TXglrFLS1U

— Yassin emjay🦁 (@emjay_yassin) May 13, 2019
Me remembering Queen Daenerys said she'll protect the innocent and create a better world #GameofThrones pic.twitter.com/pzgnhWD5CP

— Lord César of House Lannister (@cesarhpa26) May 13, 2019
King's Landing is Toast by Unlimited Drogon Fire
Missandei's last message to her Queen Dany was Dracarys and she did exactly that in the latest Game of Thrones Episode. Dany was riding Drogon and burned down the entire army, fleet, and whole of King's Landing. Fans have made such hilarious memes on this and joking Drogon has unlimited firepower.
Let's take a moment to praise Drogon's lungs! You are a good boi 🔥 from freefolk
Drogon after dany says #Dracarys for the 537th time #GameofThrones pic.twitter.com/tma71YTHiQ

— Sofia (@timidyorubagirl) May 13, 2019
Drogon after #GOT8x05 #gameofthrones pic.twitter.com/WjJKIKL7VR

— The Hénry Nevoír (@Hxnry_Nevoir) May 13, 2019
Arya has changed the Team
The last few minutes of episode 5 focused on Arya Stark and her changing motivation. While she died like multiple times, only to come back with more asbestos and ashes on her face. She was angry and sad seeing the horrors done by Queen Dany over innocent people. Arya's next target is now Dany and people have made it into funny memes.
When you realize that the night king was actually nicer than your dragon queen#GameOfThrones pic.twitter.com/3GSm4ciL4H

— 👑Klaus 🇳🇬 🇺🇸 (@Nick_k1aus) May 13, 2019
"As the city and it's people burned around her, Arya couldn't help but wonder: What if we were wrong about the Night King? What if he wasn't such a bad guy after all?" #GameofThrones pic.twitter.com/Sf0gNJBtf0

— Krojacica Sudbine ⍟ ⧗ ➳ (@MonaLisa_1797) May 13, 2019
Pale horse waiting for things to calm down so it can pick Arya up #GameofThrones pic.twitter.com/nluWnTrWcF

— Krojacica Sudbine ⍟ ⧗ ➳ (@MonaLisa_1797) May 13, 2019
Arya to Daenerys: pic.twitter.com/AVoaNKXiyp

— slippin' shenny (@BlazyGardener) May 13, 2019
Jon Snow still knows Nothing
Jon Snow who was once the main character of the show has been reduced a confused side character. During entire Game of Thrones S08E05. Jon Snow was not able to believe the things that happened. Jon Snow tried saving innocent lives, but it was in vain, he still knows nothing.
Jon Snow's story will end like maester Aemon's from freefolk
Feeling useless, might say daenerys is my queen for the 100th time, IDK #GameofThrones pic.twitter.com/NVzuBee10k

— Martina (@Martina86906565) May 13, 2019
Jon watching a CGI dragon destroy an entire city in detail while being told it wasn't in the budget for him to pet Ghost #GameofThrones #justiceforGhost pic.twitter.com/BZBnJbJqgk

— Zu.D.Sazzon (@_Sazzon) May 13, 2019
Wait for the Finale and Memes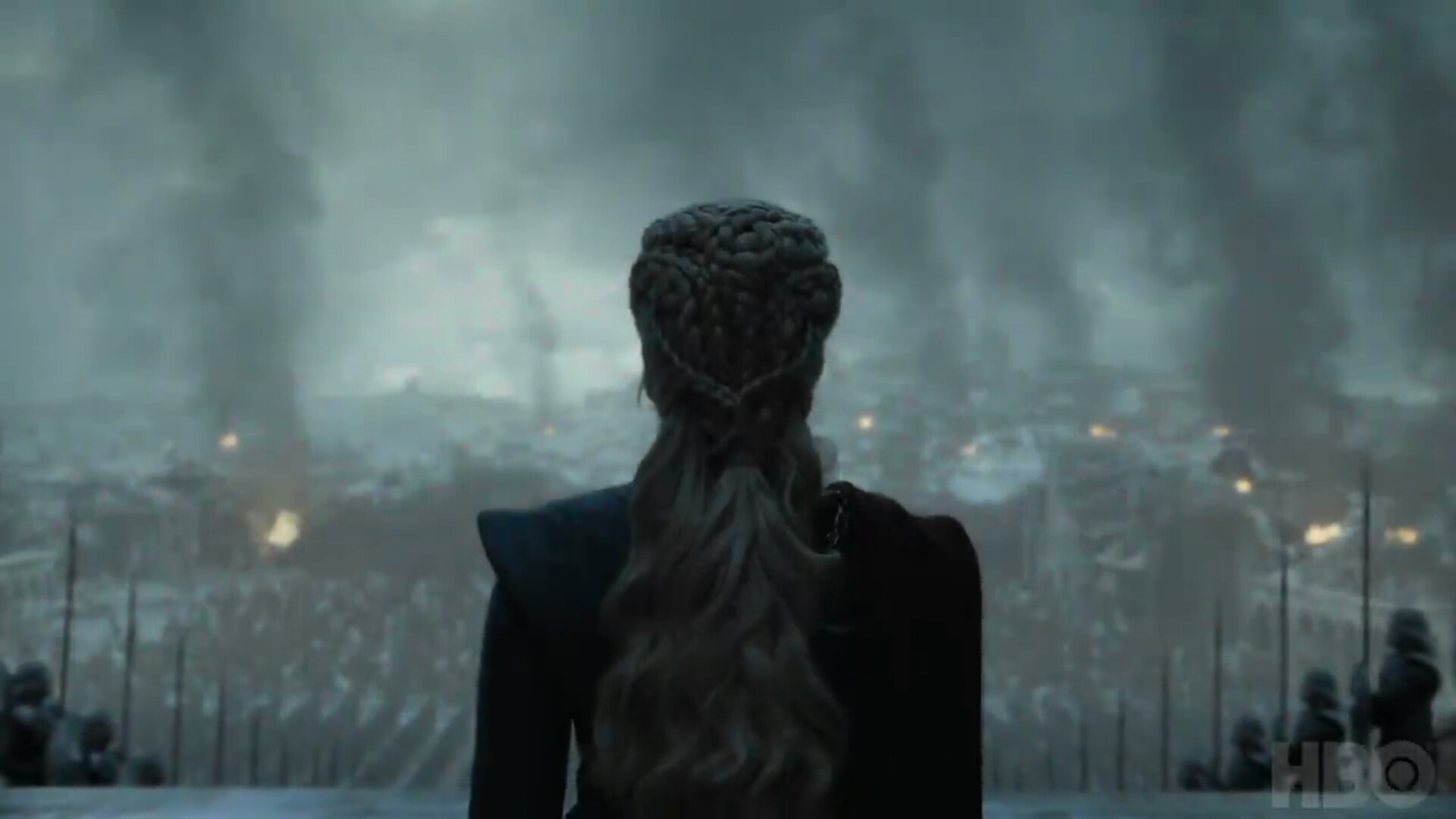 While normal people are waiting for the next week to watch Game of Thrones Season 8 Finale, there are others who are waiting for the memes it will generate. All the storylines will be finally concluded in last Episode 6, putting an end to this Epic Saga. Stay tuned to Hiptoro for more Game of Thrones Updates and other news.