Allegedly denying to serve three police officials at Daphne, several employees at Five Guys have been fired or suspended. The officers said the employees turned their backs on them when they entered the restaurant.
Late night on Tuesday when the cops entered the Five Guys restaurant at Jubilee Square shopping center, they were informed to wear masks.  A sign on the door to the establishment states the restaurant is not open to dine-in service and that masks are required for entry.
The cops said they went to retrieve face coverings.  After returning back, multiple employees acted together and refused to serve them, the outlet reported.
One of the employees said –
"I'm not serving them."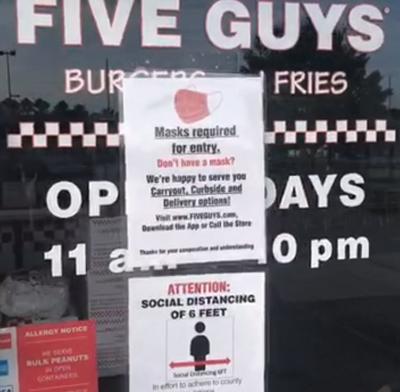 Daphne Police officials then released a statement about the alleged incident stating –
"The Daphne Police Department appreciates the outpouring of support from our community and from supporters of Law Enforcement across the country.  We also want to thank Five Guys on a corporate and local level.  We have been working through this situation and there has been total cooperation.  The Daphne Police Department does not think that the actions of a few employees represent Five Guys as a whole.

To clarify some misinformation that has been spread on social media, on July, 7th three officers of the Daphne Police Department entered the Five Guys restaurant in Daphne.  The three officers became aware of the mask requirement.  They returned to their vehicles to obtain masks.  All three officers were wearing masks the entire time they were inside of the establishment.  The events that occurred while the officers were in the restaurant were unfortunate.  We will continue to work with Five Guys on this matter towards resolution once all the facts are known."
After the incident, the cops then left the outlet and went to another restaurant
A Five Guys corporate spokesperson released the following statement –
"Five Guys and the Franchisee of the Daphne, AL location were made aware of reports that local Police Officers had been denied service by employees at that location.

Five Guys and the franchisee are actively investigating the situation and are committed to getting to the bottom of it. However, no matter what the details are, we do not want these police officers, or any customer, to feel disrespected or slighted in any way. We apologize to those officers and also want to make it clear that Five Guys and its franchisees are committed to fair, respectful, and equal treatment for all customers.

We will continue to investigate the matter."
On Wednesday morning – Daphne Mayor Dane Haygood shared a Facebook post. Post states that his office is aware of the story reported by local media. It wrote –
"We have … put the Daphne Police Department in touch with ownership of the establishment in order to understand what occurred and circumstances surrounding the event. We love our PD in the City of Daphne, Alabama – 'The Jubilee City' and certainly hope that our officers were not refused service. I am offering to buy these five officers their next meal. Who else wants to follow suit to show our support and appreciation for our men & women in blue?"