Bogart- The four years old American bulldog is flooding the internet nowadays. During the situation when the whole world is in a locked-down situation this friendly bulldog is having a gay time with his family.
Usually, dogs love to sit outside and watch the world go by. But this special Bull Dog has its own style of watching the world. The name of the dog is Bogart who is considered as the prince of the family. The dog belongs to a family in Denmark.
The owner of Bogart- Levinsen, can not live without his prince. Earlier her dogs used to jump out of the old fence as they have grown up. Finally, Levinsen decided to make a new fence which was higher than the older one.
Bogart- The Prince
Bogart seems to be quite disconsolate as he was unable to see over the fence. Then Levinsen's husband decided to draw holes in the fence so that Bogart can peek outside and watch the world.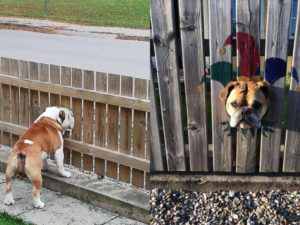 Since Levinsen's house is near a popular hiking path. Bogart used to interact with new people walking around.
Her two pups were happy with the holes but the holes seemed to be too simple. To add up a little more humor they decided to paint the fences with little more attractive paintings. Levinsen's little daughter Cecilie painted the crown and a jester hat on the fence. Levinson said-
"He is very loving, loyal and stubborn. If there is something he doesn't want to do, he will not do it,"
Levinsen also added-
"He loves it when we are having guests — the more, the merrier. 'More attention for me,' he seems to think."
Levinsen mentioned-
"I think the dogs and the fence are the most photographed dog and fence in Denmark,"
"They love it, Attention is always good, and sometimes they get a little snack."
https://www.facebook.com/112nyhed/videos/272748063857722/