If a person witnessed that "Sorry something went wrong" after logging into Facebook, then they are not alone. This week on Monday afternoon the most popular social networking site went down and showed the users who have tried accessing the site a broken error message stating "Sorry, something went wrong. We're working on it, and we'll get it fixed as soon as we can."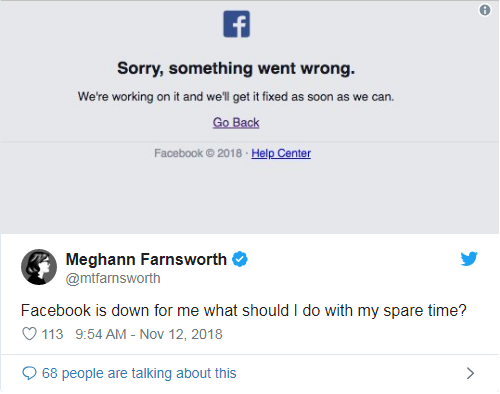 The temporary shut down has knocked out the main website of Facebook for a few users, and it also led to the usage of Facebook Messenger difficult. WhatsApp and Instagram, the two other major social platforms integrated with Facebook were unaffected. Instagram and WhatsApp seemed fine, but a few users have reported that they have also encountered some issues while using these social networking platforms.
The significantly popular social networking site, Facebook went offline for around thirty minutes or so, and then the social network platform appeared working perfectly around 1:30 PM.
A spokesperson from Facebook provided a statement to USA TODAY by stating that the outage took place due to a routine test. The spokesperson also said that Earlier on Monday, a routine test that was conducted by Facebook itself caused users to have some trouble related to posting and accessing Facebook along with the social networking services acquired by Facebook such as Instagram and WhatsApp.
They quickly investigated the situation and restored access to all the Facebook users. They even apologised for the inconvenience caused due to the routine test. Some people have sent their thoughts and prayers while others have pointed out that people should step out of their homes for a while.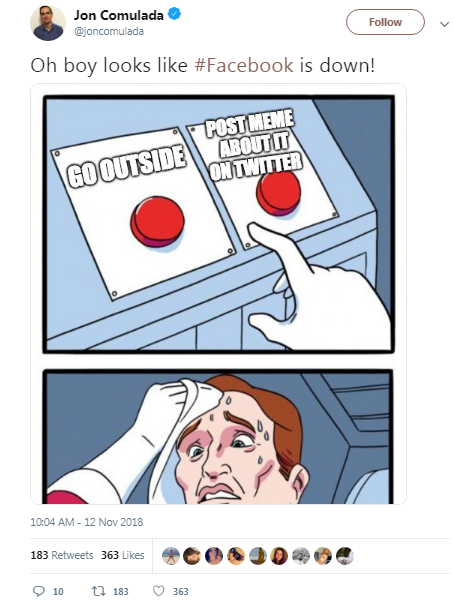 Some people have also made memes stating what should they do in their spare time. Whereas some suggested stopping people to stop everything that they are currently doing as the Facebook network is down.