Earlier in 2019 Facebook promised that it will be introducing a redesign for its website and mobile application. The new interface was rolled out no sooner in the mobile apps like Instagram's Dark Mode. So now it was Facebook's turn to do so.
Recently the web site has rolled out a very exciting new look like the dark mode option for its platform.
Facebook has spoken on this to TechCrunch and announced that-
"Starting today, the majority of people on Facebook will have access to the new desktop design."
How to opt-in for the Facebook Dark mode?
As soon as one will open Facebook.com a splash screen welcoming you will appear. Then you will get the option to switch on the Dar mode(it's expected to take a few days to roll out globally, so don't worry if you can't see it just yet).
The dark mode is basically the color scheme where the text appears to be brighter and it appears atop of a dark background. It gives a stylish and hip look which gives no second opinion about it. A very advantageous feature of the mode is that it increases battery life. It's soothing to our eyes as well.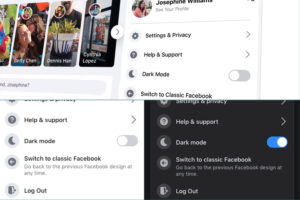 Well, the steps are quite simple for the users for trying the new Facebook interface on your laptop or Desktop.
Move your cursor- top right-hand corner of the Facebook tab, near the '?' sign.
Tap on the down arrow button.
Now scroll down until you see the dark mode toggle.
Switch on the option.
Here's your New Facebook Look!
You can also switch back to your previous look. Select the "Switch to Classic Facebook" option in the Settings. Although this option is for the time being only.
Earlier, Fb has introduced the dark theme on its messaging app- Messenger and then Instagram. It can be enabled from the settings option.
After Instagram, Facebook's third main app- Whatsapp might go on the verge of getting a darker look. Also, get ready for the dark mode of its own mobile application.