Faraday Futures was in talks with Evergrande Health a Chinese healthcare company for a 45% stake through a $2 billion investment. The company spent $800 million of the amount that it expected to receive from Evergrande and was struggling to clear the dues of suppliers and vendors when Evergrande failed to make a payment of $700 million as sought by Faraday. The company has now moved for an arbitration in an effort to cancel the deal after it failed to receive the payout. On its part Evergrande maintained that Faraday had not fulfilled its obligations for the funding while the latter maintained that it did fulfill all requirements.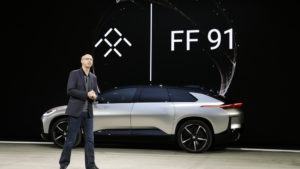 This has pushed Faraday to put an end to the deal and the company took to the micro blogging site Twitter to announce the development. The announcement also carried a rebuttal of Evergrande's claim that Jia Yueting, the founder and CEO had influenced the board to receive the 700 million advances.
Source : HeadTopics
I am an amateur content writer, who is currently pursuing a Masters in Finance from ICFAI Business School. In this highly volatile Business Market, I find no better way to keep myself updated than to write about it and reflect my own thoughts as words.