Here's another horror story of bridezillas going crazy before her big day. This story posted on the r/ChoosingBeggars subreddit shows just how delusional some brides can be with their requests.
The incident happened after the author of the post, who makes 3D printed stuff, received a message from an unknown bride. The bride asked if she could print out the same customized wheelbarrows the author had at her own wedding. "I want to give them out to my guests so I need a lot," the bride added.
The author calculated that the grand total of her order would be $4,718K and it would take 54.68 days of non-stop printing. But as crazy as it may sound, the bride was not ready to pay a single dollar and thought it could be all made as a wedding gift.
Read the story in full right below and don't forget to share your thoughts in the comments!
Recently, a 3D printing expert shared screenshots from a chat with a bride who demanded a free customized wedding gift worth $4,718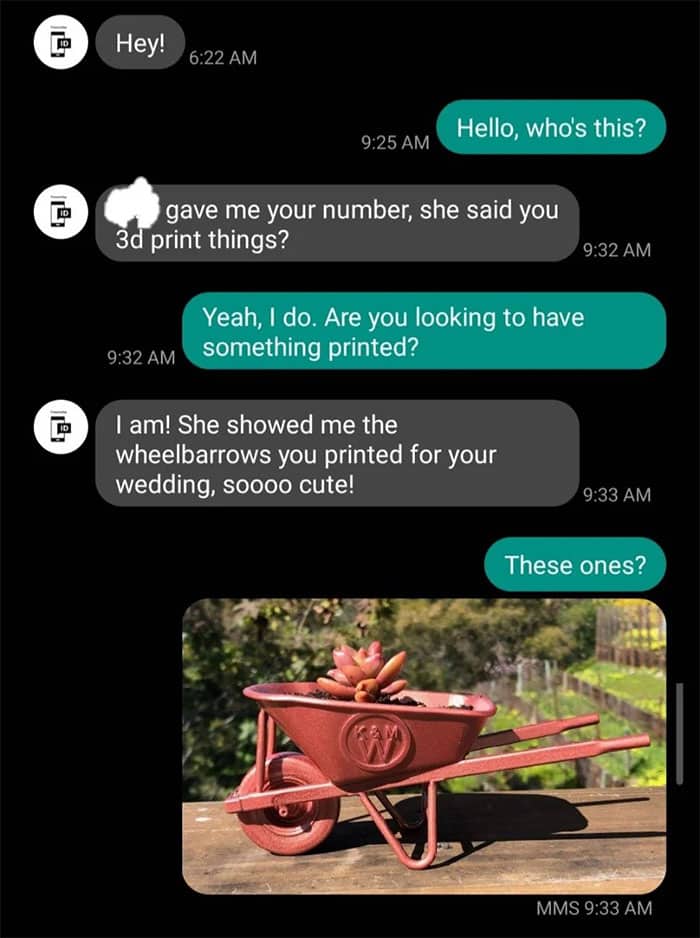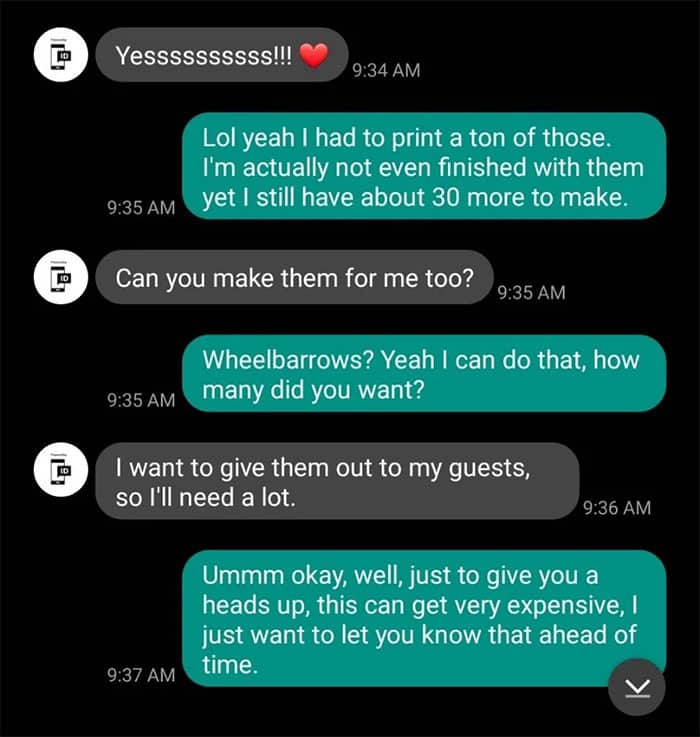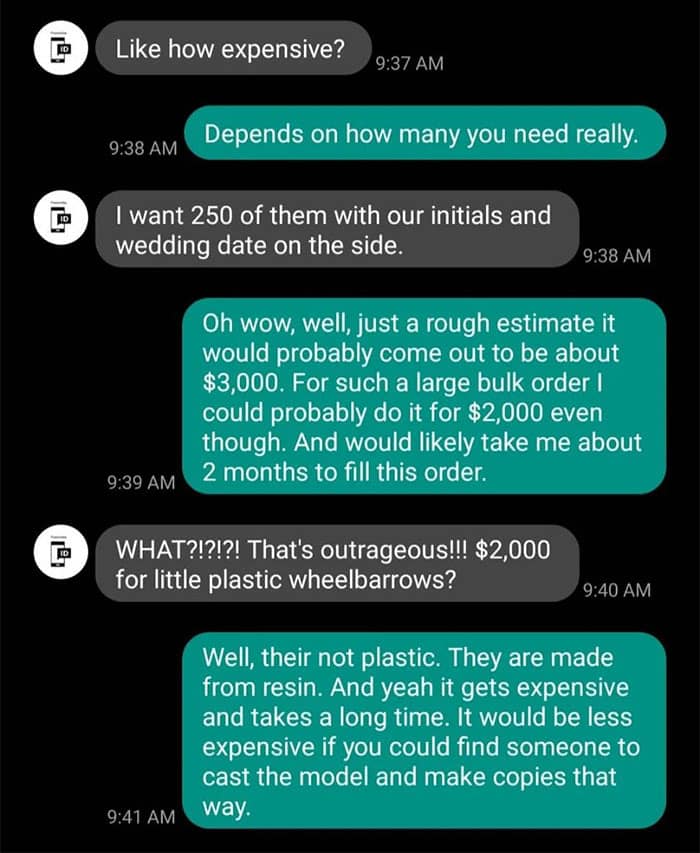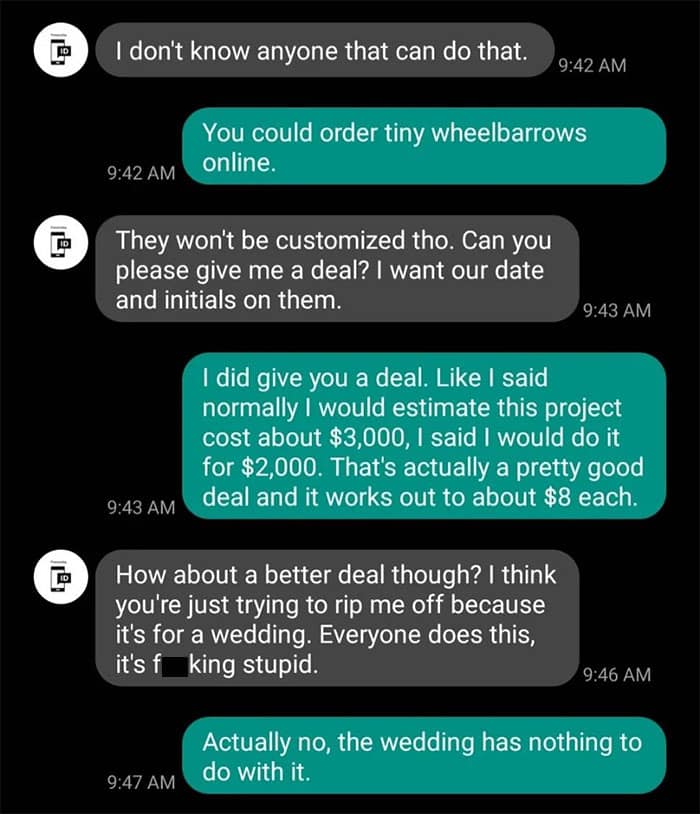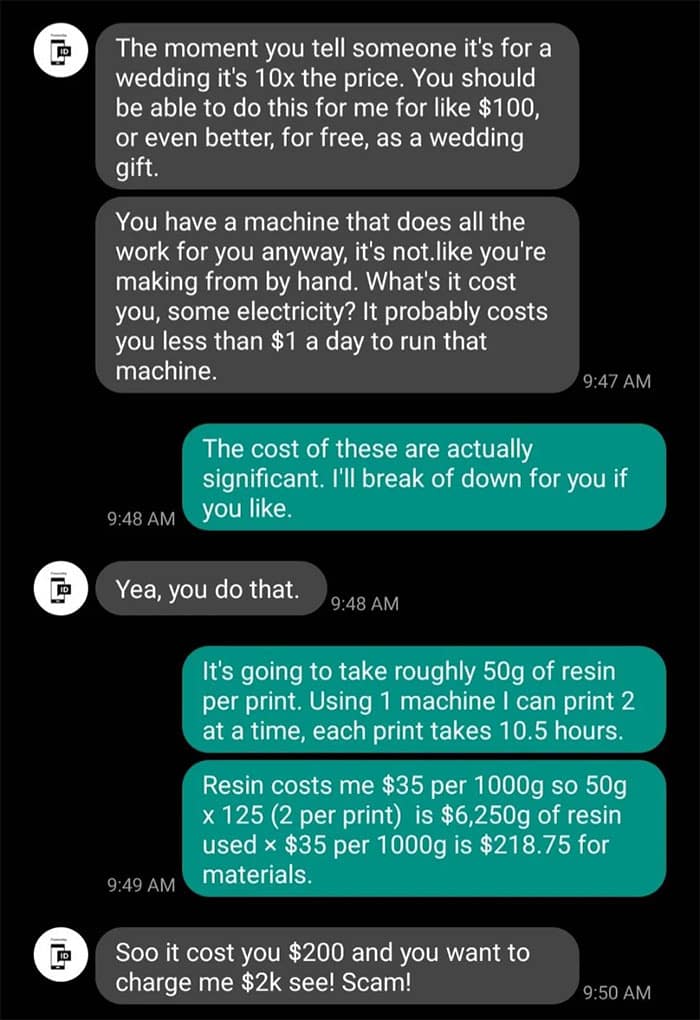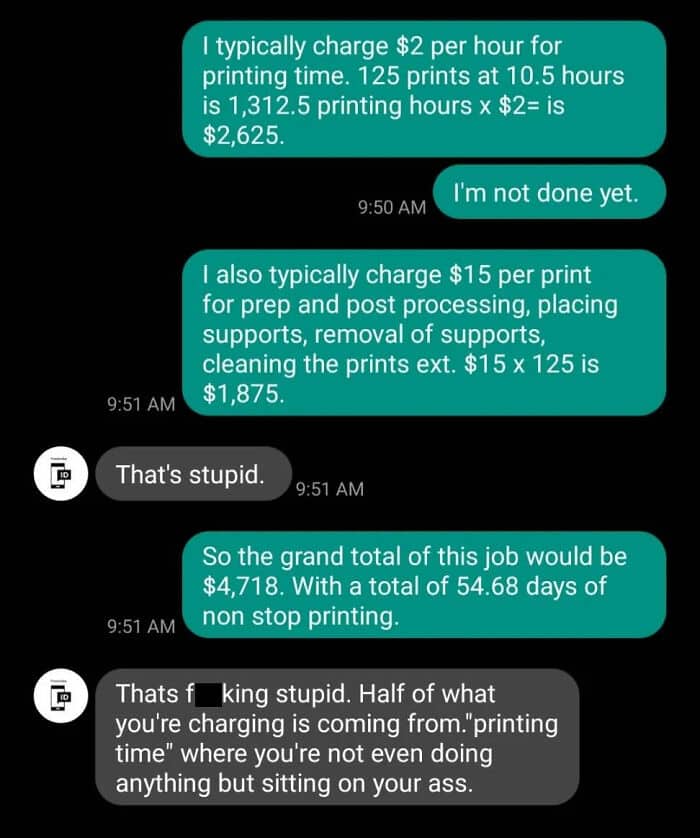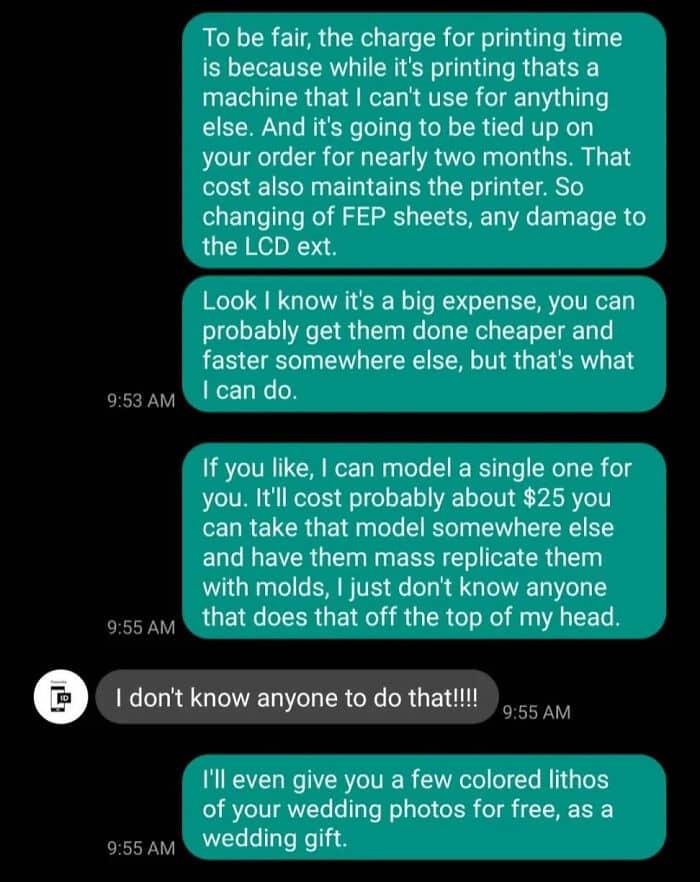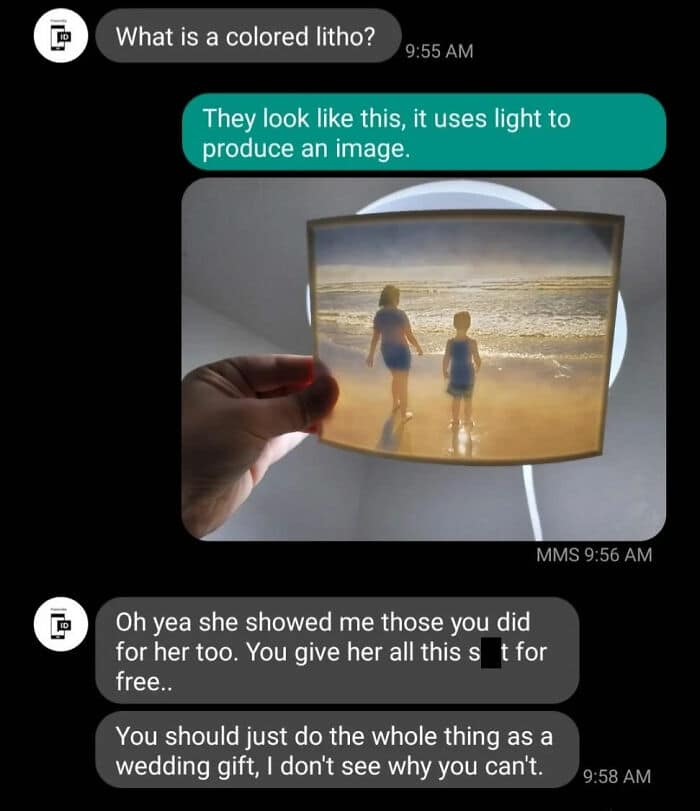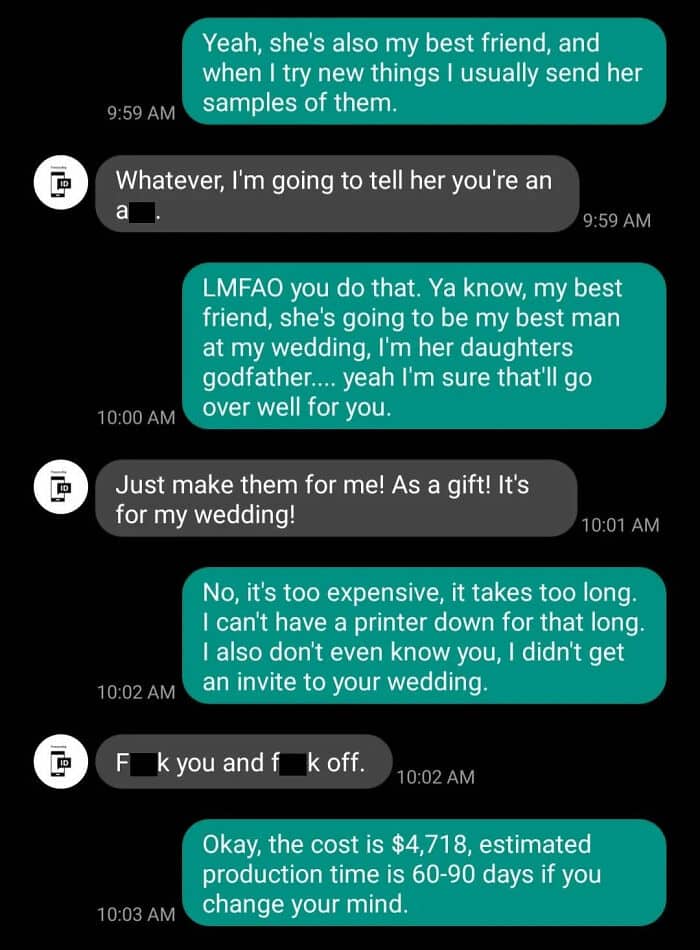 To find out what an expert had to say on this incident, we reached out to wedding manager and consultant Annabel Candler, who runs "Weddings By Annabel." Annabel said that "when the task of wedding gifts arises, think about who you are asking. That starts the process in the right frame of mind."
However, "If you start with what you want, it can blur the politeness boundaries," Annabel said and added that "Nobody has to get you a gift. This is a polite mention with no expectations."
"If you demand, then a present is given with resentment, which isn't a great way to celebrate your union! If you are asking for physical items, a gift registry with your fave store is great, but has items on there that cater to all budgets. If you are asking for funds, either for a charity or honeymoon pot, then look up a little poem to word it nicely. There are some witty options out there which help avoid the awkwardness!"
When asked whether some people use wedding gifts as an excuse to get things they want for free, Annabel recounted the time she was picking items for her gift list at Debenhams over ten years ago, and "I admit that I had a great time," she said.
"But I didn't presume I would get anything as I know some people don't like to be told what to get you and some can't afford it or just pop dosh in a card. I feel everyone should be very grateful for any gift. It's a kind gesture, not a requirement," Annabel said and suggested lowering your expectations and concentrating on enjoying their company at the do.
And this is what people had to comment on the incident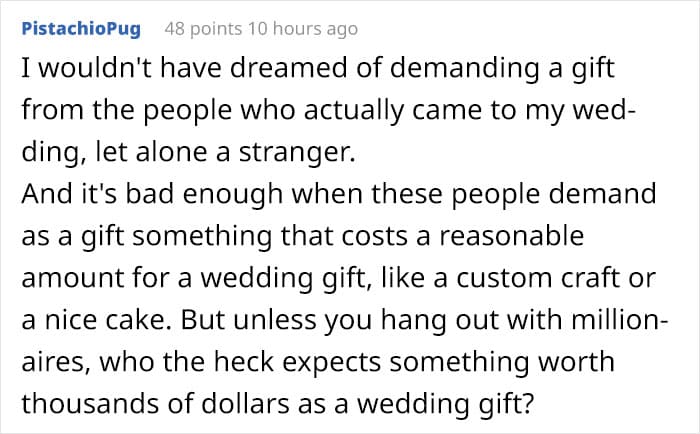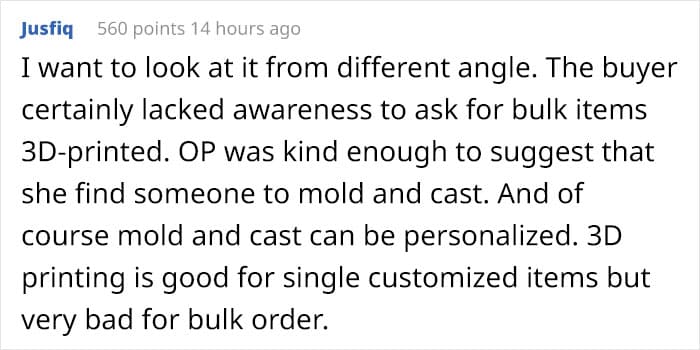 What are your thoughts on this story? Do you think that the bride crossed the line with her stupidity and unrealistic gift expectations? Have you seen anything similar? If so, we would love to know about it in the comment section.