Dylan Mulvaney has responded to her critics following criticism for her connections with large brands such as Nike and Bud Light.
On April 1, the 26-year-old content producer, who has 10.8 million followers on Instagram, posted a promotional video of herself dressed as Audrey Hepburn sipping beer.
Dylan Mulvaney later uploaded photos of herself wearing Nike leggings and sports bras as part of a sponsored cooperation with the athletic gear giant.
Unfortunately, the trans activist, who underwent face feminization surgery late last year, received a barrage of criticism for her two collaborations, with fans stating that the firms should not have endorsed a trans woman.
Check out the following Dylan Mulvaney brand posts: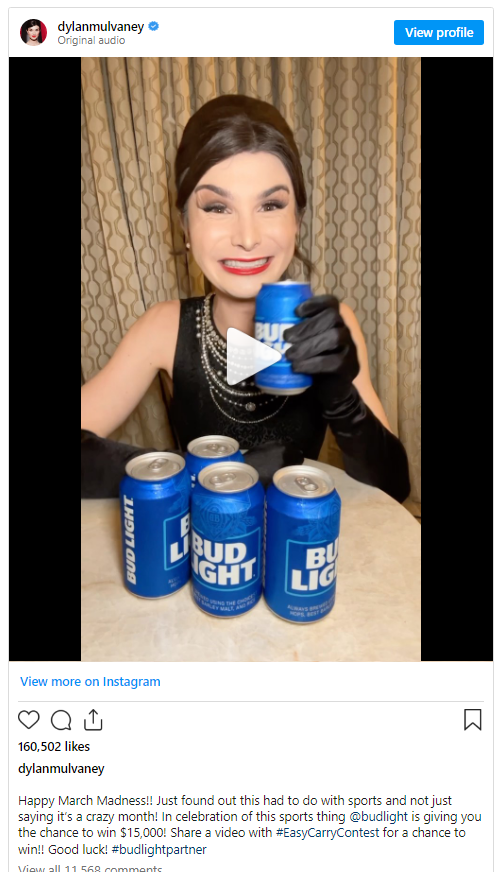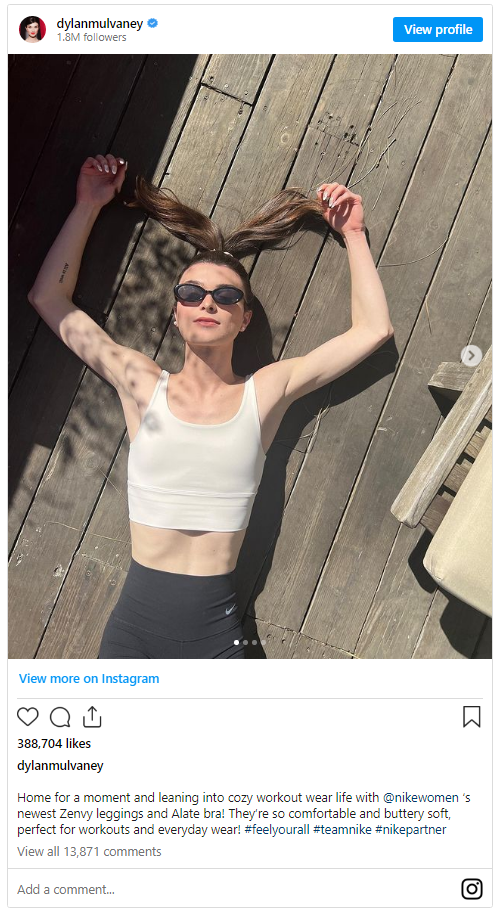 Kid Rock got involved after posting a video on Twitter showing himself shooting a weapon at the beverage company. In addition, Caitlyn Jenner has spoken out against corporations using trans women as brand advocates.
During the April 11 episode of the Onward With Rosie O'Donnell podcast, the influencer spoke up about being a member of the transgender community and some of the scrutiny she experiences.
"The reason that I think I am so…I'm an easy target is because I'm so new to this," Dylan Mulvaney said. "I think going after a trans woman that's been doing this for like 20 years is a lot more difficult. I think maybe they think that there's some sort of chance with me…But what is their goal?"

Dylan Mulvaney also stated that while she doesn't let the hateful remarks on social media get to her, the backlash is a sign that things need to change.

"I'm not worried about the people talking about me on their podcasts, I'm worried about their listeners," she added. "And I also think that it's just a heavy time. And it's time to step up, for sure."

Nike responded to the incident immediately on social media, emphasizing the importance of creating a positive environment for its customers.
"You are an essential component to the success of your community!" the company said in a statement, pinned to the top of the comment section of its April 3 post.

"We welcome comments that contribute to a positive and constructive discussion: Be kind, be inclusive, encourage each other. Hate speech, bullying, or other behaviors that are not in the spirit of a diverse and inclusive community will be deleted," it added.
Dylan Mulvaney appeared to react to the harsh criticisms on Instagram last week after posting a video of herself performing "No One Is Alone" from Into the Woods.
"It's hard to see the light now, just don't let it go," she wrote in the caption, referring to a lyric in the tune. "This song felt fitting for the week I've been having. All is well! Cheers."