Over the past few years, dog pics and videos have become quite popular among netizens. And thus, we came to know about overweight dogs. Just as humans, dogs are also very much prone to obesity.
Pet obesity is quite a serious issue as it can invite so many kinds of health problems. And we know you would never want that for your furry friend because you love them, right? So if your little pup has gained a few extra pounds, do something immediately.
To show that you can bring your obese dog back in shape, we have collected some photos for you. Don't miss 'em because dogs are the best (absolutely best) and people are terrible.
#1 – Dennis The Dieting Dog Lost 79% Of His Body Weight With A Healthy Diet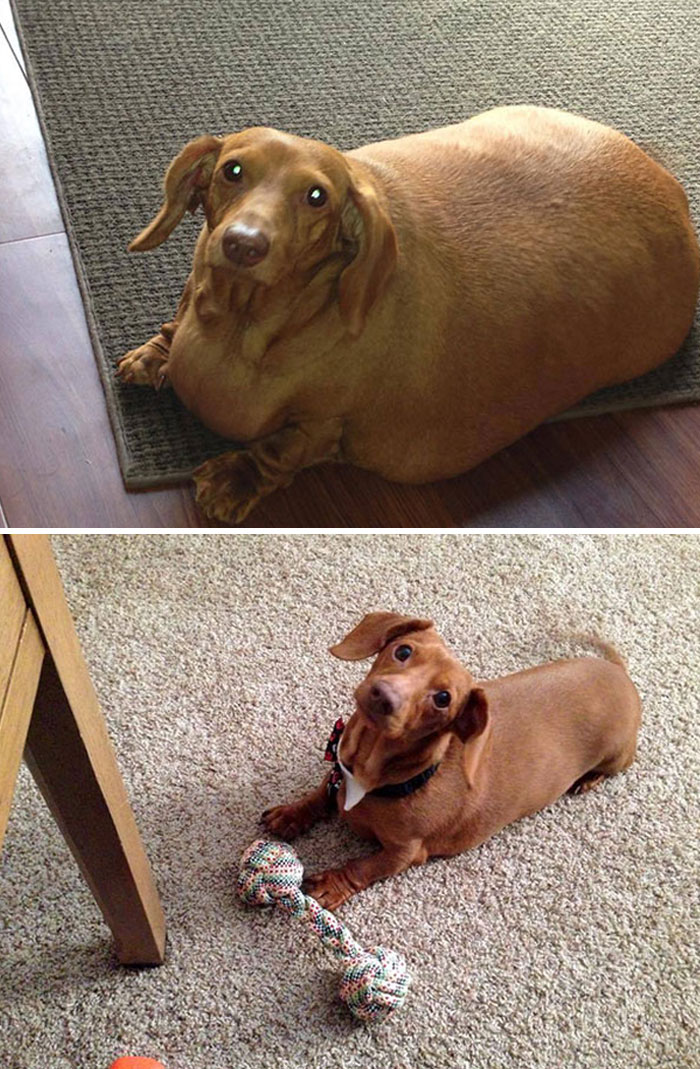 #2 – If You're Considering A New Year Resolution, Think About Making Yourself A Priority. From THICC to Slim

#3 – Handsome Ex-Chonky Boi

#4 – We Adopted On October 27th. She Was Very Overweight. She's Lost A Pound A Week And Gained So Much Energy.

#5 – My 90-Year-Old Neighbor Hasn't Walked Her Dog In Years So I Volunteered To Do It For Her. So Proud Of Buddy's Weight Loss.

#6

#7 – Zeus Is A Proof Anything Is Possible If You Work Hard Enough For It. You Are Looking At 10 Month Difference. 107 Lbs vs. 82 Lbs

#8 – Before & After. 114 Lbs (Halfway Through His Weight Loss Journey) To 75 Lbs In 2019. Looking Good Shiloh!

#9 – "I Thought I'd Share My Most Popular (And Hotly Debated) Before And After Photo So You Can See How Far I've Come"

#10 – For Those Who Haven't Seen The Before And After. 86.4 Lbs Down To 44.4 Lbs

#11 – Scarlet And Simba Before And After Pictures. Scarlet Lost 5 Lbs And Simba Lost 7 Lbs In 3 Months

#12

#13

#14

#15

#16

#17

#18

#19

#20

Don't forget to share the amazing transformation photos of your doggo in the comment section.