Dirk Nowitzki's recent appreciation for Kobe Bryant reveals us an interesting perspective of NBA rivalries. In the thrilling world of the NBA, rivalries often ignite intense competition on the court. However, there's one extraordinary story of admiration that transcends the boundaries of competition.
Dirk Nowitzki, the humble superstar from the Dallas Mavericks, found himself in awe of none other than the legendary Kobe Bryant. Their journey from rivals to friends is a tale that will warm the hearts of every NBA fan.
"To me, he's still the best player I've ever played against in my career… I think he respected me almost more when I said, 'Listen, I've been here so long. I want to finish my career here.'"

Dirk Nowitzki on Kobe Bryant recruiting him to join the Lakerspic.twitter.com/pYYgrte2nw

— ClutchPoints (@ClutchPoints) April 21, 2023
Dirk Nowitzki: Humility Personified
Dirk Nowitzki, the epitome of humility and talent, remains one of the most beloved and respected superstars in NBA history. Like Kobe Bryant, Dirk dedicated his entire illustrious career to a single franchise, showcasing rare loyalty and devotion to the Dallas Mavericks. Both legends shared this unique trait, becoming iconic figures for their respective teams.
When it comes to NBA superstars, humility isn't a trait that often takes centre stage. But Dirk Nowitzki, with his down-to-earth nature and awe-inspiring skills, is an exception. Throughout his illustrious career, he won the hearts of millions not only with his performance but also with his genuine and humble personality. When asked about his thoughts on Kobe Bryant, Dirk replied
"I was honored to get the call from Kobe. I have never made it a big secret, I was a big Kobe Bryant fan. To me, he's still the best player I've ever played against in my career. It was super cool to get that call from him but I think he respected me almost more when I said, 'Listen, I've been here so long.

I want to finish my career here.' That's what I ended up doing and I am glad I did. Even though there were some tough years down the stretch in Dallas where things weren't going well. But that's a part of it, you can't only be in there in the good times"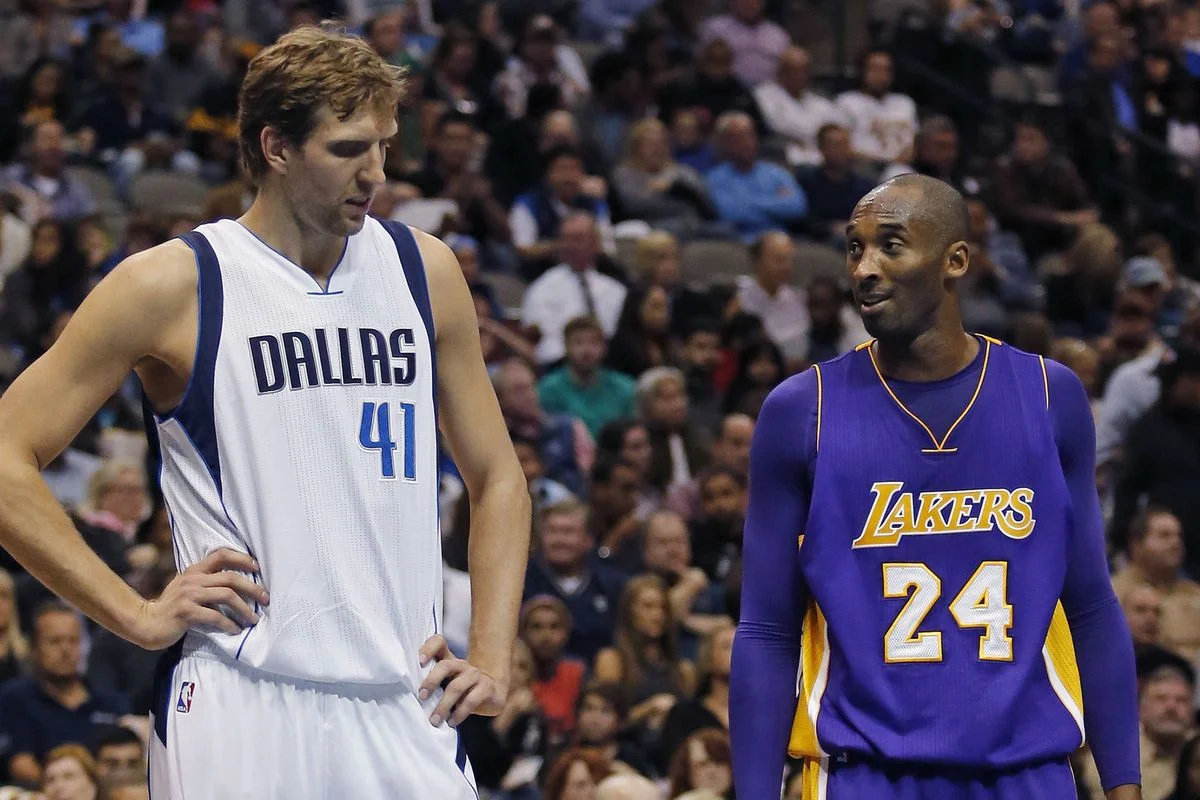 A Common Thread: Loyalty to a Team
In an era where players often switch teams seeking glory, Dirk Nowitzki and Kobe Bryant stood out as beacons of loyalty. Both legends remained fiercely committed to their respective teams, the Dallas Mavericks and the Los Angeles Lakers, for the entirety of their careers. This unwavering loyalty became a testament to their dedication and passion for the game.
"The Black Mamba" Reigns Supreme
Dirk Nowitzki views Kobe Bryant as 'best player' he ever faced in 21 NBA seasons.https://t.co/3YRJd2RxCU pic.twitter.com/YK1pZC5jsU

— Lakers Nation (@LakersNation) January 9, 2020
In a league filled with fierce competition and individual accolades, Dirk's humble nature stood out. Despite being an MVP in 2007 and achieving numerous accolades, he never hesitated to call Kobe Bryant the number one player he ever faced. Such praise from a fellow superstar speaks volumes about Kobe's impact and skill on the court.
It's not every day that you hear a reigning MVP praise another player as the best in the league. In 2007, Dirk Nowitzki secured the MVP title, yet he openly declared Kobe Bryant as the undisputed number-one player for an astonishing 15 years. Such high praise from one superstar to another is a testament to Kobe's unparalleled greatness.
Kobe, who won five championships with the Lakers, recognized Dirk's unwavering commitment to the Mavericks. In 2011, he attempted to recruit Nowitzki to join the Purple and Gold, but he knew deep down that Dirk's loyalty to Dallas would prevail. Even though the call ended as expected, Kobe's admiration for Dirk's dedication only grew stronger. Nowitzki stated the following, highlighting the immense impact Bryant had on his fellow players.
"Kobe has been the measuring stick for every player in this league. His work ethic and passion for the game are unmatched,"
When Rivals Become Friends
Despite being a competitor on the court, Kobe Bryant earned immense respect and admiration from his fellow athletes. Surprisingly, this basketball icon was only awarded the coveted MVP title once during his illustrious career. Yet, his legacy as one of the greatest to grace the sport was solidified by the heartfelt praise and admiration he received from both friends and foes.
Interestingly, despite being a dominant force on the court, Kobe only won the MVP award once during his illustrious career. This serves as a testament to the immense respect and recognition he received from his competitors, who acknowledged his greatness beyond individual accolades.
In the world of professional basketball, where player movements are common, Dirk Nowitzki's decision to remain with the Mavericks and Kobe Bryant's unwavering commitment to the Lakers have become rare examples of loyalty and legacy-building.
These two legends have left an indelible mark on the NBA not only for their extraordinary skills but also for their humility, loyalty and mutual respect that transcends team rivalries.