P Diddy has claimed that he pays Sting $5,000 per day for illegally copying one of The Police frontman's songs.
The rapper, real name Sean Combs, sampled the 71-year-old rocker's 1983 single "Every Breath You Take" in his 1997 smash song "I'll Be Missing You."
After Sting's conversation with The Breakfast Club became widely circulated on the internet, he recently commented on the substantial sum he pays. In the video, radio presenter Charlamagne the God questions him, saying, "Is it true that Diddy has to pay you $2,000 because he didn't ask permission to sample 'Every Breath You Take'?"
The 'Desert Rose' singer, whose full name is Gordon Matthew Thomas Sumner CBE, replied: "Yep, for the rest of his life." When questioned if the rapper requested permission to sample his song "after the fact," Sting replied: "Yes, he did."
Diddy's tweet is below:
Nope. 5K a day. Love to my brother @OfficialSting! 😎 ✊🏿🫶🏿 https://t.co/sHdjd0UZEy

— LOVE (@Diddy) April 5, 2023
However, there appears to be no bad blood between these two musical talents, as the 'Shape of My Heart' hitmaker said, "We're very good friends now."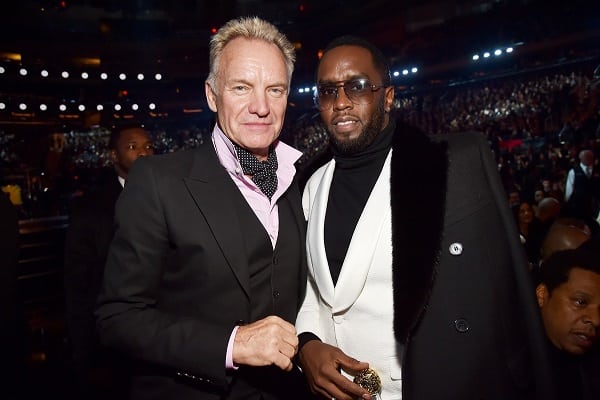 Diddy discovered Sting's interview on Twitter and revised the amount he owes, writing: "Nope. 5K a day. "I love you, @OfficialSting!"
According to the Daily Mail, if the 'Coming Home' rapper received $5,000 every 24 hours, he would earn a whopping $1.8 million every year.
Listen to Diddy's 'I'll Be Missing You' below:
'I'll Be Missing You' was written as a tribute to the late Notorious B.I.G. – full name Christopher George Latore Wallace – who was brutally killed when he was 24 years old.
Faith Evans, the late rapper's ex-wife, and mother of his 26-year-old son C.J. Wallace, joined Diddy on the single, which also featured the R&B trio 112.
Following its debut, the song topped the Billboard Hot 100 list and earned Diddy accolades for top rap artists and songs at the 1997 Billboard Music Accolades ceremony.
In an emotional tweet sent on the 26th anniversary of his passing in March, the 'Last Night' rapper reflected on his friendship with the late musician.
There will NEVER be another. The GREATEST RAPPER OF ALL TIME. Today we celebrate and honor you king. Love and miss you!! pic.twitter.com/pqqkllglZv

— LOVE (@Diddy) March 9, 2023
"There will NEVER be another. The GREATEST RAPPER OF ALL TIME," Diddy wrote. "Today we celebrate and honor you king. Love and miss you!!"
During an interview with People magazine, Evans, 49, also discussed her ex-husband's hip-hop legacy, saying, "The person behind these rhymes, which could be so gritty and sometimes harsh and sometimes explicit – he was occasionally all of those things."
"But for the most part, he was just a really cool, lovable, funny person that most people loved being around," she said, adding that if he was here today, he "definitely would've done more albums" and "had a couple more artists".