The Atlanta Hawks' guard Dejounte Murray might get traded to the Chicago Bulls this offseason. The Hawks were not able to achieve what they aimed for last season with Murray on their roster, and they might probably be thinking that they made a mistake. The management would be considering their options at the moment, and they would like to fix the errors before they go deep into the next season.
The Washington Huskies' product played 74 games for the Hawks last season and averaged 20.5 points, 6.1 assists, and 5.3 rebounds per game while shooting 34.4 percent from beyond the arc. Although the Hawks can not trade the player at the moment since they extended him, if things do not work out, they would prefer to send him away. The Bulls have shown interest in signing him. Can they pull it off? Here is all the information you need about the trade between the Atlanta Hawks and the Chicago Bulls involving Dejounte Murray.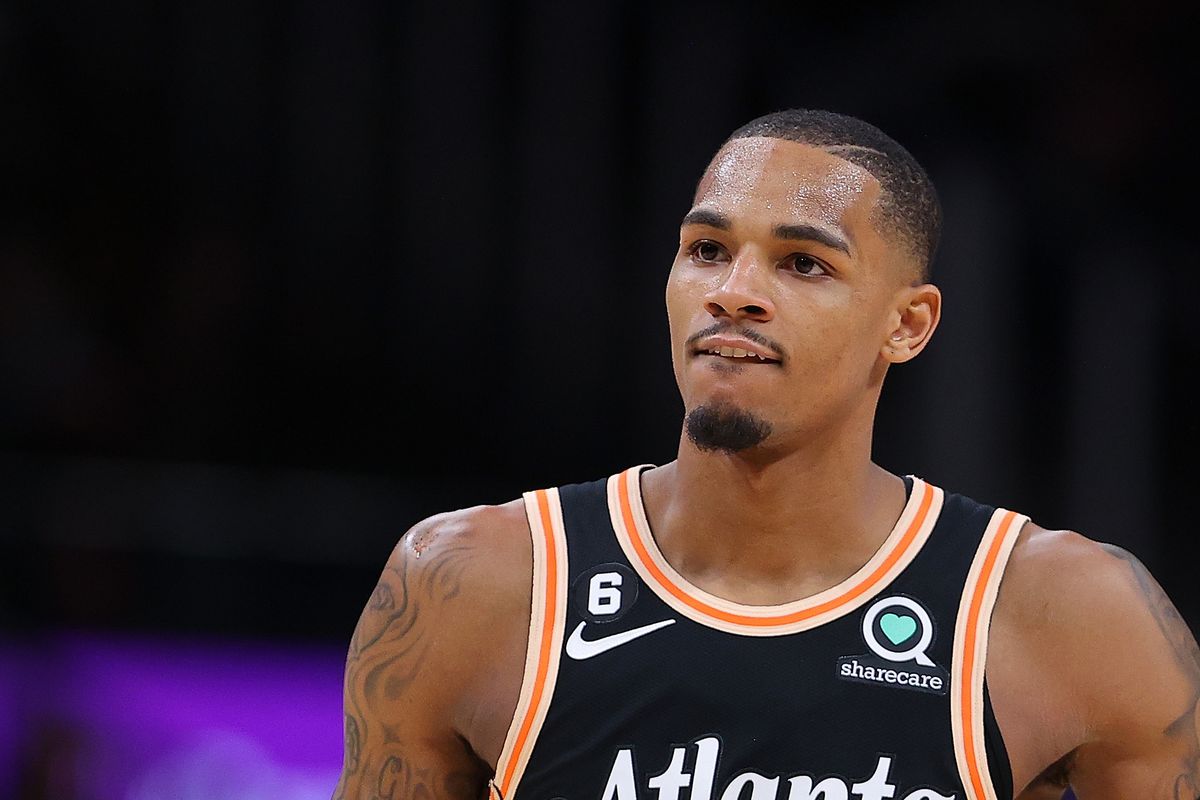 What would the Bulls offer for Dejounte Murray?
The Bulls are expected to offer Lonzo Ball, Alex Caruso, and one first-round pick each from the years 2027 and 2028 in exchange for the Hawks' #5. The Bulls have made some mistakes, just like the Hawks, and they have failed to perform. Will the two teams with similar experiences get fixed by this trade?
REPORT: The Atlanta Hawks are looking to package John Collins with the no.15 pick, DeAndre Hunter with no. 15 pick or even Dejounte Murray with the 15th pick to trade up in the draft, per @wojespn pic.twitter.com/2pYC25O6pz

— NBA Retweet (@RTNBA) June 21, 2023
Why would the Bulls like to sign Dejounte Murray?
The Bulls will not get the service of Lonzo Ball this season, and they will need somebody to replace him. Murray can do everything that Lonzo does except shooting, but the Bulls would not mind that since they have Nikola Vucevic on the roster. The 26-year-old would be a great addition to the Bulls' roster, and they would hope for the trade to go through.
Atlanta Hawks starting five if they trade for Pascal Siakam:

Trae Young
Dejounte Murray
Saddiq Bey
Pascal Siakam
Clint Capela

This is a contending team in the East

— Joel Moran (@joelvmoran) August 9, 2023
Why would the Hawks trade-off Dejounte Murray?
The Hawks know that the deal has not worked for them and they might give the player half a season to prove his worth. But if it does not work, the Hawks would be happy to trade him for some return value.
Will Murray perform better in a new environment? How right are the Bulls in doing another win-now trade? We'll keep you updated.