Having the right person beside you can make you feel like you are on top of the world. But what if you were actually standing on the top of the world with your perfect partner right next to you? Sounds like a dream, right? We bet it's no dream.
This romantic story of two people madly in love sharing vows and starting a new chapter of their life on the top of Mount Everest will give you a feeling of what it's like to be on the top of the world with your better half.
One California couple, Ashley Schmeider and James Sisson felt that a run-of-the-mill wedding ceremony wasn't right for them – so they decided to get married on Mount Everest instead. As you can probably guess, their wedding photos are monumentally epic.
32-year-old Ashley and 35-year-old James spent a whole year planning and training for the expedition, and it was no walk in the park when they finally arrived in Nepal in early March.
Accompanied by their photographer, Charleton Churchill, it took them the better part of 3 weeks to reach the 17,000-foot-high Base Camp Everest, where they finally said their vows after braving deep snow, freezing temperatures, and altitude sickness together. Churchill's photos of the unorthodox ceremony show a spectacular blend of rich blue, crisp white, and rugged stone.
Let's hope this couple's marriage pulls through harsh conditions as well as they do! Follow their compelling journey and see the fantastic final results below.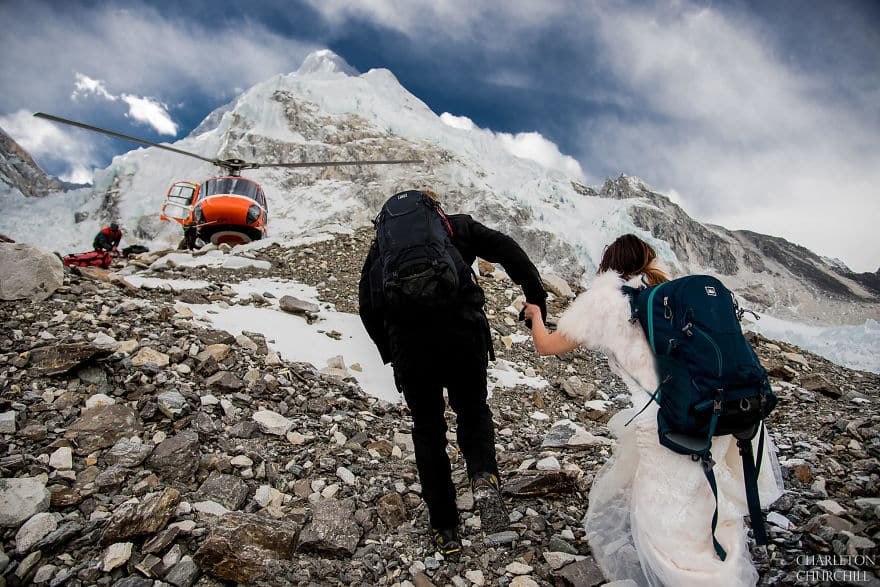 "I had attempted base camp with another [couple] in 2015," says the couple's photographer, Charleton Churchill, "but the devastating earthquake of Nepal, including the massive avalanche that swept EBC [Everest Base Camp], turned everyone around off the mountain. I wasn't sure if I would find another couple to get married on Everest anytime soon."
Then, last year, the avid adventure photographer was contacted by Ashley on Instagram. The future bride said she wanted an adventure wedding, but she and her husband hadn't yet settled on a destination. Initially, they asked Churchill for a suggestion of an exotic tropical location. He, however, suggested Everest instead, and the couple rose to the challenge.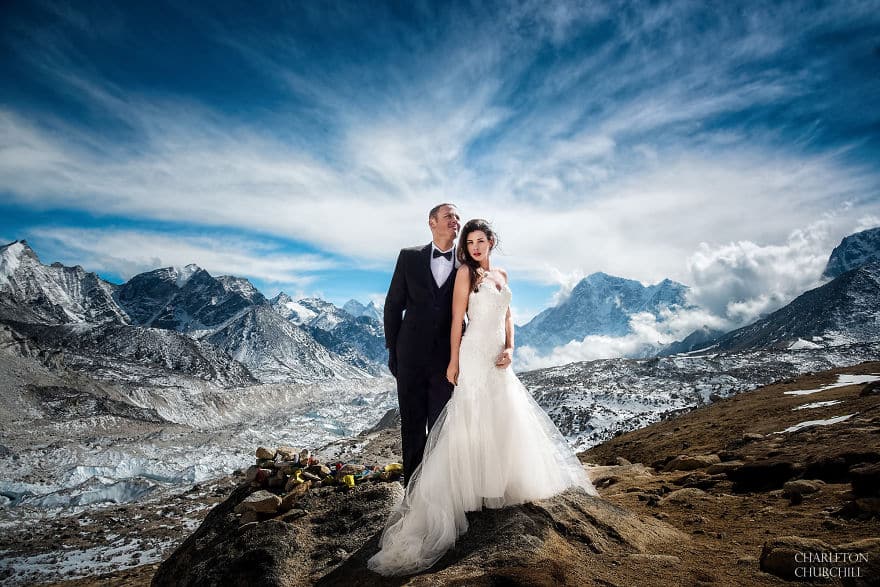 "Both James and Ashley made for great trail partners," Churchill recounts on his website. "We were like family. Ashley is tough girl who crushed it on the mountain trail and maintained a great pace. James is a great man who took care of Ashley, always looking after her needs. Plus he's a comedian who made us laugh often. It can be difficult after a few days on a long mountain trek with all the pressure and lack of resources to maintain a smile, but we did well."
That isn't to say that the journey was easy. On the contrary, conditions on the world's tallest mountain proved fierce, as always.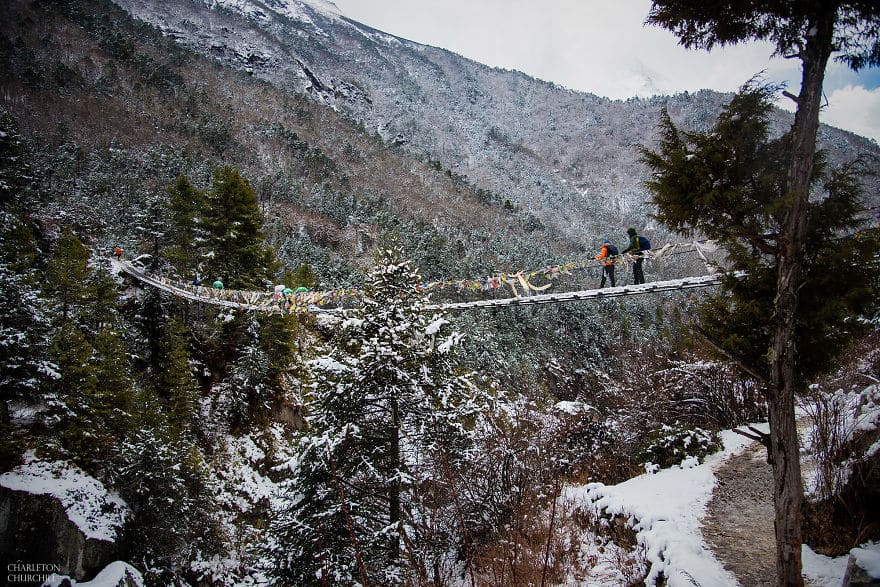 "The temperatures ranged from -8 degrees to 10 degrees Fahrenheit," explains Churchill. "So, your hands would quickly freeze if left out of the gloves, like when I tried to film and take photos. I actually had to turn a live Facebook filming off because my hands were burning cold… Also, James and Ashley married in the -5 degrees to 5 degrees Fahrenheit range, and in her wedding dress. We especially had to keep her warm… downing soup, food, drinking hot liquids, and moving, all vital."
But before they could reach that point, despite weeks of preparation, it looked as if the couple might not be able to follow through with the wedding because of the toll the altitude was taking on their bodies. James, in particular, developed a bad case of "Khumbu cough," which worsened and became deeper the higher they ascended.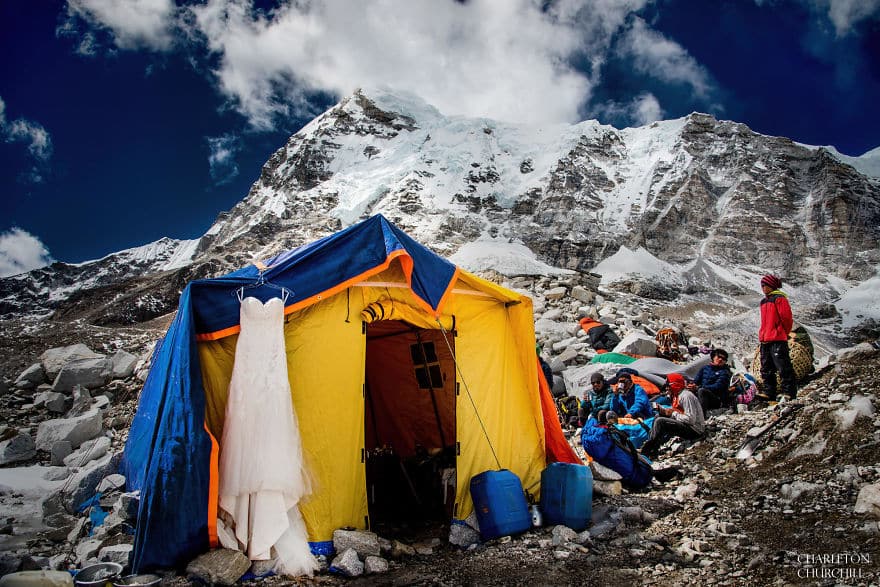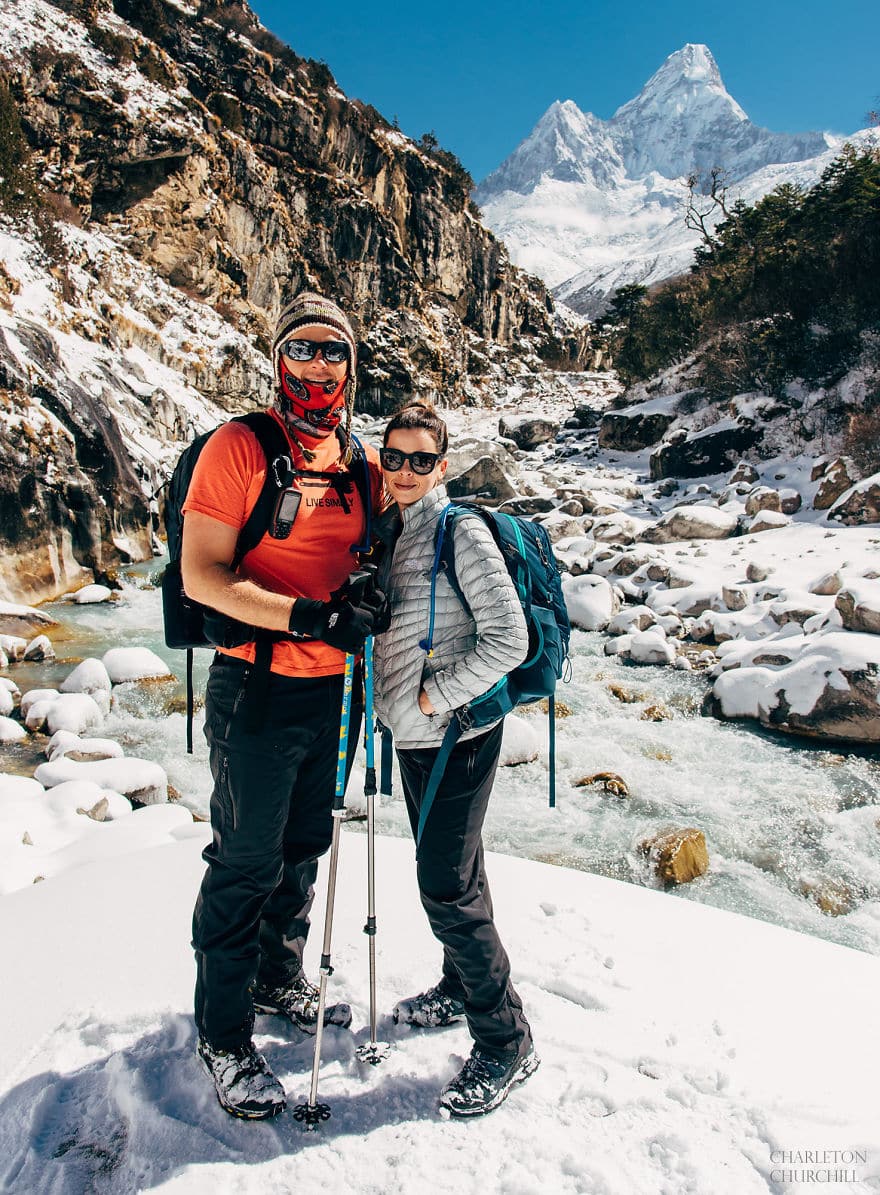 "The night before Everest Base Camp, at Gorak Shep, 16,942 feet… James woke up catching his breath feeling like he was suffocating," Churchill writes. "We searched for our guide around midnight and the doors were locked to the lodge. We threw small rocks at windows, whispering loudly. I walked around this lodge trying to find a way to get in, and found a back door into the kitchen that was open, and finally found him. Our guide and another Sherpa hooked up the oxygen mask/tank to James, and he slept on oxygen for the remainder of the night."
What James experienced is not unusual. Hikers frequently get medevaced out from that location. In fact, just a week before the couple arrived, an Australian hiker died of altitude sickness at base camp. So, the night of James' oxygen scare, they decided not to take a chance. The couple and their adventure photographer would fly out first thing in the morning and not attempt to trek any higher.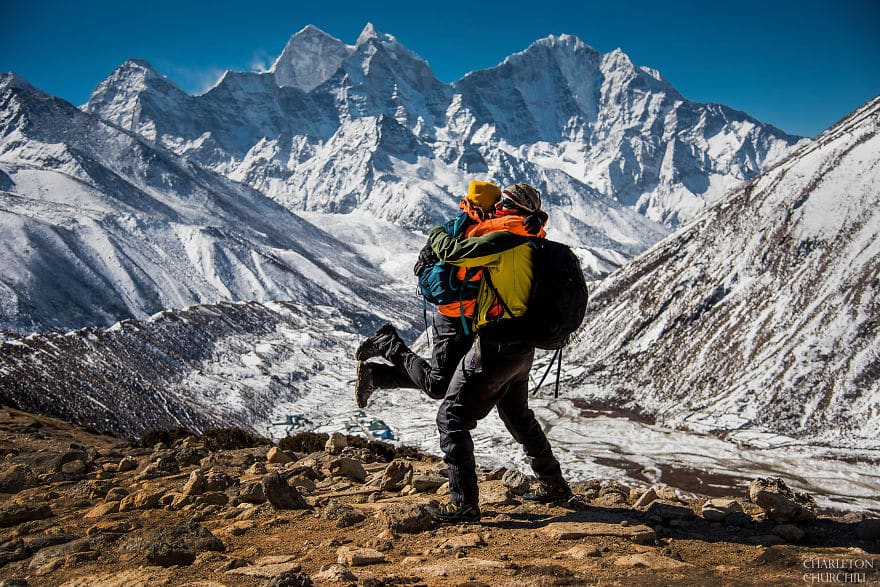 All that changed, however, the following morning when James woke up feeling a bit better. After a discussion with their guide, the couple decided to hike up to base camp carrying oxygen on their bodies. They would then eat, drink and get married, all within a 90-minute window, before boarding a chopper for lower ground.
On March 16, 2017, "James and Ashley exchanged vows at Mount Everest Base Camp right in front of the famous Khumbu ice-fall where people use ladders to maneuver over crevasses, and with the beautifully carved Nuptse Face in the backdrop," Churchill writes. "Their epic wedding was surrounded by all these famous mountains. It was beautiful, short, and we captured a few photos before packing and getting ready to leave."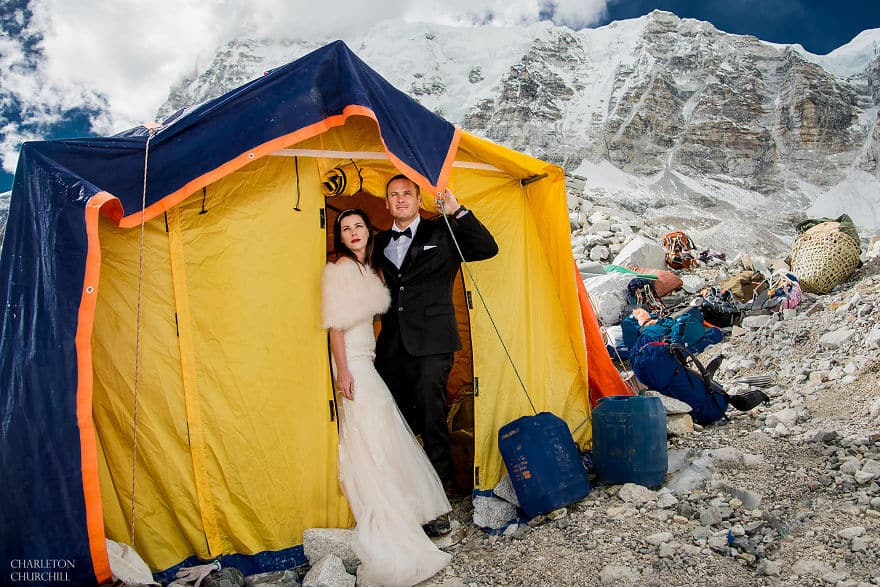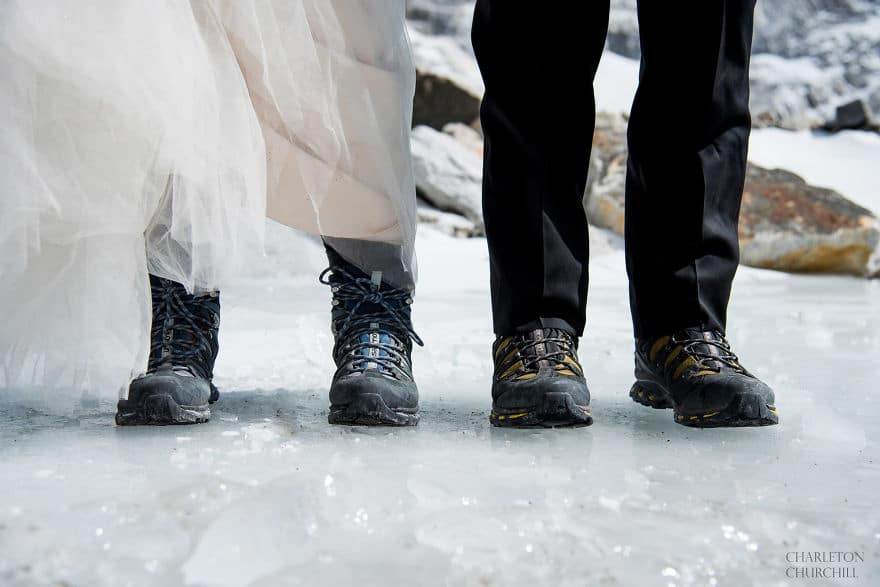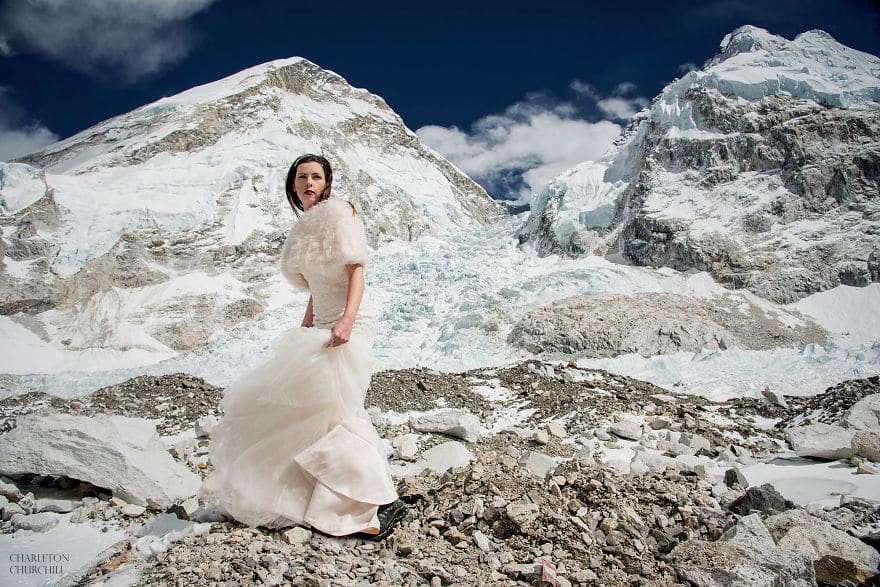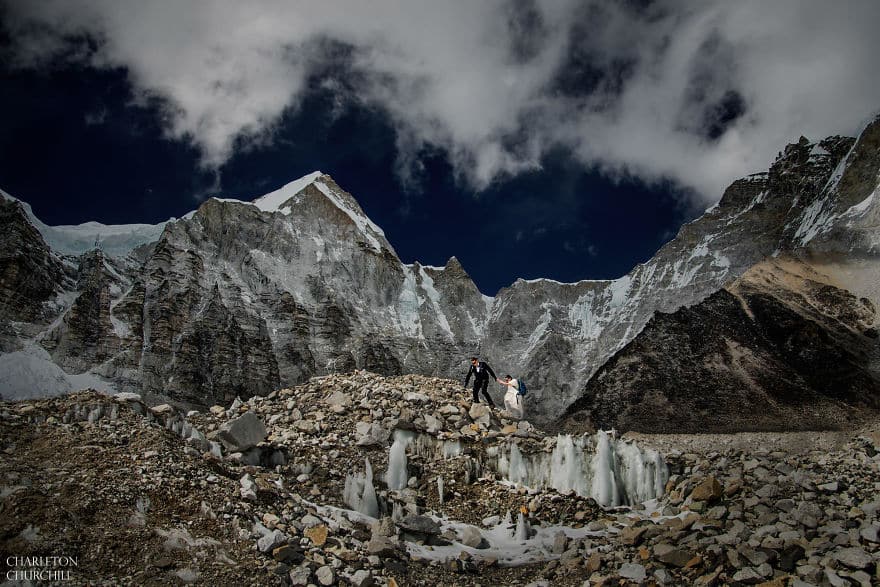 They, however, could not leave right away as planned. The weather worsened, as it often does on Everest, rendering conditions unsafe for a helicopter to arrive and, consequently, forcing them to spend the night.
"After sleeping on the glacier, hearing the cracking below us, on top of hearing the thundering avalanches all night, the helicopter came, and early," recalls Churchill. "The faint but ascending juddering sound of the helicopter in the distance was a beautiful sound. I saw the look on James and Ashley's face, and they were relieved. We all were excited. The pilot, hooked up to oxygen, took James and Ashley first because the air was too thin at base camp to take all four of us and our bags. They dropped James and Ashley off at a lower altitude, and then returned to get me and Naga, our guide. … Within a few hours, we were back to Kathmandu on a bus, warmed up, and back to our hotel with some of the creature comforts we missed while on the mountain."
Not to mention, with the coolest wedding photos around.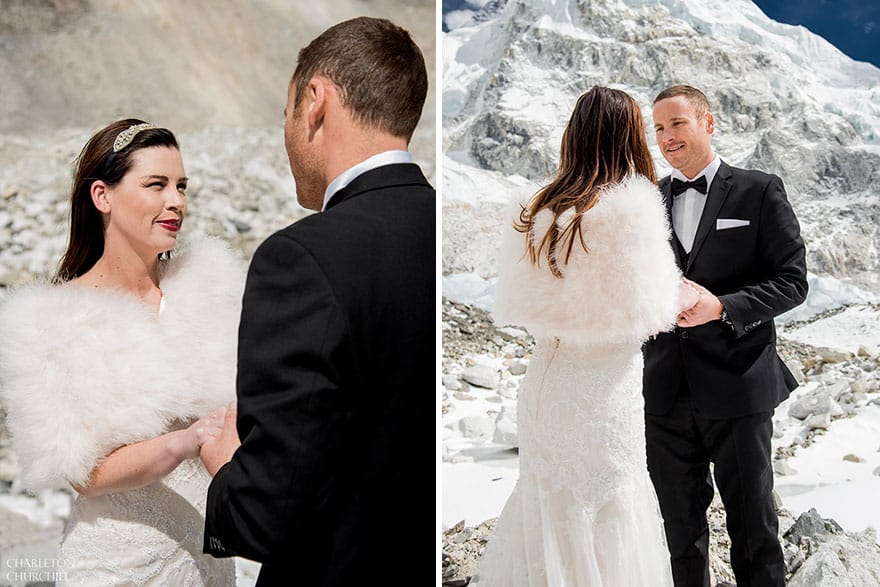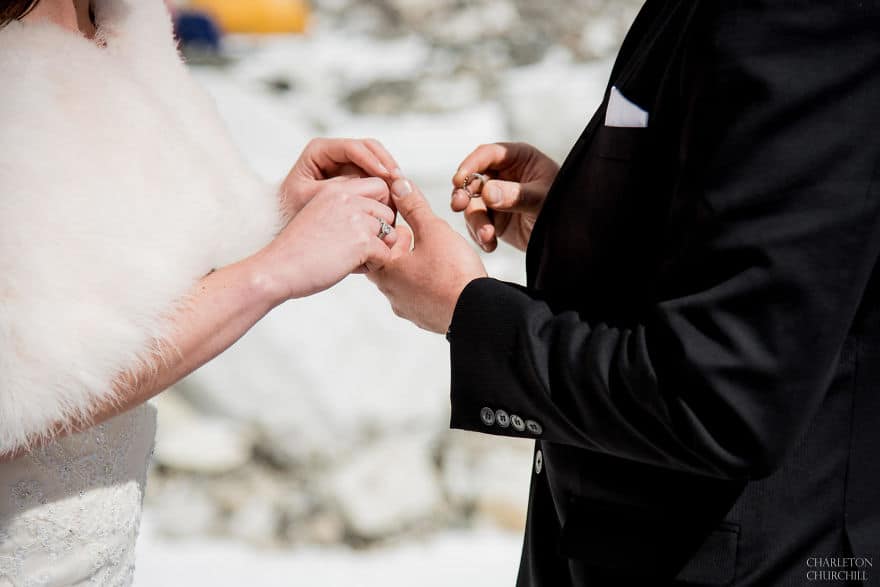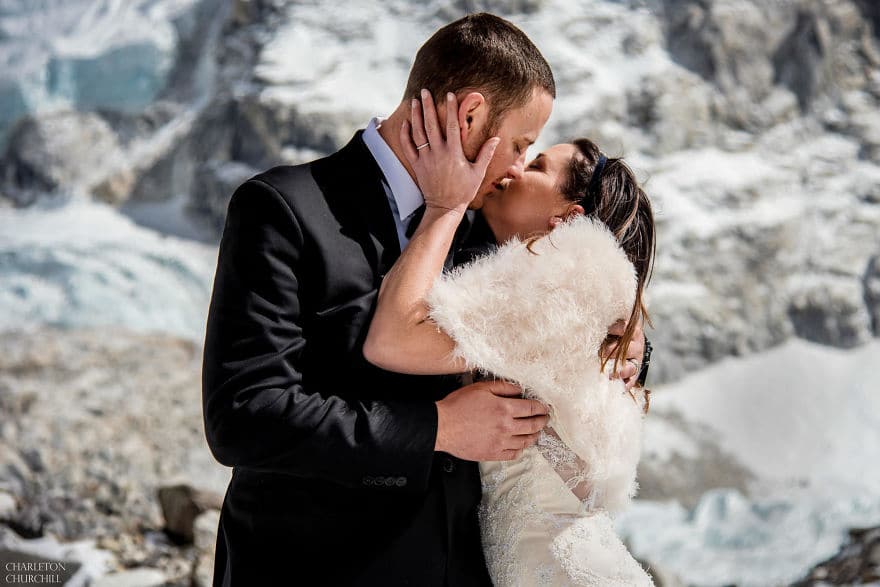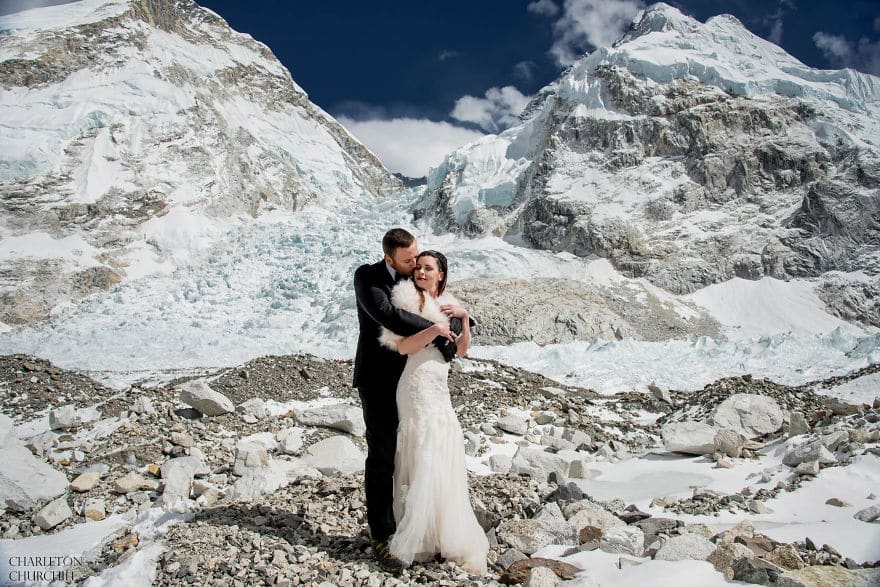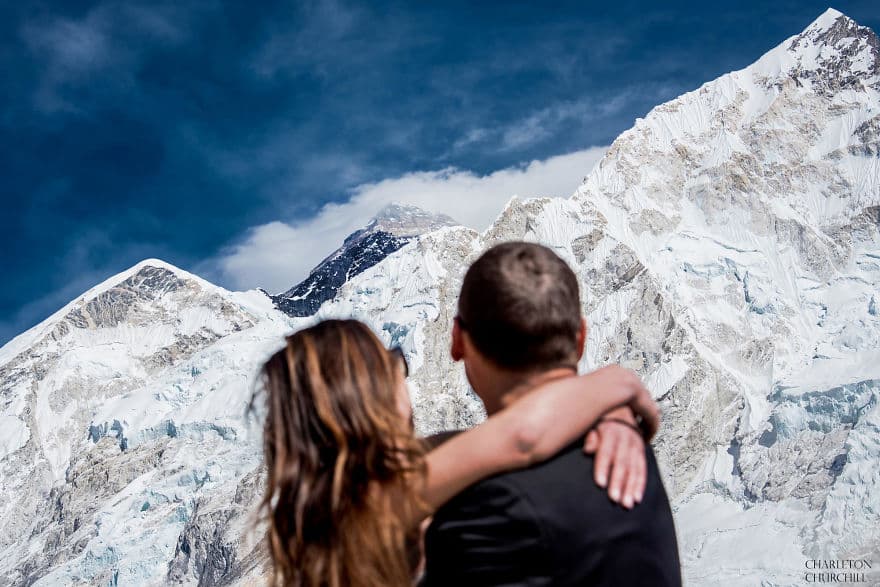 Here's a video: