John Dorsey, general manager of the Cleveland Browns (professional American football team) said in a statement that the team is open to hire a woman as next head coach. He also declared that there is one popular and prominent personality on their interview wish list. He, however, refrained from mentioning names.
One of the league sources told ESPN that Condoleezza Rice was on that list the Browns want to interview.
After the news of Brown's possible interest got back to the team, Dorsey said in a statement –
"Our coaching search will be thorough and deliberate, but we are still in the process of composing the list of candidates and Secretary Rice has not been discussed."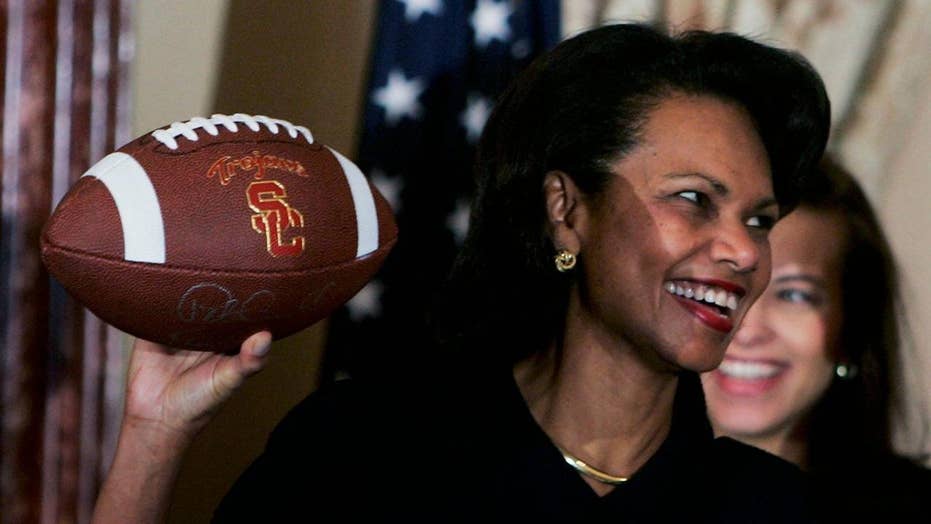 Source- Fox News
Rice then came up with a post on facebook this Sunday where she said that she's "not ready to coach". However if the Browns need ideas, she would like to call a play or two next season.
Rice has been the former (66th) Secretary of State (SoS) in the administration of George W. Bush. If interviewed, she would become the first woman to interview for NFL head coach's job. She has been a Browns fan all her life. Her love for the team developed in her early years when she accompanied her father watching Cleveland's games at their home in Birmingham, Alabama. She was recently spotted on the field with the owners before Brown's game in Oakland on Sep 30.
Rice has been actively and deeply involved in sports, specifically on collegiate level since her tenure as SoS. She was an inaugural member of the College Football Playoff selection committee where she served for three years starting from 2013. She was also a commissioning member on college basketball which recommended sweeping reforms to the sport this year. Rice has previously featured in Browns jersey in NFL ads as well.

Source- Business Insider
A potential interview doesn't really mean that she would be hired. But this comes at a time when women have positioned themselves into decision-making roles in men's sports.
Source- ESPN
With roots in Patna, I am a Mechanical Engineer currently employed in Jabalpur. Working as a Senior Engineer in Heavy Machines Sales, I have been associated with different blog sites in different categories for over a year now. The categories include comics, sitcoms, movies and talent acquisitions.