When you are into the restaurant business, even a single review can make or break your business. That's why restaurant owners try to impress their customers by serving them the best service and delicious food. 
However, sometimes, customers badly review the restaurant. While most of us believe the theory "customer is always right",  50-year-old Alice has a zero-nonsense policy for tolerating such bad reviews. 
She owns Oriental Express and this restaurant has 145 reviews on Just Eat where Alice posts her blunt responses. "[Negative] reviews tend to put business owners down and demotivate them, I want to be realistic," Alice told Leeds Live, referring to her savage replies, and added: "I think reviews should be honest and not corporate responses."
You can scroll down to see Alice's way of handling these negative comments. 
Someone pointed out that the Oriental Express takeaway in Pudsey, Leeds pens hilarious responses to bad reviews and it blew up on social media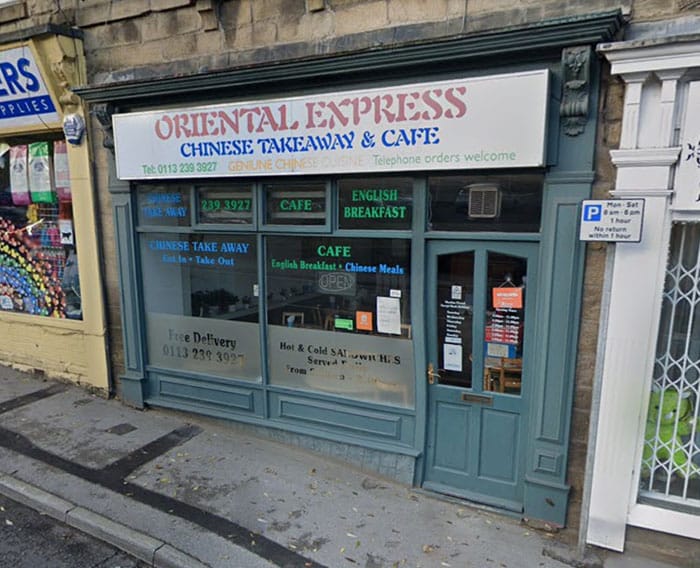 And here are some of the funniest responses to negative reviews left for the Oriental Express takeaway on Just Eat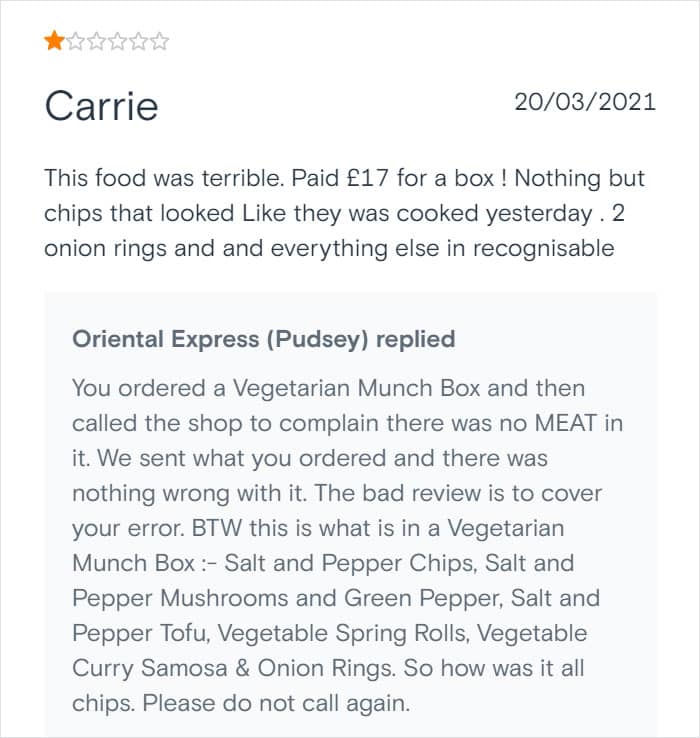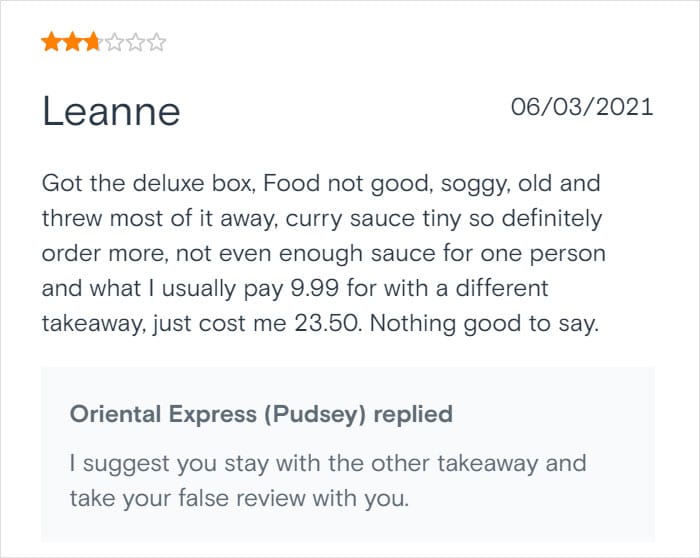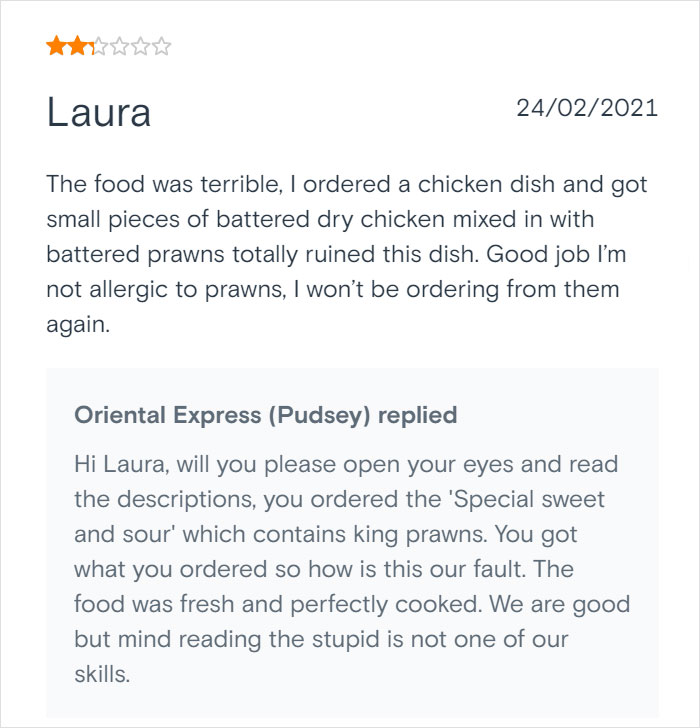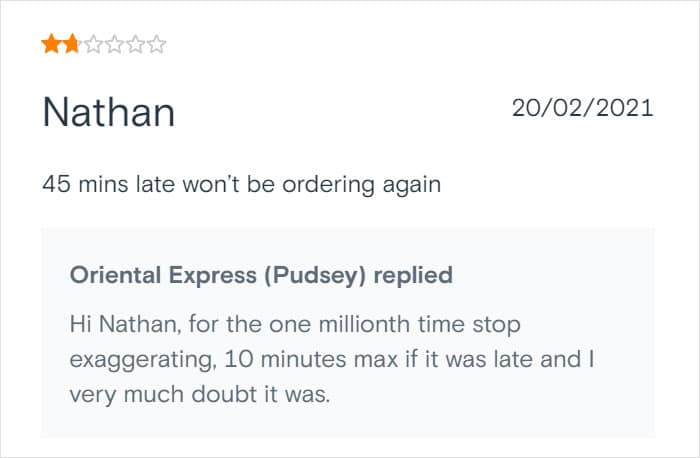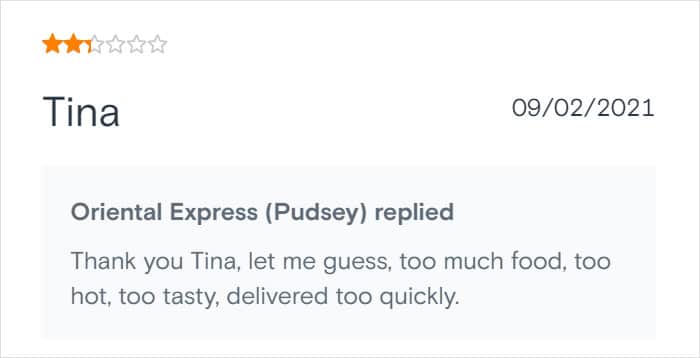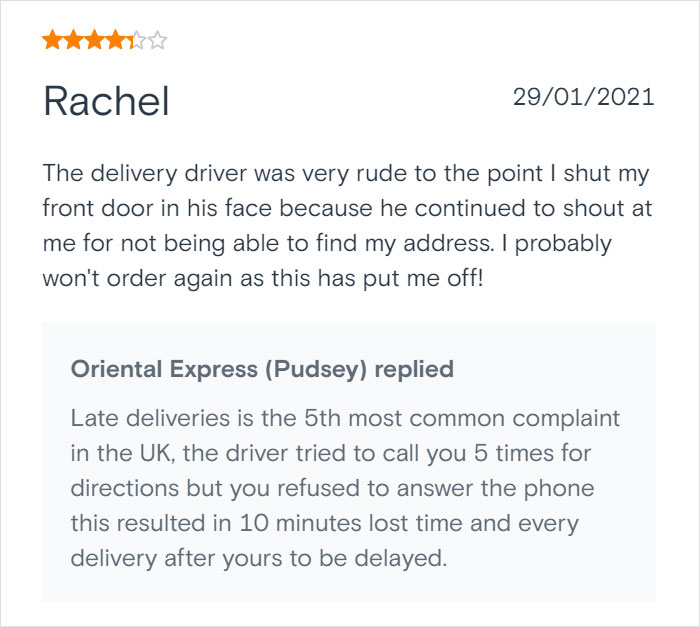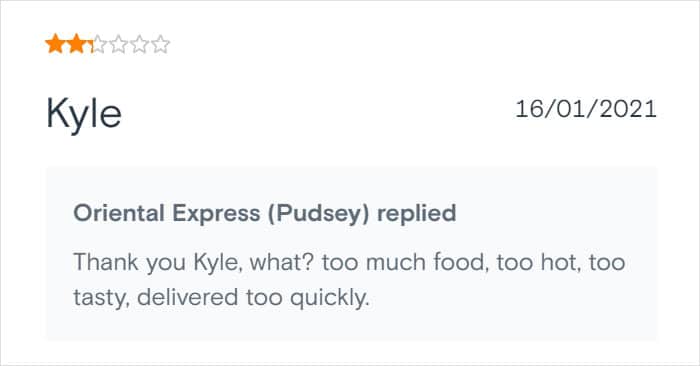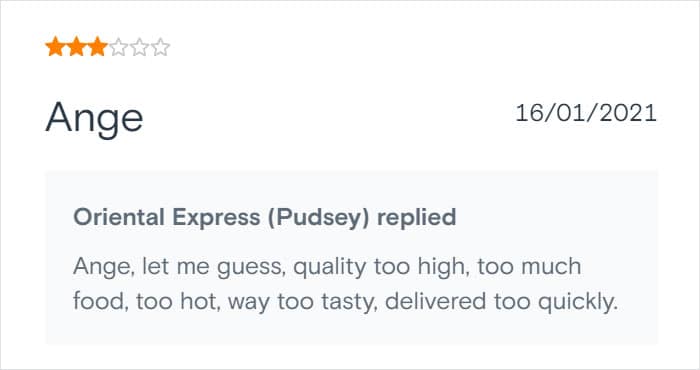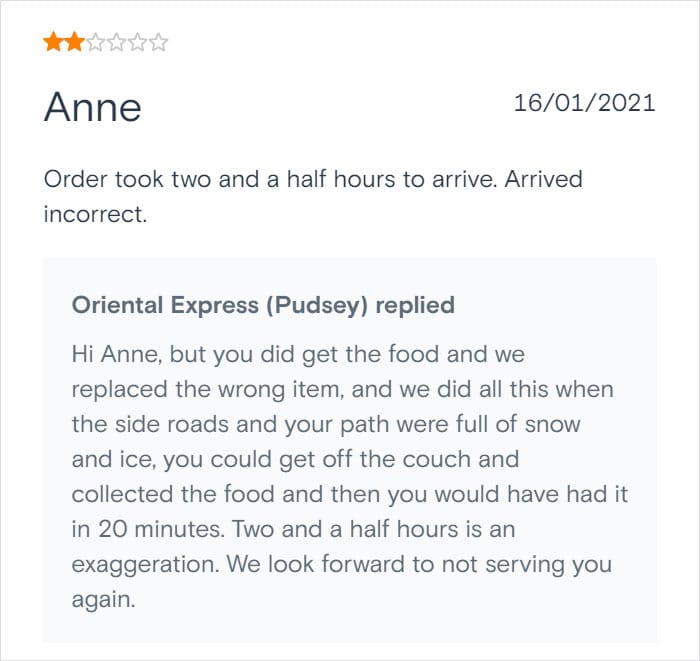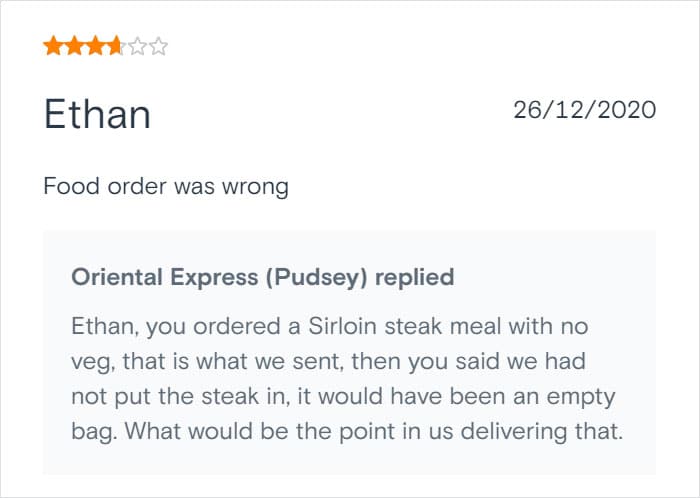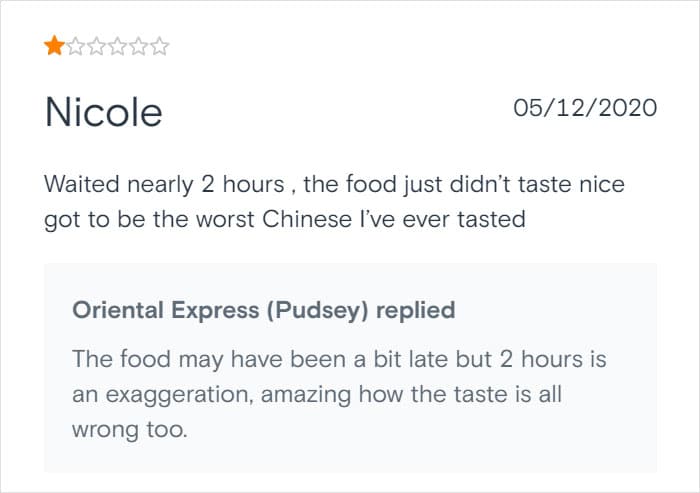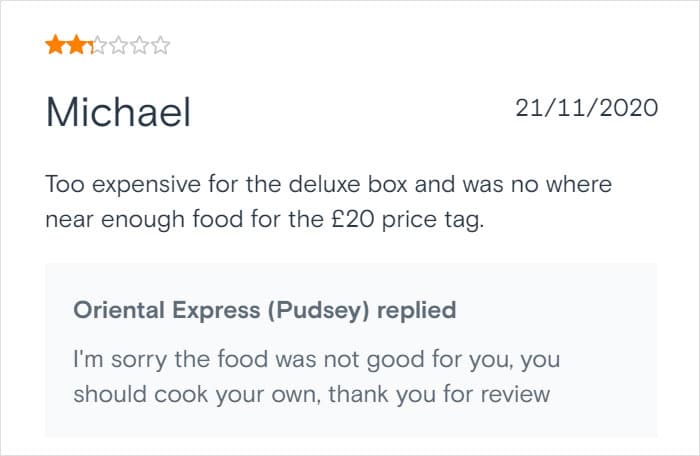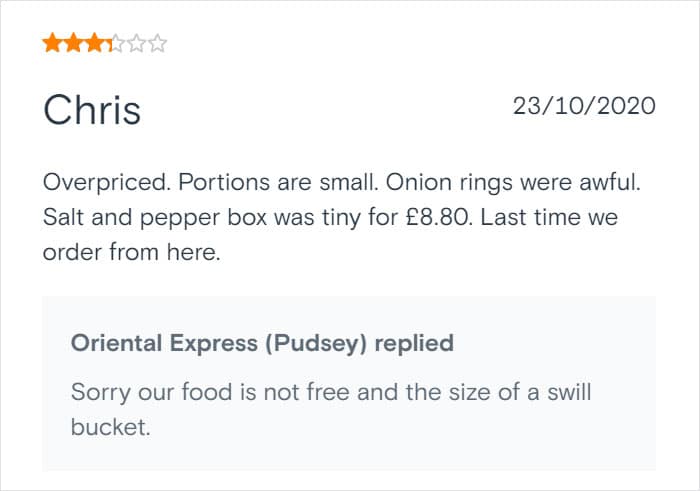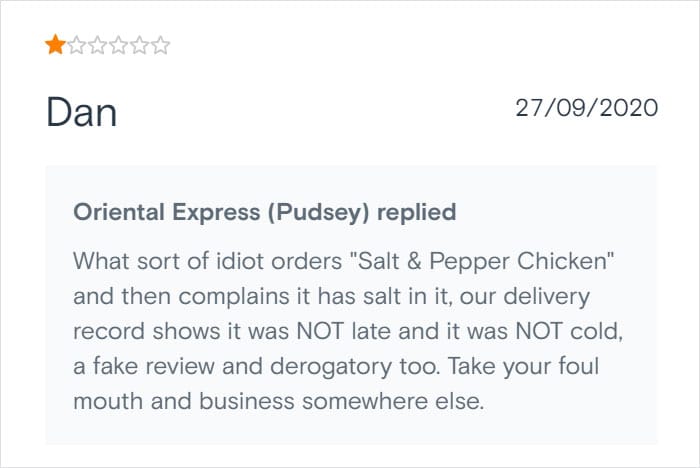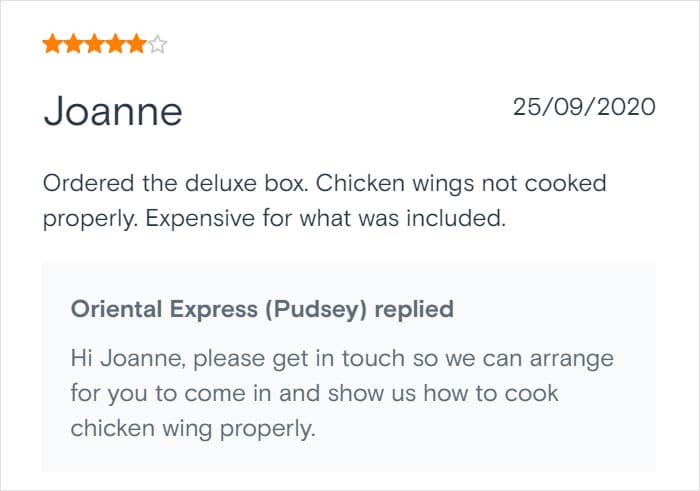 "There's people that read the horrible reviews and a human behind the phone call when you throw abuse, not just the name, so there shouldn't be a reason to throw abuse over a £10 meal. If you have something to say… just be polite!"
The person behind the blunt review responses is the owner Alice Cheung, who feels it's just fair to let others know if the negative review was unreasonable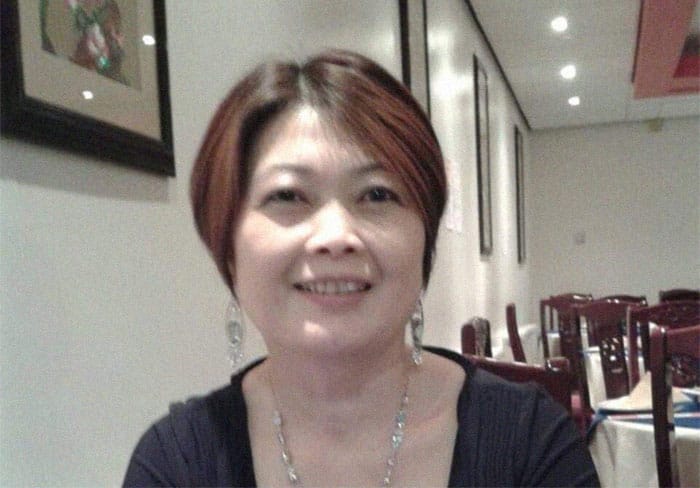 "Just Eat and everything has become a big thing so we have had to adjust from the old days of taking calls and writing everything down on a piece of paper."
Moreover, these new food order apps have "given people more of a voice and a platform to say what they think."
And while "the majority of our reviews are pretty good, and we have a lot of return customers," Alice believes it's just fair to respond to an unreasonable bad review. "Sometimes we have reviews where people are just plain rude or will say something that is not true."
Many people found them hilarious but some pointed out that it could as well be just genuine reviews of bad food