One among the six private buses which were carrying band members, students and staff of university of Washington heading towards the pull man to attend the inter-state football cup rolled over on the icy roads of interstate 90 at mile post 143 about 3 miles away from George on Thursday around 5.30 PM. George is at the center of Seattle and Pullman.
The reports say that the third bus turned over on the frontage road among the six which were going to attend the apple cup which was expected to kick off on Friday evening. The bus that rolled over carried 56 band members. Around 25 people were send to regional hospital in George and the remaining people were send through the other buses in an elementary school in George were they were evaluated.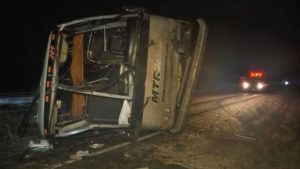 One of the university spokesman Victor Balta said that the injuries caused to people were not life threatening and were just small cuts and abrasions along with general back pain. The spokesman also said that the university will try to make them soon fit to send them back to the apple cup which would held in Pullman.
The bus which rolled over didn't block the freeway but blocked the frontage road. The buses which head to the school were treated by the nearby residents. They also provided them hot remaining food and added that they will take care of the university students as there ones.one of the volunteer said that they will make them fit so that they can have a good game on Friday. The highly expected apple cross cup would be played between the rivalry's the university of Washington and Washington state university.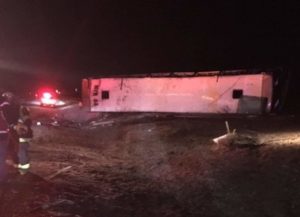 The road on that area were covered with thick ice and that can be the major reason for the accident to occur but nothing went major.
Source 1:  the Seattle times
Source 2:  Komonews.com
I am an amateur content writer, who is currently pursuing a Masters in Finance from ICFAI Business School. In this highly volatile Business Market, I find no better way to keep myself updated than to write about it and reflect my own thoughts as words.