Krist Novoselic and Dave Grohl, the surviving members of Nirvana, reunited at the 50th birthday party of Grohl for a photograph in Los Angeles over the weekend and were joined by Billy Corgan.
Dave Grohl turns 50!!
Billy Corgan, Smashing Pumpins frontman, also met the two at the party. Corgan had a rivalry with Foo Fighters and Nirvana in the past, so it's amazing to see all of them together.
Dave Grohl said,
After we played the Rock & Roll Hall of Fame, I considered the idea that, if there was an opportunity, we could do it again. But it's delicate territory, and you can't treat it like just another show. It's very complicated, and very special. In those moments, when it just happens naturally, I think is the best way.
Dave Grohl from Reunited Nirvana also talked about how they played "Smells Like Teen Spirit" at Cal Jam. He felt that it was an amazing feeling playing with them. Krist Novoselic said that even though it was fun, it won't be a regular thing.
Dave Grohl's birthday party was attended by his bandmates including Taylor Hawkins and Krist Novoselic from Reunited Nirvana.
The party of Dave Grohl of Nirvana was bowling themed. Initially, it was even difficult to imagine that such a reunion of Nirvana would ever take place. What was more to add to the surprise was that they were joined by Billy Corgan.
Reunited Nirvana: The History
Nirvana, the American rock band, was formed back in 1987. It was founded by Krist Novoselic, being its bassist, and Kurt Cobain, its lead singer and guitarist.
After Cobain's death in 1994, the band, Nirvana dissolved, but its music continued to stay popular among the people. The music of Nirvana plays a great role in influencing modern rock culture.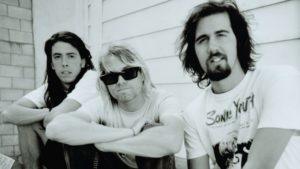 Billy Corgan's appearance was certain as the rocker professed his love for Chad Kroeger last year. He even called him an incredible songwriter. There was also an online campaign going on to ask Chad Kroeger of Nickelback to take Kurt Cobain's place in the Nirvana reunion.
Source: Tone Deaf, Alternative Nation