No matter the ethnicity, gender, or sexuality, fashion is for everyone. But some people don't understand this and they try to decide which body gets to wear what.
A best friend duo, Denise Mercedes and Maria Castellanos, have taken to social media to change this mentality. With two different body types, the friend duo wears the same outfits to prove that fashion is about "Style Not Size." We think that's a trend that we can definitely fit into.
Here are 15 things you need to know about these fashionista friends.
1. They created a "Style Not Size" series.
These fashion influencers are working to inspire women and girls to embrace their bodies and make their own rules when it comes to fashion. They wear the clothes that they want and show them off with #StyleNotSize as a true affirmation of body love.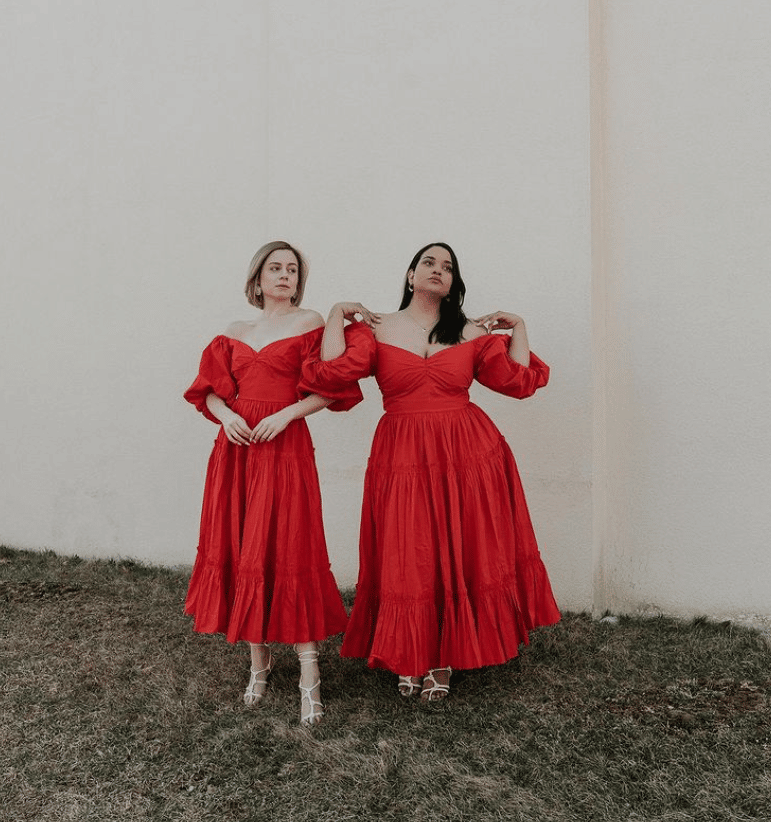 2. They have a TikTok channel.
As if these two weren't making enough of an impact, they've taken #StyleNotSize to TikTok—and people love them. These two have been posting fashion shows where they wear the same cute outfits to show that a smaller body type and a larger one can rock the same outfits in their own unique ways.
3. #StyleNotSize is a challenge they want you to join.
While this trend was created by Mercedes and Castellanos, they want others to join in the fun. After all, #StyleNotSize isn't just a series, it's a challenge that dares people to be comfortable in their body shapes and fashion. For this video, they invited their friends to represent even more fabulous bodies in black dresses from the clothing brand, ASOS.
4. The hashtag began in 2020.
In a post with them in matching Amazon Fashion outfits, Castellanos and Mercedes provided the caption, "Body positivity is a social movement focused on the acceptance of all bodies, regardless of size, shape, skin tone, gender, and physical abilities, while challenging present-day beauty standards as an undesirable social construct. This series is not meant for you to choose one over the other, it is not here to judge nor diminish," on Instagram. They want people to know that it's not about comparing them, but about acknowledging the power of self-love and body positivity. We def love anything to do with that kind of empowerment.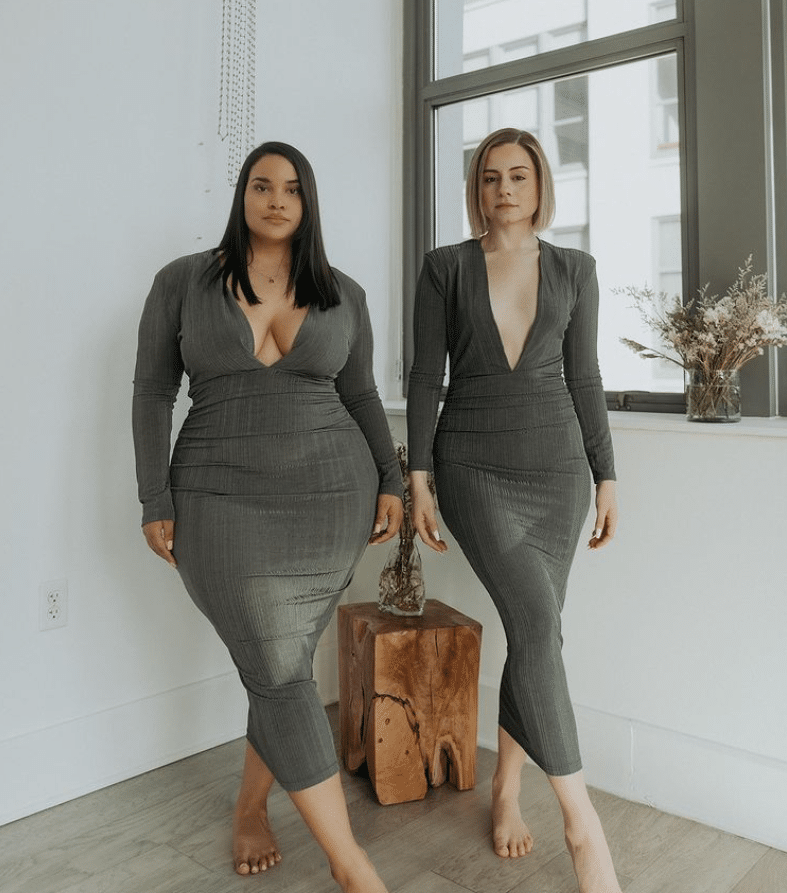 5. They enjoy lots of different outfits.
In addition to shattering glass beauty standard ceilings, these two also model diversity of clothing from various brands. They always share where they got their outfits, especially when the brand has size-inclusive options. Castellanos and Mercedes practice what they preach and make sure they only advertise brands that embrace and accept a variety of bodies. We think that they found the perfect fit with these brands.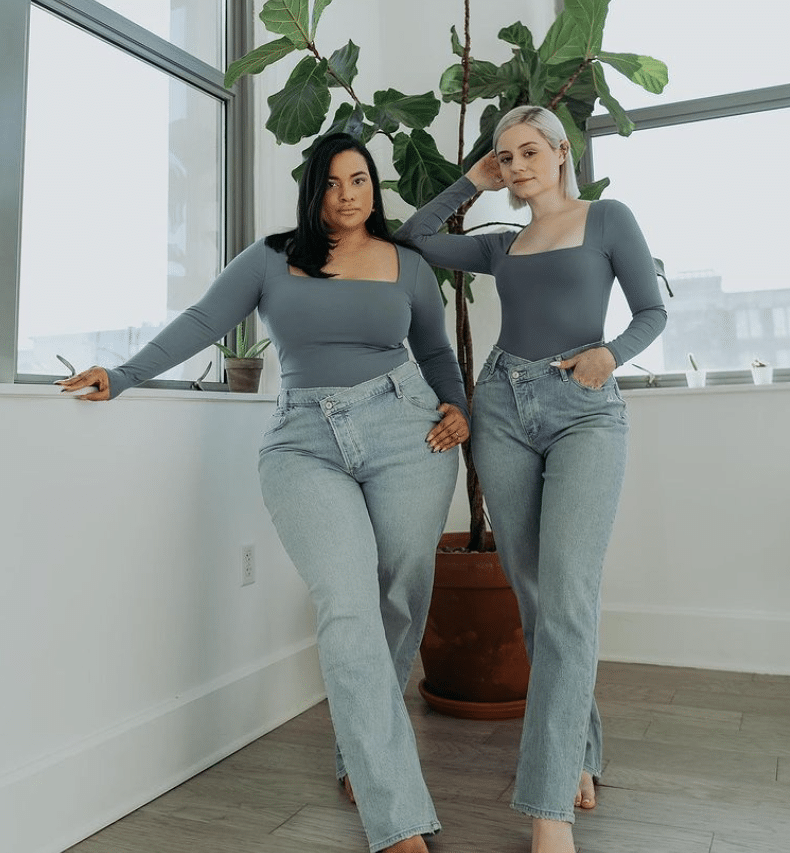 6. They even made a video for International Women's Day.
The dynamic duo took to TikTok for a special International Women's Day video this year with the caption, "Today is international women's day and we take pride in inspiring women all around the world. What are you most proud of?" With over 19,000 likes, it looks like their viewers are pretty proud of Castellanos and Mercedes for their mission to uplift others.
@denisemmercedesToday is international women's day and we take pride in inspiring women all around the world. What are you most proud of? Looks from @mango #mangocommunity #IWD
7. They believe insecurities are normal.
In many of their videos and photos, they emphasize the importance of having "two different bodies" that are wearing the same outfits. They specifically point out that they both have insecurities to remind people that one size doesn't necessarily mean more confidence, and vice versa. Many of us have something that we may wish was different about our bodies, but that doesn't make us any less worthy of feeling fab with fashion.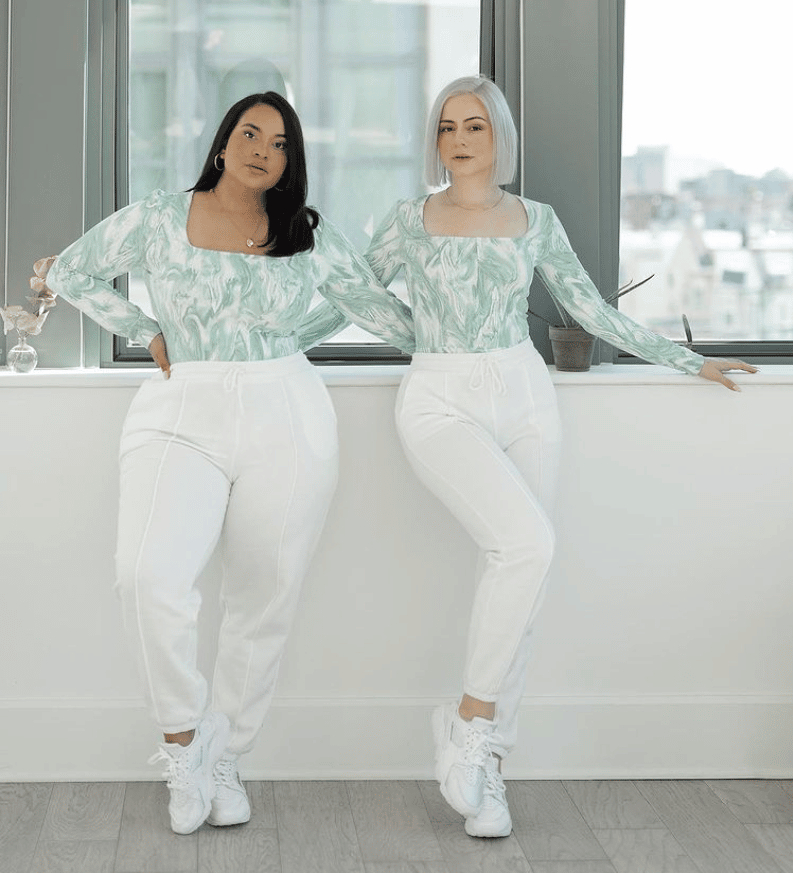 8. They aren't afraid to mix things up.
While Castellanos and Mercedes rock lots of adorable dresses, they aren't afraid to wear different styles of pants, too. From denim to sweats with plenty of accessories or none at all, they love to surprise fans with new styles regularly.
9. Their fans are in love with their message.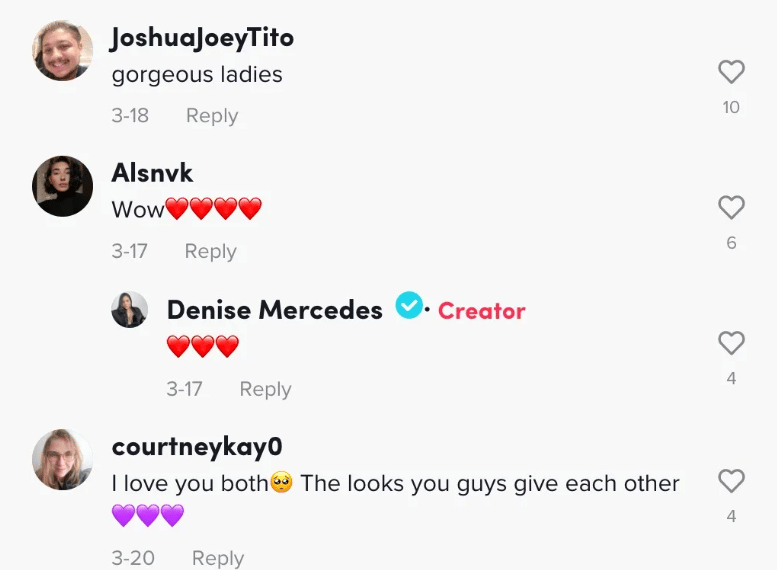 With a whopping 3.5-million followers on TikTok, it's safe to say that Castellanos and Mercedes have some devoted fans. With doting comments, like, " I love you both. The looks you guys give each other" and "gorgeous ladies," we can see that the #StyleNotSize challenge is a winning idea.
10. People resonate with their message and style.
One person wrote, "LOOOOOOOOOOVE what you ladies are doing!! Sooo positive!!" and others have had similar sentiments. Another person wrote, "You two inspire." It looks like people are obsessed with their philosophy, style and overall mission.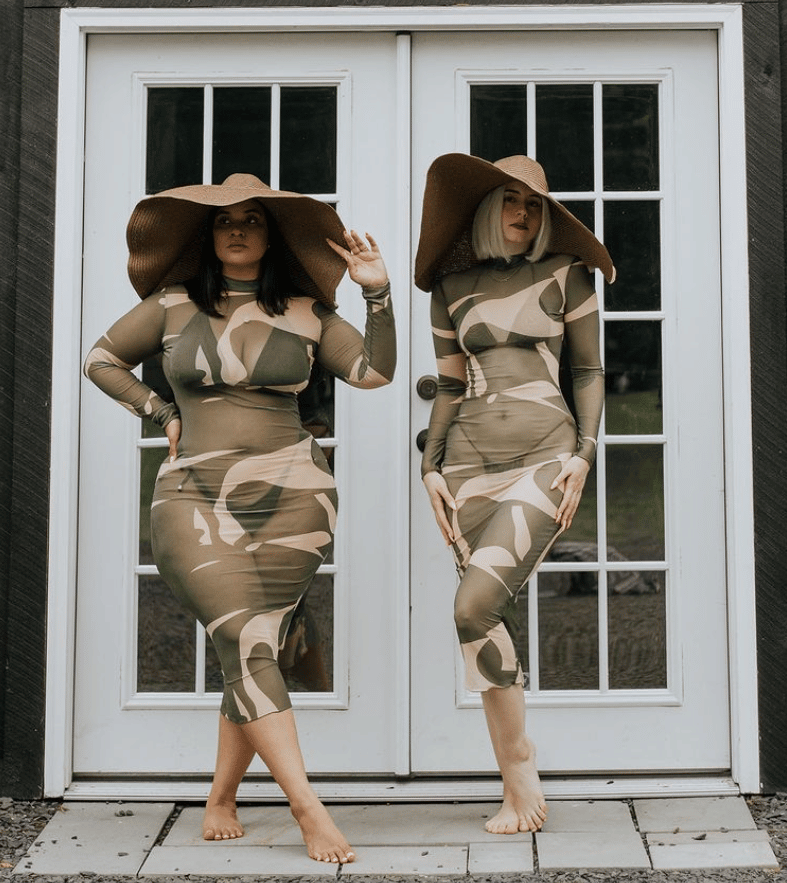 11. Sadly, some people are still comparing them.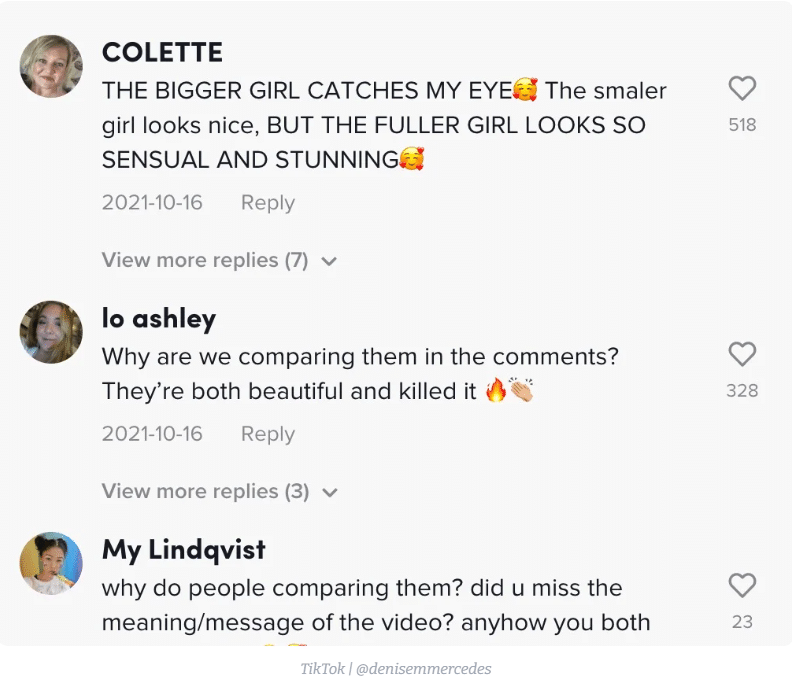 Sadly, some people still aren't getting the point. Even when they're complementary, some fans end up comparing the besties based on their bodies. In many ways, people are often conditioned to see physical differences as a way to assess another person's value. However, Castellanos and Mercedes are hoping they can help people unlearn those habits and find something especially beautiful in everyone. Lucky for them, many of their followers know how to set the record straight, too.
12. We officially want all of these outfits.
One of their most common comments comes from fans asking how to get their hands on all of these glitzy outfits. While the duo typically posts which store each item came from, people still ask, ask and then ask again for the deets. We can't blame them, some of these outfits look too cute to be true.
13. Their friendship is refreshing.
Even if fashion isn't something that everyone is interested in, people can't stop talking about how tight the bond between these besties is. They seem to genuinely love embarking on this body-positive fashion journey together. They're playful and passionate about making people feel happy, and you can't really go wrong when you have a friendship that radiates happiness.
14. They even partnered with Abercrombie & Fitch.
Things went to the next level when Castellanos and Mercedes partnered with Abercrombie & Fitch to work on a fall clothing collection. Castellanos explained during a Teen Vogue interview, "It's mind-blowing how much more of you can show when brands aren't the ones judging and how much society changes when they aren't being told by the industry what is beauty." It's pretty refreshing that after a controversial past with representation, Abercrombie & Fitch is teaming up with this trailblazing duo.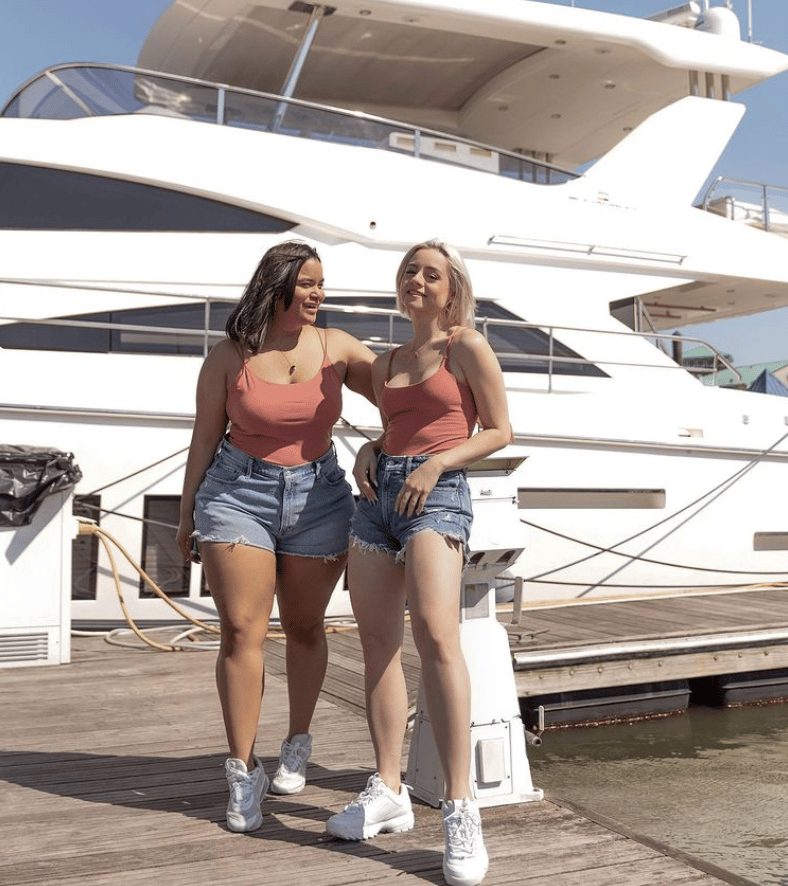 15. The future looks bright for this team.
Following their collaboration with Abercrombie & Fitch, Macy's decided to get in on their #StyleNotSize mission for a loungewear collection. Of course, the main condition that Castellanos and Mercedes have is for each clothing item to be size inclusive. They, along with many others, believe that it's time for a huge shift in fashion. They have stepped up as leaders and are hoping that people get the dress code, too.
Let us know what you think of these besties and #StyleNotSize in the comments and if you are a fan of inclusive sizing and self-love.