The Mystique of Atlantis Expands with King Kordax
The mythical underwater realm of Atlantis has always been a magnet for gripping tales and legendary characters. The latest trailer for "Aquaman and the Lost Kingdom" promises a deeper dive into this fantastical world, introducing us to a host of new players.
The narrative is thickened with characters such as the cunning shark villain Karshon, portrayed by Indya Moore, Stingray, brought to life by Jani Zhao, and the relentless antagonist Black Manta, played by Yahya Abdul-Mateen II. However, amidst this ensemble of underwater elites, one character, in particular, has caught the fancy of fans – King Kordax.
King Kordax: A Blast from Atlantis's Past
Before we delve into speculations about Kordax's role in the upcoming film, let's explore the character's rich history. Stemming from the masterful story weaving of Peter David and Esteban Maroto in the "Atlantis Chronicles", Kordax emerges as a significant figure from Atlantis's past. The chronicles narrate his tale as the offspring of Dardanus, himself the progeny of the magical Shalako.
This lineage becomes tumultuous as Dardanus seeks vengeance on King Orin over a deep-seated betrayal that ends with his kin turned into sea creatures.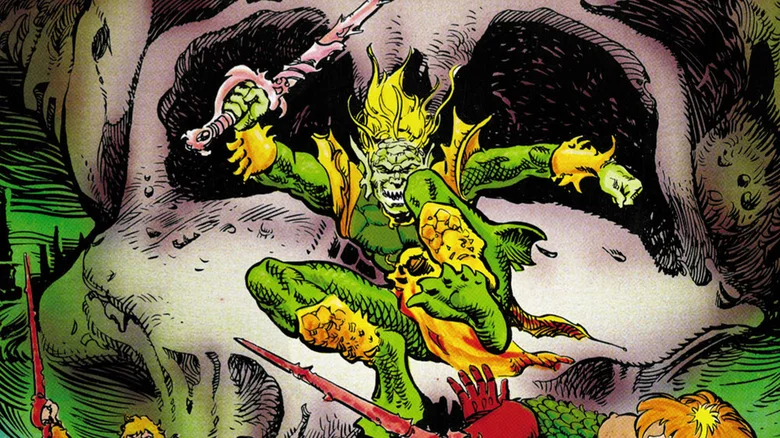 However, Kordax's introduction to Atlantis is far from celebratory. Despite his royal heritage, his appearance – marked by scaly skin and fearsome features – ostracizes him. This exclusion, both in the comics and potentially in the film, forms the crux of his complex character and his motivations.
Note: Sexual assault is a grave issue. For those affected or seeking support, reach out to organizations like RAINN's National Helpline at 1-800-656-HOPE (4673).
The Curse of Kordax: From Comics to the Big Screen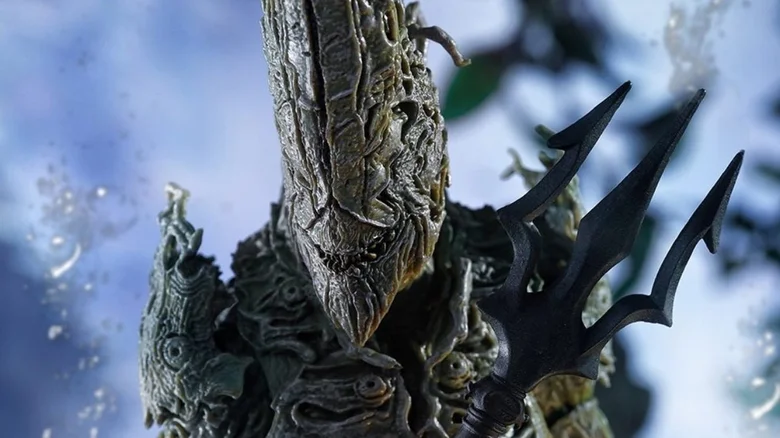 Kordax's powers, primarily his ability to command marine life, sees him attempting to overpower the Poseidonians, descendants of King Orin. However, despite his might, he faces defeat and endures the humiliation of banishment. This rejection, combined with a physical punishment where he loses his left hand, fuels a prophecy – "The Curse of Kordax". This omen has chilling ramifications, casting away blonde-haired newborns in Atlantis, including Aquaman himself, branded as a cursed child.
A New Spin for King Kordax in "Aquaman 2"?
With the release of McFarlane Toys' action figure, Kordax's live-action rendition seems even more daunting than his comic counterpart, bearing semblance to the eerie creatures of the Trench. As fans eagerly anticipate "Aquaman and the Lost Kingdom," many wonder how this historic character will shape the film's narrative. With the plot touching upon the birth of Arthur Curry (Jason Momoa) and Mera's (Amber Heard) child, the Curse of Kordax could play a pivotal role.
Will the couple be coerced to forsake their child due to the curse? Alternatively, could Kordax, still nursing old wounds, ally with Black Manta to wreak vengeance on Atlantis? Whichever direction the narrative takes, Kordax promises to deepen the lore of "Aquaman 2", offering a multifaceted villain with one of the most poignant backstories in comic history. Only time will tell which aspects of his tale will be etched into cinematic lore.