Apple iPad Pro and Microsoft Surface Go are two of the best tablets in the markets. Coming from Apple and Microsoft, both these devices offer a plethora of features. These are truly devices of the future: possibly an alternative to the traditional 'computer' as we know it.
Our traditional understanding of computers has evolved from desktop computers to laptops – and the next major jump is going to be that of from laptop to tablets (detachable computers).
As of January 2019, Microsoft Surface Go and Apple iPad Pro (2018) are the hottest alternatives which challenge the idea of a traditional computer. Let us take a comparative look at both these devices:
Apple iPad Pro (2018) vs Microsoft Surface Go
Apple is known for creating high-performance, premium devices. Microsoft, on the other hand, is known for their feature-friendly devices. Let us take a closer look and understand the details of how the latest iPad Pro stands against the Surface Go based on the following parameters.
Display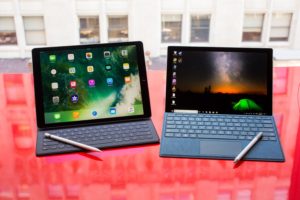 The Apple iPad Pro, which was released in November 2018, comes out into the markets with a large, 12.9-inch display. The Microsoft Surface Go which came out in August of 2018, on the other hand, offers the users with a 10-inch display. The iPad Pro runs iOS 12, which can be upgraded to the latest version of the iOS. Microsoft Surface Go features the Windows 10 Home Operating System in S-Mode.
Basic Specifications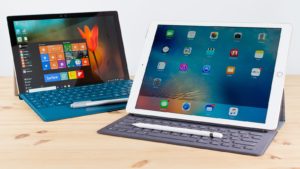 The iPad Pro is powered by a 7-nanometer Apple A12X Bionic chip which features an Octa-core CPU and a seven-core GPU. It features variants of 6GB RAM and 4GB RAM while offering various storage-space options. These variants start from a humble 64GB, going all the way up to 1TB.
Compared to this, Microsoft's Surface Go is powered by Intel Pentium Gold Processor 4415Y and features HD 615 GPU for graphics. Similar to the Apple iPad Pro, the Microsoft Surface Go also offers users with RAM variants of 4GB and 6GB. It comes with storage space variants starting from 64GB eMMC storage. But the upper limit stands at 256GB as compared to the impressive 1TB offered by Apple.
Camera and Sound
Now that you know how the Apple iPad Pro and Microsoft Surface Go stand when it comes to the basic specifications, let us now take a look at the camera and sound performance of both these tablets.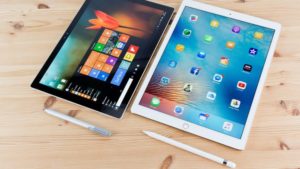 The Apple iPad Pro offers users with a primary camera of 12 Megapixels. It also features a secondary (selfie) camera on the front which comes in at a resolution of 7 Megapixels. Compared to this, the Microsoft Surface Go features an 8 Megapixel camera on the back and a 5 Megapixel camera on the front. Microsoft's tablet also comes with an infrared camera
Talking about sound, the Apple iPad Pro features 4 stereo speakers, which provide an excellent audio-experience for the listeners. One shortfall here is that the iPad Pro does not feature a 3.5mm jack. However, this is no surprise as it has long been absent from most Apple devices. It also features a built-in mic with noise cancellation. Compared to this, the Microsoft Surface Go offers dual front-facing speakers from Dolby, an expert in the audio domain.
Conclusion: Time to Replace Your Computer?
Now that you know how the Apple iPad Pro and Microsoft Surface Go fare against each other, you can make a more informed choice about replacing your computer with these tablets. They offer better specifications than many mid-range laptops. These devices are easier to carry and provide a better battery life compared to a computer. Those gearing up for a modern-day lifestyle should quickly adapt to these modern-day machines!

Apple iPad Pro vs Microsoft Surface Go comparison review by Windows Central :