Adrian Peterson a NFL player was suspended in 2014 because of a felony child abuse.  Recently, when Peterson attended an interview he said that, he still beats his son with a belt. He said that he needs to beat him to make him stay in the slit of the discipline.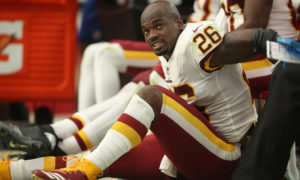 The league told Peterson that the timing of your reinstatement will be decided on the results given after the end of the counselling of the treatment program. This two -step approach will decide the suspension length based on his actions. The league also told him to take care for his personal rehabilitative method. If NFL seeks to Peterson hitting is children as a crime regardless the criminal charges he is being faced, he may be suspended under the player conduct policy.
Commissioner Roger Goodell told to Peterson in a report the, he hasn't made in change in his conduct, Peterson may find himself in crime for hitting his son again.
Source 1.  www.dailysnark.com
Source 2. www.nbc.sports.com
I am an amateur content writer, who is currently pursuing a Masters in Finance from ICFAI Business School. In this highly volatile Business Market, I find no better way to keep myself updated than to write about it and reflect my own thoughts as words.