The Los Angeles Lakers stand out as a highly accomplished team in NBA history. They hold a remarkable record of 17 NBA championships, a testament to the determined efforts of exceptional athletes who wholeheartedly contributed to this achievement. Throughout their journey, a succession of remarkable individuals, including legends such as Magic Johnson, Kareem and LeBron James, have proudly donned the iconic purple and gold jersey.
Top famous players of the Lakers legacy.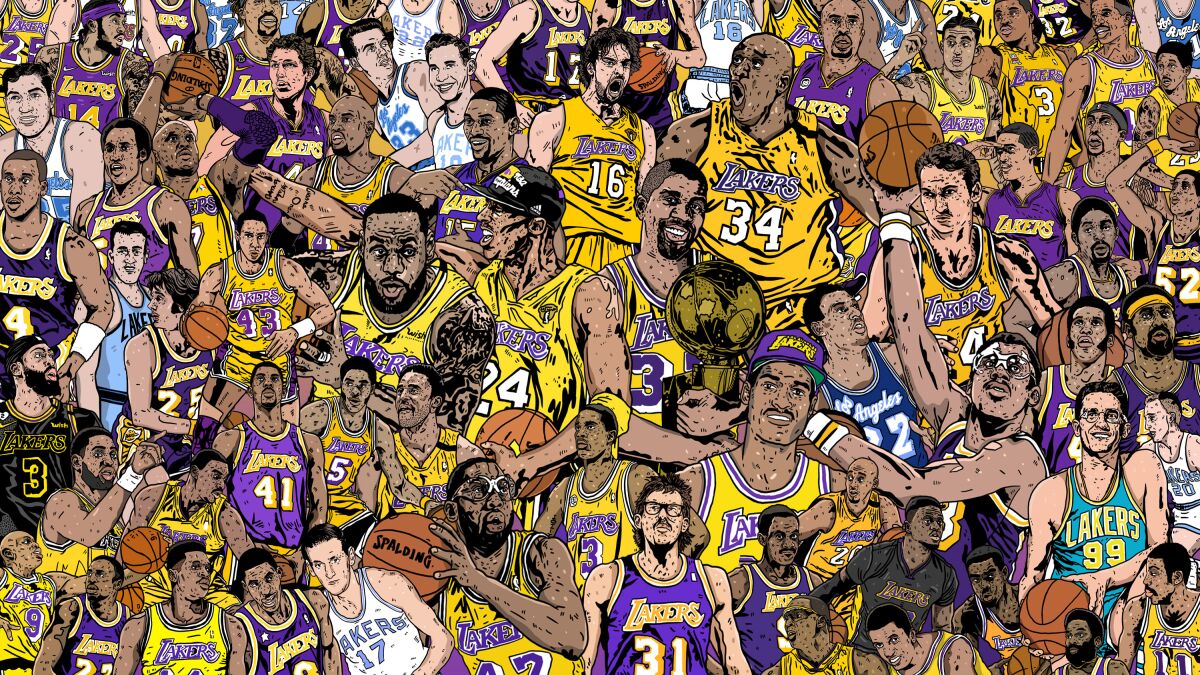 Kareem Abdul-Jabbar: A dominant force in the NBA, especially alongside Magic Johnson. His skyhook shot was unstoppable, and he averaged 24.6 points and 11.2 rebounds per game. Kareem's 4,070 points in 180 playoff games for the Lakers is a standout feat. He secured six NBA championships and two Finals MVP awards during his remarkable career.
Magic Johnson: Bursting onto the scene, he secured an NBA championship in his very first season and claimed his debut NBA Finals MVP award. Averaging 19.5 points and 11.2 assists per game, Magic was a central force in the showtime Lakers' ascent. His legendary rivalry with Larry Bird was a highlight of the 80s, captivating fans as they clashed in thrilling finals matchups.
Kobe Bryant: The late, legendary figure who holds the record for the highest playoff points for the Lakers, Kobe's entire career was devoted to the purple and gold. He's widely seen as the Lakers' greatest player, bragging an awe-inspiring resume that serves as an inspiration for all NBA players. His enduring legacy has left fans with countless cherished moments.
Shaquille O'Neal: A dominant presence, he powered the Lakers to three consecutive NBA titles (2000-02). Averaging 27 points, 11.8 rebounds, 3.1 assists, and 2.5 blocks per game with 57.6% field goal accuracy, he earned seven All-Star and eight All-NBA nods, plus three All-Defensive honour as a Laker. Hall of Fame inductee in 2016.
The list of legendary players goes on, and there are many who have donned the iconic purple and gold Lakers jersey is a testament to the rich history and indomitable spirit of the team.
Magic Johnson's reign in Lakers.
During his brief two-year tenure as the head of basketball operations for the Los Angeles Lakers, Magic Johnson steered a ship no less turbulent than the one he had taken charge of.
In his inaugural season, the jovial point guard, Magic Johnson, recorded averages of 18.0 points, 7.7 rebounds, and 7.3 assists. This remarkable performance earned him spots on both the All-Star and All-Rookie teams. However, the Rookie of the Year honors eluded Magic, being clinched by Larry Bird, who similarly burst onto the scene donning the Boston Celtics jersey.
Teamed alongside Kareem Abdul-Jabbar, the Lakers discovered themselves in possession of one of the league's premier duos. Magic Johnson's rookie campaign culminated with the LA squad tallying a notable record of 60-22, potentially paving the way for another illustrious title to adorn the esteemed franchise's history.
Magic's speech at Kobe's farewell game.
The Black Mamba stood out as one of basketball's finest. His fierce competitiveness and steady passion set him apart from his rivals. Hours of rigorous practice honed his skills, propelling him to the game's prime. Bryant's achievements make him one of the best ever. Just before Kobe Bryant's farewell game, Magic Johnson delivered an emotional tribute speech, labelling him the ultimate Laker. Johnson spoke passionately in front of a packed arena, praising Bryant's unwavering dedication and respect for the sport and fans.
"We are here to celebrate greatness," Johnson spoke in front of a sellout crowd. "For 20 years, excellence. For 20 years, Kobe Bryant has never cheated the game, he has never cheated us as fans."
Magic Johnson calling Kobe the greatest Laker ever 👀🐐 pic.twitter.com/ATgfD5LQqm

— Mamba Insider (@Mamba_Insider) August 22, 2021