The online marketplace has made it easy for us to sell and purchase items. But in the market where people sell useful items, certain people are listing hilarious things for being sold. 
Well, we aren't judging these people (maybe we are), but we are just sharing those hilarious items on a viral subreddit community called r/WTFgaragesale. 
Scroll down to check out the collection.
How To Avoid Awkwardly Asking Someone To Take Their Shoes Off At Your Door.. Sold!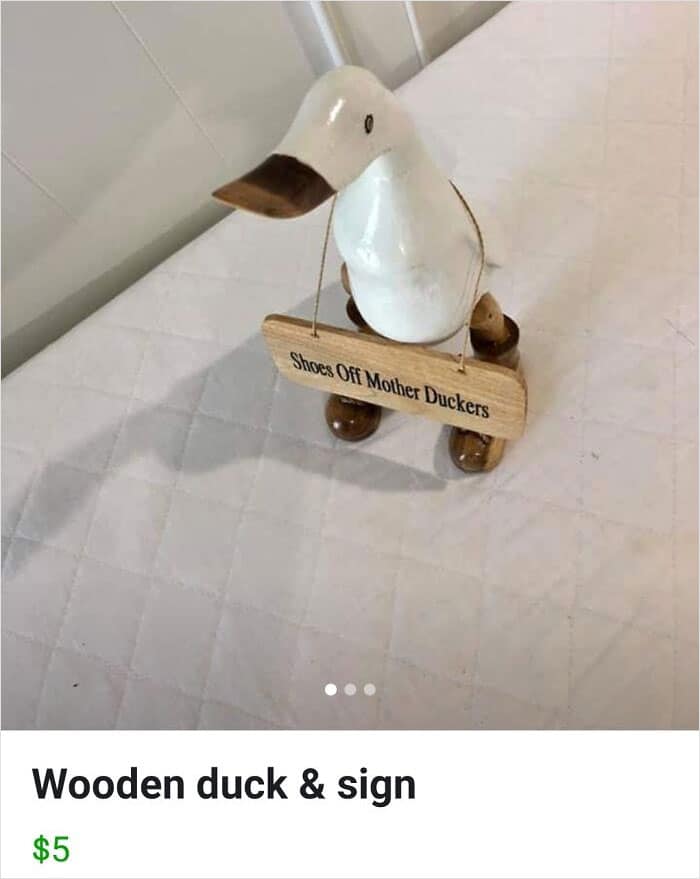 Is It Weird That I Actually Kinda Want This?
I Check Offerup For Chairs Every Few Days….
All Hail Titty Frog
Only Once
Helloooo, Officer!
The Perfect Bed To Preserve Virginity!
Today On Fb Market Place
We Love Facebook Marketplace
Woman Makes Her Regretful Husband Model Her Handmade Ponchos. Hilarious
Found This Gem In Free Pile Outside My Work
Why Do People Say "Brand New" When It's Clearly Not?
Eat Your Heart Out, Kirk Cameron
Dead *ss Tree
I Mean.. Someone Is Gonna Like It, Right?
This Couch Is Awful Taste And You Cannot Change My Mind
You've Got A Friend In Me
Harry Potter Teeth, Mmmmmmm
If He Has Buyers, I Am In The Wrong Business
$20 For Old Doll Head Found While Hiking
My Fiancée Sent This To Me And I Couldn't Help But Feel It Belonged Here
There Are No Words
Y Tho
Umm I Don't Think This Is Apple Official
Just What I Needed To Complete My Bathroom Aesthetic

The Things You Find At Government Surplus Auctions… Birthing Simulator
Not A Garage Sale But I Thought You Might Enjoy
He Haunts You
"No Lowballers"
Teeth In Great Shape
 For The Classicist Who Needs To Charge Three Phones And A Tablet

Mmmhhhmmm Premium
For When You're Lonely
The Vodka Bottle Full Of Cigarette Ashes I Posted Here About 2 Years Ago Is Still Up, And The Price Was Dropped By A Whopping $4.76. What The Hell
Todd