It feels good to see designers going out of their way to create fantastic designs. But certain times, they make something beautiful without realizing that the item needs to be cleaned. 
Since this kind of design was getting famous, a Facebook page called 'Things designed by people who don't have to clean them' started sharing their pictures. 
Scroll down to analyze the amount of headache and time people will spend cleaning these items.
Just Stay In The 70s. Thanks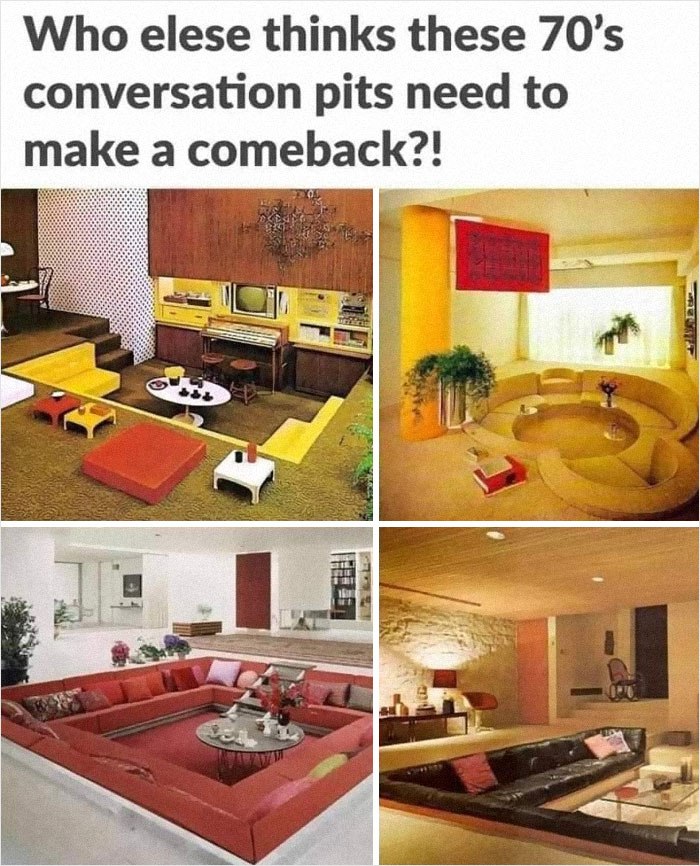 My Goodness
This Was Never A Good Idea!
I Found A Hair On Your T-Shirt. Who Is She?
This Belongs Here
This Is My Ceiling Light. It's New, And I Loved It Til I Joined This Group And Realized I Have No Idea How To Clean It
Now Imagine That It Rains
Rock Bottom
Saw This Sink In A Bathroom Showroom And Thought Of You My Friends. It Has Actual Fish In It
Bride Decided This Was The Best Way To Display Her Dress After The Wedding
Omfg, This Is Giving Me The Shivers
This Was A Sink In A Public Bathroom That I Used Yesterday
This Entire Room
I Present To You My Desk Chair
I Finally Have A Contribution!! Reminds Me Of The Fuzzy Skeleton Someone Shared The Other Day…maybe This One Could Be Thrown In The Washer?
Indoor Beach. Oof
My Toes And Shins Hurt Just Looking At This. Hope You Like Cobwebs
Just…. Why?! Even If The Bowl Is Smooth, The Outside Is Just…
Found In The Wild. My Mom, Who Has No Knowledge Of Facebook Or This Group, Her First Words Were "Try Cleaning That."
Ummm
Yeah, It's An Art Installation. Very Ugly Art
Seletti: Monkey Chandelier By Marcantonio
Why
I'd Like To Personally Say F**k You To Whoever Invented This Damn Kitchen Gadget. You Don't Know How Many Nights It Would Be My Turn To Do The Dishes And This F**ker Always, Always, Ended Up Being Used. I Hate It So Much
It's Cute Tho
Behold
Peak Impracticality
The Pieces That Are Overlapped Would Be A Nuisance To Polish! And As Someone Easily Distracted I Wouldn't Know What Piece Of Mirror To Look In When Using It But That's Just Me

20 Stories Of Metal Loovers
Just… Why
"Giant Corn Stool" – There's A Joke In There Somewhere
Feast Your Eyes On This Monstrosity
This Chest…the Cuts Are Like 5cm Deep In Some Spots…
I Want This. But I Don't Want The Drama Associated With Cleaning It