Guys, we understand that things are not going well these days. But hey, don't worry because we have got your back. No matter whether you were going through a tough week, month, or year, today you will feel better. And that's a promise. How, you may ask? Because we have brought 35 awesomely uplifting dog pictures.
We bet you would be quite happy and excited to see the adorable doggo pictures by now. And why not? After all, dogs have the superpower to make our day better even if they are not physically present with us. In short, simply seeing their pictures can make us feel a lot better. Don't you agree? Of course, you do.
So, what are you waiting for? Scroll down and see the paw-some dog pictures to have a paw-sitive day. Also, don't forget to tell us which picture you liked the most. 
#1 He Loves All Animals

#2 I Promised To Try To Love Her As Much As Our Golden Does

#3 My Dog Is 18, Has Trouble Standing. Since Clare Was Born, He Stands For Hours Watching. Good Boy

We had also talked with AHS Media Relations Specialist Kelsey Dickerson to know why we feel better when we are around dogs. She said, "There are so many incredible benefits of owning a pet that goes beyond the joy they bring to us each and every day, studies prove that having a furry friend greatly improves our mental and physical health as well, especially during these times when quarantine and social distancing has led people to stay at home and decreased in-person interaction."
She further said that "A few physical benefits of owning a pet include lowered stress levels, increased heart health (i.e. lower blood pressure, cholesterol levels, heart rate, etc.), helping you and your family stay in shape with increased opportunities for exercise and outdoor activities with your pets, as well as increased socialization opportunities with other people and pet owners."
#4 Four Borzoi Dogs Adorably Peek Their Big Noses Out Of Curtained Window One At A Time

#5 Sacrifice

#6 Stray Dog Looking After Stray Kittens

"Pets also help improve our mental health by offering us unconditional love and companionship, especially for those who live by themselves or are unable to socialize with others on a regular basis. It has also been proven that pets help decrease our anxiety levels, increase our compassion for others, and also help children's cognitive stimulation and understanding of appropriately interacting with other beings."
#7 I Heard A Light Knock On My Door And Went To Answer It And It Was My Landlords' Dog Bringing Me A Stick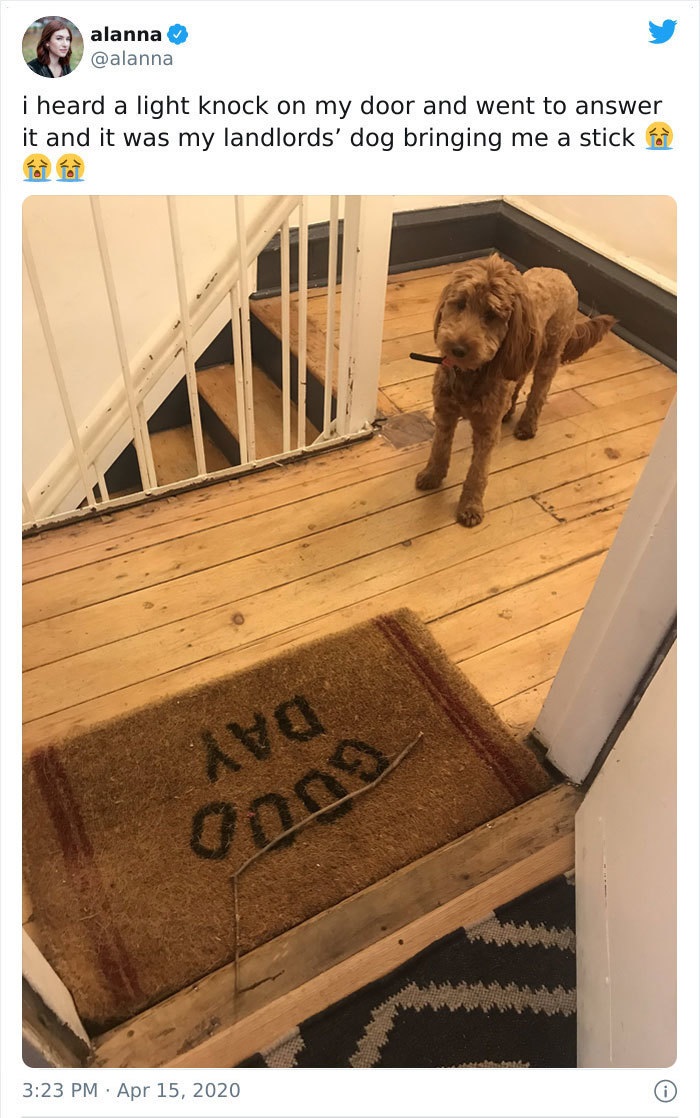 #8 'they Hired A Photographer Just For Me!'

#9 12/10 Good Boye

#10 Charlie! He Was My Sober Gift To Myself. 130 Days Alcohol-Free Today

#11 Growing Old Together!

#12 Beautiful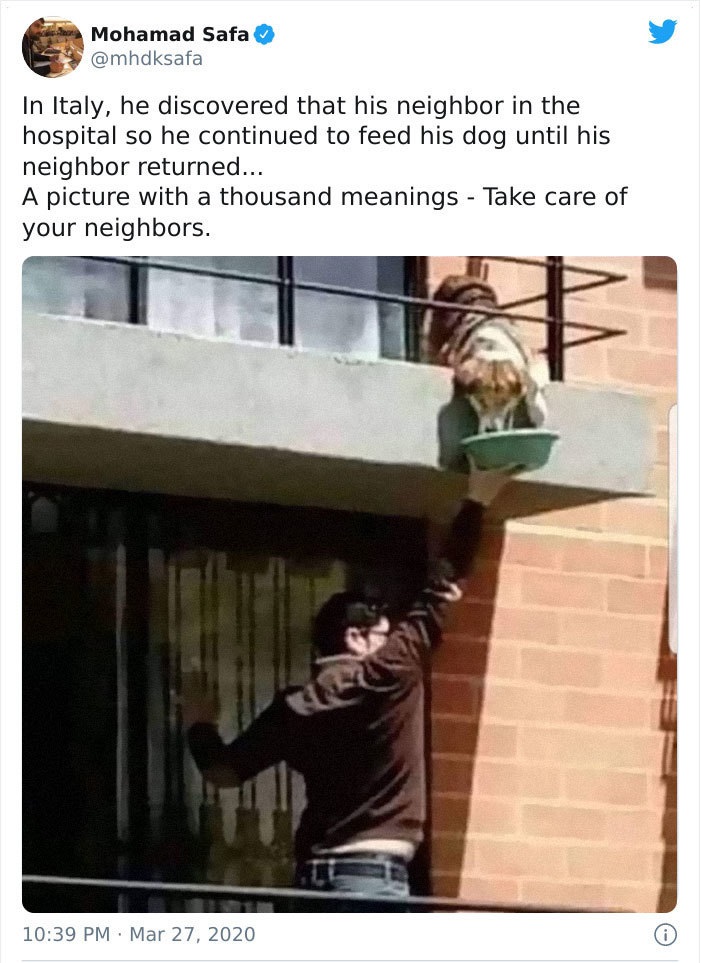 #13 A Family Portrait

#14 My Dog Lexi Is Turning 10 Soon. Through College, 3 Cities, 2 Apartments, And Our First Real House – Anywhere We Go, We Go Together

#15 Taught Chloe To Stand On My Wheelchair's Feet Rests, Now All She Wants To Do Is Give Me Kisses

#16 This Is "Frida", She Has Saved 60 People So Far In Her Career

#17 Father And Son

#18 I Got You, Fren

#19 A Good Smiley Boi

#20 We Tested Smoke Detectors Yesterday. She Heard The Alarms And Ran Up The Stairs, Made It Past The Dog Gate, And Frantically Searched Every Room Looking For All Of Us. She Would Not Calm Down Until She Could Check Every Room. She Has Never Been Trained To Do This, But She Still Tried To Rescue Us

#21 Like Father, Like Son!

#22 When Ravioli Saw His Pups For The First Time!

#23 My Grandma Had A 10th Birthday Party For Her Dog

#24 In Mexico, This Girl Who Was Celebrating Her 15 Years Was Posing On The Floor When A Stray Dog ​​approached And Snuggled Over Her. Instead Of Getting Angry, She Asked To Take Pictures Together

#25 Chewbacca Cosplay

#26 He Guarded A Bird With Broken Wing Under My Truck For Four Days Before It Could Fly Off. Had To Bring Them Both Food And Water Because He Refused To Leave Its Side Day And Night, Very Proud Of Him

#27 When The Ac Hits Just Right

#28 Today Is Extra Special Because This Old Man, Who I Was Once Told Had A Life Expectancy Of 8 Years, Turns 16 Today! Happy Birthday, Baxter Bear!

#29 Just A Raccoon Hugging A Chihuahua

#30 My Dog Diesel Passed Away Last Month. I Had Him Cremated And His Ashes Spun In This Orb

#31 Purest Pup Ever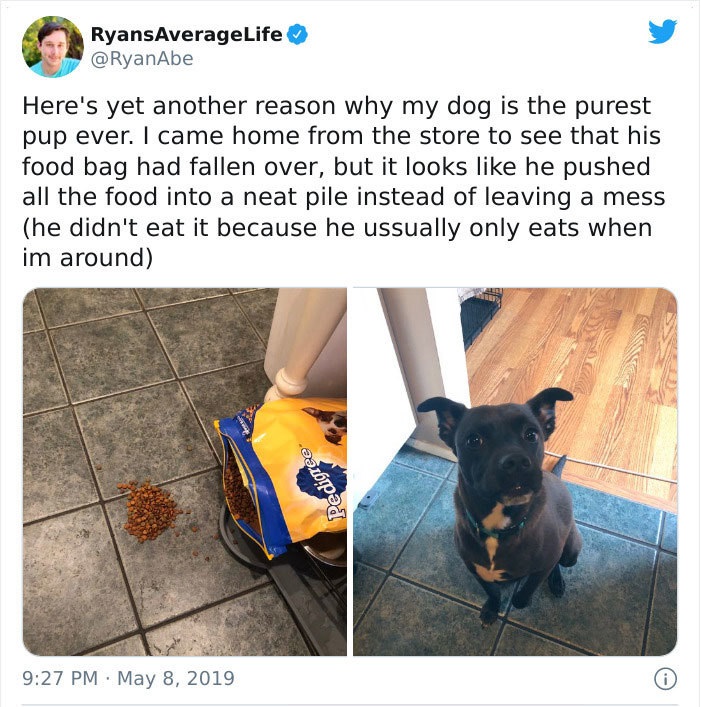 #32 Four Friends Taking A Nap

#33 Rare Beauty

#34 True Love Knows No Fences

#35 My Dog Rolo Has Always Been A Messy Drinker, My Girlfriend Turned His Water Bowl Into A Moss Garden To Keep The Place Tidy