By now, you would have seen a lot of thrift store posts. So, you might think what's different about this one? Well, actually this post is also like those thrift store posts that you have seen many times. But we have compiled pictures of some amazing items that people have found while thrifting and now, they cannot believe their luck. After seeing all the thrift store items, maybe you won't believe your eyes too (wink-wink). 
Welcome (back) to the Weird Secondhand Finds That Just Need To Be Shared Facebook group! You can scroll down to see some of the newest, trendiest, and coolest thrift store finds. 
Oh, and once you are done seeing all the colorful items listed here, don't forget to find such incredible items at your nearest thrift store. 
I've Collected These Pieces From Various Thrift Shops, Antique Stores, And Yard Sales Over The Years. Some Are True Depression Glass From The 30s And Some Are Mid-Century. It Makes Me Happy Every Time I Look At This Bookcase
Found This Really Cool Giant Book Coffee Table On Facebook Marketplace Yesterday. The "Spines" Open As Drawers. Each Book Is Actually Leather Bound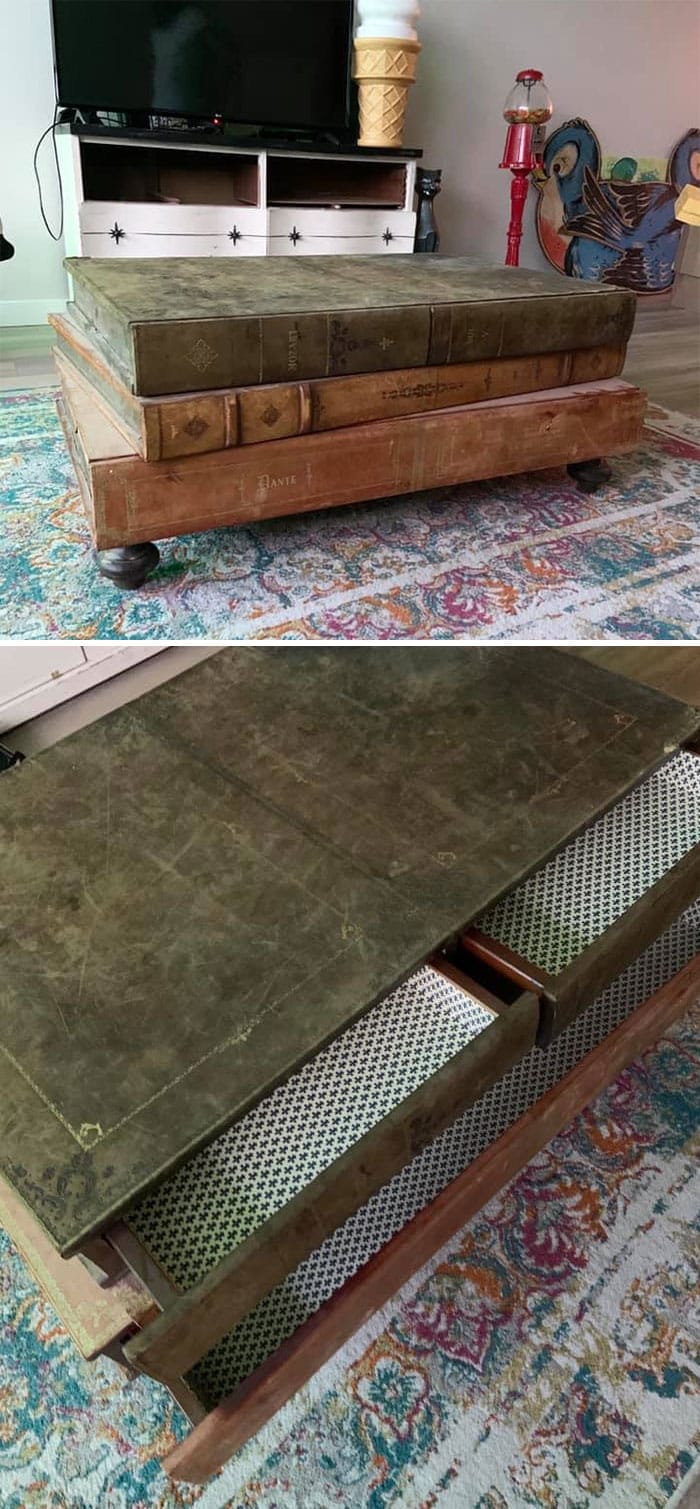 "It's HUGE and heavy as heck! It's missing one leg but I think I'll prop it up with hardcover books"
Found Him By A Dumpster. My Daughter Who Is Special Needs Painted Him , He Looks Happier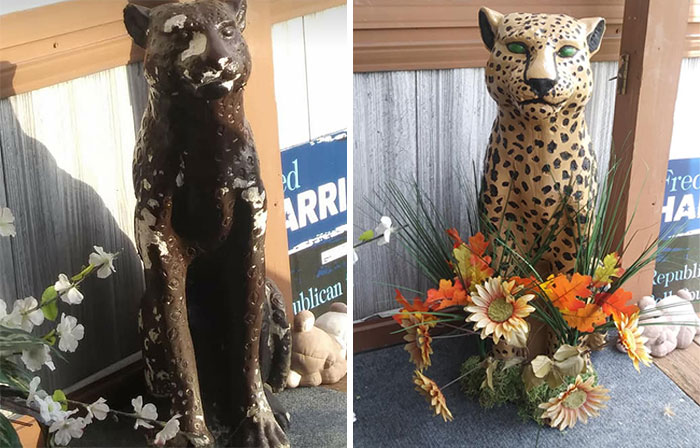 Got This Coffee Table At An Estate Sale Today! Ridiculously Excited About This. I Loooove Turtles!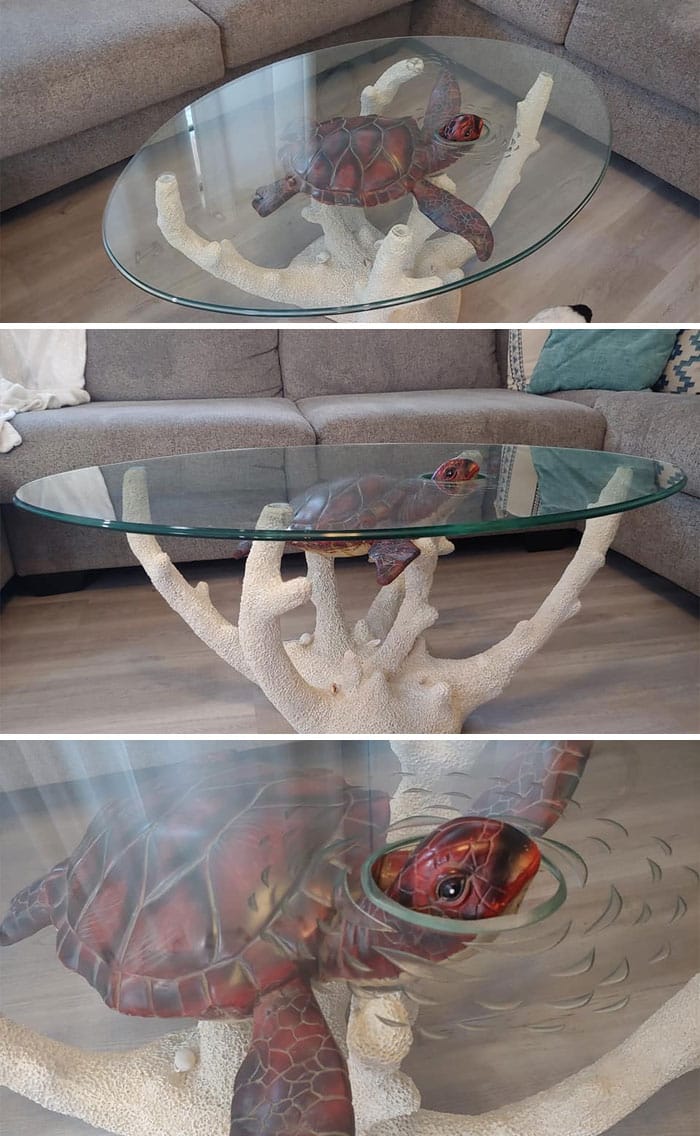 So My Fiancé Found This At His Grandmothers Home In Louisiana. A Vintage Shopping List, Super Super Cool. Thought I'd Share A Awesome Find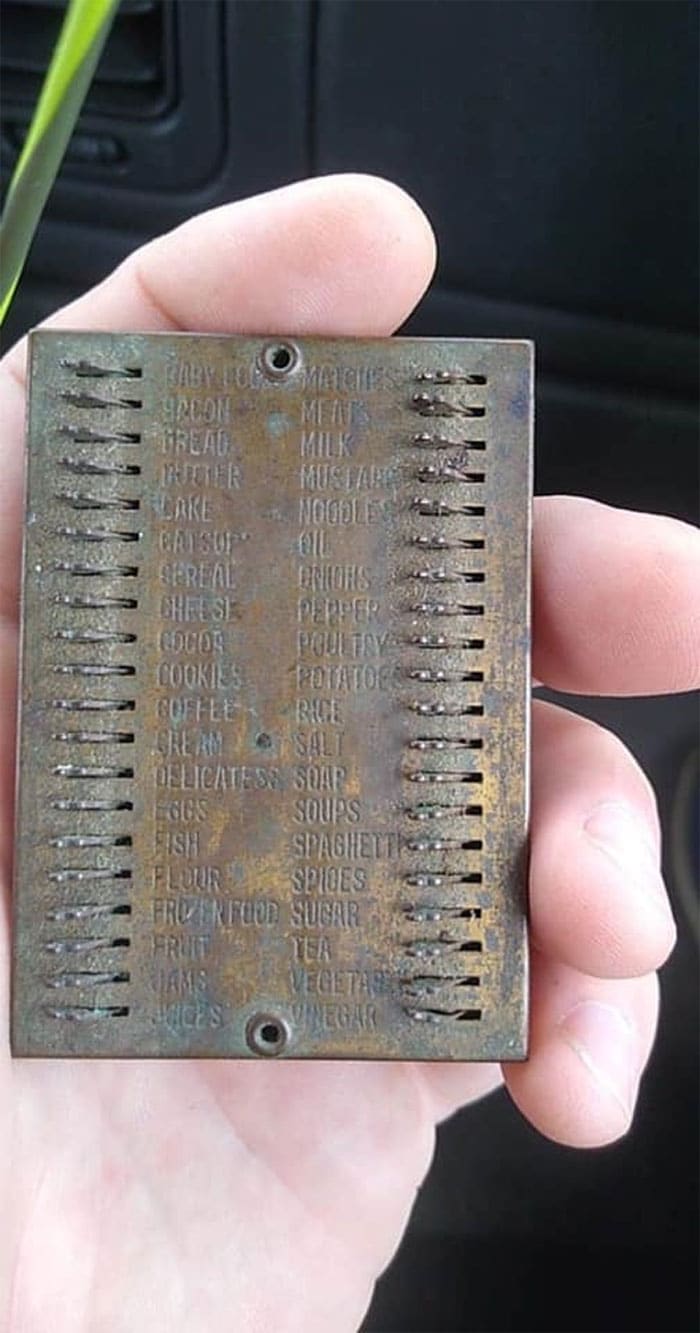 Been Meaning To Share My Sons Rocking Dragon. My Father And I Found It On The Facebook Market Place Two Christmas Ago When I Was Pregnant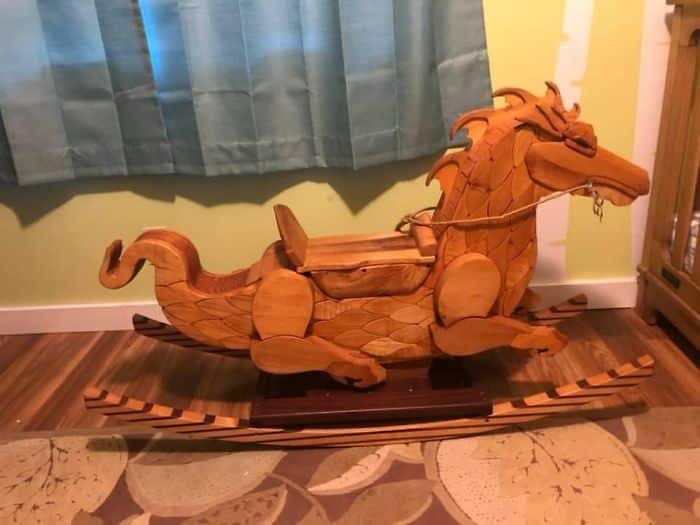 "By the time I reached out to the seller it was sold. I was so bummed until Christmas morning and found out it was my dad who purchased it. I had no idea he even knew about it. He had no idea I also tried to buy it.
It is made entirely out of wood. The craftsman ship is remarkable. The previous owner said their grandmother won it at a church auction and it had been in their family for a long time and they know nothing about it or who made it. Not signed or marked anywhere. It is now our family's treasure and will be passed down."
Not Necessarily A 'Find' But Today My Uncle Gave Me This Chair, Which He Got From His Uncle Years Ago, Who I Believe Bought It In The 60s Or 70s. I've Loved This Chair Since I Was A Child And Was So Excited When He Offered It To Me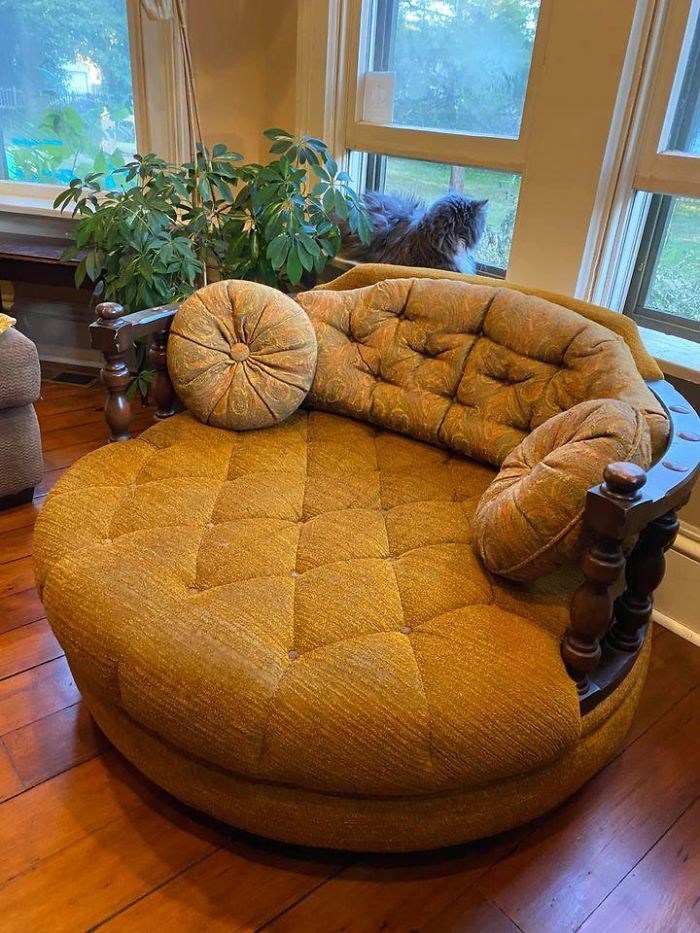 Found Today At King's Hardware In Shreveport, La. Came Home With Me Immediately! Nibbler The Cat Is Getting Properly Introduced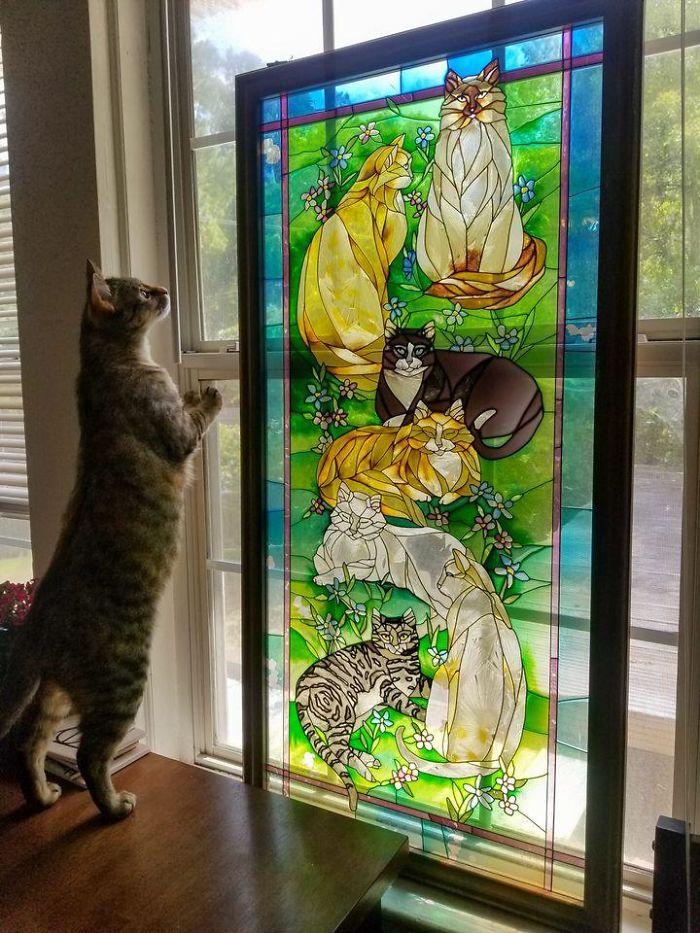 I Pulled Up To A Friends House And Her Neighbor Had This Thrown Out By The Road In The Rain. I Had To Swoop In And Save The Day With This Unique Unicorn Of A Flippy Chair Table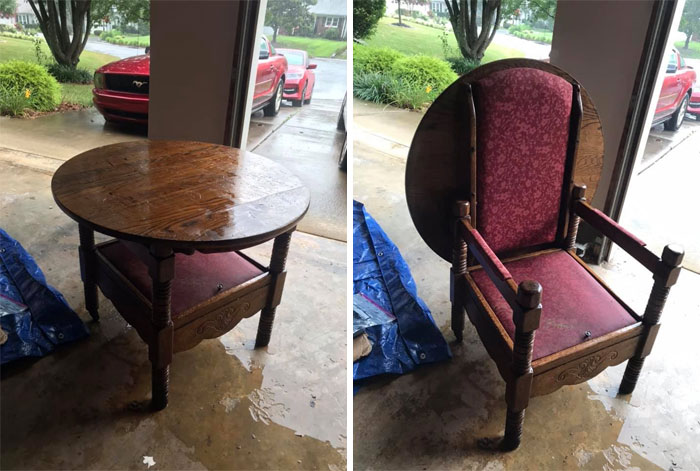 "The cushion is soaking wet so its propped up against the wall not pictured"
I Found A Morticia Chair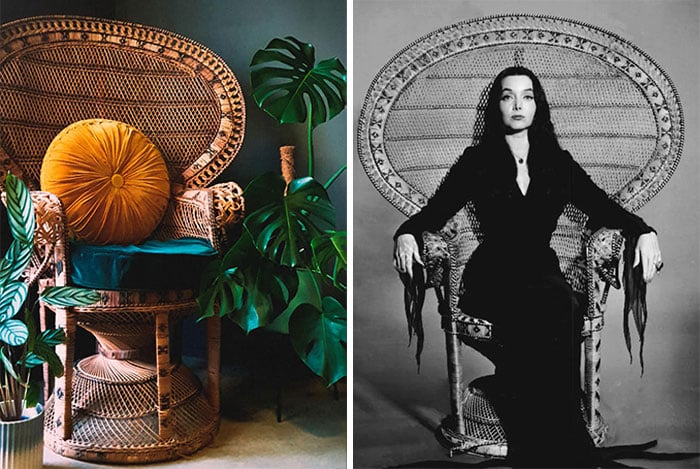 "Y'all, I've been hunting for a peacock/manila/phillipines chair for ages. I spent countless hours of my childhood watching reruns of the classic 60s Addams Family show and reading the comics and I wanted so badly to live in their house. I often think that's where my quirky design style as an adult comes from. Usually I see the newer models for sale, which are nice, but when I came across this beauty on fb marketplace, I practically squealed with joy when I realized it was the same style from the show. The woman I purchased it from looked at me a bit strangely when I tried to explain my excitement over it, but I knew you weirdlings would understand lol
Now I just need to learn to knit 6 arm sweaters for Pugsley's pet, Aristotle"
My Dad Passed First. My Mom, Not Wanting To Live Without Him, Just Gave Up And Succumbed To Leukemia Less Than Three Months Later. Heartbroken, My Brothers And I Sorted The Estate. Neither Of Them Wanted Mom's Royal Doulton Balloon Lady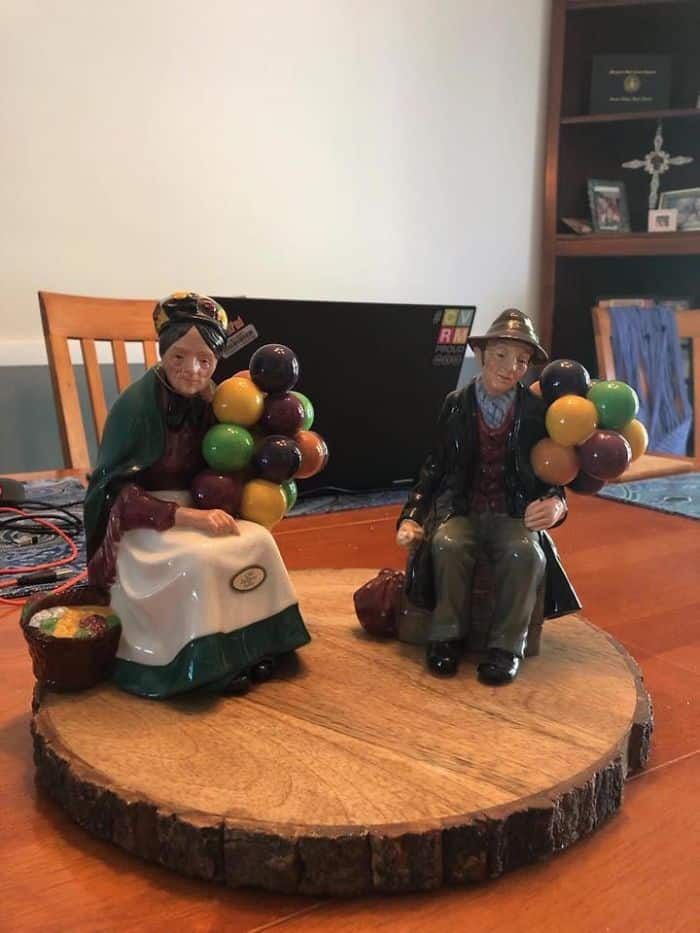 On one hand, I really wasn't in love with the piece but on the other hand she sat in my mom's curio cabinet for years and was a part of my childhood that made me feel connected to mom. After about 10 years, and embracing the journey of minimalism, I made the difficult decision to sell her. filled with doubt, I posted her on the Marketplace. If I let her go and regretted it, would I be able to forgive myself? Would mom? I nearly forgot that I had her listed and after months, I had an offer. I carefully packed her up and sent her onto her new home. I didn't have time for doubt as The kind woman who bought her sent me this pic the day she arrived! The Balloon Lady is finally reunited with her Balloon Man.
This Amazing Monster Quilt My Mother And I Found At A Kids Thrift Store For $4.99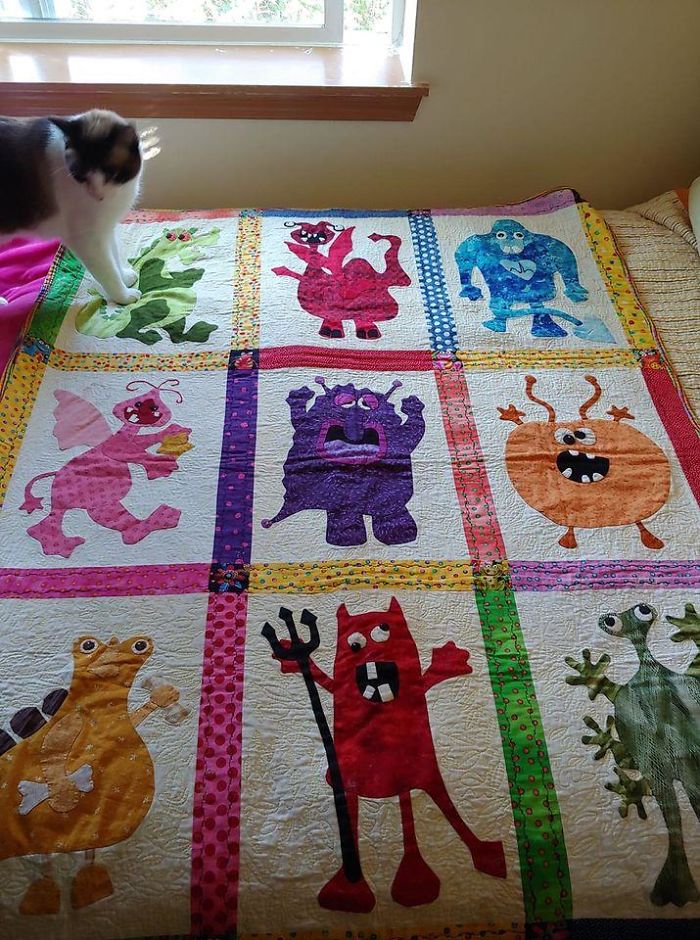 Found This Utterly Ridiculous Giant Hat At An Estate Sale In Milwaukee. Great For Confusing Prey Before You Spit Poison In Their Eyes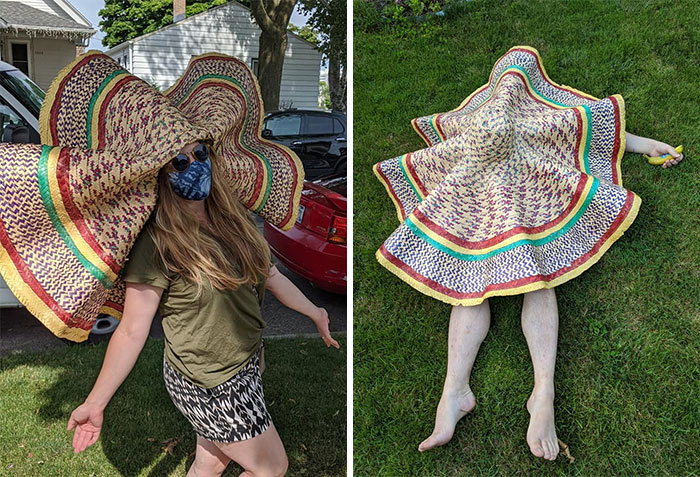 Back Story I Lost My 4 Year Old Last Year And Her Favorite Color Was Red. My Husband & I Are Building Our House. I Saw This At A Local Antique Store. I Messaged My Husband Fast To Get It For Me. I Told Him It Would Be Perfect For My Office

He goes to the store and texted me saying "sorry I couldn't get it. Someone came 30 mins ago and bought it"
Y'all I cried. For some reason it reminded me so much of my Princess Alaina. My husband then said . "I did get a night stand. Could you please pick up when you get a chance ?? "
I go today. I tell the lady.
Me- "Ma'am, I am here to pick up for my husband Javier"
Lady – "What are you driving? It's big"
I said "truck. It's a nightstand thou"
Lady, "no ma'am he bought a sofa"
Me, "no he didn't! Is it a red one?"
Lady, "yes ma'am, you didn't know did you"
Y'all I cried!
The cupboard in Fyffe, Alabama.
I Work In Public Health And Have Spent The Last 7 Months Of My Life Fighting Covid-19. When I Saw This "Plague Doctor" Mask At An Antique Store/Fruit Stand Today – I Knew I Had To Make It Mine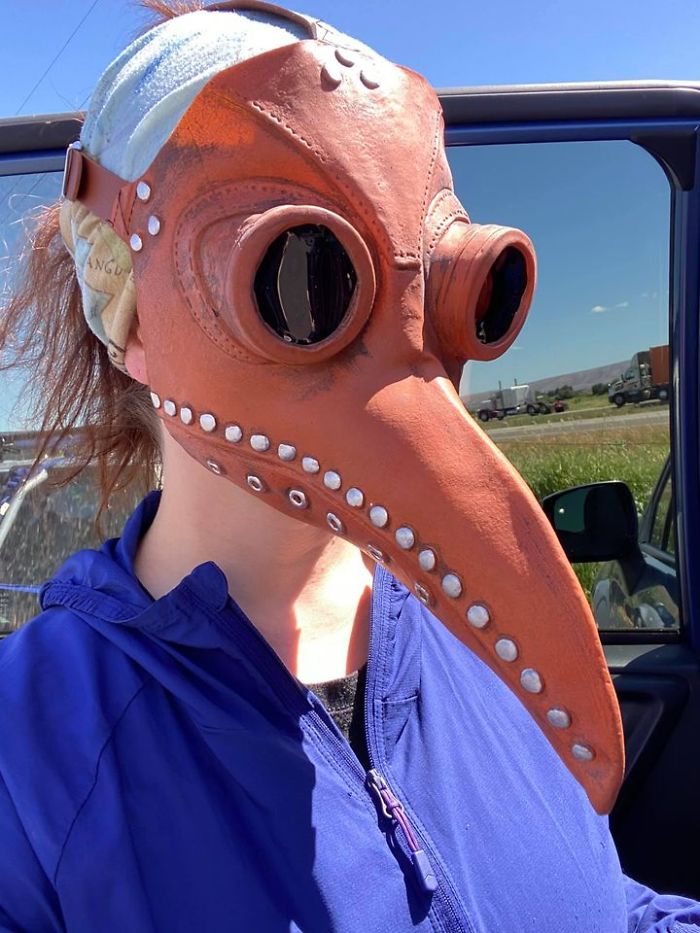 A Total Stranger Just Messaged Me Via Fb To Tell Me She Found A Painting My Mom Did In A Goodwill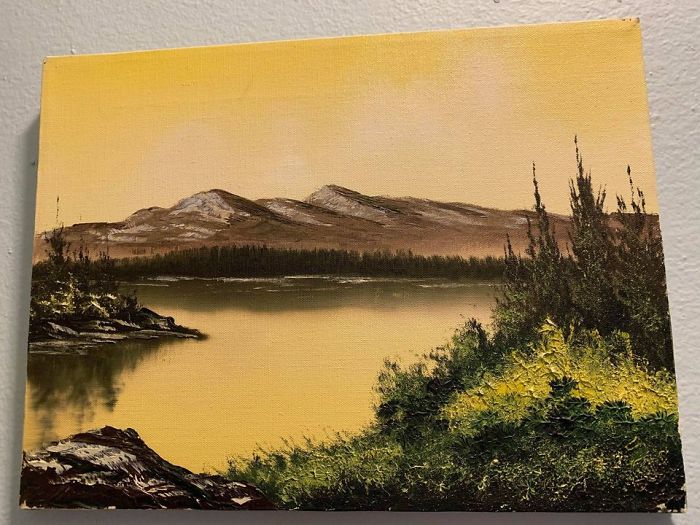 "She searched my mom's name and then found me on FB and asked me if I wanted it. How cool is that ?!! My mom was from Ohio and lived there her whole life which makes this an extra special find."
My Very Weird And Morbid Secondhand Find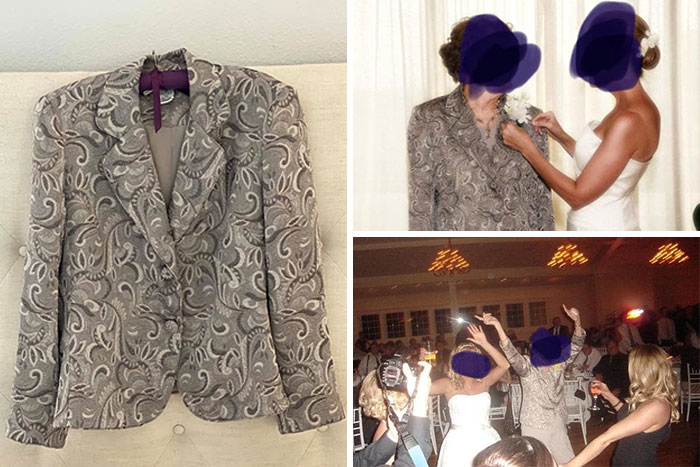 "When my grandma died one of her sons entered her apt to collect anything of value. Diamonds, China, a fur…..anything he thought was of value he took. The items he left behind were divided among the grandchildren. I lived several states away so nothing was given to me. I loved my grandma so I didn't need her worldly possessions.
6 months after my grandmother died I was at my parent's house and found her jacket. My grandma had pinned a note to this jacket, asking to be buried in it upon her death. She had worn this jacket for several of her grandchildren's weddings and it was important to her. Because her clothing was of little value it was looked over as was the note. My grandma was buried in an outfit picked out by her daughter in law with no input from the rest of the family.
This jacket is mine. I have the jacket because no one else wanted it. It is the most beautiful jacket and it hangs in my closet. The jacket should be 6 feet under on grandma but instead I have it. Knowing she wanted to be buried in it makes it even more special. On the days I miss her the most I wear the jacket and dance around the house to Neil Diamond. It's been 10 years since she died but the jacket smells like her each time I put it on. I plan on wearing this jacket to my grandchildren's weddings."
We Purchased A Houseboat And Look What The Previous Owners Left! Perfect Condition Mustard Yellow Retro Dining Set! It Is Now Known As The "Lemonade Table!" It Makes My Day Extra Sunshiny!
Found This Awesome Dome On Fb Marketplace. It's Approximately 16 Feet Wide And 10 Feet Tall. I Had To Have It! We Use It For Hanging Out, And Have A Couple Hammocks And Astroturf Inside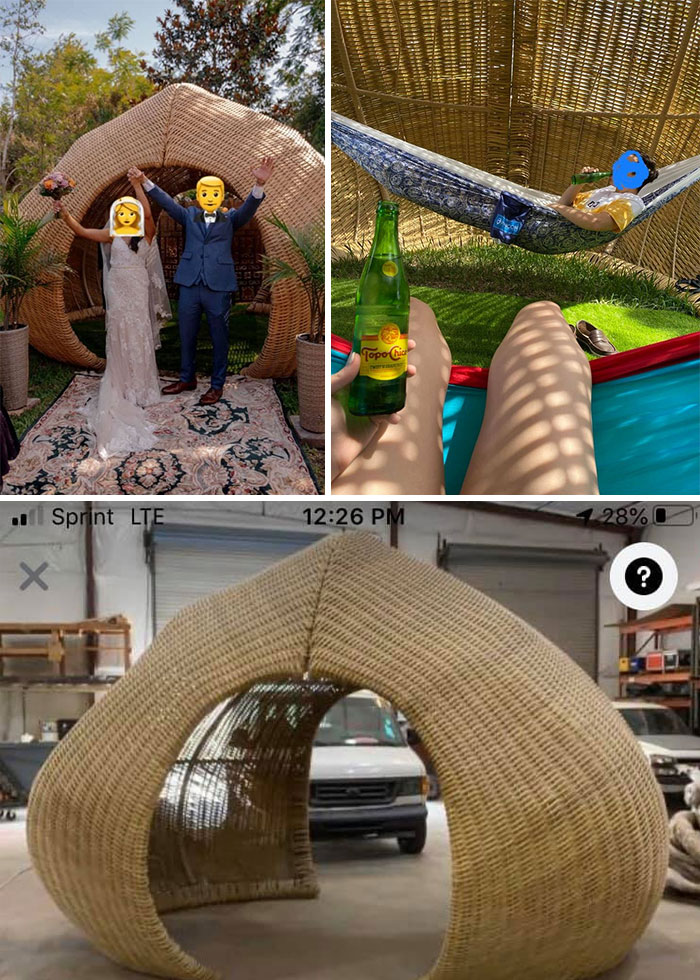 Due to the pandemic, we had to cancel our big wedding planned for early May. Later that month we said the heck with it and got married at our backyard dome instead. Best find thus far.
I Saw A Post On Facebook Marketplace Titled "Kitchen Stuff" And I Saw Green Glass In The Background. I Messaged The Seller Asking How Much She Wanted For The Green Dishes And She Said $4 For The Whole Set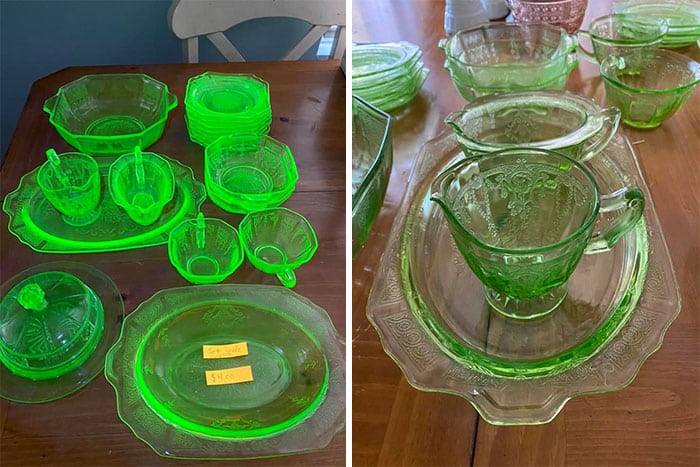 " I didn't know if it was uranium glass and of course I forgot my blacklight when I went to pick them up but at that price it was worth a shot.
As soon as I got home I checked them out and boy did they glow!
Needless to say it made my day"
When My Grandmother Passed I Ended Up With A Large Box Full Of Blankets And Needed One That I Knew I Wouldn't Mind Getting Dirty. What I Didn't Expect To Find While Digging Through It Though Was Her Wedding Dress!!! I Recognized It Immediately From An Old Photograph And Just For Fun Had To Try It On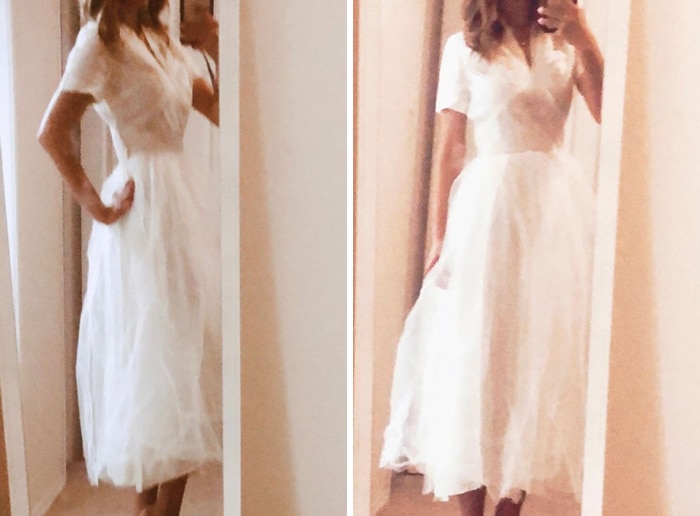 This Is Why You Don't Leave Your Husband Unsupervised Or Unattended. Hubby Came Home With This. It Is 5' Long & 4' Tall. It Was $1.00 At A Yardsale

"Banana for scale in case the picture leaning against a full sized truck isn't enough to show its massive proportions. He plans to hang it up in his cubicle at work if it will fit. It looks like a photo print on canvas that someone painted over. It has a small tear in the upper left area that I will try to patch & then dab some black paint over."
For The Vintage Lovers, 1964 Table And Chairs Found On Fb Marketplace A Few Years Back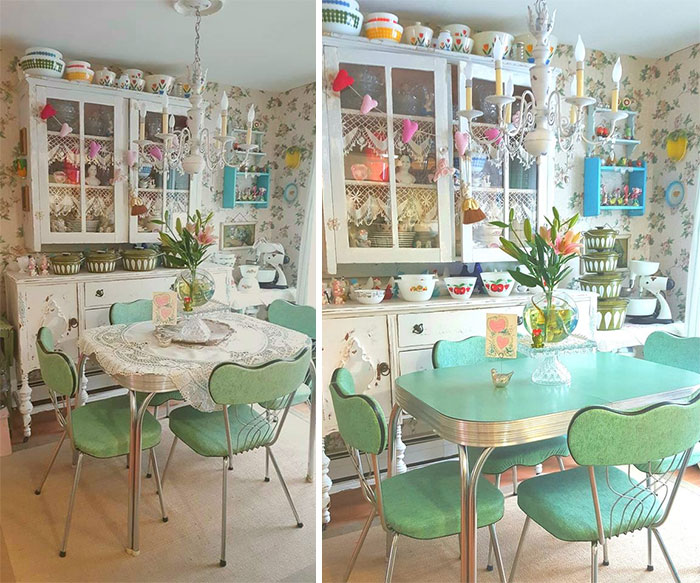 You Guys Recall The House Hippo I Found Last Month In My Local Charity Shop? Thought You Might Like The Upgrade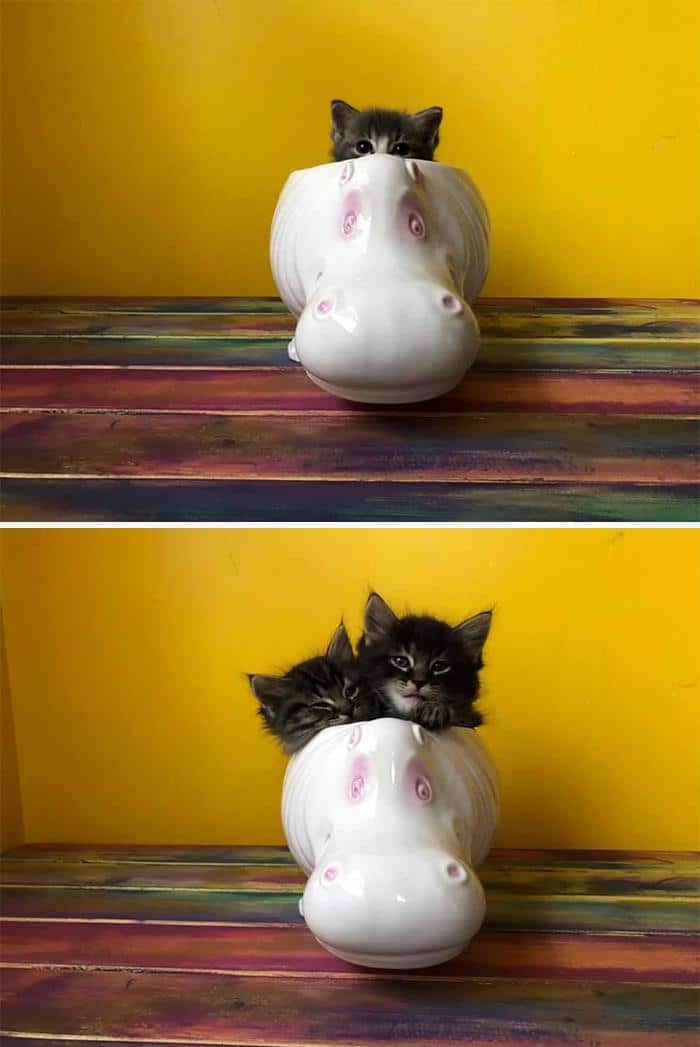 "Release The Kraken" I Whisper To Myself Every Morning As I Take My First Sip Of Coffee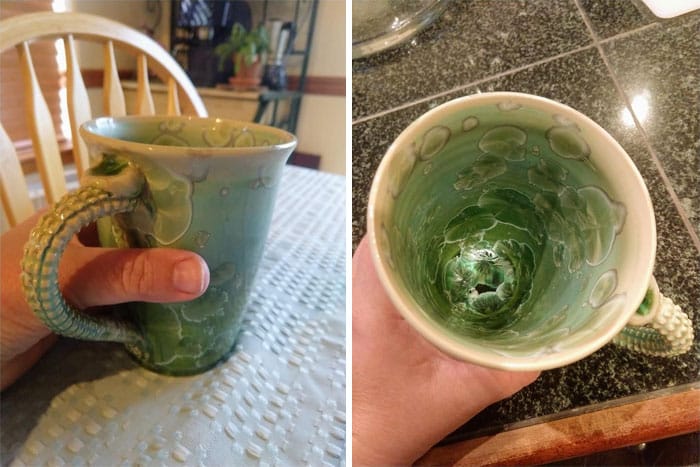 "My favorite mug was thrifted from the Goodwill in Monroe, WA. Someone did a really nice job on it and especially with the irredescent glaze. Would love see a thread of everyone's favorite and unique coffee mugs."
She Was A Beautiful, Garish Table From A Defunct 1990s Subway, Sitting Forgotten In A Cellar. I Was A Girl In Quarantine, Longing Just To Sit In A Diner Booth With My Morning Coffee Again. When I Saw Her Picture On Fb Marketplace, I Knew: We Belonged Together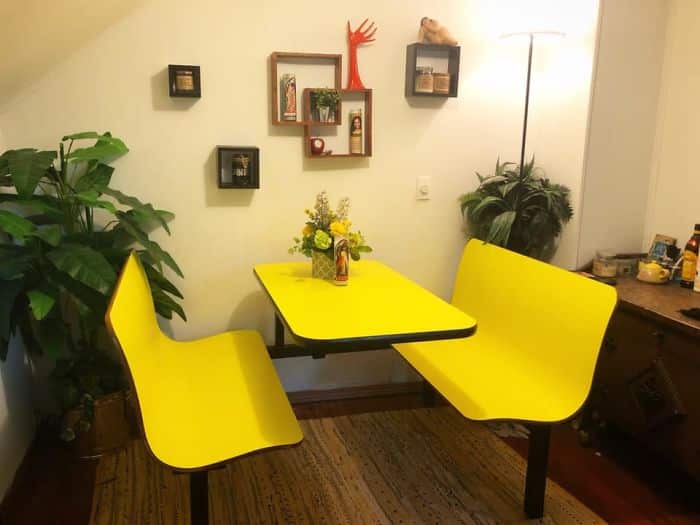 Bought A $4 Shirt And Found This Attached To It! Stamped 14k On The Bottom. I Like The Bumblebee Better Then The Shirt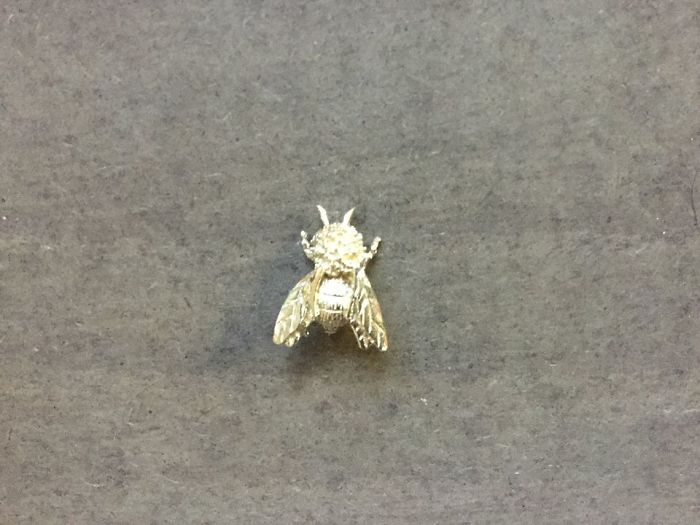 A Little Back Story: My Beloved Grandmother Passed Away June 2019. Her And I Were Very Close And I Adored Many Of Her Possessions. For Some Reason This Soap Bottle Apron Was My Absolute Favorite; It Just Spoke To Me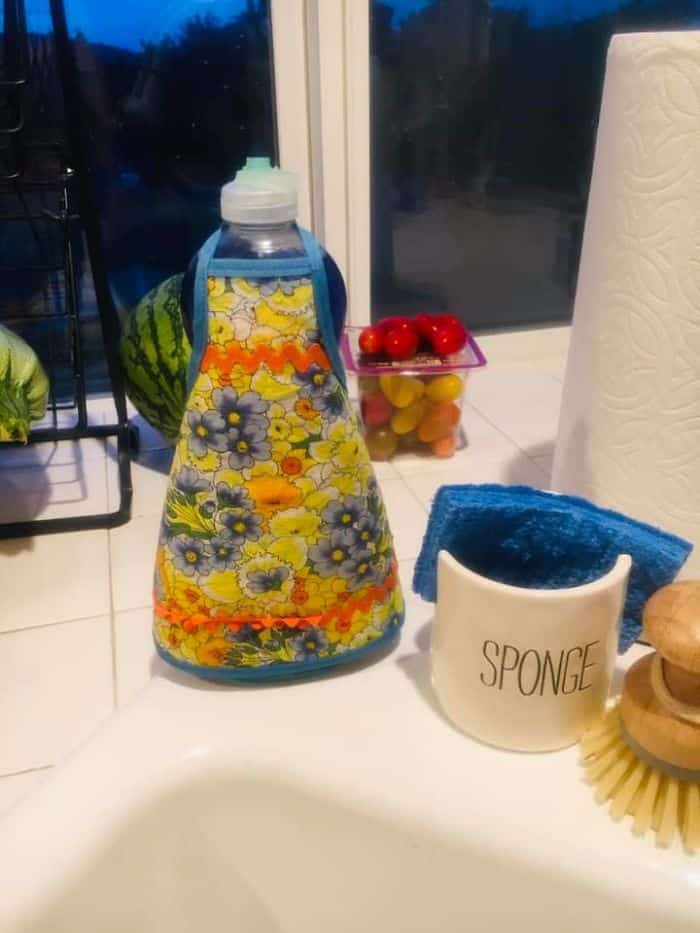 "For years I admired it adorning countless soap bottles by her sink. When she passed, I asked my Grandpa about it and he indicated that it would come my way one day. Well yesterday was the day. The apron came home with me and will always be there by my sink just as it was in my Grandparent's home for so many years. Seems silly to be so sentimental over a soap bottle apron but man does it feel good to have a piece of my Grandmother with me"
I'm A Recent Law School Grad And I'm Currently Studying For The Bar. I Found This Cat On Ebay And I've Never Related To An Inanimate Object More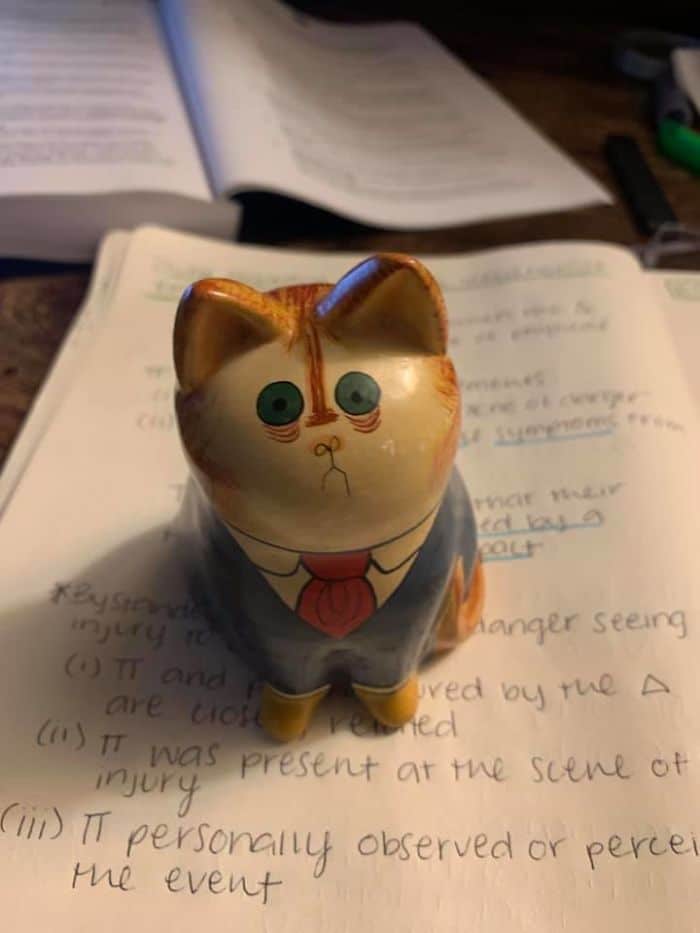 Found This At A Thrift Store Yesterday, There Was No Way I Was Leaving This Beauty Behind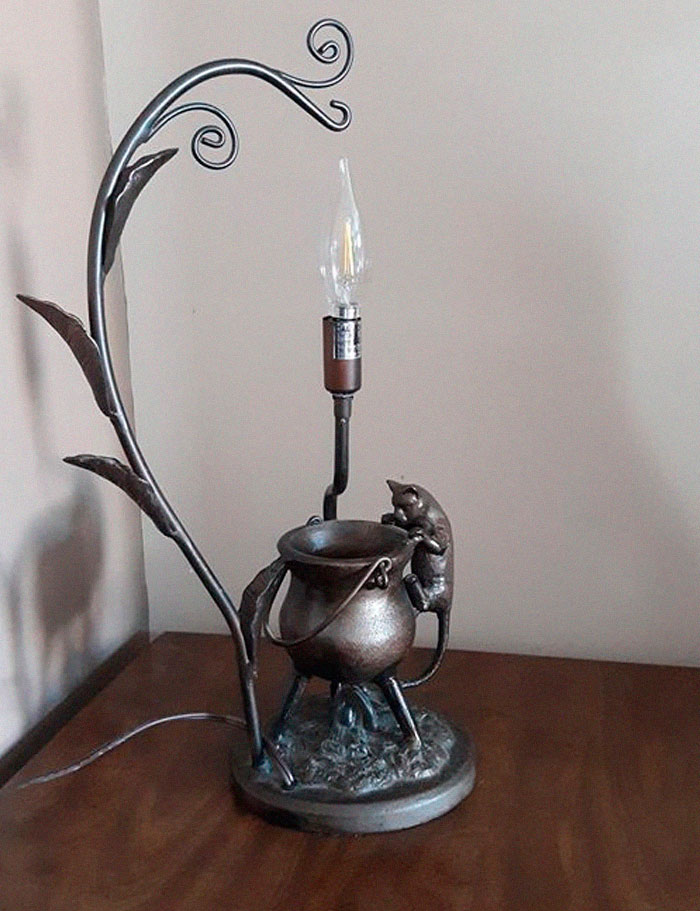 Picked Up This Banana Dog At A Yard Sale Today… Banana And Dog For Scale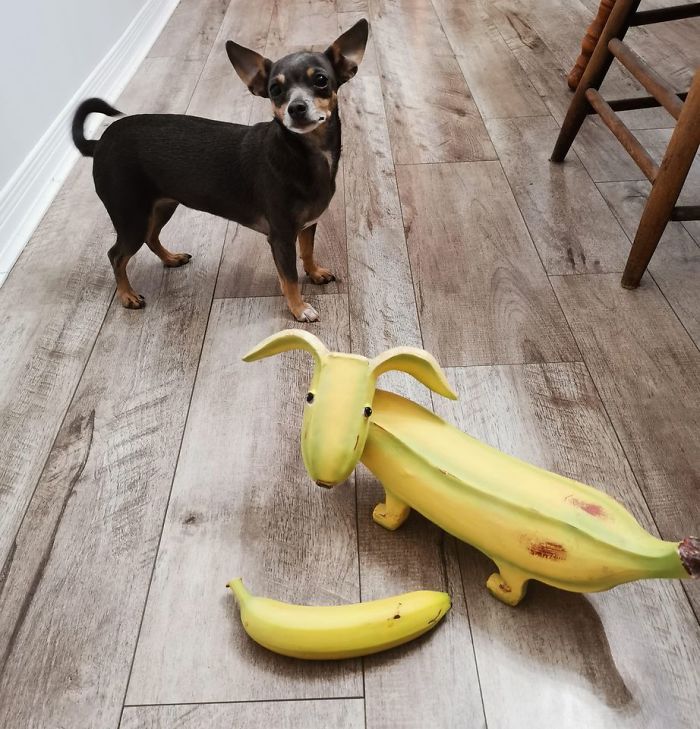 Back In March My Mil Was Turning 90. But We Were Told No Fuss, No Gifts. Still, She Likes Crossword Puzzles And So When I Found This Cookie Jar At A Peddlers Mall In Lebanon Oh I Decided I'd Spend The $5 And Fill It With Homemade Cookies For A Non- Gift


You can use a dry erase marker & it even still had the answer sheet. Then the covid shutdown hit and none of us could visit her at her retirement home. So my husband asked all the siblings, nieces, nephews, grandkids, & great grandkids to make cards in crossword form for her to figure out. And we filled the jar with them. She had many days of fun working on them all while staying isolated.
It's Six Feet Tall. Today It Begins Its New Life At My House

My Grandmother Past Away Last Year And Was A Prolific Crocheter (Crochetist?). My Dad Was Cleaning Out Her House And Found All These Squares For 3 Unfinished Afghans. I'm So Lucky That I Get To Finish Her Work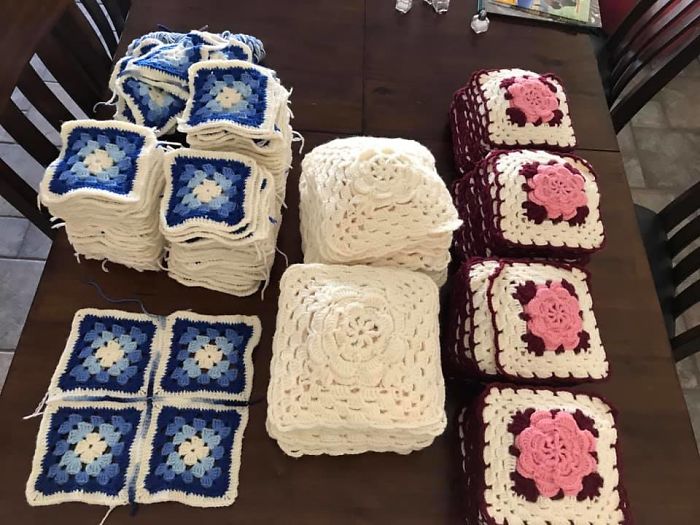 I Snagged A Full Set Of These Dishes At Harrison, Oh Goodwill! One Of My Favorite Finds Ever