Imagine going to a cafe to have a nice cup of latte only to find that your favorite drink gets served in a can of Nutella or soup container. That probably sounds weird, but that's true. 
Several people got their drinks served in a vessel that couldn't be called a glass or cup. And then these people went to straight the "We Want Cups" subreddit to show why there must be boundaries of common sense and functionality.
Cocktail In A Bag. The Color Didn't Help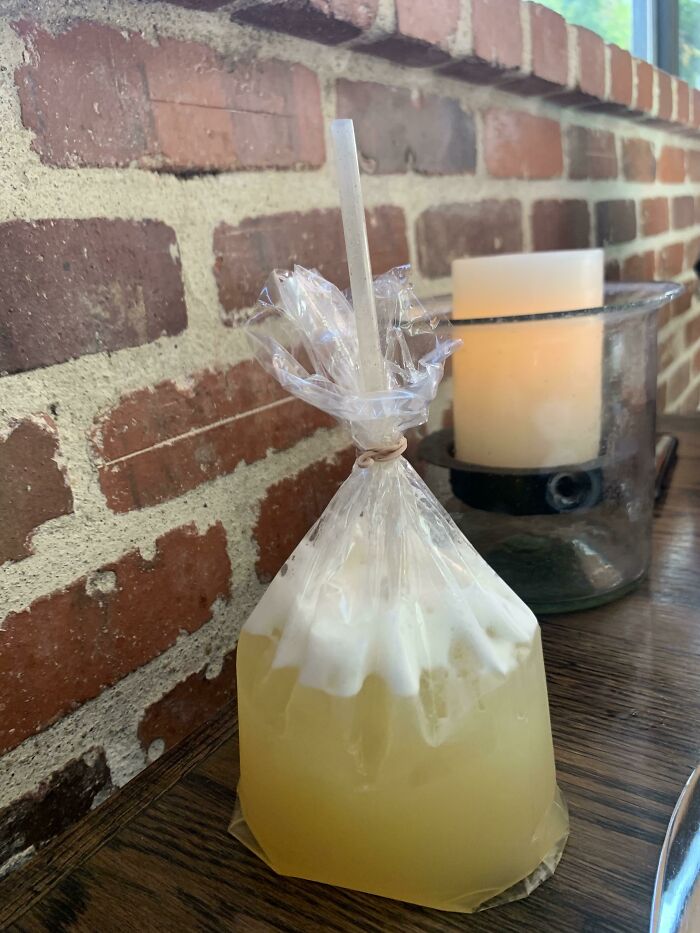 Portobello Mushroom Latte, Me
Jello Shots Being Served Out Of Hard-Boiled Eggs
This Cocktail Comes In An Ash Tray With A "Chocolate Cigar" Straw…
I Love It When My Drink Is In A Baby Doll Head
 A Cocktail In Two Parts. Equally Stupid

Here's One You Can't Even Set Down
A Cup Of Milk
This Baby Bottle Of Creamer
Hot Coffee… Too Hot To Hold The Bowl. We Want Cups!! (Or At Least A Friggin Handle)
Tidepods Now With Booze
Not Even Sure How To Drink Out Of This Thing? Maybe A Straw?
A Margarita Served In An Iv Bag With A Syringe Full Of Jello Shot
A Shoe? You've Officially Carried It Too Far Biddy
Hot Chocolate In A Waffle Cone
Thought They'd Run Out Of Cups… Nope, This Is The Drinking Glass
Another Bathtub, But With A Ducky
Cursed Cocktail
'For Here Or To Go'
Trashy Drink
I Bring You… The Chambong
You Knew This Was Coming
My Mojito Just Arrived In A Plastic Bag. In A Small Trolley. Smh

Just Unscrew This Every Time You Want To Drink
Hmm
Cocktail In A Garden Pot
A Nice Chipped Shell To Cut Your Lips With The Cocktail

Rose Latte At A Toilet-Themed Cafe In Seoul

Just Found This Sub. Had This Crazy Thing In Toronto
Only Wanted Some Extra Ice For My Drink
I Mean, Come On Man. This Is Getting Out Of Hand

I Guess There Is Technically A Glass, The Drink Just Isn't In It
It Must Be Italian!!!

A Friend Ordered A Cocktail And Got It In A Pouch
I Was Served My Drink In A Leather Bag