Honestly, no one is stranger to social media and people know the kind of post that gets viral online. But lately, people appear to be more interested in the comments than the actual post.
A Reddit community "The Real Joke," is apparently taking interest in the hilarious comments. Their description says that they are "dedicated to those of us who find the better joke in the comments section of any subreddit or other medium."
It's not wrong to say that this community brings forward the best comedy bits that come right from the backlines of any given post. The Real Joke was created two years ago and today, it stands straight with 244k members. These members contribute hand-picked selections of screenshots that serve as evidence that you don't need to look far for a good one.
Scroll down a bit, and then some more, to see what fun things they had to comment on.
1. Trump Is Really Hood, Who Knew?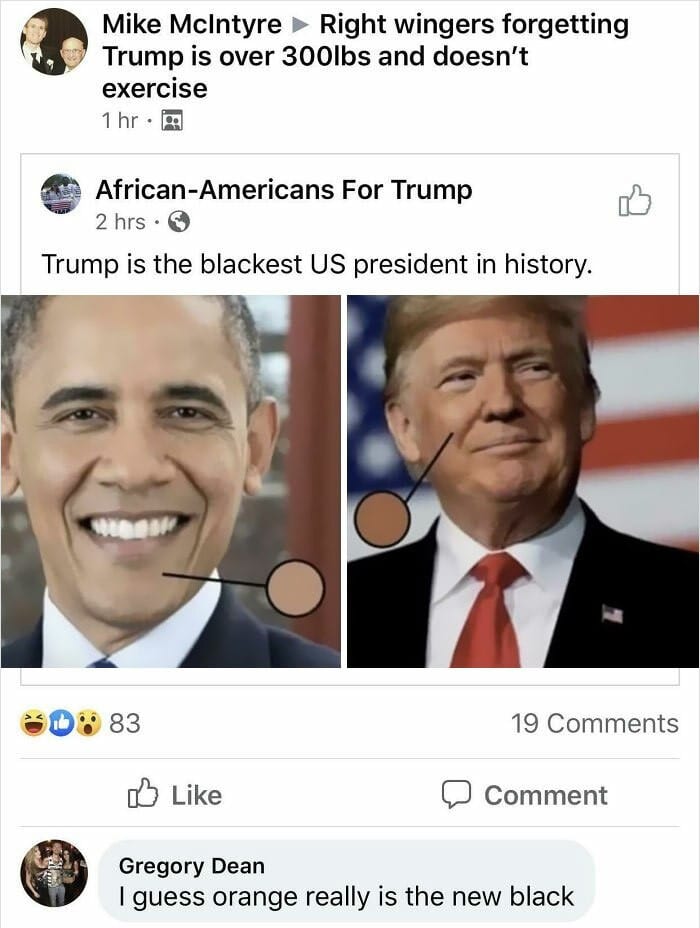 2. Just A Relevant Joke

3. Nice Pun There
We even reached out to the creator and moderator RichterRicochet to know more about this page.
He explained that the community was formed because of a recurring meme in the r/jokes subreddit "wherein, if someone made a joke in the comments section of a joke that was posted (and the comment's joke was better), then someone would reply with 'The Real Joke is in/is always in the comments.'"
"This gag persisted for quite some time," so redditor RichterRicochet took it upon himself to open the r/TheRealJoke subreddit as "something of a highlight reel for these comments."
It turns out, the community is extremely active. "With over 240k subscribers, the subreddit exploded over the course of the last year," said RichterRicochet and added: "while there is an upside in that there's a greater influx of content, the downside is the lacking moderation."
There are only two active moderators making sure the subreddit goes according to the rules. "Needless to say, there's a lot of dirt to sift through to get to the gems of the community."
4. Manbat
5. My Wife Left Me Because I Am Insecure
6. Venn Diagram
When asked what the title "The Real Joke" refers to, RichterRicochet simply said that the real joke is always found in the comments and that sums up the essence of the subreddit.
A fan favorite of RichterRicochet is one in their top (of all time) section titled "Oof." Another good one according to him is from this past week, called "Bro, really tho…" "It plays on the stereotypes of people from Alabama having bad hygiene/being coupled with family."
In the end, Richter Ricochet concluded that "Something to bear in mind is that since the subreddit started, it's essentially become something of an anarchy nightmare." Thus, he invites anyone who "feels that they can bring order to this mess we call home."
7. This Made Me Eoomn (Exhale Out Of My Nose)
8. Poor Robert

9. Will You Marry Me?
10. Web Designer
11. Trj Education Edition
12. With That Belly, Sure We Are!
13. We're Gonna See This On A "Top 10 Pranks Gone Too Far" Video In 10 Years
14. When You Tell A Joke
15. Priorities
16. I Love Democracy
17. Cell Sea Us
18. Wrong Kong
19. Pew Pew Pew
20. Hmmm
21. Hold Up!
22. My Names Kyle So Yeah
23. I'm In?
24. An Interesting Title
25. Another Covid Joke
26. One Hell Of A Pun
27. Exhaled Hard At This One
28. A Whole Lot Of Jokes
29. Refreshing
30. Pretty Good
31. Today, We Will Only Do Squats!
32. Water In The Future

33. Hearing Aids
34. At Least He Found The Point
35. I See What You Did There