"Knitting? Oh, that's so easy. I can make a cute sweater even though I have never hold needles and yard." 
Well, this is how most of us think about knitting until expectation vs reality hits us. Knitting is not as easy as we think and it needs years of practice. Hopefully, these people have mastered this art and they are sharing their creations online. 
Keep scrolling to see their work.
Thought You'd All Enjoy This!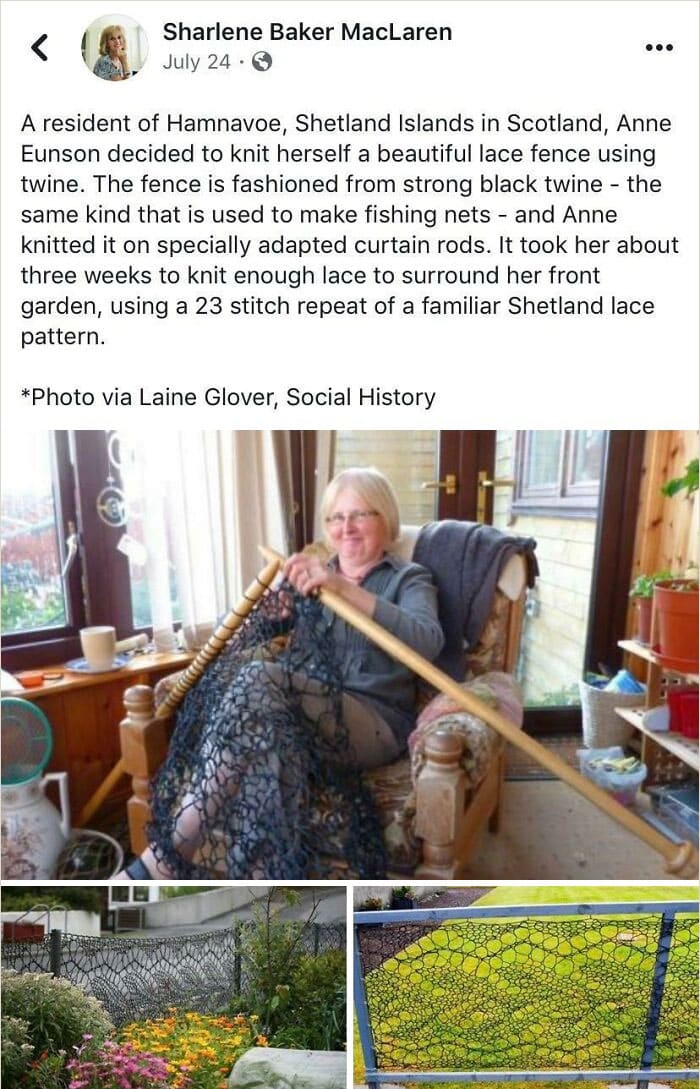 I'm A Guy Who Normally Knits Socks And Scarfs And Hats For My Family. I Finally Knit A Sweater For Myself
I Finished A 1940s Sweater A While Back And Wanted To Share!
A Wedding Dress For My Sister I Knitted Last Year
I Made A Lacy Shawl For My Mom, But I Had To Try It On For Myself First
I Made These Socks That Turn Feet Into Paws. Also, How Does Anyone Even Do Sock Photography
For The First Time, I've Been Forced To Admit I Might Actually Know What I'm Doing!
My First Finished Object: A Happy Colours Bubble Stitch Blanket
My Brother Challenged Me To Make More Animal Socks!! Had A Lot Of Fun Making These Guys
My Dog And I Now Have Matching Sweaters
World's Largest Roly-Poly Bug
Never Doing Two-Color Brioche Again But At Least She's Done
After The Dark Year We Had, I Wanted Some Light Going Into 2021
I Finally Finished The Massive Star Wars Double Knit Scarf
I've Been Knitting For Years But Only Recently Learnt How To Knit In The Round. This Is One Of My First Projects And I Love Him!
Wish I Had A Better Camera And/Or More Light To Show Off This Dress! Vintage Pattern From 1958 (Slightly Modified)
Silver Tree Rings Blanket – A Wedding Gift For My Brother And His Husband
The World Is A Nightmare. Self Care Is Important. So With That And Lenny Kravitz In Mind, I Took To Youtube, Taught Myself To Knit, And Present To You All My 2nd Ever Project!
5 Years And 1200 Hexipuffs Later, My King Size Beekeeper's Quilt Is Finally Finished!
Knitted This Sweater For My Daughter
With A Face This Cute, How Could I Not Put Him On A Sweater!
After 16 Months I Finally Finished This Blanket
I Made This Amazing/Ridiculous Zebra Sweater From A Pattern From 1987!
Adorable Bears Wearing Hats. What Else Do You Need To Know?!
I Made A Little Whale Today
Which One Of You Did This?
Broadleaf Sweater In The Stunning Maple Trees Of Vancouver, Bc
Quarantine Blanket Completed! Excited For How It Turned Out
After Over Two Years Of Knitting, The Only Thing Left To Is Block My Persian Dreams!
It's Lesbian Visibility Day, So There's No Better Day Than Today To Share The Rainbow Shawls I Knit For Our Big Lesbian Wedding!
All The Mushrooms I Knit In The Past Year In One Picture
So Proud Of My Mom And Her Designs. "I Found My Art During The Pandemic," She Says
Knitted Monopoly Board Blanket
Frog And Toad Are Done! Not Quite The Same As The Pattern But I Love Them
I Got Married Yesterday And I Made My Own Wedding Shawl!