To err is human!
Honestly, we can make mistakes and we can forget things. But have you ever thought about getting lucky and finding a lost item? If not, just take a look at the subreddit "Took You Long Enough."
Sometimes we end up finding the most interesting things in the most unexpected places. And I'm not talking about finding your missing socks stuck somewhere inside the drier. What I have in mind are things like messages written behind electrical outlets, time capsules hidden underneath the soil, and even monopoly boards hidden underneath the carpet. Sounds interesting? Then you've come to the right place.
This Reddit community has 30K members who provide a constant flow of unexpected finds. From simple — but interesting — stuff like old newspapers to more mysterious discoveries, like a 227-year-old pendant, they always have something new to show off.
Continue scrolling to check out some of their most popular posts.
Woman Adopts Elderly Dog From Shelter And Finds Out It's Actually Her Lost Childhood Puppy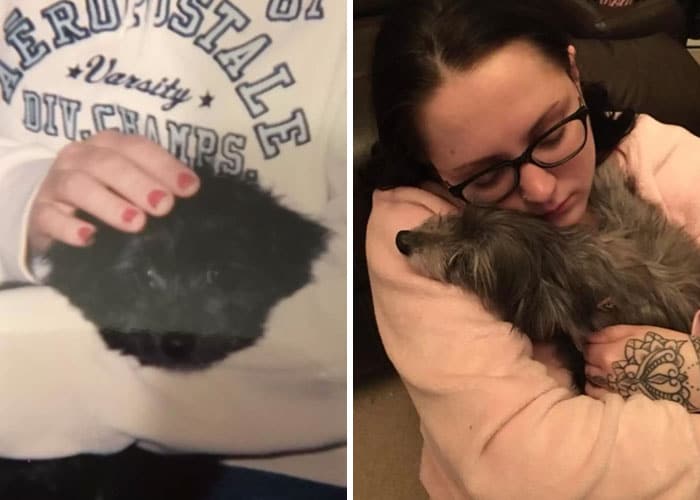 This Washed Ashore From 'Dorian'. "Please Don't Open Me, My Ashes Are On A Journey, I Started At Cumberland Island, So If You See Me Ashore, Please Snap A Picture, Email It & Throw Me Back So I Can Travel Some More"
We're Remodeling Our Bathroom And Our Contractor Just Sent This

Woman Loses Engagement Ring In Garden Finds It 13 Years Later On A Carrot
While Tearing Up Their Carpet, My In-Laws Found A Giant Monopoly Board
This Silver Pendant I Found Metal Detecting Is Dated 227 Years Ago Today
A Very British Response, Cheers Jon!
After 30 Years Brothers Return To Chernobyl To Find An Old Toy Friend Waiting (1986-2016)
After A Construction Company Caused A Local Reservoir Level To Sink 10 Feet, A 600-Year-Old Buddha Carving Was Found
This "Bookmark" I Found In An Old Shakspeare Book Is A Voting Ticket From The Civil War
Friend Of Mine Just Moved Into A New House. Took Off All The Heating Vents To Paint Them, And This Was Behind One Of Them
My Dad Finally Found His Missing LED Zeppelin Tickets… 44 Years Too Late
A 54 Million Year Old Gecko Trapped In Amber
Found This In The Crawl Space Above My Bedroom!
My Mom Was Cleaning Up And Found A Piece Of Paper Her And My Dad Wrote On From Before They Got Married In '86. They Were Together Until 2011 When My Dad Passed
Tearing Down An Unused Chimney Only To Find 25 Generations Of Stacked Up Birds Nests
Found An Over 100 Year Old Time Capsule In My Backyard!
I Might Have To Do This One Day
Found This "White Couch" In A Free Pile Years Ago And Saw A Rip In It Last Night When I Was Cleaning To Find It Was Reupholstered Over Gorgeous Emerald Green Fabric This Whole Time!

Found On Facebook
Shoutout To My Mom Who Very Kindly Brought Me "Dumbells" From The Basement And Even Washed Them So I Could Work Out At Home With Weights – Turns Out These Are Old Soviet-Era Hand Grenades
Remodeling The Kitchen And Pulled The Microwave Off The Wall. He Never Gave Up Hope
Found These 110(?) Year Old Crayolas In The Back Of A Family Secretary Desk. The Pack Still Has The Crayons
These Medieval Ruins Randomly Found Under A Schools Gym Hall
Birth Announcement From 1988
This is MY birth announcement that my auntie made for me when I was a baby. My mom donated a box of old kids stuff to her local thrift store and this was in the box by accident. It somehow it made it to the town where I live several hours away. I was so shocked to find it, I had to buy it back. $2 well spent to preserve my legacy
Found A Drawing Of A Robot In A Chemistry Book From 1918
My Great Grandmother Kept A News Paper Of When America Landed On The Moon. Just Found It Today
103 Years Ago Someone Lost Their Coin Purse
This Carpenters Pencil Is The Oldest Known Pencil In Existence. It Was Found In The Roof Of A 17th-Century German House
Not Exactly Vandalized But This Floorboard Says "This House Was Built By Floyd Harshaw. If You Don't Like The Way It's Built, That's Too Damn Bad. June 21, 1956"
We Were Cleaning Out Our Aunts House Who Had Just Passed Away And Found This. My Great-Great Grandfather's Enlistment Paper To WWI
This Old McDonald's Coupon I Found In My Grandfathers Things
This WWII Newspaper Of Germany's Surrender Found In My Grandparent's Attic
Found Two Bottles Of Guinness In The Attic. 1874 I Think
My Uncle Found A Bag Of Volcano Ash From Mount St. Helens With A Note Tucked In The Back Of One Of His Cupboards