People who know how to sew have the power to upgrade their wardrobes the way they like. They can create miracles out of ordinary pieces of clothes. And all we can do is appreciate their talent. 
To show you how people are making their sewing game strong, a subreddit called r/Sewing is sharing amazing pictures of people with their work. Scroll down and enjoy! 
I Did It, I Made A Coat! (McCalls 6800, View D With B's Hem)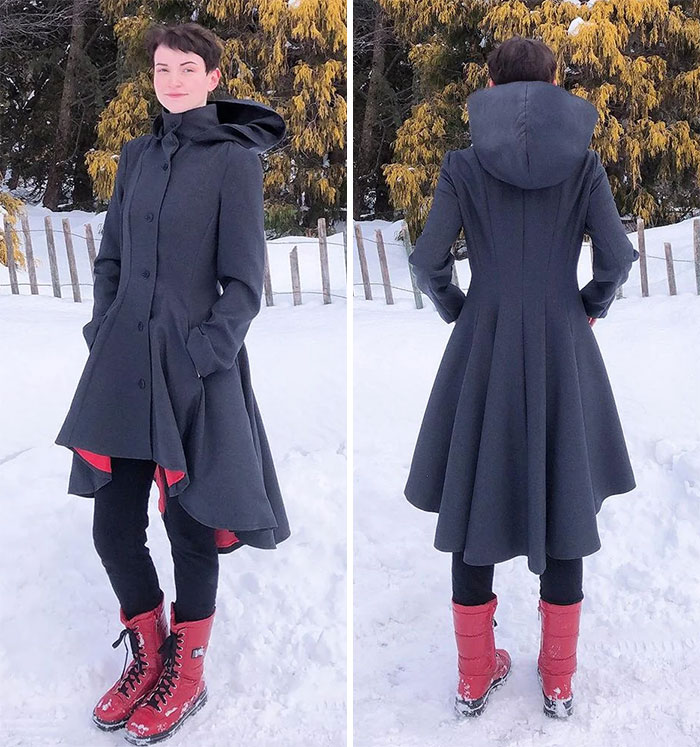 Been Sewing Shirts And Matching Ties For My 5 Cats. It's Been Fun. Hope You Like Them
I Just Finished My Son's Halloween Costume
Self Drafted. No Pattern. An outfit I Made From Scratch From Kente Fabric
I Made My Wedding Dress (No Pattern)
In 2020 I'm Planning To Memorialize My Father By Sewing A Book Of His Life. This Is Page One
Finished My Rainbow Quilt! And A Body Pillow Case To Match. Happy Pride Month!
Duchess Coat By Ellie And Mac Patterns For My Spiderman-Obsessed 2y.o. Niece. I Can't Wait To See It On Her!
(Self Drafted) My Old Lounge Dress Wasn't Getting Much Wear, So I Reworked It Into A Sundress
I Made A Maple Leaf Fairy Costume For Renn Faire (B4571)
Bought My First Sewing Machine 2 Weeks Ago Without Knowing A Single Thing About Sewing. So I Spent Hours On Youtube Watching How To Videos. I Made This Myself Yesterday
Designed, Sewed, And Modeled This Dior Inspired Trench Coat
Made A Non Conventional Wedding Dress! V9296
This Is A Prom Dress My Aunt From Nigeria Made For Me Back In 2019. We Designed It Based On Two Different Dresses. The Pattern Of The Fabric Is My Favorite Part! (No Pattern)
Made An Entire 1850's Outfit. Lots Of Work, But Totally Worth It!
Completed My Belle Gown (Beauty & The Beast) Self Drafted
I Recreated An Early 1900s Illustration Butterfly Dress!
I Made A Velvet Dress With Leds To Look Like The Night Sky (Self Drafted)
I Made The Dressing Gown That Bilbo Wears In The First Hobbit Movie (M7875)
Prom Might Not Have Happened This Year But At Least I Can Still Twirl Around In The Ball Gown I Made!! Self-Drafted
(Self-Drafted) Sewist On Low Budget Recreating Expensive Dresses. I Was Inspired By This Teuta Matoshi Dress
(Fo) I Alter Weddings Dresses For A Living, But Suit Alterations Are My True Passion. Here's My Last Suit I Did For Myself
I Sewed A Wedding Dress Out Of Sweatpants
Coat Made With Broken Umbrellas
I Made Billy Porter's Oscars Tuxedo Gown (Self Drafted)
(McCall's Archive Collection Circa 1956 M7478) Took Forever To Finish This Coat, But I'm Really Pleased With How It Turned Out – Especially The Twirl Factor!

First Finished Dress vs. First Dress I Can Actually Wear In Public
My DIY Thrift-Flipped Wedding Dress
Engagement Photo Dress I Designed And Constructed
Simplicity 8262, Modified To Have A Hood Instead Of A Double Collar. Now To Walk Around Looking Dramatic
This Is My Prom Dress I Designed And Made
Made My Own Homecoming Dress
African Print Mermaid Style Dress
Self Drafted Bomber Jacket. I Saw The Fabric And Knew I Had To Make Something. It's My First Crack At A Jacket And The First Real Wearable Garment I've Made For Myself! I Think I'm Going To Be Making A Lot More!
Made One Of Those "My Rich Husband Died Of Mysterious Circumstances" Robes And I've Never Felt More Powerful