If you have not been to many museums, you might find it boring. But actually, museums are fun and it's ridiculous that it's not against the law.
We have curated this list of those glorious moments when people had tons of fun at museums. Have a scroll and stroll down our digital gallery and remember to touch the art as much as you'd like. Oh, and if you have a favorite museum, why not let us know all about it in the comments?
Close Enough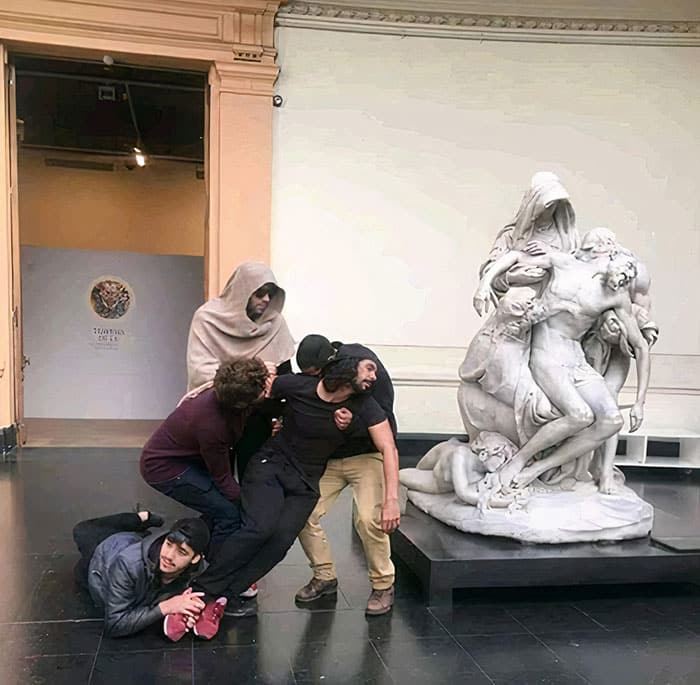 Houston Museum Of Natural Science's Humor
I Spotted This Today At The Cleveland Museum Of Natural History
This Art Completes Me
"Kevin? What Have They Done To You?" Decided To Spend Halloween At The Museum Of Natural History. Great Decision
All The Single Ladies
One way to spread awareness and interest in art and history is through memes on social media. One successful example of this is the 'Classical Damn' Instagram account. Bored Panda recently spoke to the founder of the project who found a lot of success when they mixed classical paintings with modern captions.
In short, the memes made classical art very relatable because they touched on topics that we all care about. From relationships and coronavirus to politics and religion.
Visited The Modern Art Museum Today. Fascinating Stuff
This Is How To Enjoy A Visit To A Museum
So I Went To A Museum
"Even though the paintings are hundreds of years old, their expressions and captions make it seem they are one of us," they told Bored Panda.
"In my opinion, art and art history can be made more accessible by increasing public access to art spaces. Instagram has done a tremendous job in this by providing a platform to artists, content creators, and curators," the creator of 'Classical Damn' said.
Visited A RAF Museum In Cornwall And Saw This Police Statement
Abraham Lincoln: Dog Walker (Taken Outside NYHS Museum)
Went To A Museum Armed With Face App To Brighten Up A Lot Of The Sombre Looks On The Paintings And Sculptures. The Results
"More and more people have started appreciating art after seeing them on their feeds and then trying to learn more about their backgrounds. Technology has made its interpretation and access inclusive. The future is going to be an exciting period for art and I'm looking forward to it," they shared their thoughts.
However, former art gallery director Shelby Bercume from Florida disagrees that art and history aren't approachable. She sees art as an intrinsic part of our daily lives.
A Guest Dropped A Pacifier In The Cypress Swamp Exhibit At The Virginia Living Museum Today. Someone Was Quick To Take Advantage

Historical Figures Lined Up For Reopening Of Museum Of Gloucester
Found My Ex In The Natural History Museum
Art is not snooty and complicated. Art is in literally everything we do, it makes the world go round. It is how we market, it's what we decorate our homes with, heck it is what we decorate ourselves with," she shared her opinion with Bored Panda.
"You literally cannot turn around without seeing some form of art, in architecture, logos, billboards, television, everything. And that came from somewhere," she said that, from her perspective, the idea that art is unapproachable is archaic.
My Little Cousins Wanted To Know Why The Art Museum Had A Painting Of Their Uncle

Had An Electric Day At The Children's Museum
Absolute Madlad

"Everything is cyclical. We develop new styles that hold qualities of the old while still addressing and innovating in the now. So do I think there will be an exact regurgitation of the older movements? No. But I do think we can see common themes from what once was," Shelby mused about whether or not we'll see a renaissance of classical art.
"I don't think I could pick one movement that would be my favorite, but I am very fond of the Rococo movement. I love the frivolousness and whimsey of it. It was idealistic and excessive and a bit of an absurd expression of a carefree lifestyle," the art history expert told Bored Panda.
Guy Visits The Museum Of Illusions Alone, Gets A Museum Worker To Help Him With The Pictures

My Husband Thoroughly Enjoyed The Science Museum
Took Kids To A Children's Museum. My Five-Month-Old Fell Asleep Before We Got There But We Didn't Let That Stop Her From Having A Blast
"It definitely shows the disconnect of the French aristocracy from the plights of the common people, but for me, in this day and age, it serves as an idealistic escape into whimsy and a carefree land of nonsense. It just makes me giggle."
Shelby believes that we can appreciate art without delving too deeply. There isn't always something "to get" when it comes to art.
Rare Statue Of Michael Jackson Spotted At The Field Museum In Chicago

Went To The Shanghai Natural History Museum Today. I Think The Taxidermist Was Out Sick On Lion Day
Mr. Bean Has Reach Enlightenment. British Museum
"If you don't care for one style of art, there are plenty others to choose from. I have never really understood why there is such a block. Art is what you make of it, if you don't like 'x,' move on to 'y.' And if you really want to understand something, do your research and dive into it. Figure out what the beginnings were. What is the artist trying to say? Are they trying to say anything? Is it for aesthetics? Are you supposed to interpret it or are you looking too far into it? You don't have to understand everything to like it, and you don't have to like everything to appreciate it. If you can't get past disliking a particular movement, you can find another one."
I Work In A Museum. This Is How I Spend My Break

When I Was 10, I Also Visited The Lamborghini Manufacturing Plant & Museum. My Dad Was A Little More Creative About Taking A Picture Of Me
The Fire Exit Sign In This Egyptian Museum Is A Pharaoh Running
I Was At The National Gallery In Slovakia And Noticed They Use Star Wars Wallpaper On One Of The Walls In A 19th-Century Art Exhibit
Found This Museum In Estonia. Had To Do It
A Butterfly Landed On This Girl's Nose At The Smithsonian Natural History Museum
Girlfriend And I Enjoyed The Illusion Museum Very Differently
So My Drivers Ed Teacher Only Has 3 Fingers On His Left Hand And Took Advantage Of It When He Went To A Museum
My Girlfriend Thought She Lost Me At The Art Gallery Today
Kelvingrove Museum Getting Into The Christmas Spirit

Spent 2 Hours Looking For This At The Natural History Museum (London): Totally Worth It