Have you ever been to Texas? It's a stunning place that has so many beautiful things to see. But there is one thing about this place that we want you to know. It's just that sometimes, the weather of Texas can get really cold. Like this time. 
You might find it a little surprising but this place is dealing with the coldest weather in 30 years. We know it's crazy but it's true. You can scroll down to see how cold has affected the area. 
Texas Game Wardens Rescued 141 Sea Turtles

Texas Game Wardens assigned to Cameron county rescued 141 sea turtles from the frigid waters of the Brownsville Ship Channel and surrounding bays. The sea turtles were transported via the PV Murchison, operated by Sgt. Game Warden Duke and B/M Bowers-Vest.
My Parents Let The Dog Go Outside After The Storm. These Are The Resulting Footprints

My Friend In Texas Swore He'd Never Fly In A Chopper After Iraq. Today He Broke That Promise To Care For Patients. At His Own Expense He Got To The Er The Only Way He Could

My Mother In Texas Made Some Incredible Octopus Art Out Of The Snow To Bring Some Light Into The Dark Times

Probably The Best Picture I Have Ever Taken Of Mops. She Enjoyed The Texas Snow Today!

Plowing Snow With A Cardboard TV Box

Texas Winter Storm

At Least One Guy Is Enjoying The Texas Blackouts

Texas Winter Storm

Texas Winter Storm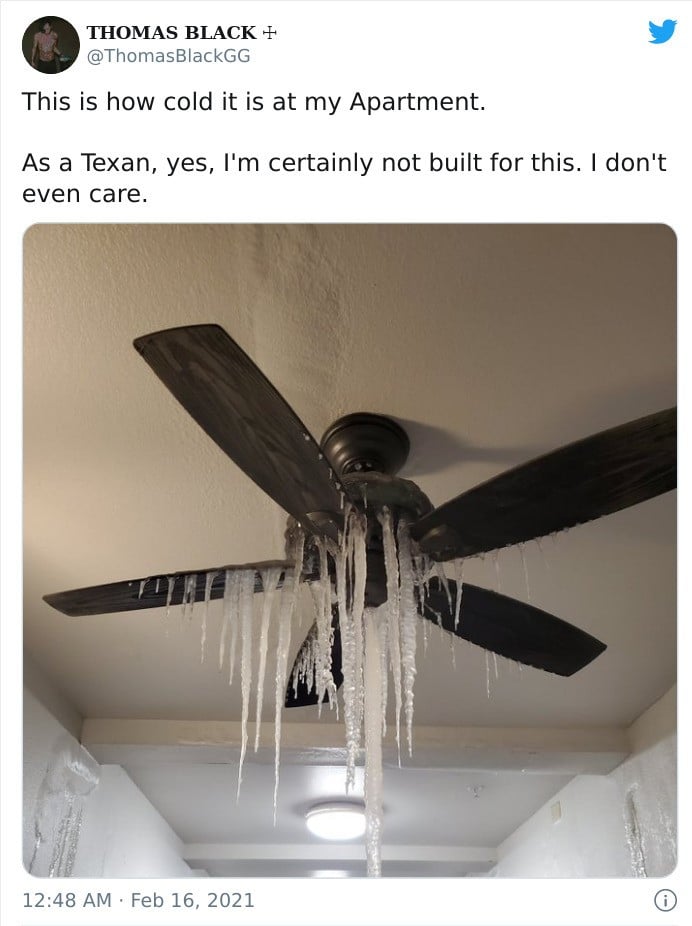 Texas Winter Storm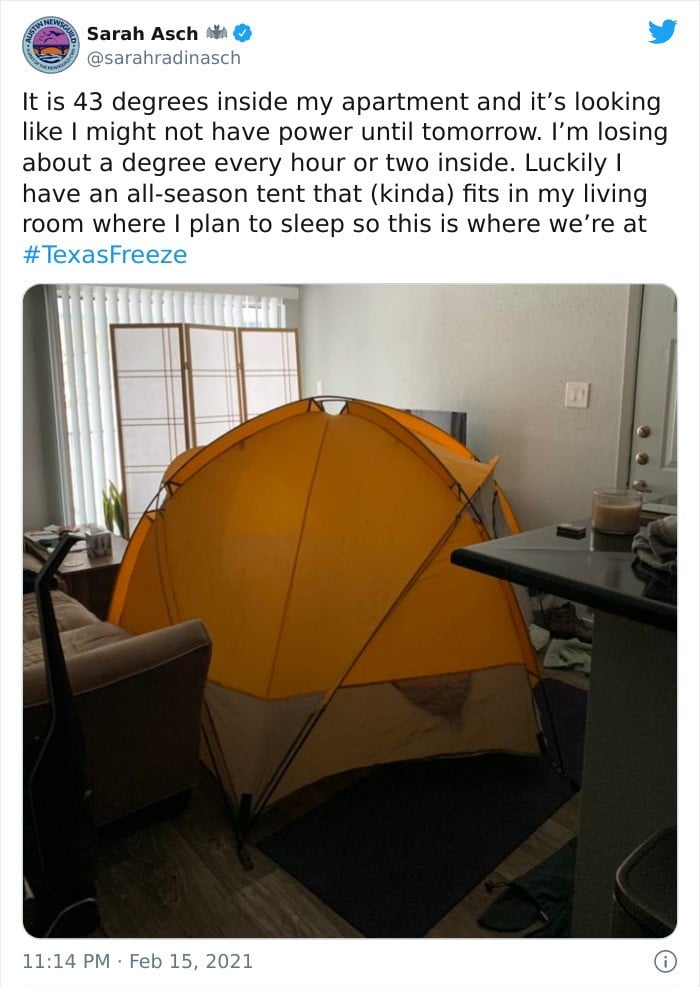 Left The Faucet Dripping To Keep The Pipes From Freezing. It Didn't Work Out. Taylor, Texas
24 Hours Without Power Here In Texas But This Is The First Time Either Of Us Have Seen Snow

Guess I'll Wait Till Next Week

Massive Cold Stun Of Sea Turtles Here In South Padre, 1500 Turtles Rescued So Far…and No Power To Warm Them Up

Texas Winter Storm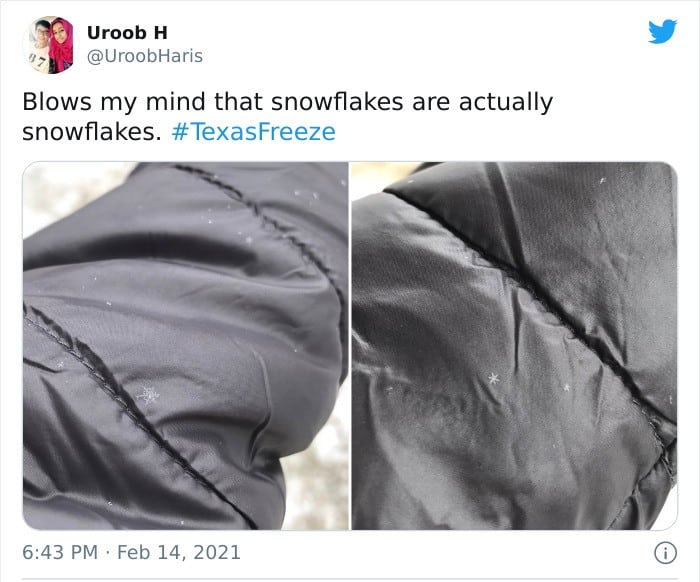 Don't Have Power But Got This Photo Of A Guy Skiing Down Congress Yesterday!

I'm Mean…. It's Not Often You Can Say You Went Snowboarding In Texas

It Finally Snows In Texas And The Only Local Ski Slope Is Being Guarded

Hello. My Name Is Inigo Montoya. You Killed My Father. Prepare To Die

Texas Winter Storm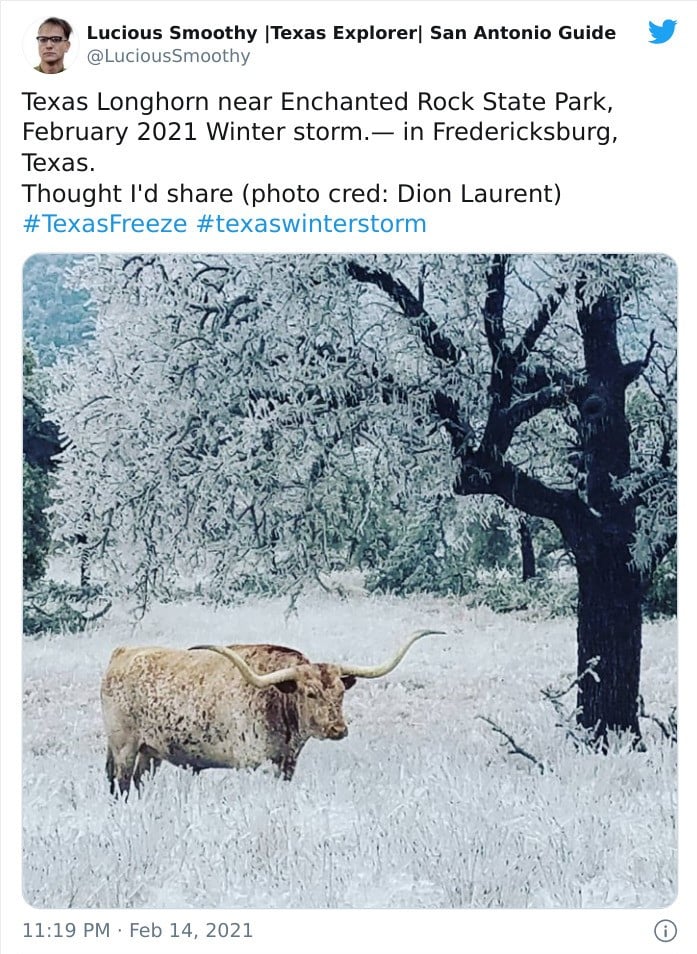 I Saw German Outdoor Freezers And Decided To Share Mine From Texas

2021 Houston Valentine's Day Freeze

Texas Winter Storm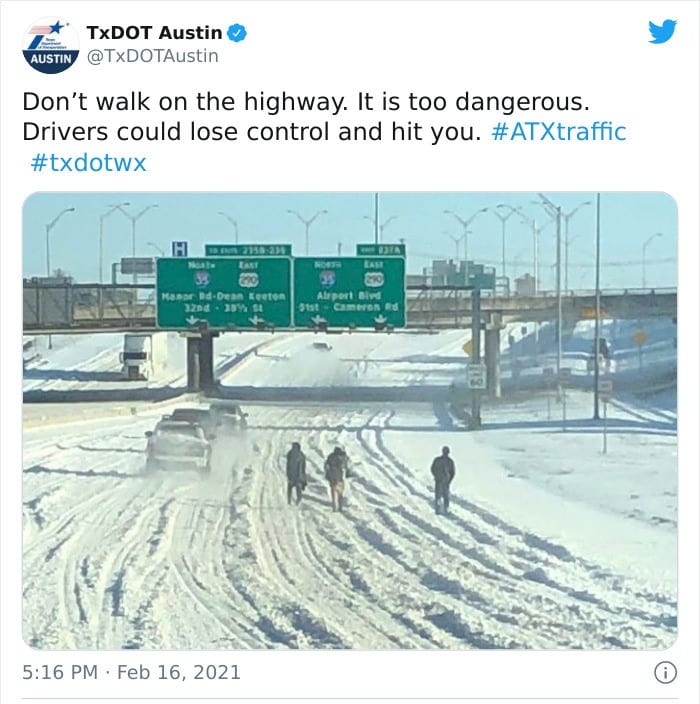 Seeing Snow On Our Cactus Is So Surreal!

I Kinda Felt Like I Was In 30 Days Of Night. It Was Beautiful Out There But Also Slightly Terrifying

Texas Winter Storm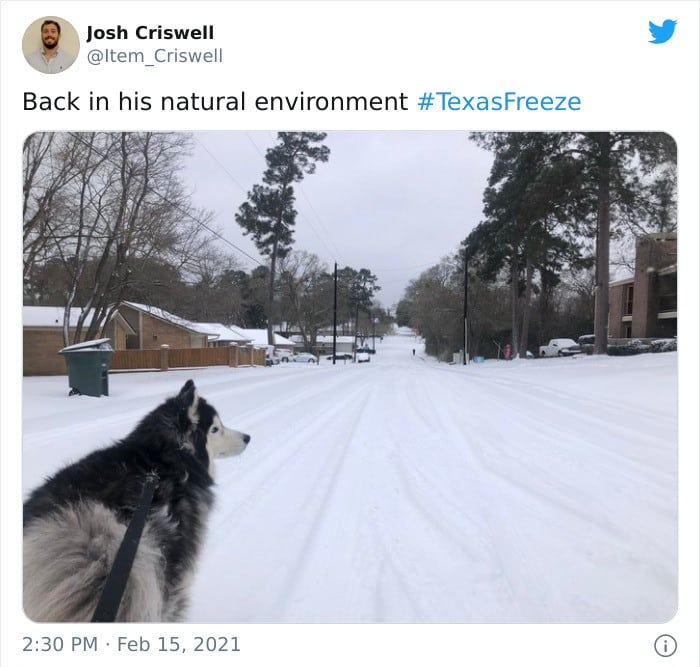 24+ Hours No Power (Some Sparse Moments Of Relief). 40 Degrees Inside But Eating Warm Food Tonight

Going To The Restroom In Texas Today. (Real Pic From A House In Dallas)

I Was Basically In My Car With My Mom From 8 Am Until Close To 6 Pm Today Just Staying Warm, Finding Food, And Getting Gas. Welcome To Houston Aka Ghetto Narnia. I Miss Last Week

Props To Our Local Canyon Lake Farmers, Who Are Caring For Animals (And Plants) Through This Weather

Beva The Longhorn Isn't Phased By This – Just Wanted A Bit Of Love

Texas Winter Storm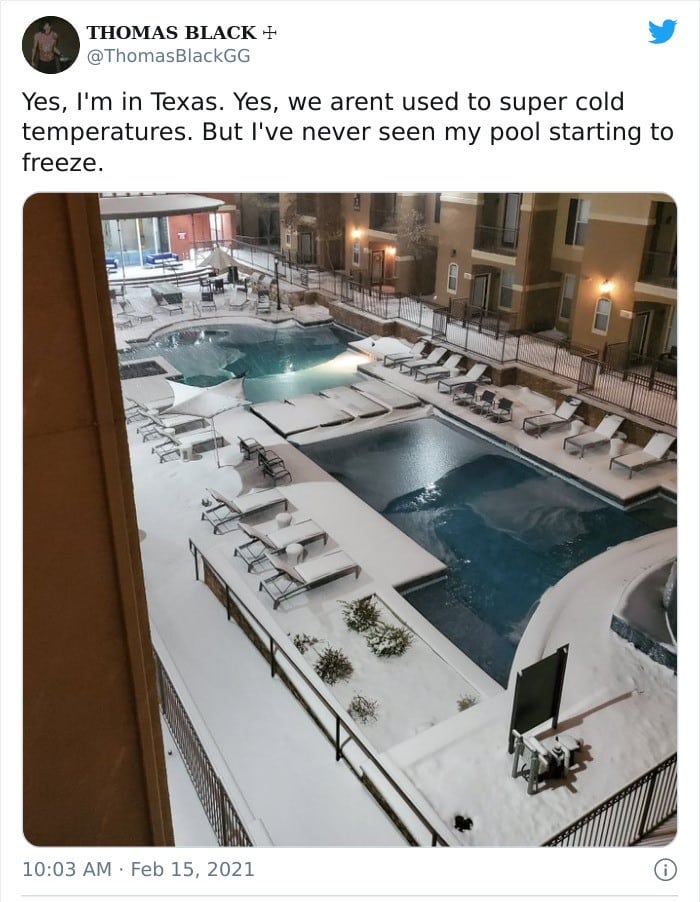 This Winter Storm System Is Testing Us In Many Ways. Pushing Us To Our Limits. Creating Challenges We Didn't Expect And Requiring Us To Make Tough Decisions

It's hard to see the beauty in any of this snow through the pits in our stomachs, shivering animals, no running water, and no power for over 100 hours at the farm. We've all been doing our best to keep the eggs warm and the animals fed, but this egg got away.
Here's the inside of a frozen chicken egg.
It's times like these we look to our northern farmers and old pioneers for guidance and encouragement. We imagine our forefathers over the last 166 years going through similar conditions never having known the comfort of a lightbulb. We take these as lessons but it's hard when you're actually going through it.
We will not be on the roads this week and will not be supplying our beloved club members, markets, and chefs any eggs this week. We wish you all safety and comfort during this difficult storm.
It's Hard To Believe I'm Still In Texas