Do you know about the forbidden fruit? Well, originally this term symbolized the fruit grown in the Garden of Eden. But in the 21st century, this term has expanded because there are multiple "forbidden food" examples that can be found throughout the world. 
To give you a glimpse, we have listed some of them here. 
A small warning though: this list will likely leave you very hungry, so just keep in mind that you shouldn't eat random things, no matter how tasty they appear. Stick to real food!
This Rock Found In Indiana That Looks Like Fried Chicken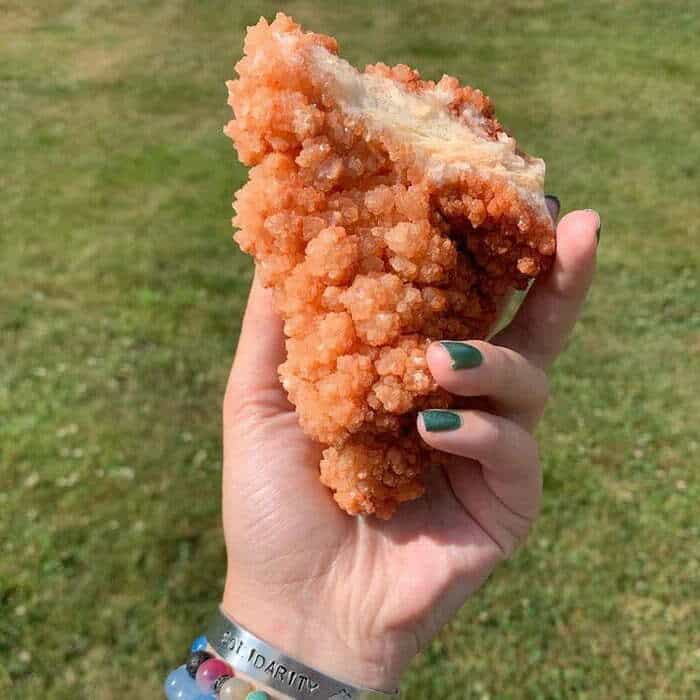 Okay, Who Took A Bite Out Of The Forbidden Peanut Butter Brownie?
A Hummingbird Which Looks Like A Jalapeño
This Tree Looks Like Broccoli
The Surprising Amount Of Bite Marks On These IKEA Display Apples
Forbidden Pasta (Rattle Snake Rattler)

Frog That Looks Like Cheese On A Burger

I Found A Mushroom That Looks Like A Fried Egg
Hospital Staff Gave Me A Snack On The Bed Sheets, Turns Out It's The Sponge I Need To Use In The Shower Before Surgery
Forbidden Milk
This Coaster
Would You Be Interested In A Cup Of Latte?
Forbidden Salami
Forbidden Ham
One Is Chocolate, One Is For The Dishwasher
Someone Left Some Mashed Potatoes In The Car
Broccoli Birb
Forbidden Fried Chicken
Forbidden Banana
Forbidden Cookie Dough Ice Cream
This Kiwi Looks Weird Though
Forbidden English Muffin
Forbidden Croissant (Sofa)
This Printer At Work Uses Small Colored Balls For Ink, They Look Like Forbidden M&M's
Forbidden Rare Steak
Landscaping Stone I Found That Looks Exactly Like A Hunk Of Crab Leg Meat
Forbidden Loaf Of Bread
Forbidden Ground Beef
This One Rock In The Entryway Of A House
Forbidden Ciabatta
Forbidden Cinnamon Sugar Donut Hole
Forbidden Cookie Dough. Who Thought This Was A Good Idea?
Forbidden Rice Noodle (The Inside Of My Inflatable Air Mattress)
Forbidden Seedless Strawberry Jelly (Violin Rosin)
Forbidden Potato Chips