While there are some trashy pictures on the Internet, some pictures make you captive. These are the kind of pictures that makes you spend an extra minute so that you can see again what you have just seen. These are excellent examples of fine art and beauty. 
Today, we are going to talk about such pictures, I mean, we are going to see them. Also, there is an entire Reddit community dedicated to this thing. The members of this community share pictures of outstanding infrastructure that are aesthetically pleasing. 
A1 Highway Ecoduct, The Veluwe, Netherlands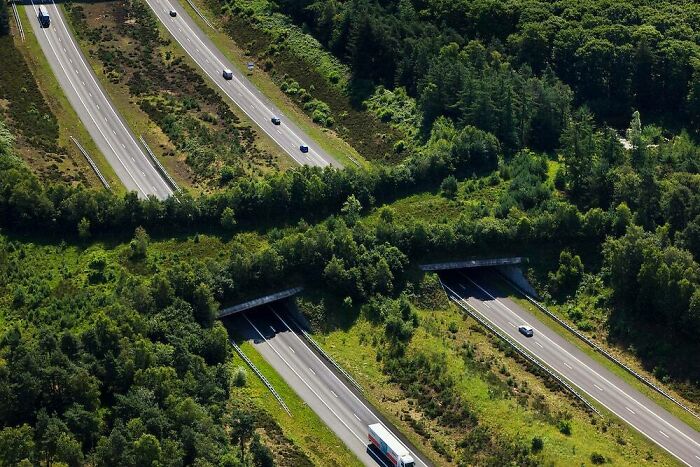 Aqueduct Veluwemeer, Netherlands
Holland, Michigan's Downtown Has Heated Streets And Sidewalks That Melt Snow And Ice. The System Utilizes Wastewater From A Nearby Power Plant Which Circulates Through 120 Miles Of Plastic Piping Underneath The Pavement. It Can Melt An Inch Of Snow An Hour Even At 20 Degrees Fahrenheit
Skytrain Inside Jewel Changi Airport, Singapore

Sart Canal Bridge, Belgium
A Cell Phone Tower Disguised As Cactus
An Archipelago In Norway
Ecoducts, Railway, Highway, Roads, Walkways… In Breda, The Netherlands
Shalu Leisure Landscape Trail, Taichung, Taiwan
Viaduc De Millau – France
A Partial View Of The 30km Long Houtribdijk Dam In The Netherlands. Again, Leave It To The Dutch!
A Village Settlement In Denmark
Northern Lights From The Top Of The Mackinac Bridge
The Storseisundet Bridge In Norway
Subsea Undergroundabout, Faroe Islands
Dudhasagar Falls (Sea Of Milk), Goa, India
The Delta Works In The Netherlands, Consisting Of 13 Parts, Together Form The Largest Storm Surge Barrier In The World And Was Declared One Of The Seven Wonders Of The Modern World By The American Society Of Civil Engineers
Saint Petersburg Metro, Russia
Another Scale Of Infrastructure, These Salmon Stairs In Sweden

Electric Elevated Railway (Suspension Railway), Wuppertal, Germany
Cykelslangen (The Bicycle Snake), Copenhagen, Denmark
Highway Interchange Near Tokyo
Project Engineers Demonstrating The Cantilever Principles Of The Forth Bridge In Scotland, 1887

Three Undergound Metro Lines Crossing Eachother At The Place De L'opéra In Paris
Brutalist Flats In Camden, London
Gordon Dam In Tasmania, Australia
Botanical Garden In Madrid Atocha Train Station
Roundabout And Bicycle Bridge In The Netherlands

Clifton Suspension Bridge, Bristol
Bhumibol Bridge, Bangkok, Thailand
Solar Power Plants In The United States Photographed By Bernhard Lang
The Beipanjiang Bridge, Spanning The Nizhu River In China At A Height Of 565 Metres
Pont De Normandie, France
My Developing Country Of Georgia Has Been Renewing Its 20th Century Rust Oven Fleet, With An Armada Of Brand New Electric Buses. Pedestrian Life Just Got Easier
The Tuned Mass Damper Of Taipei 101 Skyscraper. A Tuned Mass Damper Is A Device Mounted In Structures To Reduce The Amplitude Of Mechanical Vibrations. Their Application Can Prevent Discomfort, Damage, Or Outright Structural Failure