What does renovation mean to you? Maybe changing lightbulbs. Getting new furniture. Or even painting your house with fresh paint colors. But for some people, renovation is a way of taking out their inner artist. 
With sheer dedication and intelligence, these people have converted a building into something it was never meant to be. Like a hotel into a hospital, a jail into a hotel, and a stone observatory into a home. 
Scroll down to see more. And don't forget to tell us your favorite remakes and repurposed buildings from this list. 
Moved Here 4 Years Ago. Converted Victorian Church In England. Love This Room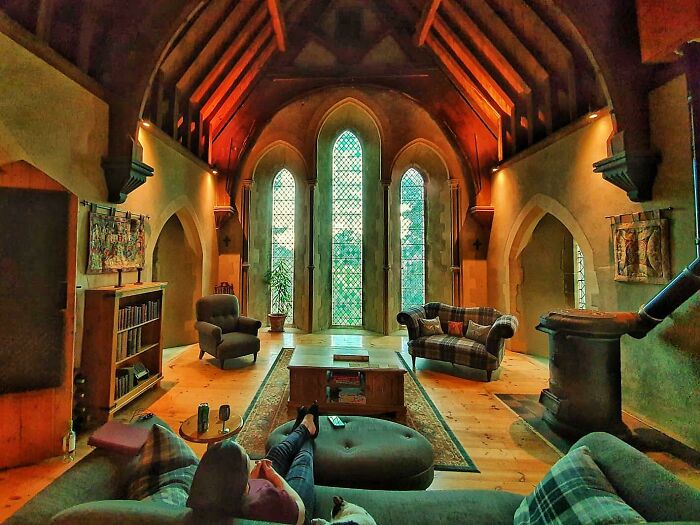 The Building Used For The Swimming Events At The 2008 Summer Olympics In Beijing Was Transformed Into This Dope-Looking Waterpark
Stone Observatory Tower Converted To A Home
In Germany, There Is Waterpark Called Tropical Islands. It's A Literal Tropical Island Built Inside An Old Blimp Hangar
Gas Station Greenhouse
My Gym Used To Be Part Of An Asylum Complex. The Pool Used To Be A Church And The Confession Booths Are Now A Sauna
Vienna Gasometers: Gas Storage Tanks First Built-In 1896 And Converted Into Mixed-Use Developments Between 1995 And 2001
Niccolò Paganini Auditorium, Parma, Italy, An Abandoned Sugar Factory Converted Into A Concert Hall By Renzo Piano In 1996
This Abandoned Church Was Purchased By Skaters And Renovated Into A Dream Park
My New Apartment Still Has The Original Molding From When It Was A Hotel Ballroom In 1923
Dublin: An 11th Century Viking Well And Stone Under A Local Shop

My House Turned 101 Today (Originally A 1920's Corner Grocery)
These Two UK Phone Booths Have Been Repurposed
The Hospital I Work For Was Originally Designed To Be A Hotel
Stamba Hotel, Tbilisi, Georgia, Designed In 2018 By Adjara Group And Located In An Old Printing House
My Town's Library Is Under Construction, So They're Using An Old Grocery Store As The Temporary Library
This Defunct Subway Entrance Is A Working Subway Entrance
The Grand Concourse Built In 1898. Once Train Station Is Now A Restaurant In Pittsburgh, PA
A Former Grain Silo In Oslo, Now Converted To Student Housing
This McDonald's In New Zealand Has A Decommissioned Plane You Can Dine In
This Hotel Is An Old Prison
A Ship's Bridge That Has Been Removed And Converted Into A House
Old Bank Was Transformed Into A Hotel, They Kept The Vault As A Meeting Room
Regional Coffee Chain Buys Gas Station, Uses Car Wash As Drive Through
In The UK, Redundant Telephone Boxes Are Being Repurposed As Public Defibrillators
Old Church Turned Into A 24/7 Pancake Restaurant
My Girlfriend's Office Used To Be A Bowling Alley. The Original Lanes Are Still There
The Old Don Jail (1864) In Toronto Converted Into Offices For The Newly Built Hospital Beside It In 2013
This Hotel Is Built Out Of Train Cars
Old Silo In Söderköping, Sweden, Repurposed As Housing
These Apartments Used To Be A YMCA
McDonald's In The Art Deco Former "United Kingdom Hotel", Clifton Hill, Melbourne, Australia
Old Church Converted Into A Gym
A Smartphone Repair Office Inside A Telephone Box North Of Holborn Station
Manchester's Royal Exchange Theatre: A Former Commodities Exchange With A 750-Seat Theatre 'Pod' Tucked Inside. The Theatre Opened In 1976