The heatwaves, record snowfalls, floods, and other natural calamities are a sign from mother nature. And we deserve these climate anomalies happening all over the world in the past years. After all, everything is happening because of our careless attitude. 
Here are a few pictures that show how unpredictable nature can be. 
Unforeseen Weather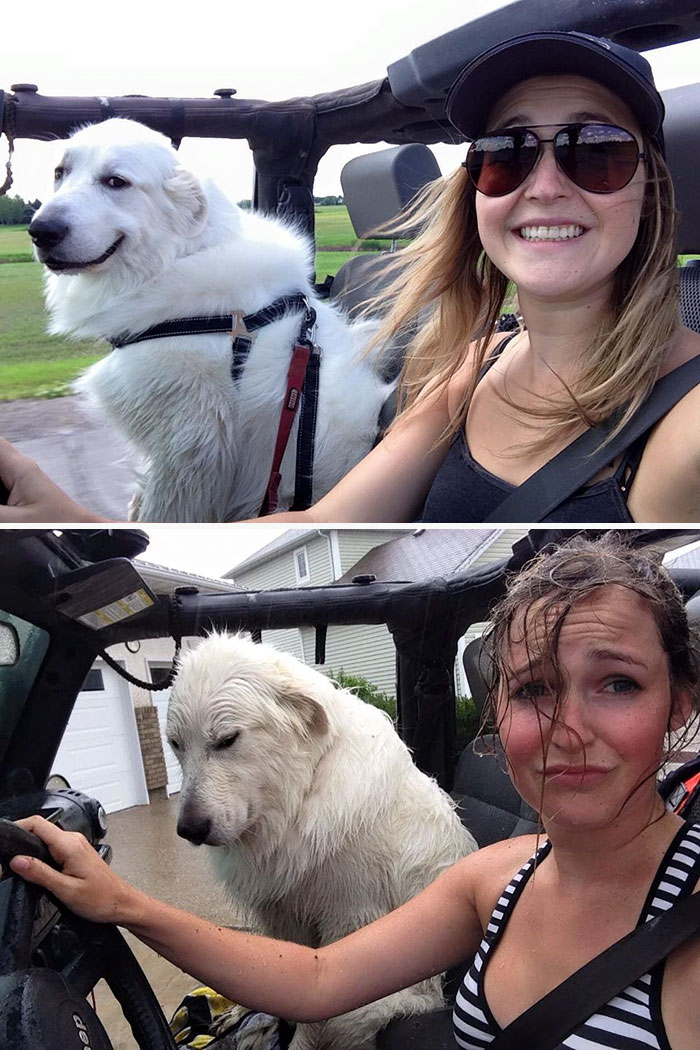 At Least He Got What He Asked
Summers In England
"It Might Rain Today, I Think I'll Take My Umbrella Out."… That Went Well!
Hail Damage To Sun Roof
Tried Going To Visit My Boyfriend On My Day Off, Had To Turn Around Because The Fires Apparently Opened A Portal To Hell
When The Earthquake Hits At The Wrong Time
It Has Been Some Bad Weather In Norway Lately
Woke Up At 230am To Make A 2 Hour Drive-Up 10000 Feet To See The Sunrise Atop Haleakala. Have You Ever Seen Such Beauty?
Normal Day In Utah
My Mailbox Was Blown Up By Lightning Last Night
In Ten Seconds I'm Going To Discover The Value Of Lifejackets And Renter's Insurance
What It's Like Escaping The Fires In Oregon. They Lived A Mile Away From Blue River, Oregon

That's My House
It's Cold Outside
Parked My Jeep Under The Porch To Keep It Out Of The Weather

Lakefront Property During An Ice Storm
It's So Hot In Australia, Our Outdoor Lights Melted
Yesterday Our Neighbor's 80′ Locust Tree Gave Us Some Live Edge Sky Lights, A Great View Of The Stars, And That Rainforest Cafe Atmosphere That Our Living Room Had Just Always Been Missing. No Injuries, Dogs Pissed The Bed, Life Goes On

Getting Away From An Erupting Volcano Today
Hurricane Mitch Rendered The Choluteca Bridge (Honduras) Useless After It Changed The Course Of The River It Was Built For
Maybe A Bit Too Much Rain
When It Snows Before The Leaves Fall Off

Spent 5 Hours Getting Chemotherapy This Morning, Came Home Feeling Like Crap. Laid Down To Nap… Alarms And Sirens Start Blasting. Rush 5 Cats To The Basement And Prep Shelter. Go Outside To See This In My Subdivision

Puerto Rican Natural Wonder, Punta Ventana, Collapsed Today After An Earthquake

Just Bought Our Dream Home Less Than 2 Months Ago. Tonight I Watched It Burn To The Ground In A Massive Wildfire
A Storm Came Through. The Plastic Furniture Barely Moved But The Grill Blew 30 Ft Into The Pool
110+ Mph Derecho Winds Impale House With Lawn Chair, Iowa 8/10
Don't Leave Your Kayak Out In The Sun
5 Days Ago My Parents And I Opened A New Takeout Restaurant. Today Hurricane Michael Destroyed It
For Sale!! 2001 Honda Civic, Great Condition (I Hope)
Guess He's Not Going Anywhere Till Summer
My Brothers Cabin (Which Is Now His Home In The Midst Of A Nasty Divorce) In Northern Ca. Took Him 5 Miles On A Snow Mobile To Find This After Leaving Town For A Week
Weather Patterns Don't Care What Kind Of Car You Drive
I Was In New York For The First Time In My Life. My Wife And I Spent Almost 10 Hours On A Plane, Crossed The Atlantic Ocean, And Flew 7,500 Kilometers. We Climbed The Top Of The Rock To Enjoy A View Of Central Park. We Had Only One Day In New York And This View Will Always Be With Us