Monterey Soufflé Salad, Tuna waffles, Banana Candle, and many more like Hot Dr. Pepper poured over slices of lemon. Similar recipes from the past have evolved drastically.
Like people can do anything if they are willing so, then people can eat any weird things if they put their minds on it. Who over here is not aware of Bear Grylls who can eat anything wild without any swing.
Listing down 30 recipes from the back showing the taste we used to have now changed with time.
Jellied Tomato Refresher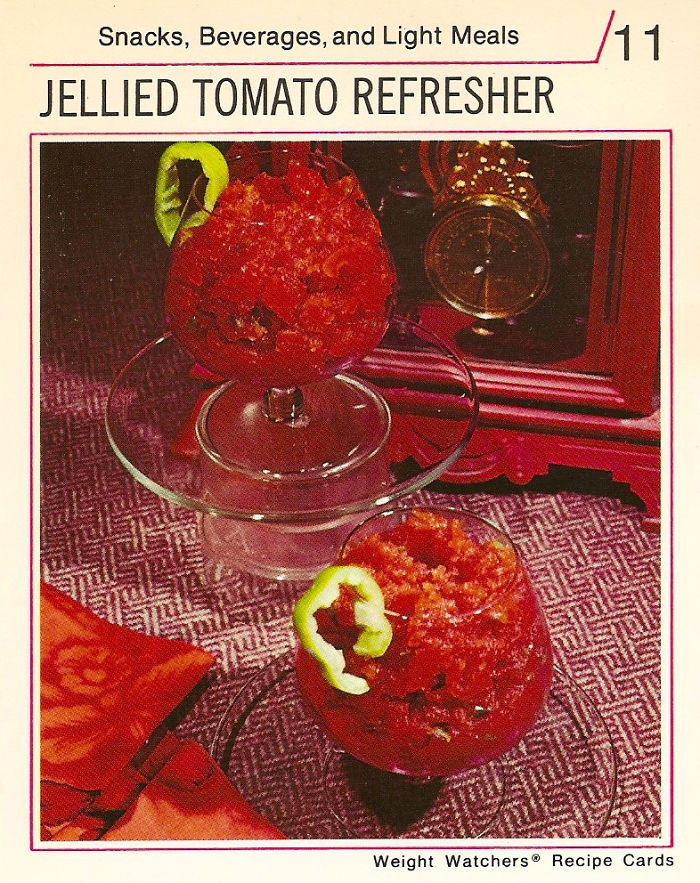 Monterey Soufflé Salad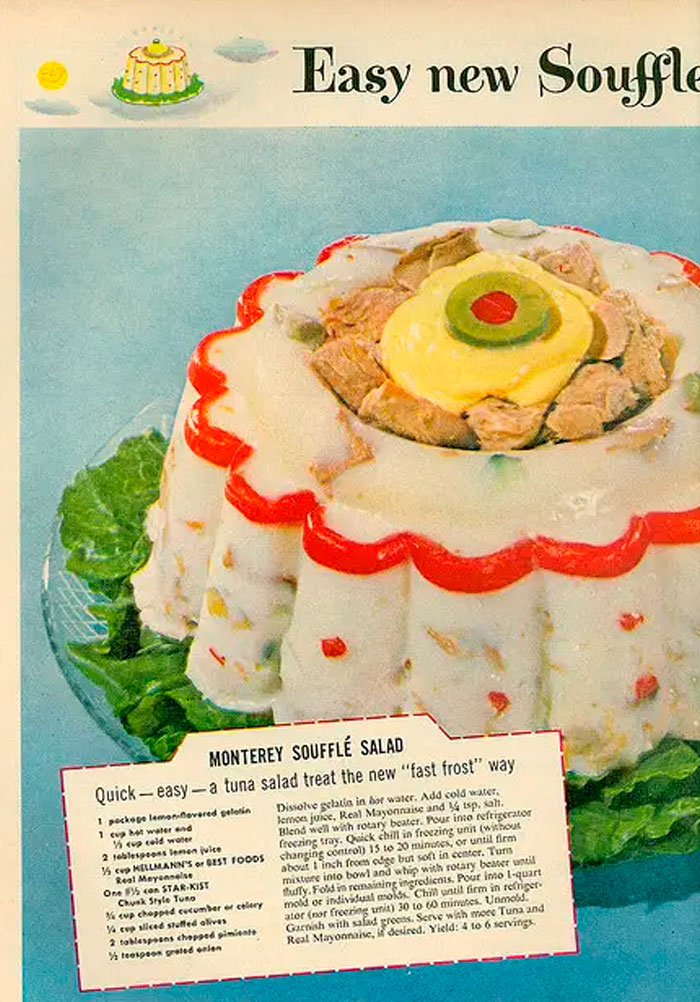 Party Sandwich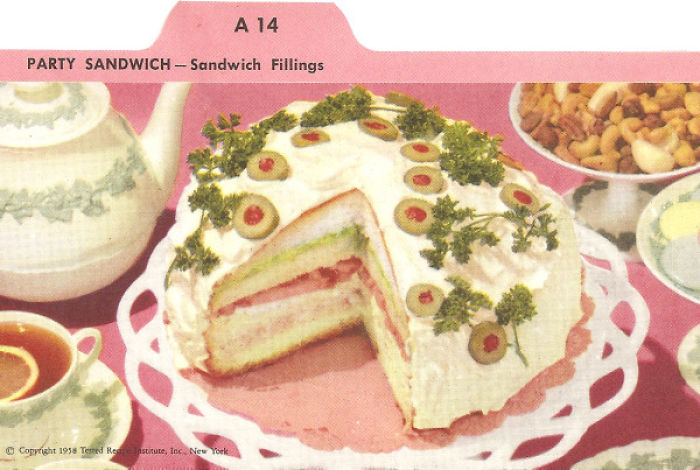 Frozen Cheese Salad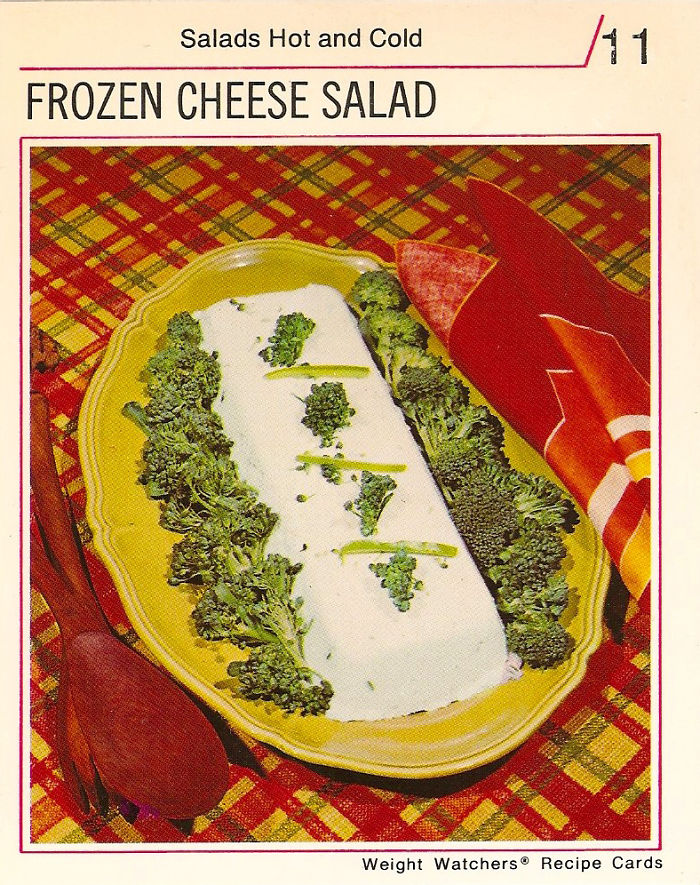 Lime Cheese Salad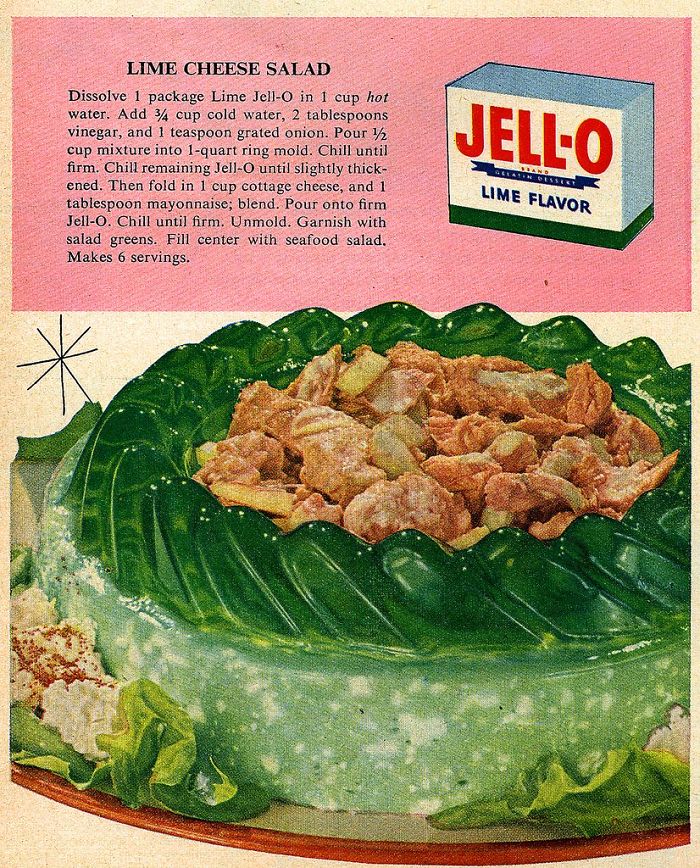 These vintage party food recipes from the 50s are "the result of food fashion—but not just of a food 'fad.'" – In the opinion, of Professor Cooke. He also said –
"That is, the basic flavor combination is something that reaches across the decades. What you're describing may seem very odd to us in the 21st century, but the taste combinations—savory and sweet (tuna waffles, ham and bananas) or sweet and sour (mayo with lime) are surely very familiar."
The Professor continued –
"There were 'fads' at mid-century: think of cookbooklets demonstrating how to decorate one's ham with slices of canned pineapple, topped with the bedazzling red of a maraschino cherry, for example! And you don't mention the jaw-dropping recipes incorporating marshmallows in main course dishes, recipes that were brain children of corporate marketing departments."
Lettuce Salad
Cup Steak Puddings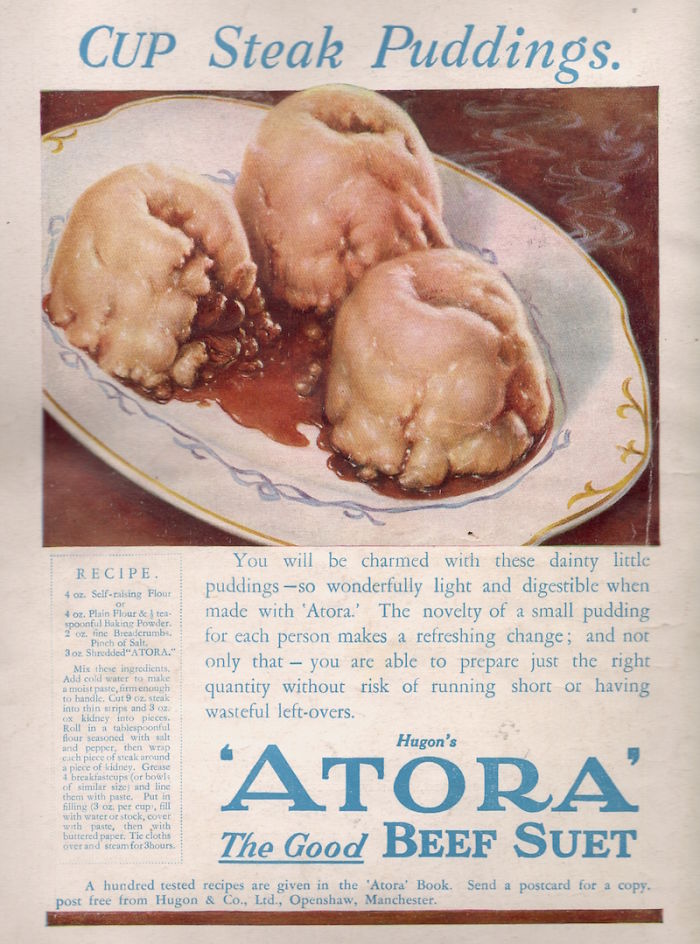 "But if we were to create one of today's favorites from scratch, say, Pad Thai, we would start from the same basic taste combinations you describe in what at first glance seem like bizarre plate partners,"
Professor Cooke explained how things haven't changed as much as we believe.
"Cooking bitter tamarind with water, raw sugar and fish sauce will build the basic foundation (sour, salty and sweet). To that one would add the requisite green onions, bean sprouts, and noodles—and likely some additional flavor notes such as shallot, garlic, and perhaps dried turnip (salty and sweet) to deepen the flavor."
Almonds In A Haystack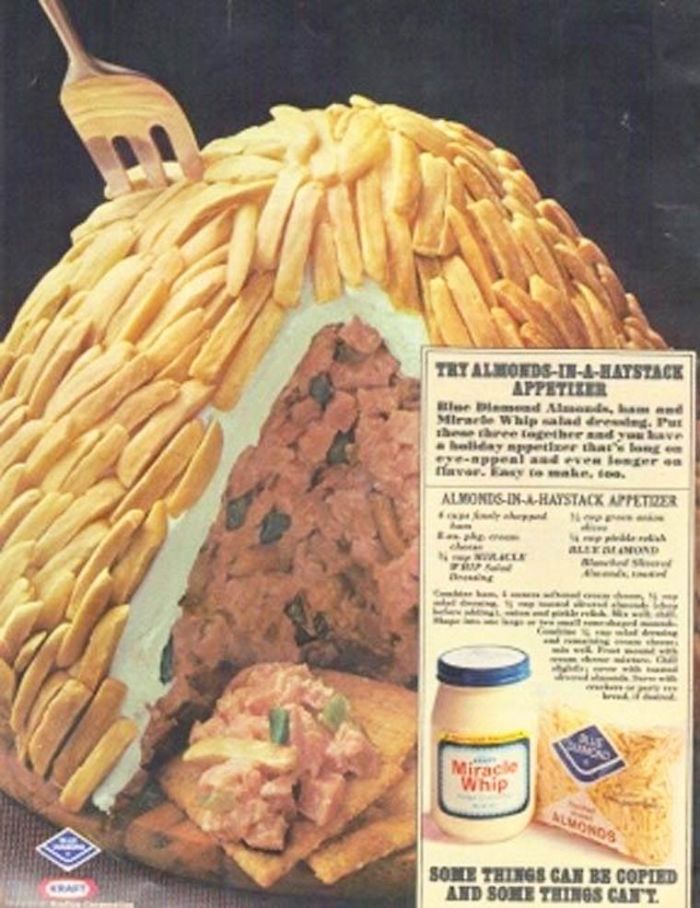 Terrine Of Garden Vegetables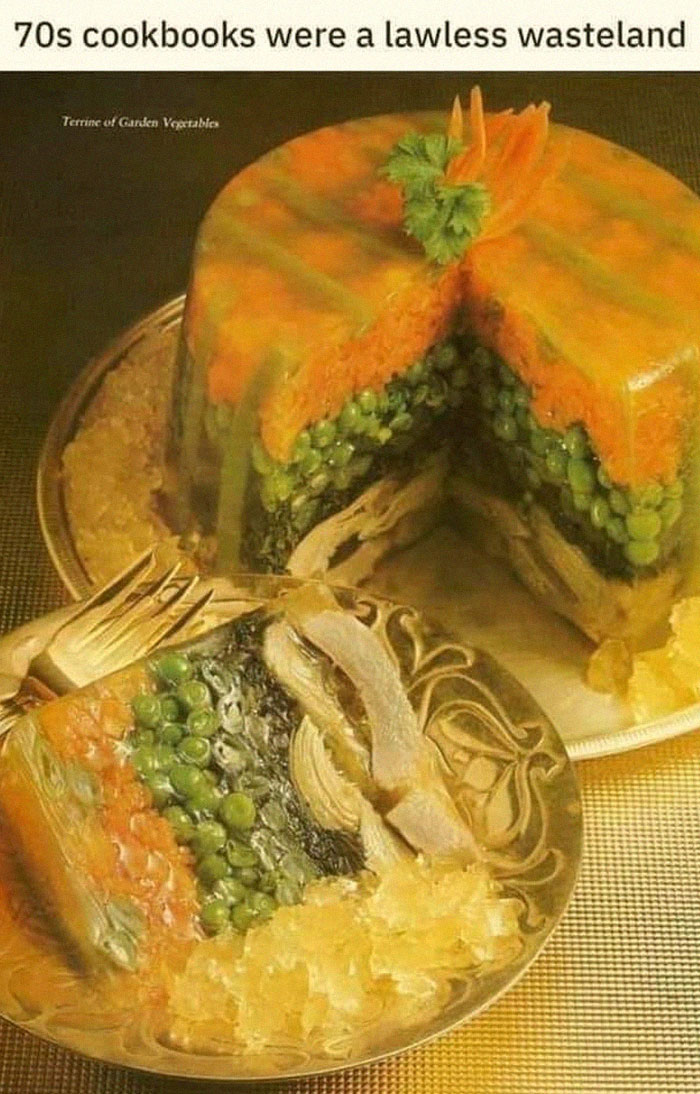 Every generation has its own fashions and oddities. Hence, with time speeds up to grow automatically things around us change. Whether talking about snacks, dinners, or clothes.
Ham And Bananas Hollandaise
Banana Candle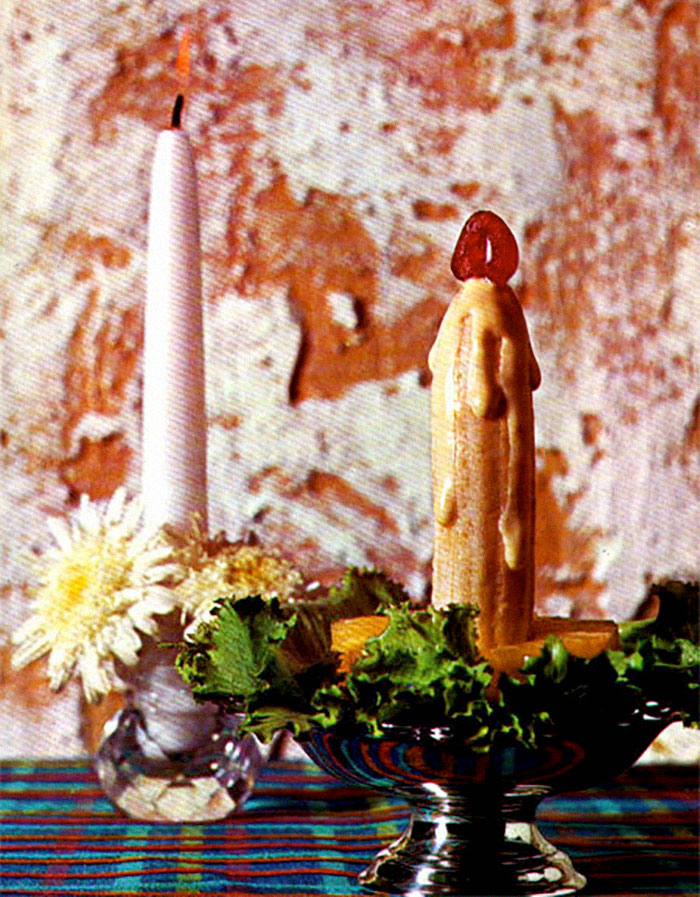 Seven-Up In Milk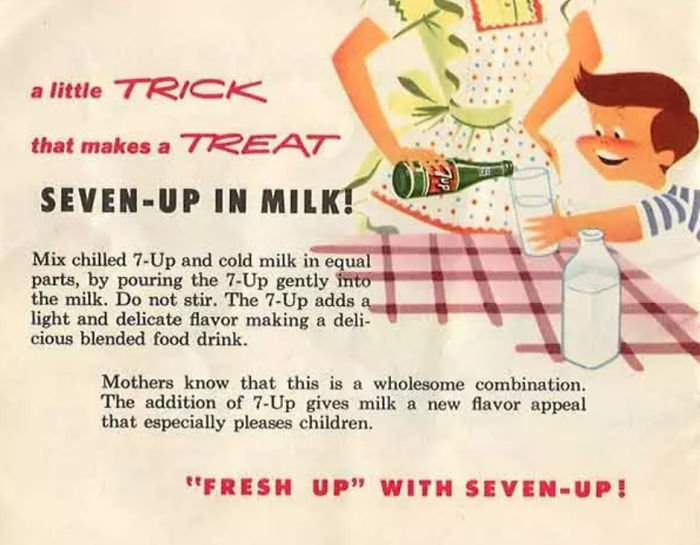 Igloo Meatloaf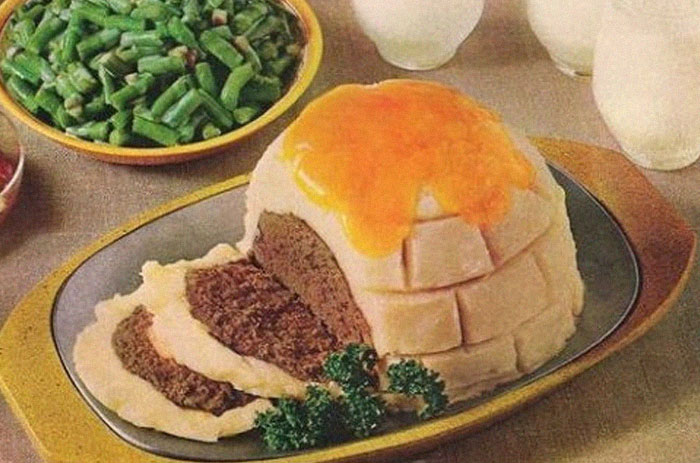 We have brought you recipes from the '50s and here are some dishes with their cooking ingredients and duration for you all.
Piquant Herring Salad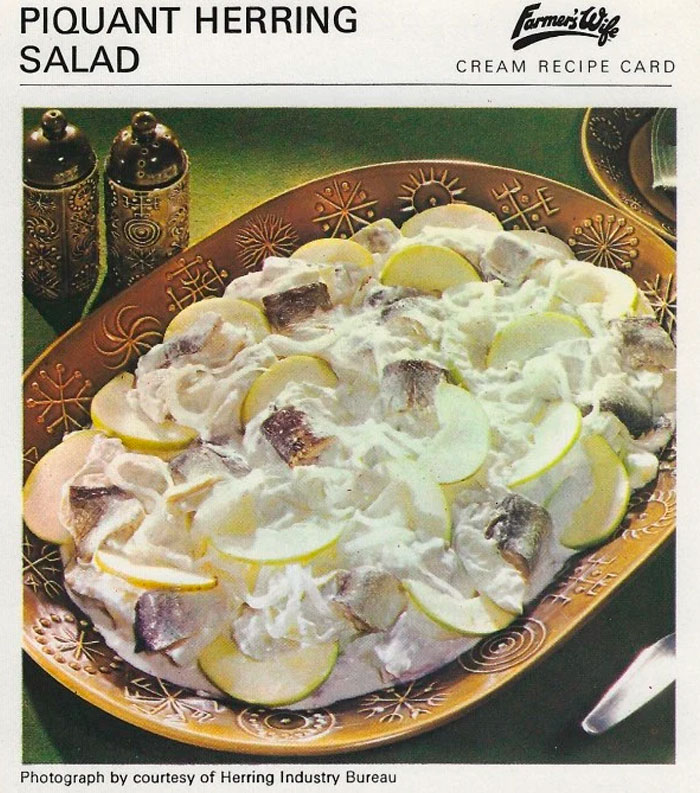 Preparation time: 15 mins.
Main utensil: a sharp knife
For 4 people you need:
4 pickled herrings
1 small onion
1 eating apple
2 teaspoons lemon juice
1/4 pint soured cream (or 1/4 pint single cream and 1 dessertspoon lemon juice)
salt
white pepper
To pick 6 herrings:
Brine: 2 oz. salt
1-pint water
Spiced vinegar:
1-pint vinegar, preferably white
1 tablespoon pickling spices
Fillet 6 large herrings, soak in the brine for 2 hours. Roll herrings, cover with cold spiced vinegar made by boiling vinegar and spices. Put into screw-top jars with sliced onion, bay leaf. Leave 5-6 days.
1. Drain herrings. Cut in half lengthways; cut each half into 4 strips.
2. Arrange on serving dish.
3. Slice onion. Cover with boiling water, drain after 1 minute.
4. Core and slice apple, sprinkle slices with lemon juice. Reserve a few apple slices for garnish.
5. Blend the rest of the apple, onion rings, cream, and 1/2 teaspoon lemon juice. Season well.
TO SERVE: Spoon dressing over herring pieces, garnish with apple slices – watercress may be used if desired.
TO VARY: Use yogurt instead of soured cream, add a few capers and finely chopped gherkin to the mixture.
Pickled herring and beetroot salad: Mix chopped herrings with diced cooked potato, diced cooked beetroot, diced apples. Toss in mayonnaise.
TO STORE: Cover lightly with foil and keep in a cool place.
Celery Victor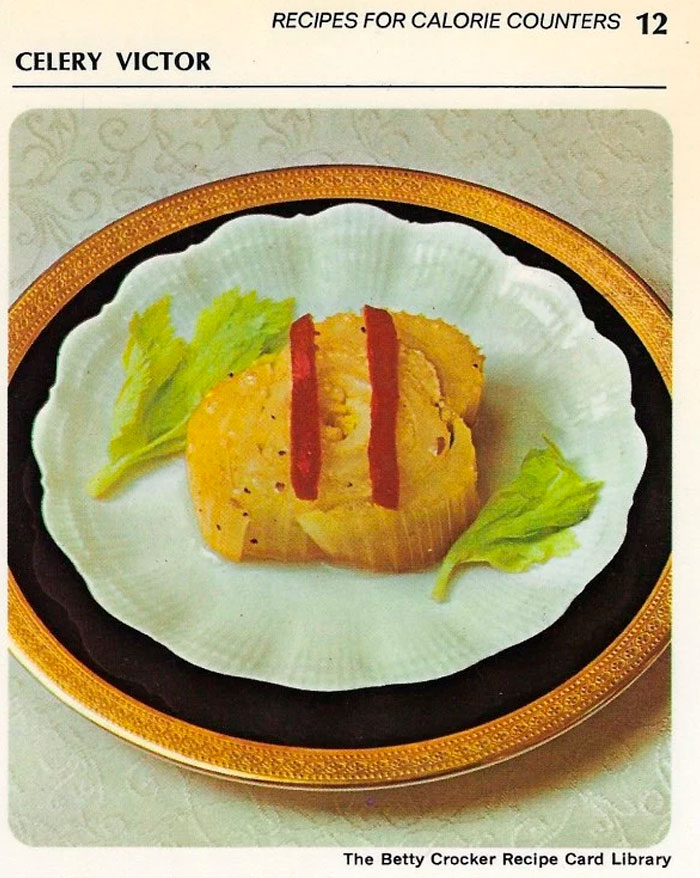 Prawn Stuffed Apples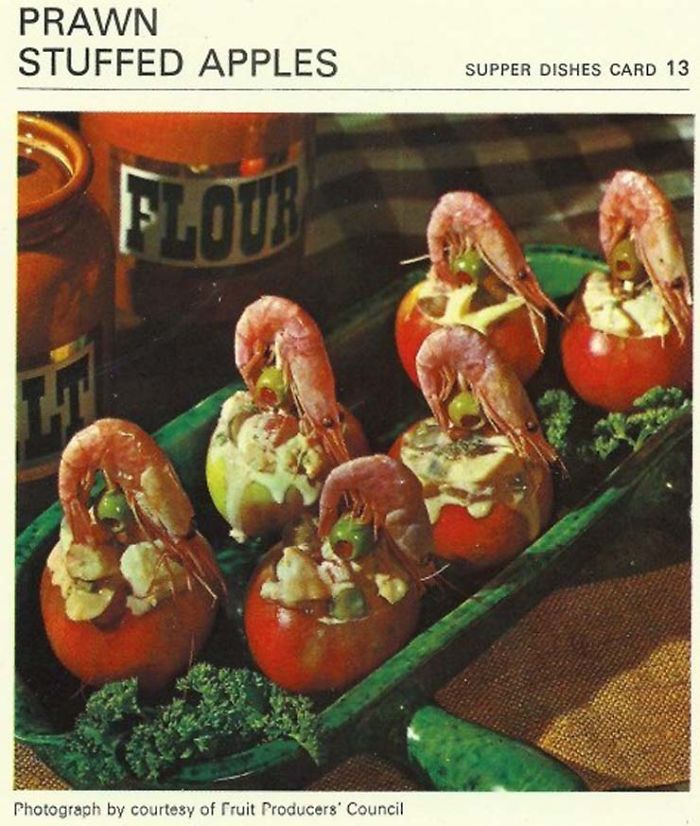 Preparation time: 10 mins.
Main cooking utensils:
bowl, wooden toothpicks
For 6 people you need:
6 red-skinned eating apples lemon juice
Filling: 3 tablespoons thick mayonnaise
1 teaspoon tomato paste
dash Tabasco sauce
2 pickled cucumbers, finely sliced
4 stuffed olives, chopped
2/3 cup peeled prawns or shrimp
1 tablespoon chopped parsley
Garnish:
6 whole prawns or shrimp
6 stuffed olives
1. Cut off the tops of the apples, and scoop out the insides to hollow them.
2. Remove all core and pips and dice remaining flesh.
3. Sprinkle the apples with lemon juice to prevent discoloration.
4. Mix the chopped apple with all the other filling ingredients.
5. Just before serving, pile into the apple cases.
6. Decorate with prawn and a stuffed olive on a wooden toothpick.
TO SERVE: With a green salad.
TO VARY: Use the same filling with the addition of chopped celery or omit the olives and add extra chopped gherkins and a few capers instead.
Baked Bologna Jubilee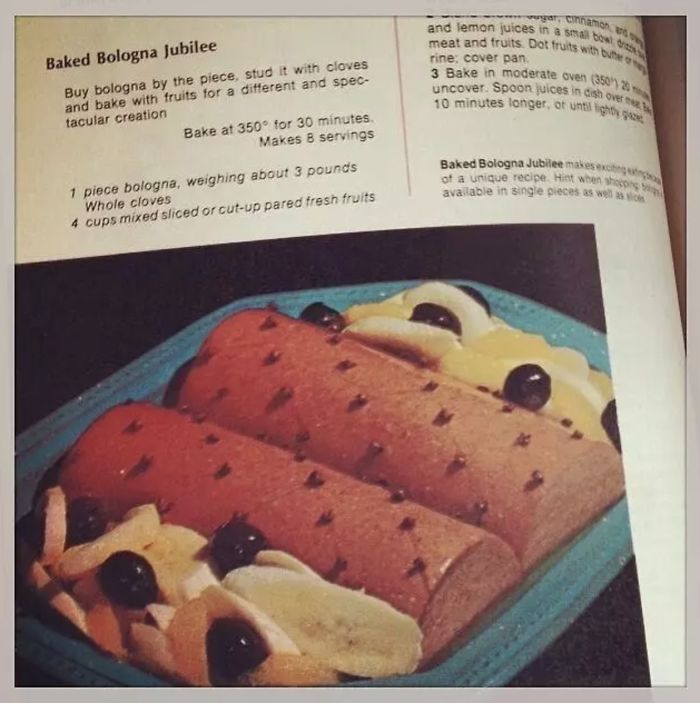 Sweet And Sour Fish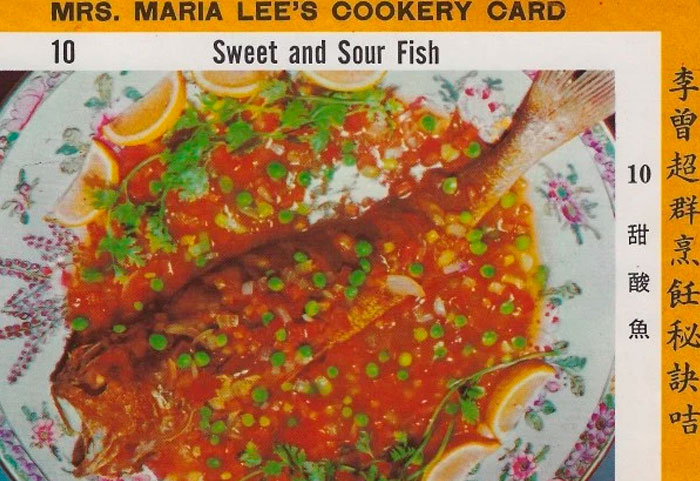 INGREDIENTS:-
One fish (about 1 1/2 lb; use either yellow fish or garoupa)
2 tbsp oil
Oil for deep frying
Seasoning for fish:-
1 tsp. salt
1/2 tsp. glutamate
1 tbsp. cornflour
1 1/2 tbsps. dry sherry
Sweet and sour sauce:-
1/3 cup white vinegar
3 tbsps. tomato sauce
1/2 cup sugar
Half tsp salt
1/2 cup water
1/4 cup diced onions
Big 1 red pepper (diced)
1 tbsp. cornflour
1 tbsp. oil
METHOD:-
1) Wash fish and dry thoroughly with a clean cloth
2) Cult slanting slits along with the fish.
3) Marinate fish with seasoning.
4) Deep fry fish in hot oil until golden brown. Remove from pan, cool for a few seconds. Fry again for 5-6 minutes (to ensure crispness).
5) While the fish is still deep frying, heat 2 tbsp oil in another pan; add in the diced vegetables and saute for a few seconds. Pour in the sweet and sour sauce mixture; thicken the sauce with cornflour and stir in 1 tbsp oil.
6) Dish out the ready-fried fish and drain off the excess fat. Place on a heated dish and pour the sauce over it. Serve hot.
Chilled Celery Log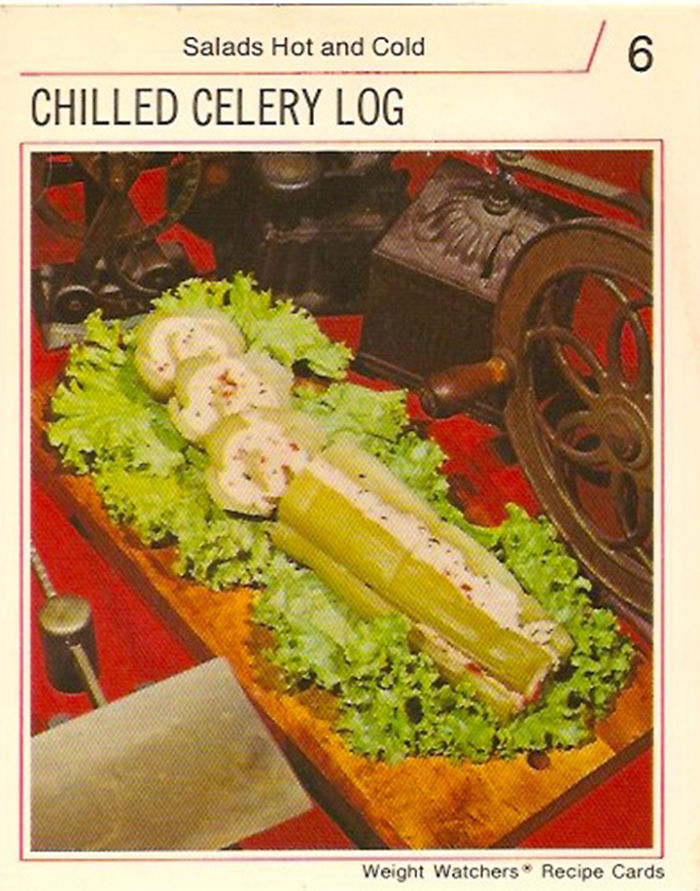 Salad Loaf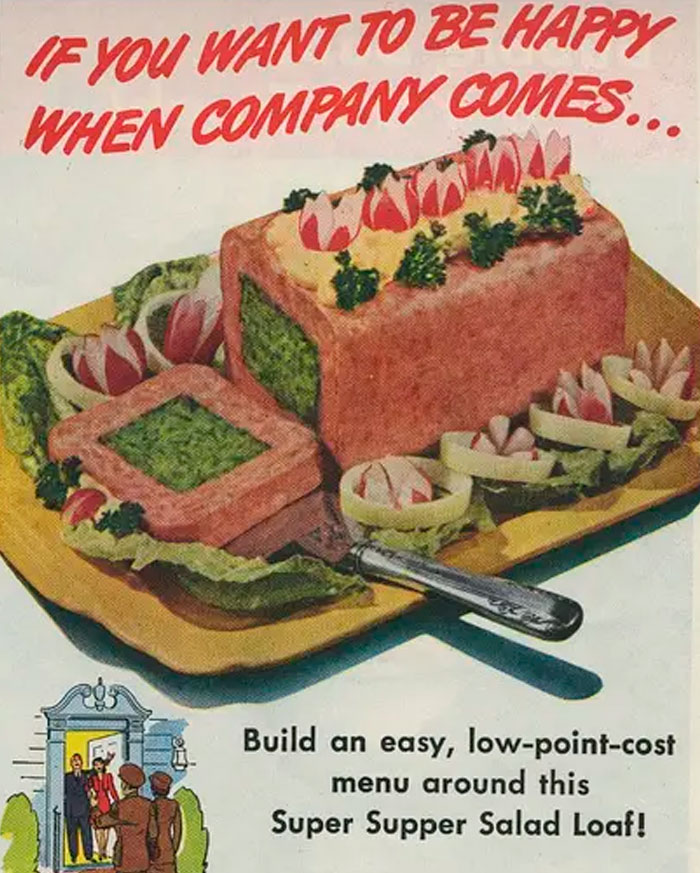 Hostess Tree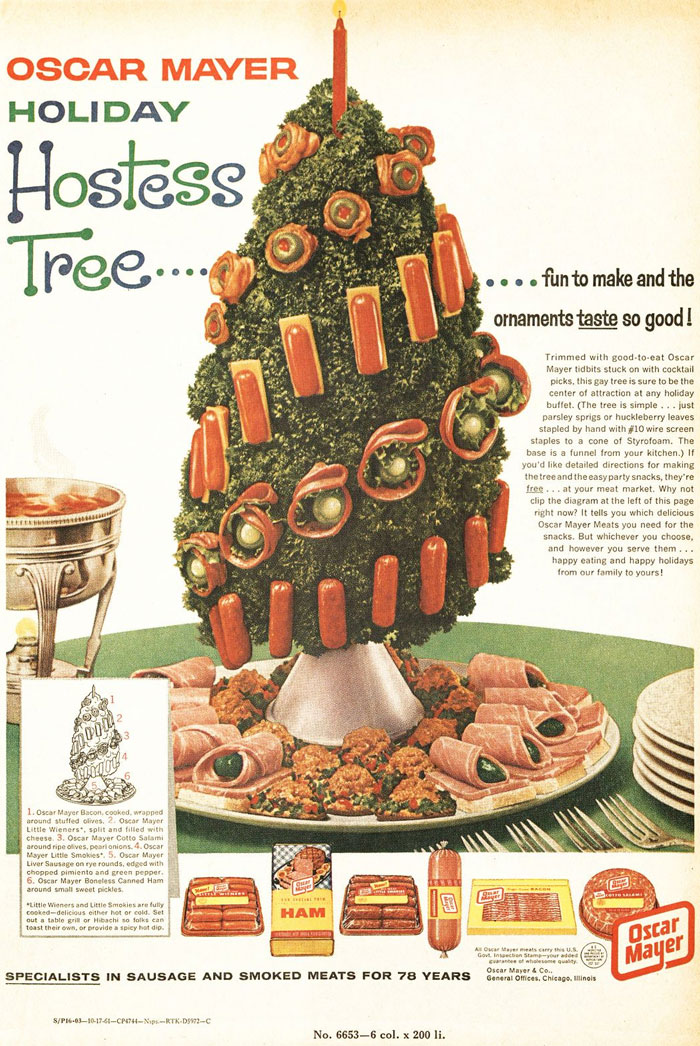 Cranberry Candles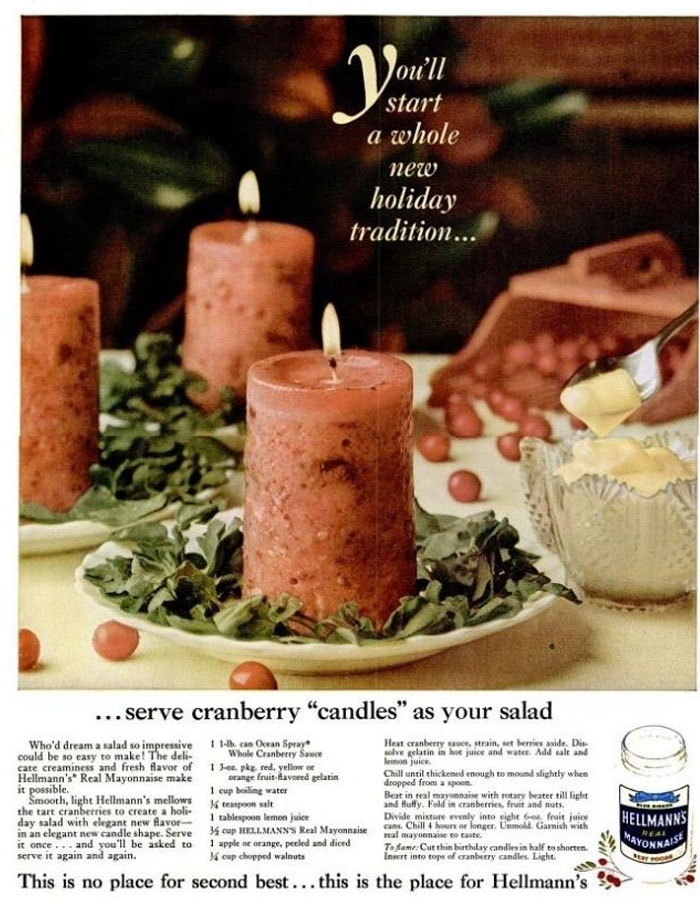 Tuna Mold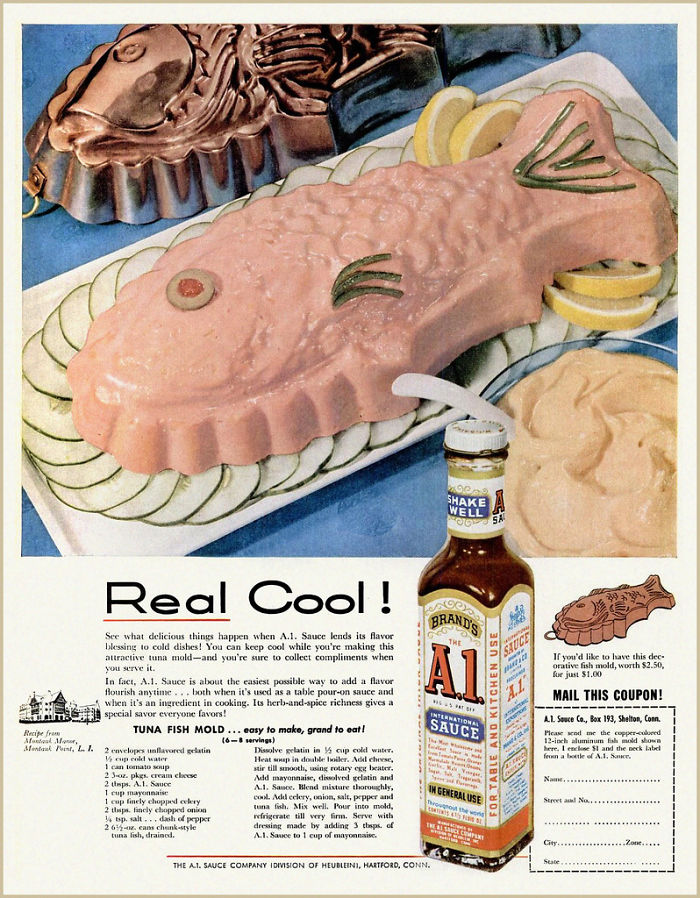 Potato Fudge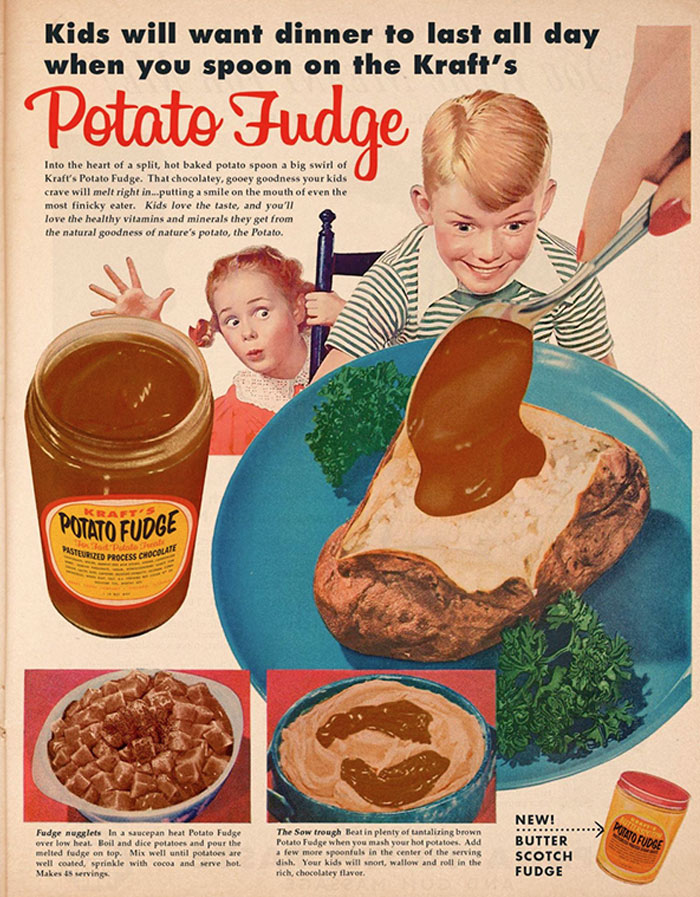 Ham 'N' Lima Bean Sadness Casserole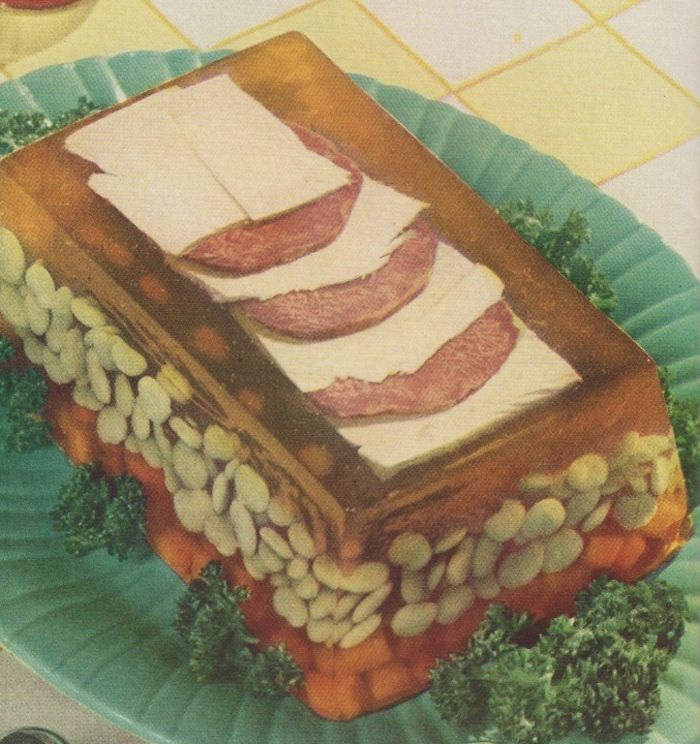 Ham In Aspic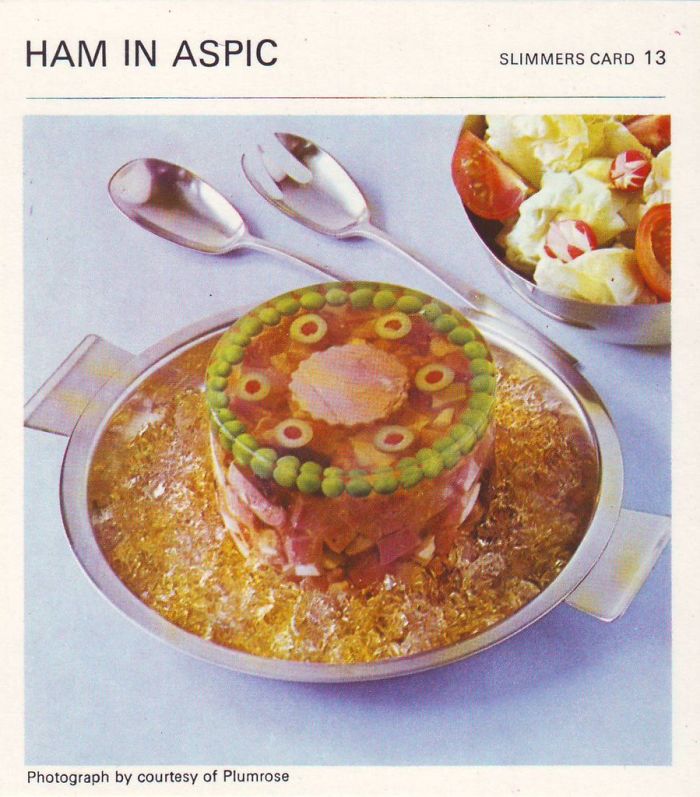 Philadelphia Cream Cheese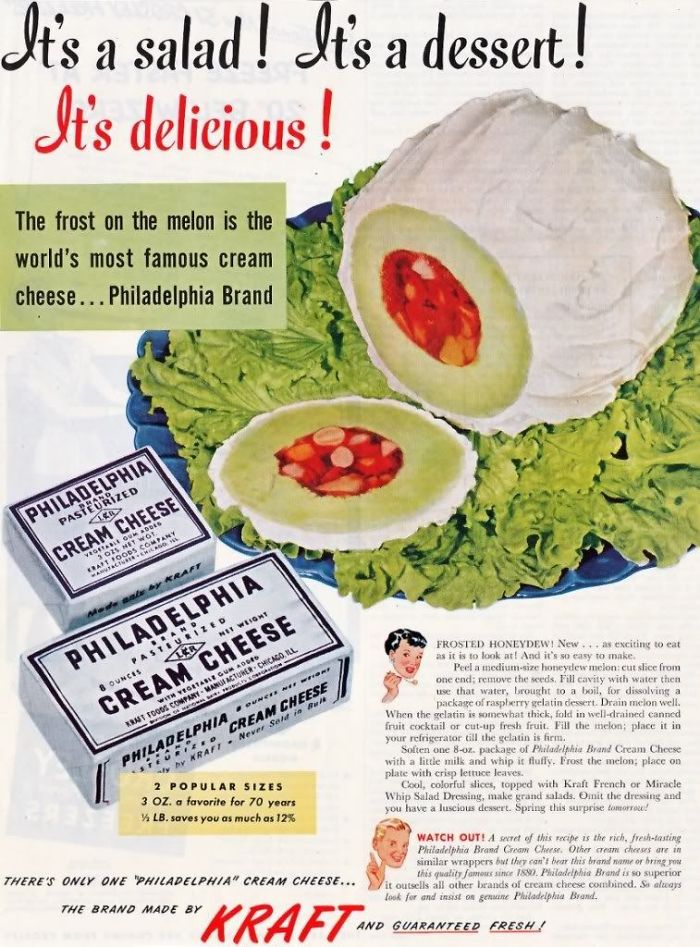 Crown Roast Of Frankfurters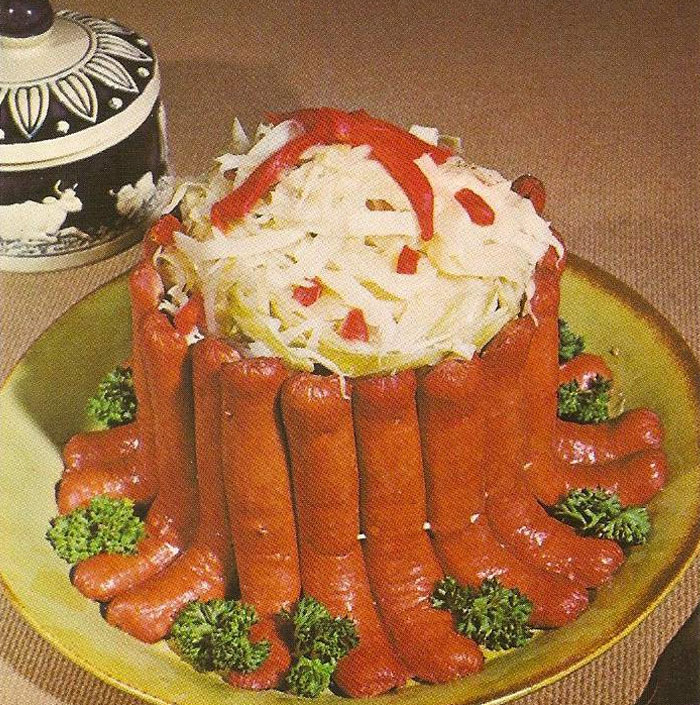 Perfection Salad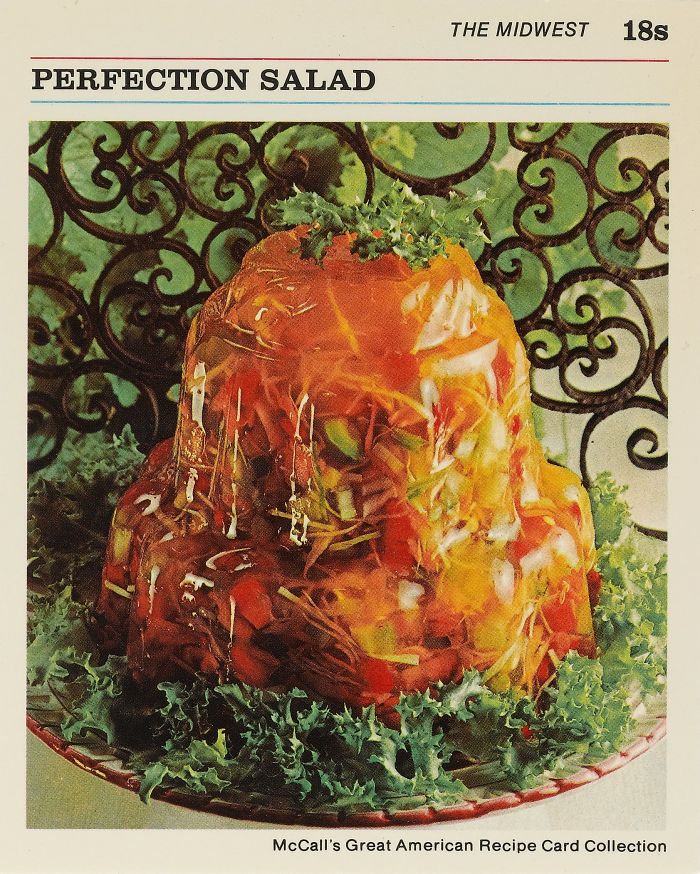 2 envelopes unflavored gelatine
1/2 cup sugar
1 teaspoon salt
1 can (12 oz) apple juice
1/2 cup lemon juice
2 tablespoons vinegar
1 cup shredded carrot 1 cup sliced celery
1 cup finely shredded cabbage
1/2 cup chopped green pepper
1 can (4 oz) chopped pimiento
1. In a small saucepan, combine gelatine, sugar, and salt; mix well.
2. Add 1 cup of water. Heat over low heat, stirring constantly, until sugar and gelatine are dissolved. Remove from heat.
3. Stir in apple juice, lemon juice, vinegar, and 1/4 cup cold water. Pour into a medium bowl. Refrigerate 1 hour, or until mixture is the consistency of unbeaten egg white.
4. Add carrot, celery, cabbage, green pepper, and pimiento; stir until well combined.
5. Turn into decorative, 1 1/2-quart mold. Refrigerate 4 hours, or until firm.
6. To unmold: Run a small spatula around edge of mold; invert onto a serving plate. Place hot dishcloth over mold; shake gently to release.
Repeat, if necessary. Liftoff mold. refrigerate until ready to serve. Makes 8 servings.
Silhouette Salad